With the ongoing global pandemic, most of us continue to be cooped up inside of our houses or apartments, with our residences becoming full-time impromptu home offices, in addition to our living quarters. And with no immediate end in sight, now seems like the perfect time to pull the trigger on sprucing up your living situation. So, with this in mind, we've constructed this list of the best do-it-yourself home improvement projects can make your extended homestay a bit more enjoyable.
In addition to making your at-home quarantine experience more comfortable, these DIY projects are a fantastic and highly-productive way to pass the time and break up the monotony of living through a prolonged quarantine. So, regardless of your skill level, or whether you're looking to dive into a new hobby, create a more convenient or efficient dwelling, or prepare for entertaining once this whole COVID situation finally blows over, this guide is sure to get you started down a stellar DIY-path to a better abode.
Build A Glass-Topped Table
Placing a piece of (preferably tempered) glass over an object is a great way of making a cool DIY table, be it coffee, kitchen, bedside, or conference. This can be done by placing the glass directly atop an item, or suspending the glass on legs above said object. All manner of items work for this type of project, but engine blocks, car rims, and cut-up whiskey barrels are popular choices. You can also opt to put an assortment of items on display under a glass table such as straight razors, bottle caps, or old hot wheels cars. Regardless of what hobbies or interests you may possess, there's a decent chance you can build a glass table around it.
Build A Fire Pit
Whether you're off the grid or in the comfort of your own backyard, there's nothing quite like the age-old tradition of gathering around a campfire with family or friends. And one surefire way of getting to enjoy spending more time fire-side is to build out a fire pit. These can be portable, free-standing units, or can be permanent fixtures. Fire pits can be as simple as small dug-out pits lined with a few large stones, or elaborate built-up masonry works. Hacked up oil barrels and truck rims also double as surprisingly solid fire pits, too. It is important to note that you need to select materials that can stand up to the immense heat often generated by a fire pit.
Build An Adirondack Chair
If you ever took a high school shop or woodworking class, there's an extremely high likelihood that you, at some point, built an Adirondack chair. Something of a right of passage to construct, Adirondack chairs are fantastic projects for learning, practicing, and developing fundamental woodworking skills, including basic construction geometry, piece mirroring, and the general ability to competently work with your hands. And, on top of being solid carpentry practice, this project also just so happens to yield a super comfortable classic outdoor chair. You can also experiment with variations on the classic flat-backed design, such as contoured seats or arm-rests, adjustable heights, and matching ottomans.
Build Out A Home Bar
Chances are with the ongoing pandemic, you haven't been spending much time down at your local watering hole, though just because a stay-at-home order is in effect, doesn't mean you've lost the desire to have a drink. Home bars are not only an ideal replacement for routine trips to the bar — at least for the time being — but they also provide the ability to serve up the beverage of choice for whoever you might be entertaining once the world opens back up. These at-home bar setups can be as simple as a rolling cart or small wall-mounted rack, or as involved as a permanent kitchen-style installation, complete with sinks, integrated refrigerators, and kegerators.
Build Out A Home Garage
Whether building a hot rod or custom motorcycle, restoring a classic vehicle, or simply maintaining your daily driver, twisting a wrench is markedly easier in a purpose-built, well-organized setting. And fortunately, today there are dozens of companies that sell products and equipment for piecing together the ultimate home-garage, from modular floor and shelving systems, to vehicle lifts, to rolling tool chests, to pneumatic and power tools. Quite a few outfits also offer custom-measured, made-to-order cabinets and workbench systems that can transform your average one or two-car garage into what looks like a professional race shop. If you're beginning completely from scratch, we'd recommend checking out our guide to the best mechanics toolsets to help get you started on the right foot.
Build A Home Office
For the last few months, a great many of us have been working largely or exclusively from home, and because this change happened fairly unexpectedly, far too many people are now putting in hours from their couches or kitchen tables — or whatever other less-than-ideal makeshift workspaces. And now that it looks like we're in this for the long-haul (to put it mildly) it may be time to invest in a legitimate home work station. Building out a home office can be accomplished through small purchases like desk organizers and other small work from home essentials, or larger items like office chairs and furniture which — like at-home garages — can be custom ordered to fit your home. If you really want to go all out, you can also opt for a prefab structure to place in your backyard.
Build A Home Theater
The size and quality of your screen and sound system play an enormous role in the overall movie or TV-watching experience, and considering the average American seems to be spending the lion's share of their downtime watching various online streaming services, it's hard to think of a better situation to splurge on an at-home theater setup. The sky really is the limit when it comes to home theaters, as plenty of massive state-of-the-art private in-residential theaters do exist, though a modern screen or projector and a subwoofer-backed, multi-speaker surrounding sound system is a great place to start — the latter of which we'd argue is the single biggest game-changer when it comes to elevating the at-home cinema experience.
Build Out A Driving/Flying Sim
Driving/racing or flying/aviation simulation rigs are well worthy-investments, allowing you to enjoy cockpit time in your favorite vehicles from the safety and comfort of your own home. Massive strides have been made in this sector, which has ultimately given way to some extremely-top-shelf simulation rigs, complete with state-of-the-art foot and hand controls and massive wrap-around displays. The software run on these rigs has also seen huge advancements, with today's programs boasting insanely realistic physics and graphics. Some of these systems are so incredibly life-like, that they're actually used to train professional top-level racecar drivers — plus some racing sims were even recently used in lieu or IRL competition. These systems can be pieced together from individually-purchased items or bought as complete, all-inclusive "turn-key" items.
Give Your Walls A Make Over
The art, paintings, posters, signs, and whatever else you choose to decorate your walls with play an enormous role in the appearance of a room and can hugely shape a house or apartment's overall vibe. And with everyone spending more time at home now than ever before (at least in modern history) now is a fairly ideal time to order new decorations for your walls. It's important to remember that you don't have to spend an arm and a leg to achieve wall-decorated walls and that a little bit of creativity can go a long way. Vintage maps, old blueprints or patent documents, antique black and white photos, retro magazine advertisements, and the like all make for great framable items that can be had for practically nothing.
Install A Permanent BBQ
Nothing says summertime look a backyard barbecue, and while you might not be able to throw a massive cookout anytime soon, you can still ready your backyard for when the time comes with a proper permanent BBQ setup. Just like with fire pits, these permanent installations can be simple constructions, or wildly-involved entertainment centers, brimming with peripherals like mini-fridges, pizza ovens, smokers, etc. And while this is one project that most people won't have a project taking on by themselves, it is important to remember to use materials that can tolerate the heat created by prolonged grilling. There's also a slew of high-end BBQ companies that cater to this space like Trager, Pit Boss, and Big Green Egg, just to name a few.
Redo Your Closet/Wardrobe
With a single bar for hanging clothes and a small overhanging shelf, conventional closet setups do very little to maximize space or optimize storage. Luckily, more than a few forward-thinking individuals and companies have conjured up modular closet systems for storing clothes, shoes, jackets, hats, and accessories. These are typically comprised of various racks, drawers, shelves, and cubby spaces, all providing neat and easily-accessible storage for your entire wardrobe. These can be purchased or custom-ordered, though considering this is basically just a few cubes and a couple of drawers, this makes for a pretty simple and straightforward DIY job — a fact furthered by the entire project only requiring a few basic tools, and inexpensive and readily-available materials.
Refurbish/Restore An Antique Piece Of Furniture
Restoring antique pieces of furniture is surprisingly easy, even if you don't possess any prior woodworking or furniture-making experience whatsoever. You want to start by selecting an old piece of furniture that can be extremely worn and rough around the edges, so long as it's still structurally sound. This process more or less consists of stripping down a piece of furniture using a thin chisel followed by increasingly fine-grit sandpaper (or an orbital sander if possible). Once this step is complete, you can either replace hardware, or dive straight into retaining, painting, and then finishing the piece and that's really all there is to it. There's also a certain gratification that comes from breathing new life into an old piece of furniture, knowing something that was made generations ago will now continue to see use for years to come.
Repaint Your Walls
Even more so than hanging new art, repainting a room can have a dramatic effect on the overall feel and vibe of a room. In addition to traditional interior paint, modern wallpaper and made-to-measure full-size wall decals are also avenues that should be considered if looking to redo your walls. Another fun idea — that's surprisingly helpful in a workshop or garage – is painting a wall, or section of a wall, with chalk paint which, as its name suggests, coats the wall in a surface that enables it to be used as a chalkboard. There's absolutely no shortage of sources online for tips and ideas for trims, color-pairing, or patterns when repainting your walls, too.
Repurpose Auto Parts Into Home Decor
If you've ever taken on a vehicle restoration or a custom motorcycle build, odds are you have a few crates of old parts sitting around in a corner somewhere, and while you could continue leaving them to collect dust, you could also get creative, fire-up the welder, and make some new home goods from up-cycled automotive or motorcycle parts. A cursory Google search will yield endless results if you're looking for examples or inspiration, but some of the most commonly-built repurposed part pieces are lights made from headlights, coat racks or desk lamps made from old motorcycle rear shocks or pistons, and planters made from old gas tanks — the latter of which can also be repurposed into a seriously rad toaster or cooler.
Retile Your Kitchen Or Bathroom
While it's admittedly a more involved process than painting, retiling a bathroom or kitchen has the ability to hugely update the look of a room, and knowing this, companies have responded by releasing tilesets that are easy to lay down by yourself, while still looking professionally-installed and thoroughly modern. This includes traditional-looking tiles, as well as more novel items such as faux-stone and timber pieces, mosaic-style tiles, and octagonal honeycomb sets. And it's important to note that these sets not only freshen up the look of a room, but also play a crucial role in protecting your home from potential water damage or stains, plus are worlds easier to clean when compared to painted walls.
Reupholster Furniture
In the same vein wooden furniture restoration, basic reupholstering is a surprisingly simple, straight-forward, and intuitive task that can be realistically completed without any prior experience and only using a handful of basic tools that most individuals have laying around the house. So long as you select a piece of furniture with relatively straight lines and angles, reupholstering basically consists of tearing the old cover from an item and replacing it with a new or recycled material that you then pull, stretch over, and staple (using a heavy-duty stapler, not an office stapler). By looking at how the old cover was attached to the furniture, you should get a decent sense of how to best attach your new cover — the same goes for shaping the new cover.
Set Up A Home Distillery Or Home Brewery
One of the best ways to learn the intricacies of beer or liquor is to make the stuff yourself, and as home brewing and distilling have become markedly more popular over the last decade or two, the market has stepped up to meet that demand with a diverse array of DIY at-home brewing and distilling kits. Regardless as to your favorite type of beer — or water of life — there are kits for creating just about any spirit under the sun, most of which are accompanied by easy-to-follow instructions. And while you may be in the clear with beer, you always want to check local laws before starting up a home distillery, even if only for personal use.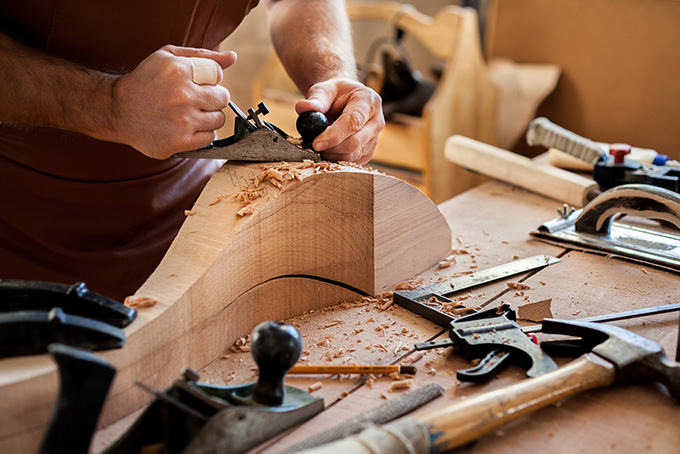 Setup A Woodworking Shop
Setting up a proper woodworking shop is something of a gift that keeps on giving, as building out a well-appointed at-home carpentry setup will enable you to continue producing all manner of other worthwhile DIY projects, from cabinets and furniture to banisters and entire new deck additions. With only a handful of quality tools, the possibilities of what you can churn out are virtually endless. The best way to build your shop is to consider the type of work you plan on doing, and then looking around online for professional setups from within that arm of the carpentry world, and then trying to create a scaled-down version in your own home. And, in addition to a usable workspace, you also want to consider ventilation and fire safety when building a woodworking shop.
Upgrade To A Smart Home
The smart home sector has experienced massive strides over the last decade, and today, just about any household appliance or central home system is available in a smart version that can be monitored and/or controlled remotely via a computer, tablet, or smartphone (or the old-fashioned way in most cases, as well). This includes smart outlets, outlets, light bulbs, home assistants, garage door controllers, door locks, smoke and carbon monoxide alarms, indoor and outdoor security cameras, camera-equipped doorbells, sprinkler and irrigation systems, thermostats, and smart speakers, soundbars, and audio systems, among many, many more. And, on top of providing more control and convenience, these smart systems afford users peace of mind.
Upgrade Your Home's Fixtures
This is another way to dramatically update the look and feel of a room that can easily be done by even the least "handy" of individuals. Swapping out small elements like the cabinet knobs, sink and faucet handles, doorknobs — and even little things like socket covers —can help to modernize the aesthetic of a kitchen or bathroom, and is a great way to round out the addition of new appliances (or a home bar, new tiles, or a repainted room). There's also an enormous variety of noteworthy fixtures, from mini shift knobs to faux fossilized insects, to bottle caps, to vintage revolver handles, and so on.
The 50 Best Hobbies for Men
Looking for more ways to occupy your time that aren't limited to within the four walls of your home? Then be sure to check out our extensive guide to the best hobbies for men.