This a certain gratification and sense of accomplishment that comes with building something with your own two hands. And while the vast majority of us don't possess the necessary design, engineering, or fabrication skills (or equipment) to create our own motorized vehicle from scratch, there's no shortage of fantastic kits that allow you to piece together your dream ride from the comfort of your garage, using only basic mechanics tools.
While kit cars have existed for just about as long the automobile itself, there's an enormous number of offerings that have been produced over the years straight on through to this day and beyond. With many of these small independent outfits popping in and out of operation on a regular basis, it can be difficult to get a sense of what the current market actually entails. So, to help steer you towards the automotive project of your dreams, we've constructed this guide to the best complete kit cars.
The Best Kit Cars Breakdown
Best Value Kit

MEV Exocet

Best Off-Road Kit

DF Kit Car Goblin A/T

Best Overall Kit

Factory Five 818C

Best Hot Rod Kit

Factory Five 33 Hot Rod

Best Replica Kit

Factory Five Mk4 289 USRRC Roadster

Best Rally Kit

Lister Bell STR

Best Track-Ready Kit

Superlite Cars SL-C

Best Hypercar Kit

Ultima EVO Coupe
Affordable Exclusivity
The Numerous Benefits Of Kit Cars
Modern kits are routinely designed and manufactured with efficiency and cost-savings in mind — an aspect that's no doubt furthered by the reduced expenses tied to DIY assembly. Another area that allows for substantially more economical MSRPs is kit car's near-ubiquitous use of donor vehicles (the car the kit is assembled on/around) or powertrains that are readily available at on the used market at accessible prices.
While the engine powering the car may be a fairly run of the mill lump, the bodywork adorning the vehicle is a different story altogether. From perfectly-detailed replicas to novel supercar designs, kit cars tend to be real head-turners, indistinguishable from original vintage classics, or genuine top-shelf supercars when viewed by the average joe on the street. That's not, however, to say that kit cars are all "show" and no "go," with plenty of today's kits boasting hair-raising performance that can rival that of a high-dollar sportscar. There are even race kit cars that can legitimately best contemporary hypercars despite costing a fraction of the price.
The modern kit car realm is just as diverse as the regular, pre-constructed car market, though there are a few main categories that constitute the bulk of the sector. Most kits use the engine or entire rolling chassis from an existing donor model, and sport their own unique design (which is sometimes based on or loosely-insured by a production exotic or race car
Garage-Built Dreams
The Various Types Of Kit Cars
Certain models that are particularly iconic, but were produced in minimal numbers and/or cost a small fortune — think Shely Cobra, Lancia Stratos, Ford GT40 — are often embraced by the replica kit community, as it provides an obtainable means of owning one of these prestigious models (or at least the closest thing to it for most of us). There are genuine recreation kits, that go to painstaking (and wildly-expensive) lengths to reproduce each individual part and component of a classic car — including the powertrain — though they're much less common (and much more expensive).
Built Not Bought
Learning A Vehicle Inside And Out
Whether its a ruggedized off-roader, a modern supercar, or an elite classic, every gearhead has that one dream car that they cherish above all others. And while much of the time these prestigious machines carry exorbitant price tags, kit cars offer a markedly more accessible alternative that can still afford a comparable experience behind the wheel.
One often unforeseen benefit of building your own kit car is the intimate knowledge one gains of the vehicle over the duration of its build. Putting together a kit piece by piece is arguably one of the best ways to learn exactly what makes a machine tick, and how the different components relate to each other. This also makes further upgrades and modifications that much easier, which is also hugely beneficial considering many of these kits are highly-upgradable.
Killer Kit Qualities
The Main Areas To Consider When Buying A Kit Car
Kit cars are unique on several levels. As such, it can sometimes be difficult to know exactly what to consider when shopping for one. Knowing this firsthand, we've pieced together this mini guide to the key areas to take into account when buying a kit car.
Powertrain: Just like when buying a normal car, a kit car's powertrain is of extreme importance as it plays a monumental role in the vehicle's overall performance and capabilities. When looking at a kit car's powertrain, you'll want to examine the available engine or engines, their displacement, number of cylinders, layout, and transmission type. What's more, you'll also want to look to horsepower and torque figures to get a more objective sense of performance capabilities. Top speed and 0-60 times also help tp provide insight in this area.
Running Gear: Again, just like with regular rides, the cornering and stopping power offered by a kit car will largely boil down to its frame, weight, and braking and suspension hardware. As a result, it's crucial to explore these components — which can often be upgraded for an added fee. With so many of these vehicles being largely performance-focused, it's hard to overstate the importance that running gear and componentry play in deterring overall capabilities.
Style & Appearance: Cars can massively vary in terms of appearance and style, and in this regard, kit cars are no exception. As such, it's very much worth looking into a great many of the different available options on the market before making your purchase, as, based on the number of available options, there's almost certainly a design that will resonate with your personal aesthetic taste.
Build Complexity: Though the first three areas above are all shared with regular turnkey production cars, let's now move on to a few areas that are unique to DIY-style kit projects — the first of which is build complexity. Effected by factors such as the number of parts, whether fabrication or cutting is required, and if wiring needs to be done, will all play massive roles in determining the complexity of a kit car's build process.
Required Tools & Equipment: Putting together a kit car obviously requires tools, though the number of tools required can massively vary. Some of these kits are also made markedly easier to assemble when working with a lift or other equipment.
Required Fabrication: Another area that can hugely affect the overall complexity of a kit car build is whether it requires any cutting, welding, or other more involved fabrication, or if it can simply be pieced together using nuts and bolts.
Included Components: Typically, when buying a kit car, the majority of the required parts and components will be included in said kit. WIth that said, the buyer does often have to source some parts on their own. Depending on the kit, this can range from just a handful of minor plug and play components, to several dozen items that the purchaser must then track down.
Creature Comforts: Yet another area in which kit cars can massively differ from company to company and model to model is the level of appointment seen on each vehicle. Generally speaking, most kit cars tend to be on the much more spartan, minimalist end of the spectrum, with uncluttered, purely utilitarian cockpits — not unlike those seen in race cars — that are usually devoid of the types of creature comforts found in modern production cars like infotainment displays, stereos and speaker systems, electronically-adjustable seats, and air conditioning systems, just to name a few.
The Best Complete Kit Cars
MEV Exocet
Why It Made The Cut
An extremely agile and lightweight, custom space-framed, Miata-based exocar that can be built for under $10,000.
Best Value Kit: Like the Eco-Exo, the MEV Exocet is a thoroughly spartan driving machine that was designed to be the most affordable and easiest-to-assemble kit on the market, while still offering sufficient performance. To accomplish this, Mills Extreme Vehicles designed a cutting-edge lightweight tubular fully triangulated space frame chassis and an accompanying suspension and linkage system that's made to accommodate one of the least expensive, most widely-available cars in existence, the Mazda Miata. Compatible with several older generations of the two-seater Mazda, the Exocet's use of the donor also allows for the ability to use any of the thousands of upgradable Miata high-performance mods from the aftermarket sector. This kit is also street legal and can carry to passengers.
Price: $5,700
Donor: Mazda MX-5 (Mk. 1,2, 2.5, & 3)
Engine: 1.6L or 1.8L Inline-Four
Power: 116HP – 140HP
Chassis: Tubular Space Frame
Style: Exocar
DF Kit Car Goblin A/T
Why It Made The Cut
An American-made all-terrain mid-engine exocar with a 0-60mph time that rivals that of supercars while costing a fraction of the price.
Best Off-Road Kit: Not unlike the Ariel Nomad, the Goblin A/T is a high-performance off-roader based on DFKC's road-going kit. Inspired by old-school VW Rail Buggies, this thoroughly modern dirt-goer is built around a Chevrolet Cobalt SS donor (with a manual transmission) and boasts tire pressure monitoring, and power disc brakes and steering. Generating 260hp, this mid-engined machine also features a relocated radiator and a chassis that was modified to accommodate kick rails and more robust bumpers and crash protection. Weighing around 1,500lbs, the kit is capable of delivering 0-60mph times of just 3.5 seconds. Considering the entire kit and an appropriate donor specimen can be had for just a little over the $10,000 mark, the all-terrain-spec Goblin is undoubtedly one of the best UTV or off-roaders dollar for dollar. Each kit is also individually made-to-order by hand in Texas.
Price: $12,075
Donor: Chevy Cobalt SS
Engine: Turbocharged 2.0L Inline-Four
Power: 260HP
Chassis: Tubular Space Frame
Style: All-Terrain Exocar
Factory Five 818C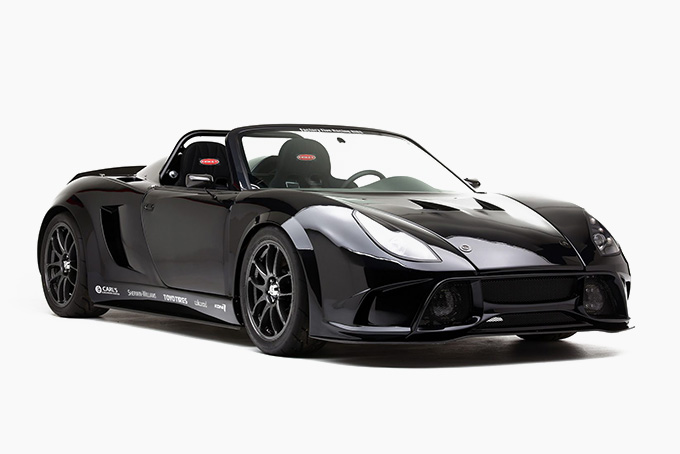 Why It Made The Cut
An extremely affordable, exotic, mid-engined 2-seater that can be daily driven.
Best Overall Kit: Perfectly encapsulating the notion of affordable exclusivity, Factory Five's 818C is an exotic-looking mid-engined vehicle that can legitimately go toe-to-toe with supercars ten times its price. Tipping the scales at 1,800lbs, the car features a fully-finished two-passenger interior that can comfortably accommodate taller drivers and is available in both left and righthand drive configurations. Despite its flashy appearance, the 818 is shockingly attainable thanks to being built around a 2002-2007 Subaru Impreza or WRX sedan or wagon and using the lion's share of the donor's running gear. Other noteworthy elements on the 818 — which is also available in a higher-performance 818S and 818R variants – include KONI coil-overs, aluminum and composite bodywork, and a 3D-printed headlight assembly.
Price: $13,990
Donor: Subaru Impreza Or WRX sedan (2002-2007)
Engine: 2.0L or 2.5L Boxer-Four
Power: 165HP – 227HP
Chassis: Tubular Space Frame
Style: Mid-Engine Sports Car
Factory Five 33 Hot Rod
Why It Made The Cut
An authentic-looking Depression Era hot rod w/ a variety of American crate engine options.
Best Hot Rod Kit: Building a bonafide hot rod requires an enormous amount of work, having to source countless parts and components — many of which are extremely expensive and require permanent modifications. Factory Five's '33 Hot Rod kit offers an expedited path to hot rod ownership at a reasonable price, including everything needed to build the car, except for the engine, which can be any Small Block Ford 4.6L or 5.0L Coyote, and Chevy SB or LS engine. The kit also maintains the authentic appearance of a depression-era hot rod, with hand-laid laminate composite bodywork and CNC-cut 6061 T6 aluminum chassis panels, though contemporary components such as the brakes from a late-model Ford Mustang allow for more modern performance.
Price: $20,990 ($10,990 for Stage 1 & 2 kits)
Donor: Custom
Engine: Small Block Ford 4.6L or 5.0L Coyote or Chevy SB or LS
Power: Depends On Engine
Chassis: Tubular Space Frame
Style: Hot Rod
Factory Five Mk4 289 USRRC Roadster
Why It Made The Cut
A high-performance, track-ready, road-legal Shelby Cobra Replica available at a fraction of the real car's price.
Best Replica Kit: Whether written today or 20-years ago, no list of kit cars would be complete without a proper Shelby Cobra replica. And while Factory Five does offer a regular Cobra kit, the company also produces a replica version of one of the six 400-450hp 289 Small Block USRRC (U.S. Road Racing Championship) racers Shelby built for the '64-'65 season. Touted as a "Gentlemen's Racer," the 298 USRRC more than merely looks the part, and reportedly follows the same engineering plans as the original, resulting in what's said to be nearly indistinguishable performance compared to the original 1960s racer. Factory Five does also offer a track-only "Challenge Car" Cobra, though, with its race-ready performance and road-legal status, it's hard to beat the 289 USRRC-spec.
Price: $21,990
Donor: Ford Mustang (1987-2004)
Engine: 289/302, 351W, 390/427 FE, 4.6L SOHC & DOHC Modular V8, 5.0L Coyote Modular V8
Power: Depends On Engine
Chassis: Twin-Tube Space Frame w/ Integral Backbone
Style: Shelby Cobra Replica
Lister Bell STR
Why It Made The Cut
An accessible DIY replica alternative to buying one of the less-than-500 Lancia Stratos examples ever built.
Best Rally Kit: Penned by the great Marcello Gandini, the Lancia Stratos is without-a-doubt one of the most celebrated rally car designs of all time, though, with less than 500 examples produced across its entire production run, surviving specimens now command six-figure prices. Recognizing the demand from the automotive world, Nottinghamshire-based outfit, Lister Bell Specialist Cars have created an exact scale replica of the Italian rally machine. The replica starts with a CAD-designed semi-monocoque chassis with a full integrated roll-cage, and rather than using the model's original Ferrari Dino V6, the UK outfit allows the replica to be powered by anything from a modern 190hp 2.5L Alfa V6 to a 350hp 3.5L supercharged Toyota- derived 2GR-FE V6 — the same engine found in the Lotus Evora or Exige.
Price: $38,100
Donor: Custom
Engine: 2.5L, 3.0L or 3.2L Alfa Romeo Busso V6, Toyota 2GR-FE V6, Or Transverse Ferrari V6 or V8
Power: Depends On Engine
Chassis: Tubular Space Frame w/ Semi-Monocoque Central Structure
Style: Lancia Stratos Replica
Superlite Cars SL-C
Why It Made The Cut
A Le Mans-inspired ultra-high-performance road-legal supercar custom-designed from the ground up.
Best Track-Ready Kit: Superlite Car's SL-C kit is an ultra-high-performance, race-bred machine designed to take on modern supercars. The kit features a full aluminum, TIG-welded semi-monocoque chassis, a bey of billet suspension components, and full fiberglass bodywork. Weighing in at around 2,400lbs, the entire kit is broken down into 16 different stages (with the earlier more crucial stages consisting of the frame and bodywork while higher numbers deal with elements such as wheels and master cylinders), though even if you opt for all 16 parts, the grand total for the kit comes in at around $50,000, which is a steal considering the on-track capabilities of this street-legal machine.
Price: $50,999
Donor: Custom
Engine: Builder's Choice
Power: Depends On Engine
Chassis: All-Aluminum Monocoque Tubular Hybrid
Style: Le Mans-Style Supercar
Ultima EVO Coupe
Why It Made The Cut
A Le Mans-style carbon-bodied hypercar kit with a 2.3-second 0-60 time, a top speed of 240+ mph, & full road-legal status.
Best Hypercar Kit: Born out of some 30-years of development and race experience, the Ultima Sports EVO Coupe is a bonafide hypercar kit, matching the exotic outward appearance and highly-tuned race-ready performance of six and seven-figure exotics. Directly inspired by Le Mans Group C racers, this street-legal track weapon can be powered by any number of engine, though most customers opt for Chevy LS V8s that generates anywhere from 350hp up to 1,020hp, depending on the tune. In its highest spec, however, the carbon fiber-clad hypercar kit is capable of 2.3-second 0-60mph times (or 0-100mph in 8.8-seconds) and speeds exceeding 240mph — placing it on par with some of the fastest cars in the world. Riding on forged alloy rims and sending power through a Porsche six-speed manual transmission (with machined billet quick-shifter), the EVO Coupe's cabin is no less impressive, with a finely finished and thoroughly plush cockpit.
Price: $98,700 (Or $143,500 As A Turnkey Vehicle)
Donor: Custom
Engine: Builder's Choice
Power: Depends On Engine
Chassis: Tubular Space Frame
Style: Le Mans-Style Hypercar
The Best Bolt-On Motorcycle Kits
Interested in checking out a few easier DIY garage projects? Our guide to the best bolt-on motorcycle kits contains over a dozen transformative bodywork packages that don't require any permanent modifications and can be installed using basic tools in just a few hours.