Sport utility vehicles are the fastest growing class of vehicles at this particular moment in time. And it should be pretty easy to see why: they're capable, spacious, and especially handsome (when done right). Since they're in such abundance, there's also a wide range of pricing options for everyone from the exorbitantly rich to those with a much more modest income.
But, even within relatively small price point ranges, there are some options that are just plain better than others. Yes, that rings true even for those on an extreme budget. If you don't believe us, just take a gander through our list below of the 12 best SUVs under $50,000. We'll be shocked if you can't find something reasonably priced that strikes your fancy.
Subaru Forester
We'd be remiss in our duties if we didn't at least mention Subaru's Outback sport wagon as their best off-road vehicle option – but their Forester is not far off. In fact, with a remarkably low intro price, you still get standard symmetrical all-wheel-drive and – without much in the way of a price hike – you can get a fully off-road-ready SUV (roof racks and all). The Forester is certainly the under-the-radar option when it comes to what you get out of what you'll actually pay. And we're surprised more people aren't keen to this sport utility vehicle.
MPG: Up To 26/32
Horsepower: Up To 250
Best Trim Under $50K: 2.0XT Premium
Jeep Wrangler
Always the champion when it comes to bang-for-your-buck off-roaders, this American-made SUV probably deserves the number one spot on any best-of budget off-roader list. Sure, it doesn't have the best MPG rating, but it more than makes up for that in sheer capability and available trims. Whether you're looking for an incredibly rugged 4×4 or you just want the option to take your daily driver out to the dunes every now and again, you can't do better from a price per value standpoint than the Jeep Wrangler.
MPG: Up To 18/23
Horsepower: 285
Best Trim Under $50K: Rubicon
Volkswagen Atlas
VW is definitely best known for their smaller vehicles – like the Beetle and rally-ready Golf GTI hatchback – but they've been making some waves in the SUV category with their small Tiguan and, our favorite, the Atlas. With three rows of seating, this bad boy is definitely on the bigger end of the spectrum without seeming like an unwieldy tank. And, though it's large, there's still an awful lot packed into it – like an available panoramic sunroof, roof racks, a whole lot of cargo space with an easily modified interior cabin, a killer sound system, and a mess of available cabin features.
MPG: Up To 22/26
Horsepower: 235-276
Best Trim Under $50K: V6 SEL Premium w/ 4MOTION
Ford Explorer
While we all eagerly await the return of the Bronco, Ford does actually have other notable SUV options – namely their Explorer. Often unfortunately overlooked, this mid-sized SUV has got an awful lot going for it, especially when it comes to more recent iterations like the 2018 Sport. From a daily transport loaded with tech to a trail-ready off-roader, there are trim options of this excellent SUV for every class of driver. And if you're not already keyed-in on the brand's high-tech FordPass smartphone-connected driver's app (which offers everything from vehicle controls to in-depth navigational tools), this is a great vehicle to get your acquainted with it.
MPG: Up To 19/27
Horsepower: 280-365
Best Trim Under $50K: Sport
Toyota 4Runner
Sure, the Land Cruiser is Toyota's most legendary and luxurious SUV option – but, at a starting price of over $84K, it isn't exactly budget-friendly. Thankfully, however, there's the 4Runner. Essentially the same as their fabled Tacoma pickup truck, but with an extended cabin instead of an open-air bed, this badass sport utility vehicle is a sneaky pick for the adventurer with a family (or outgoing friends). Best part is, the super-capable TRD Pro trim is still well under the $50K budget – even accounting for taxes and fees.
MPG: Up To 17/21
Horsepower: 270
Best Trim Under $50K: TRD Pro
Jaguar E-Pace
As the SUV class expands – both in the availability of different sized vehicles and in their styles – we're seeing a lot more luxury options pop up. One of the best out there for those on a relative budget is the Jaguar E-Pace. Sure, its size is certainly more aligned with crossovers, but it's still a wonderful and accessible option for those who desire comfort and style out of their cars, but are hoping for something with a little more ground clearance and interior cargo room. You can also upgrade to the R-Dynamic trim option (which gets you 296 horsepower) and still stay under $50,000.
MPG: Up To 21/28
Horsepower: 246-296
Best Trim Under $50K: R-Dynamic
BMW X3
BMW's pedigree extends into just about every single wheeled vehicle class, so it should come as no surprise that their German engineering shines when it comes to SUVs, as well. But did you know that they actually offer a relatively budget-friendly version in their X3? It's not the largest of their offerings, but that's not a bad thing in this case. Skirting the line between crossover and mid-size, the X3 is handsome and actually quite capable – boasting 248 horsepower and a 0-60 time of just 6 seconds. Unfortunately, if you really want a driver's car, the M-series upgrade to 355 hp will send you about 4.5K over the $50,000 mark.
MPG: Up To 22/29
Horsepower: 248-355
Best Trim Under $50K: sDrive30i
Mercedes-Benz GLC
Mercedes-Benz wasn't about to let BMW be the only German brand in the game with a luxury SUV under the $50,000 mark. And, as you might expect, their foray – the GLC – is a sight to behold, both in and out. And while the base model will give you 241 horsepower (just a hair below that of BMW's similar X3), they too have a beefed-up version courtesy of their in-house tuners at AMG. Unfortunately, the 362-horsepower upgrade will cost you an extra $16,200 – putting the total at $56,250. So, if your budget cap is strictly $50,000, you'll have to settle for a lesser model. Still, even the budget-friendly options are more impressive than a lot of other SUVs out there – both in performance and luxury.
MPG: Up To 22/28
Horsepower: 241-315
Best Trim Under $50K: 350e 4MATIC
Audi Q5
Of course, if BMW and Mercedes-Benz don't quite strike your fancy, there's always Audi. The Q5 you see before you has garnered itself a 5-star safety rating, as well as top marks in both styling and available tech. And that's to say nothing of the excellent 2.0-liter turbocharged TFSI engine under the hood, capable of 252 horsepower (for those counting, that's more than both BMW and Mercedes' introductory option). The top trim option for this bad boy, however, breaks the $50,000 plane by 800 bucks – though, even if you paid for it, you don't get an engine upgrade for that price. Honestly, you're probably better off settling for a cheaper model and saving the scratch.
MPG: 23/27
Horsepower: 252
Best Trim Under $50K: Premium Plus
Alfa Romeo Stelvio
Though they've had a bit of trouble establishing a foothold in the United States, Alfa Romeo's troubles should not be credited to a lack of quality vehicle offerings – as evidenced by their Stelvio SUV. This racing-inspired cargo hauler looks great and has the engineering to back it up. In fact, it has a nearly perfect 50/50 weight distribution, comes with all-wheel-drive, is equipped standard with a turbocharged 2.0-liter engine, and has plenty of tech accessible via the cockpit. The best trim of this sport utility racer, however, clocks in at just under $80k – making in far too much of a stretch for anyone with even a little bit of wiggle room around the $50,000 price point. Still, the other two options are a good deal under that point, making it possible to get a number of upgrades without breaking the bank.
MPG: 22/28
Horsepower: 280-505
Best Trim Under $50K: TI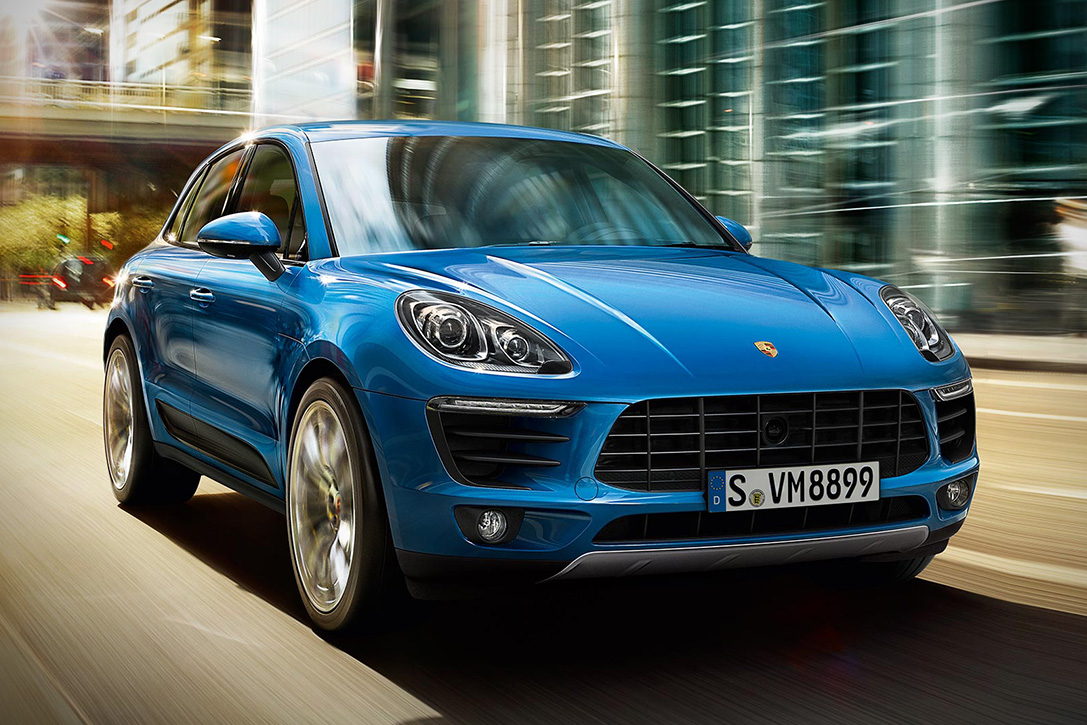 Porsche Macan
When it comes to automotive sales, Porsche is killing it right now. Sure, most of that can be credited to their line of small sports cars, but at least a portion is the work of their luxury SUV, the Macan. Yes, it barely costs less than $50,000, but it still makes it under the mark (if only without taxes and fees). Still, what you get is at least comparable to what you have to spend – if not a veritable bargain. For instance, it comes standard with 252 horsepower and a top speed of 142 mph; has a luxurious, spacious, and high-tech interior; and looks smashing in any venue.
MPG: Up To 20/25
Horsepower: 252-440
Best Trim Under $50K: Macan
Range Rover Velar
The only option on our list more expensive and, perhaps, better looking than the Porsche Macan, the Range Rover Velar is an absolutely breathtaking road-going SUV. Really, the folks at Jaguar Land Rover really knocked it out of the park with this one. In fact, it actually won car design of the year at the last World Car Awards – and that's nothing to scoff at. From the cleanliness of the interior, to the sleek outside (complete with hideaway door handles) this vehicle screams class. And that's to say nothing of its performance specs – like 247 horsepower from a turbocharged 4.0-liter engine, a top speed of 134 mph, and 5,291 pounds of available towing (not that you'd tow anything behind this gorgeous beast).
MPG: 21/27
Horsepower: 247-380
Best Trim Under $50K: Velar
12 Best American-Made SUVs
If your concerns lie less with cost and more with origin, you'll probably like our list of the 12 best SUVs made in the USA.