From hardcore off-road 4x4s and overlanders to milquetoast commuter cars and even track-ready sports cars, there is a huge variety of vehicle types available. But there is one variety that outclasses pretty much all the others: supercars. In the top tier of performance, styling, luxury, and more, these vehicles are the cream of the crop. And, most of the time, they have a price tag to match.
While most modern-day supercars are well out of the budget of normal folks, these types of vehicles have been around for long enough that you can find a healthy number available to purchase used. In fact, even if you're on the strictest of spending caps, you could still potentially get behind the wheel of one of these altogether impressive automobiles. That is, so long as you curb your expectations in regards to miles on the odometer, overall condition, etc. For a grand total of $50,000 or less, these are the best supercars you can buy.
Acura NSX
When most people think of supercars, it's European brands that first come to mind — your Lamborghinis and Ferraris. But there's a whole big world out there and some of the best supercars, both new and old, come from places far from Italy. The Acura NSX is one such supercar. Hailing from Japan, this high-powered dart is hailed around the world as a supremely good drive — and, even brand new, it is still a lot more affordable than most others on this list. For under $50,000, you can get behind the wheel of one of the early-to-mid '90s year models, many of which showing less than 100K miles on the odometer. And that's a pretty excellent prospect when you consider that this car was designed with input from none other than Ayrton Senna, and has advanced aerodynamics and styling inspired by F-16 fighter jets.
Alfa Romeo 4C
Lightweight and powerful enough to give Lotus a run for their money, the beautifully sporty Alfa Romeo 4C is one of the newer supercars you can get for under $50,000. In fact, it wasn't even put into production until 2013 and was based on a concept that debuted in 2011. And, the base price is just $55,900 off-the-lot. If you can swing the extra scratch, it might be worth getting one brand new, but you can get a deep discount on a used one, making this perhaps the best price-to-condition ratio on our list. The one downside: this vehicle has one of the lowest horsepower ratings on our list (the 2018 model offers just 237). That being said, it was made to be a driver's car and is also one of the lightest, so it's plenty nimble despite its comparatively lacking performance specs.
Aston Martin DB9
Though not nearly as legendary as the DB4 or James Bond's go-to Aston Martin, the DB5, the DB9 is very much still a part of the world-renowned DB-series, and that definitely puts it toward the top tier of desirability, at least when it comes to a $50,000 price ceiling. Available as a coupe or a convertible, this grand tourer might not look as flashy as some of the others on this list, but with its baseline horsepower of 450 and 420 foot-pounds of torque (courtesy of a standard 5.6-liter V12 engine), it definitely qualifies as a supercar. Expect to find year models in the mid-2000s for this car, though, as later years can still cost quite a bit — even in middling-to-poor condition.
Audi R8
Originally released in 2006, the Audi R8 is actually based on the same platform as the Lamborghini Gallardo and Huracan, though it is considerably less flashy in its styling. In this case, however, we would not call that a bad thing, because this supercar still has more than enough get-up-and-go with its earliest models producing at least 414 horsepower and 317 foot-pounds of torque. It also boasts Audi's trademark Quattro all-wheel-drive system, an aluminum monocoque, and was actually the first production car with full LED headlights. What's perhaps even more interesting is that this supercar was originally conceived to be a Le Mans racer. In fact, the concept was called the Audi LeMans Quattro. All that aside, you can find some early models in very good condition with low mileage for about the same price as, say, a brand new Honda Civic or even a low-end sport wagon. That's not bad at all.
Chevrolet Corvette Grand Sport
We've heard it argued that the Chevrolet Corvette doesn't quite qualify as a supercar because of its relative affordability. However, based on its styling, performance, and interior amenities, we definitely disagree. One of the best arguments for the Corvette making this particular list is the Grand Sport. With year-models that date back as far as the mid-90s through as recent as 2017, this magnificent sports car has a baseline horsepower figure of 350 and 350 foot-pounds of torque — though you can expect those numbers to have dwindled a bit in older available options. Still, even in the oldest models, it's possible to find remarkably low-mileage examples you could feasibly drive off the lot without having to face off against unforeseen maintenance, and that's more than can be said for some of the other options on this list.
DeTomaso Pantera
Originally a producer of race cars, DeTomaso was a legendary, if short-lived marque out of Italy that built some very unique performance-focused sports cars during the 1970s. Their most-beloved and most-recognizable offering is certainly their Pantera (and not just for its connection to the heavy metal band). It doesn't necessarily stand toe-to-toe with the likes of Lamborghini and Ferrari, but it isn't far off, either. That's especially true considering that you can find one of the higher-end GTS models that once had a horsepower rating of 350, a torque rating of 362 foot-pounds, and a top speed approaching 174 miles per hour. The downside to this one is that it's hard to find an example in serviceable condition because the brand went defunct so long ago. Still, the possibility remains and that's why this supercar makes our list.
Dodge Viper GTS
If you're shopping for a supercar and you want one that looks as fast as it goes, you can't go wrong with a Dodge Viper GTS. This two-seater sports car has some of the most aggressive styling of any of the other supercars on this list and, even accounting for a drop in horsepower over time, promises to send your eyeballs to the back of your skull whenever you press down on the gas pedal. Known as the "double bubble," the GTS was a coupe introduced as a variant to the RT/10 back in 1996, designed to accommodate the racing helmets of high-octane drivers. It also featured an impressive 450 horsepower and 490 foot-pounds of torque courtesy of its 8.0-liter V10 engine. Even with all that, you can still find one used in good condition for well under the $50k mark.
Ferrari 308
Though to many, the Ferrari 308 is considered a "starter car," at least in regards to the Ferrari marque, it's still a Ferrari supercar. And that makes it a pretty remarkable option, especially when you consider that you can find drivable options on the used market for under $50,000. Furthermore, you're also not limited to just a single sub-model, as there are a remarkably wide variety of options — including the GTBi, GTS Targa, GTSi, GT4, and more. The Prancing Horse brand is legendary in every sense of the word and, even when it comes to an entry-level sports car, anything and everything they have to offer is worth its weight in gold. You might have to spend a bit more to get this vehicle in working condition, but its no less one of the more impressive offerings you can find on a budget.
Fisker Karma EcoSport
Originally released in 2012 with a horsepower rating of 403 and an MPG of 55 city and 55 highway, the Fisker Karma was an altogether impressive car. That's all the truer when you realize that it managed all that with a primarily electric powertrain, making it both remarkably powerful and economical (after the initial cost of the car). Unfortunately, this car — and the larger marque — was ahead of its time and not well-received. That actually turns out to be good news for people looking to buy one now, however, as it has driven the price down remarkably low, making it available to purchase for under $50,000 in excellent condition. Of course, you also have to consider high maintenance prices and the possibility that parts support might not exist. It's a double-edged sword, but that doesn't change the fact that this is an excellent budget-friendly supercar. And the only partially-electric option we've got.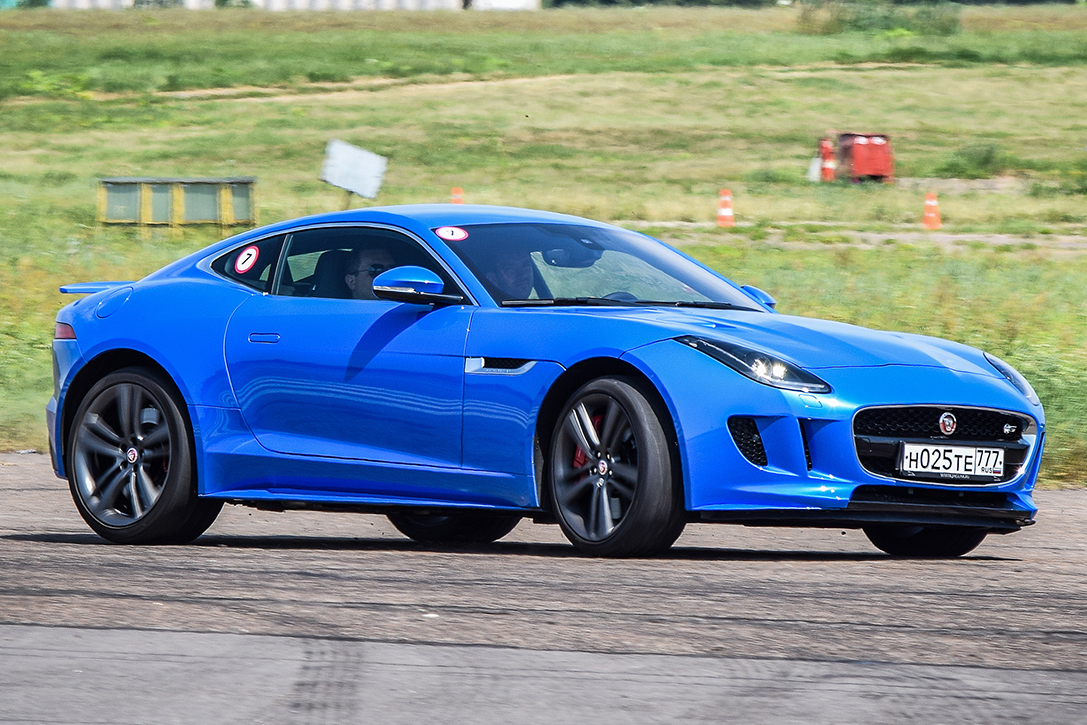 Jaguar F-Type S
Based on the much-larger XK grand tourer, Jaguar's F-Type is, in essence, a spiritual successor to the marque's ever-popular E-Type sports car. Obviously, it doesn't quite measure up to the E-Type's iconic styling (AKA the car that Enzo Ferrari called, "the most beautiful car in the world.") But it's still a worthwhile supercar in its own right, especially since you can purchase one in good condition for around $20,000, if you know where to look and you're willing to make some concessions. One of the more abundant of cars on our list, you can find year models up to 2016 without much trouble, even if you're a stickler for low mileage. At the lowest, examples boasted a horsepower rating of 296. At the highest, 567. Expect to find one on the mid- to lower-end and you will be happy with what you find.
Lamborghini Gallardo
The car that would become the Huracan, the Gallardo is your best hope for putting a Lamborghini in your garage for less than $50,000 and still have something in drivable condition. It might seem like its too good to be true, but there are actually quite a few on the resale market. Of course, if you want one in the best condition possible, you might be better off heckling with an independent seller to try and drive the price below the $50k mark. Still, we've come across a 2012 year model with well-under 10,000 miles on the odometer for under $33,000 (at its current auction price) — and that's too enticing to pass up for Italian automotive fanatics. Especially when you remember that the baseline version of this supercar boasted 543 horsepower from a monstrous 5.2L V10 engine.
Lotus Evora
You might think to see the Elise or even the Esprit on our list. After all, the former is certainly Lotus' most widely produced and the Esprit was a famous James Bond car. But, when it comes to bang-for-your-buck supercars, the Evora is all-around a better pick. You can find much newer models in better shape than most Esprits available, and the styling and creature comforts are much more elevated than in your typical sport-focused Elise. With examples dating back to 2009, this small and sporty supercar boasts a brand-new horsepower range of 240 to 257 — and you can bet that most of that is intact since it's a relatively newer vehicle. Of course, for those who think it a bit on the low end of the spectrum, remember that Lotus is famous for making their vehicles extremely lightweight, so this thing can zip around with the best of them. It's not for everyone, but the price is right, along with the features and specs.
Maserati GranTurismo
There are a lot of supercars that look like they were made to be tied to a rocket booster and launched into space. Of course, there are also options for those who want the same levels of speed and power, but not so much the over-the-top styling. If you're a member of that crowd, then the Maserati GranTurismo is for you. Refined in its styling, but with enough of an impression of speed that a comparison to a sleek jungle cat (like a panther) is warranted, this absolutely stunning grand tourer is a head-turner without seeming needy. It's a glass of scotch, neat — not a red bull and vodka. And you can still manage to get behind the wheel of one for under $50,000. You should expect a model around the 2008 year, though the styling hasn't changed much since then and, frankly, it didn't need any alterations in the first place.
Nissan GT-R
Like the Acura NSX, the Nissan GT-R often gets overlooked when it comes to the supercar conversation. Again, it's not because of its performance, styling, or even price (especially considering how inflated it can get thanks to a viciously loyal, if small fanbase). Rather, it gets passed up because of its Japanese heritage. Well, we are here to tell you that the GT-R stands up against the best of them across all categories. With examples that date as far back as 1990, this under-the-radar supercar is an excellent way to get behind the wheel of something iconic and powerful without having to pay a pretty penny. In fact, there are examples listed for as low as $5,000. For fans of Japanese automobiles, you can't do better than this.
Porsche 911
It would certainly be presumptuous to call the Porsche 911 the greatest sports car of all time, but it might also be the truth. Not only is it iconic as they come, but it's widespread availability and innumerable sub-models also make it a highly customizable option — meaning you can have one as commonplace or as individual as you want. Granted, for under $50k, you're not going to get an ultra-rare GT3. But you can definitely still get behind the wheel of a Carrera, Turbo, or even a Targa. Not to mention it's not out of the question to find options therein that are hardtop or convertible. If you want a classic, budget-friendly supercar and with a wide variety of trim options, you simply can't do better than a used Porsche 911.
25 Best New Vehicles Under $50,000
If you're afraid of getting burned by a used car, there's still hope. They might not all meet "supercar" standards, but we put together a collection of the 25 best new vehicles you can buy for under $50,000.