Custom motorcycles afford riders the opportunity to own stylish, unique, and personalized machines that stand out from the crowd of mass-produced production models. Traditionally, owning a bespoke bike has meant taking one of two routes: either commissioning a custom motorcycle shop; or doing the work yourself. While the former option is easier, it's nonetheless time-consuming and typically on the exorbitant side. The latter choice allows for more creativity and personalization, though the reality is most people don't possess the necessary skills and training to operate a MIG/TIG welder, English wheel, planishing hammer, or CNC-machine. And that's where bolt-on motorcycle kits enter the fray.
Bolt-on kits enable riders to enjoy the benefits of a custom motorcycle, without all the hassle and expense generally associated with owning a one-off two-wheeler. Furthermore, these kits let custom bike enthusiasts ride a machine designed and built by a reputable, high-end customs outfit without paying the ungodly sums the privilege normally requires. And while bolt-on kits admittedly do limit some of the freedom usually afforded by commissioning a custom build, the wide range of available bolt-on kits means you're practically guaranteed to find a kit that jives with your personal style and taste. So, with that in mind, let's dive into the 15 best bolt-on motorcycle kits currently on the market.
What Exactly Is A Bolt-On Kit?
Quick & Easy Customization
As the name suggests, bolt-on kits are mounted to a motorcycle using a bike's stock mounting points (for subframes, bodywork, etc). Like a regular upgraded aftermarket part, bolt-on kits don't require any modifications in order to mount, though just like your average aftermarket component, bolt-on kits are model specific. Even more importantly, these kits don't require any alterations to chassis, meaning no fabrication work is required. This also means these kits are reversible and can be removed in order to bring a motorcycle back to its original factory spec.
Autologue Design Reck Kit
Right out of the box, Royal Enfield's GT 650 is an attractive, cafe-inspired modern retro. This, however, didn't stop India's Autologue from taking the parallel-twin's cafe-vibe one-step-further via its bolt-on Reck 2 kit. Short for "Royal Enfield Cafe Racer", this kit is comprised of a front quarter fairing and a new, longer tail cowl that can be removed on the fly for two-up riding. Despite being just two pieces, the Reck 2 is surprisingly transformative. Best of all; it's incredibly affordable. Autologue is also slated to start selling matching side panels for the Reck 2 kit, as well.
Donor Model: 2018-2020 Royal Enfield GT 650
Style: Cafe Racer
HotBodies Racing SV-R Race Bodywork Kit
Suzuki's venerable SV650 has for years been a cult favorite thanks to the utilitarian Japanese twin's bulletproof reliability, tractable power, versatility, and unbeatable value. In addition to bodywork, one thing the SV lacks is style. HotBodies' SV-R Race Bodywork kit solves both those issues, calling upon a tail section, full fairing, nose, and belly-pan inspired by Suzuki's current MotoGP race bike: the GSX-RR. Made from an ultra-lightweight yet durable four-harness fiberglass fabric with kevlar-reinforced mounting points, this kit comes in a paint-ready primer gray, or for a few extra bucks is offered in a slick Team Ecstar Suzuki-style livery, a la Mir and Rins' premier class missiles. It can also easily be modified to be made street-legal via the addition of signals and a head and tail light, though it is also a stellar addition to an SV club racer.
Donor Model: 2017-2020 Suzuki SV650
Style: Racer/Sport
GG Retrofitz Rocket Street Kit
The Rocket Street kit from GG Retrofitz turns the Yamaha R3 into a gorgeous neo-vintage road-racer. The kit offers the appearance of an involved, professional-level build in an easy-to-install, even easier-to-afford package – with a sub-$1K MSRP for the kit, and a donor bike that can be had new for $5,000. The visual inspiration from the kit was largely derived from Yamaha's iconic oil-burning TZ racers of the 1970s, albeit with a bit of a modern twist. GG Retrofitz also makes a track-only version of the kit, as well as a variety of decal kits for its bodywork.
Donor Model: 2015-2018 Yamaha YZF-R3
Style: Vintage Racer/Sport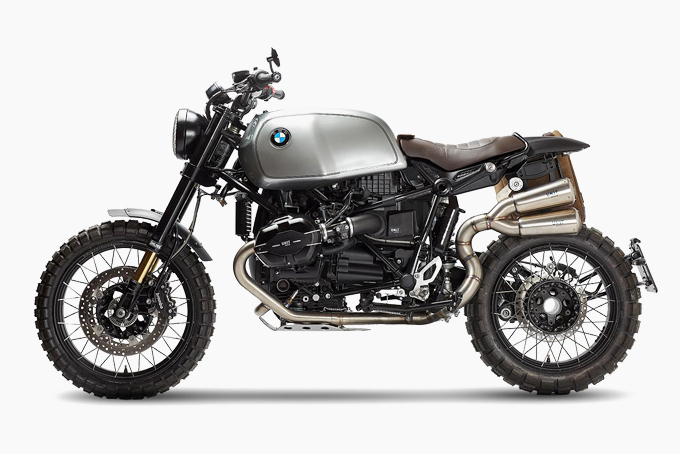 UN1T Garage nineT/7 Kit
BMW's R nineT was designed and engineered to be a highly modular platform that lends itself particularly-well to customization. As such, the chassis and engine wiring looms are separate, and commonly-replaced parts like the subframe and headlight can be removed by simply undoing a couple of bolts. UN1T Garage's nineT/7 takes full advantage of the R9T's versatility by offering a simple plug-and-play tank and tail kit that aesthetically harkens back to the Bavarian brand's R100/7 of the 1970s. Affording the looks of a classic vintage toaster-tanked airhead with the performance and reliability of a modern-day Beemer, the kit's tanks and seat are both offered in a myriad of color options, including a retro Dakar-style white tank and red seat combo.
Donor Model: 2014-2020 BMW R nineT
Style: Neo-Retro Standard
Hookie Co. Yamaha XSR700 DIY Moto-Kit
Hookie Co. is renowned in the custom scene for creative designs and stellar execution, both of which are on full display on the Dresden outfit's XSR700 DIY Moto-Kit. Said kit offers riders an incredibly unique, neo-retro design that includes a sporty, (cowl-free) waspish tail section, a simple, bare-metal fuel-cell shrouded by acrylic panels, a low-profile headlight, and one of the coolest taillights on the market with a backlit, finned acrylic arrangement. Made by hand in Germany, each kit boasts a top-notch fit and finish, and is constructed using high-end materials such as the Alcantara saddle. Tack on an aftermarket exhaust and some Rizoma-style indicators and you're well on your way to owning a stellar custom bike.
Donor Model: 2016-2020 Yamaha XSR700
Style: Neo-Retro Standard
Phil Little Racing SXR Sportster Street Tracker Kit
Harley-Davidson has a long, rich, and overall incredibly successful history of flat track racing, so it's unfortunate that, aside from the MoCo's XG750R factory race bike, the Bar and Shield brand doesn't offer a flat-track-inspired production model. Luckily, Phil Little Racing offers a trick kit that transforms Harley's popular Sportster (1200) cruiser into a bonafide street tracker. With a classic tracker tail and tear-drop fuel-cell inspired by those on the iconic XR750, this kit pays homage to Harley's decades of dirt-oval dominance, and thanks to a plate-hanger, signals, and a low-profile headlight, the SXR kit is 100% street-legal. The individual pieces from this kit can also be purchased a la carte, plus there are additional upgrade kit options including wheel conversions, steering kits, up-specced suspension, and a handful of graphics and decals, just to name a few.
Donor Model: 1986-2003 Harley-Davidson Sportster
Style: Flat-Tracker
Paulo Tex Ducati Monster Kit
Paulo Tex's Ducati Monster kit offers a futuristic take on a naked Italian superbike. Using the stock tank, the kit contains a minimalistic monoposto tail section, beefy belly-pan, and a sleek 3/4 fairing that stretches down and covers the donor bike's radiator — the Monster's biggest visual shortcoming. At the same time, the kit highlights the donor's aesthetic strengths, with its potent L-Twin engine and the Bologna firm's signature trellis frame front and center. Offered in track and street specs in a trio of styles, this kit makes for an excellent jumping-off point for a Monster build. And, because the kit accommodates a-decade-or-so-old model, donors can be had on the low.
Donor Model: 2002-2008 Ducati Monster
Style: Racer/Sport
Bad Winners DIY Scrambler Ducati MotoKit
The current generation of Scrambler Ducati's pays homage to the firm's original Scrambler model that was produced from '62 through '74. And while the Duck's Scrambler range is are fine-looking machines, their vintage-style appearance doesn't always jive with everyone's personal taste. And for those looking for a more modern package with a hint of tracker-style, it's hard to do better than Bad Winner's DIY Scrambler Ducati MotoKit. Compatible with all models in the Scrambler lineup, the kit packs a sculpted, knee-dented tank cover paired with an upswept-tracker-esque tail unit that's capped off with a plush, ribbed leather seat. A new sub-seat electronics bay is shrouded by a set of race number-plate-style side covers that complete the kit. There's also an endless sea of available bolt-on bits for the donor that wonderfully compliment the Bad Winners kit.
Donor Model: 2015-2020 Scrambler Ducati (800 & 1200)
Style: Street-Tracker/Neo-Retro Standard
UN1T Garage Fuoriluogo Scrambler Kit
Italian for "Out Of Place", the Fuoriluogo kit from UN1T Garage wonderfully combines retro-style desert sled visual themes with modern dual-sport aesthetics with its old-school tank, bench-style saddle, rear luggage rack, side-covers, and high-mount side-pipe two-into-one exhaust. And contrary to its vintage appearance, the Fuoriluogo kit offers modern performance and reliability. One of the coolest aspects of the kit is that it was designed to complement certain existing elements of the Ducati Desert Sled donor such as the gold-rimmed spoke wheels, grilled headlight, and MX-style front fender.
Donor Model: 2015-2020 Scrambler Ducati Desert Sled
Style: Scrambler
BeOn 450 GP SuperSingle Kit
The 450 GP SuperSingle kit from Beon transforms a standard 450cc dirtbike into a legitimately competitive, ultra-lightweight track weapon. The kit comes with a 43mm USD fork, modified rear shock, Dunlop racing slicks, radial-mount Brembo front caliper biting a 320mm Sunstar rotor, Izumi chain, 7075 aluminum rear sprocket, and a set of Dunlop race slicks. Utilizing the motocrossers' stock mounting points is a full set of Grand Prix-style fiberglass bodywork treated with a white-gel-coat. Arguably the best aspect of this kit is it allows riders to own a single motorcycle that can do it all: off-road riding, supermoto, commuting, and road racing.
Donor Model: '07-'11 Aprilia SXV 450/550, '06-'10 Kawasaki KXF 450, '07-'10 KTM SXF 450, '07-'10 Yamaha YZF 450, '05-'10 Honda CRF 450, '08-'10 Suzuki RMZ 450
Style: Racer/Sport
Omega Fiberglass Husqvarna 701 Kit
Husqvarna's 701 Enduro is already a wildly-capable on/off-road machine, though Omega's Fiberglass kit transforms the Husky into a Dakar-style Rally Raid adventure bike. Constructed from Kevlar-reinforced carbon fiber, the kit tips the scales at under 35lbs (including the fuel-pump, headlight, and all brackets and mounting hardware). The kit includes a carbon bash-plate, Dakar-style bodywork complete with navigation tower with halogen lights, race-style seat, and a fuel-pump relocation for the kit's supplementary, range-extending dual 7-liter auxiliary fuel-cells.
Donor Model: 2016-2020 Husqvarna 701 Enduro
Style: Dakar/Rally Raider
Krazy Horse KH Street Hooligan Kit
Few outfits know more about piecing together a competitive flat-tracker more than the UK's Krazy Horse. With a wealth of experience building professional-grade bikes to go fast and left, it's no surprise that the Suffolk-based shop knocked it out of the park with its bolt-on tracker kit. More than merely looking the part, the KH kit is a true performer, boasting a bespoke subframe, tracker tail and seat (with integrated street-legal taillight), fork brace, 19" spoked rims with Talon billet hubs fore and aft, mid-control pegs, and a Hooligan flat-track exhaust system and accompanying Power-vision ECU (which includes recalibration download). For a few extra bucks KH also sells a number of upgrades such as a front-number plate with an integrated headlight and an upgraded Ohlins suspension kit.
Donor Model: 2017-2020 Indian Scout & Scout Sixty
Style: Flat-Tracker
Hookie Co. BMW R nineT Kit
Though BMW does offer a Scrambler version of its R9T, the Bavarian brand's scrambled scoot has got nothing on Hookie Co.'s take on a nineT-based scram. Sporting clean shapes and unobstructed lines, the kit features a new subframe running dead-straight from the headstock back to behind the tail where it culminates in an upswept, hooped unit that's capped off with a traditional flat, scrambler-style saddle upholstered in Alcantara. The R9T's signature knee-notched tank is replaced by a custom fuel-cell hidden beneath a carbon fiber tank cover which is offered in a variety of trick liveries, including several with exposed carbon, and one in the classic BMW M livery.
Donor Model: 2014-2020 BMW R nineT
Style: Street Scrambler
Paolo Tex Design XB Buell XB12 Kit
Building off of Buell's fuel-in-frame XB chassis, this kit from Paulo Tex adds a decidedly muscular and aggressive aesthetic to the Harley-powered sportbike. Looking similar to the Buell-based Ronin 47 bikes, the kit uses a collection of 3D-printed ABS plastic and CNC-machined and laser-cut aluminum components. Despite dramatically altering the donor's appearance, the kit nonetheless maintains the stocker's rim-mounted brakes, suspension, and wheels. Tex's aggressive and minimalistic tail section is complimented via angular new tank covers that, when combined with the kit's sliding telescopic fork cover setup, give the bike a hunched-forward, attack-ready stance.
Donor Model: 2004-2010 Buell XB12
Style: Cafe Fighter
NMOTO BMW R nineT Nostalgia Motorcycle Kit
First completed in 1934, BMW's R7 was a wildly idiosyncratic prototype that's considered to be one of the most substantial designs of all time. Because only a single example of the two-wheeled art deco masterpiece was created (which was restored for the first time in 2005), owning an R7 has never been an option, even for the most affluent of Beemer enthusiasts. Enter: Florida's NMoto, which is now giving customers the chance to own a profound piece of BMW history with its "nostalgia" kit. The kit is made up of 74 individual pieces that together do a tremendous job of recreating the prewar proto bike. From the flared fenders to the fishtail exhausts, every element on the kit is spot-on. NMoto also offers customers a myriad of color, accessory, and upholstery options. In addition to being the most transformative kit on this list, the Nostalgia is also the most expensive, though its price includes a brand-new R9T donor bike.
Donor Model: 2014-2020 BMW R nineT
Style: Art Deco/Prewar
Metalheads: 18 Best Custom Motorcycle Builders
Intrigued by the world of one-off two-wheelers? Not sure if you want to purchase a kit or go the full custom route? Then be sure to check out our guide to the 18 best custom motorcycle builders.