Though there are numerous elements that factor into a car's overall performance abilities, horsepower output has long been something of the go-to metric to determine a vehicle's overall potency and performance prowess. Knowing automotive enthusiasts consider horsepower to be the holy grail metric on spec sheets, manufacturers have placed increased importance on power output figures, prompting an ongoing horsepower war that sees today's most elite automotive makes jostling for supremacy through the release of more and more powerful production models.
For years horsepower figures increased incrementally, with baby steps adding up to more and more high-performance engines over the course of several decades, though the introduction of hybrid and fully-electric powertrains have allowed for unprecedented claimed power figures. Besting today's Formula One cars by a significant amount, numbers that would have sounded preposterous a decade ago are now available on street-legal turnkey production models. Based on the enormous strides made in this area in recent times, we thought now would be the perfect time to count down the most powerful new cars you can buy right now.
2021 Ferrari SF90 Stradale
769HP
Debuting in 2020, the SF90 Stradale marked the Prancing Horse's first foray into the plug-in hybrid electric vehicle (or "PHEV") sector, and though the model saw Ferrari venture into new territory, the car wholly maintains the world-class level of comfort and performance that the Modena marque is known for. Powered by a forced-induction 4.0L V8 that's coupled with a trio of electric motors—one in each of the front wheels and one to spool up the turbocharger—the mid-engined Italian hybrid can achieve 0-60mph runs in under 2.5 seconds. The car is cloaked in hand-worked aluminum bodywork with a myriad of carbon fiber accents; and spent fumes are ejected from a full-titanium construction exhaust system.
Top Speed: 211mph
Torque: 590ft-lbs
2020 Lamborghini Sián FKP 37
807.4HP
When Lamborghini finally decided to get in on the hybrid hypercar market, the Italian firm opted to take an unusual route, essentially revising the existing Aventador, and equipping the SVJ-spec model's 6.5L V12 engine with a supplementary 48V supercapacitors-derived electric powertrain system. This would ultimately give way to the Sián FKP 37, which, upon its release, represented the most powerful production model ever offered by Lamborghini. The FKP 37's outward appearance also takes ample inspiration from the breathtaking Terzo Millennio concept car from 2017, with a decidedly sharp and aggressive bodywork.
Top Speed: 217.5mph
Torque: 531ft-lbs
2021 Aston Martin Valhalla
1,000HP
Benefiting from the elite British marque's experience and involvement in Formula One competition, the Aston Martin Valhalla is a high-performance mid-engined hypercar propelled by an insanely potent 1,000hp twin-turbocharged TM01 V6. Originally known by its codename of "AM-RB 003" or "Son of Valkyrie," the car was co-developed by Aston Martin and the Red Bull Racing F1 team and was designed to be a more practical, daily-use car, without sacrificing the exotic nature of Aston Martin's prior mid-engine hypercars. The Valhalla's sub-3,000lb curb weight is made possible through the use of a modified monocoque chassis that, like its bodywork, is composed of carbon fiber.
Top Speed: 220mph
Torque: 545ft-lbs
2021 McLaren Speed Tail
1,035HP
The Speed Tail is a modern homage to vintage Le Mans-style race cars of the same name and is McLaren's first-ever hyper grand touring model, as well as the fastest production model ever offered by the prestigious marque. Like the McLaren F1—and like an actual Formula One car—the Speed Tail's driver is centrally positioned, with the pilot's seat and the two passenger seats flanking it on either side all being integrated into the hyper GT car's carbon-fiber monocoque frame. Powering the 250mph machine is a 4.0L twin-turbocharged V8, which is essentially a reworked version of the McLaren 720S' M840T mill, that's been gifted an electric PMAC motor setup.
Top Speed: 250mph
Torque: 848ft-lbs
2021 Aston Martin Valkyrie
1,160HP
Another car born out of a joint development effort between Aston Martin and the Red Bull Formula One Team, the Valkyrie was originally envisioned as an ultra-high-performance track weapon that could also handle road-going duties (and ore importantly achieve road-legal status). Limited to only 150 units in total, the Valkyrie could easily pass for a top-level competition machine, looking more like an endurance racer than a street-legal supercar. Taking lessons from the Formula One playbook, the 1,160hp Aston Martin can achieve speeds of 250mph thanks to a powerful, naturally-aspirated 6.5L Cosworth V12. And while Aston Martin has limited production to just 150 units, the company is also building 25 examples of the $3.5M AMR Pro version of the British mid-engined beast.
Top Speed: 250mph
Torque: 664ft-lbs
Based in Denmark, Zenvo is an insanely elite and unique supercar company that trades in ultra-low production offerings with obnoxiously exorbitant price tags, with only a few dozen of the marque's multi-million-dollar cars having been built since Zenvo's inception in 2009. Loosely modeled after GM's LSX crate engine, the TSR-S is powered by a 5.8L V8 that packs dual superchargers that allow for speeds exceeding 200mph and 0-124mph times of just 6.8-seconds flat, making it one of the fastest accelerating cars on the planet. The most notable feature on the TSR-S is undoubtedly its active aero kit, which includes a massive rear wing that tilts in the opposite direction the car is traveling when cornering (think; the opposite of how a motorcyclist leans into a corner).
Top Speed: 202mph
Torque: 811ft-lbs
2021 Drako Motors GTE
1,200HP
The first fully-electric car on our list, Drako Motors' GTE is a comfortable four-door grand touring car that boasts the performance prowess of a modern hypercar. Built around a Fiskar Karma chassis and sporting Brembo brakes and Ohlins suspension, the GTE is powered by four electric motors and a wildly-advanced controller system and algorithm that grants the EV the ability to put down an otherworldly 6,500ft-lbs of hair-raising torque, which results in 1.8 second 0-60mph times. The GTE would be capable of even more insane acceleration were it not limited by the available traction afforded by modern tire compounds, which obviously struggle under the mighty oomph of the Drako.
Top Speed: 206mph
Torque: 6,491ft-lbs
Built in Los Angeles the Czinger (pronounced "Zinger") 21C distinguishes itself from other high-dollar hypercars through its 3D-printed chassis and bevy of other parts made using additive manufacturing. As if innovating the hypercar construction process wasn't enough, the Southern California hypercar company also designed the 21C's 1,233hp twin-turbocharged 2.9L V8 entirely in-house. On top of affording 1.9 second 0-60mph times, quarter-mile run times of 8.3 seconds—hitting 170mph in the process—and 268mph top speeds, the sub-2.9-liter Czinger-developed powertrain is the most horsepower-dense production engine in existence.
Top Speed: 268mph
Torque: 546ft-lbs
2020 NextEV NIO EP9
1,341HP
Founded in 2013, NIO 333 is an Oxford-based race team that competes in the proton-powered Formula E Championship. A few years into the company's history, it decided to take its high-performance EV expertise and apply it to designing, developing, and manufacturing its own road-going electric hypercar, ultimately giving way to the NextEV division and its EP9. While its more than 200mph top speed and sub-three-second 0-60mph times are thoroughly impressive, the EP9's biggest claim to fame is undoubtedly its autonomous driving capabilities. Record holder as fastest EV ever to lap the Circuit of the Americas race track in Texas, the car's frame and the entirety of its bodywork is made from carbon fiber.
Top Speed: 217.5mph
Torque: 1,092ft-lbs
2021 Koenigsegg Regera
1,500HP
Translating to the verb "to rule" or "to reign," the Regera is a limited production plug-in hybrid grand tourer that first debuted at the 2015 Geneva Motor show. A twin-turbocharged 5.0L V8 is helped along by a trio of YASA electric motors that collectively allow the PHEV to generate a tire-shredding 1,500hp and 1,475ft-lbs of torque, not to mention produce world-class speed and acceleration. In late 2019, the Swedish supercar set a world record for the fastest 0-250mph time for any production car, with a time of 31.49 seconds—besting the previous records (which was held by the Koenigsegg Agera RS) by nearly two full seconds.
Top Speed: 250mph
Torque: 1,475ft-lbs
2020 Bugatti Chiron Super Sport 300+
1,500HP
In August of 2019 Bugatti made history when it became the first manufacturer to build a production model capable of breaking the 300mph barrier. To mark the occasion, the French firm is building 30 special edition versions of the already thoroughly next-level Chiron dubbed the "Super Sport 300+." On top of the orange and black livery, the 300+ variant gets tweaked bodywork with an improved drag coefficient that was inspired by the lightly-modified Bugatti that broke the 300mph barrier. The 8.0L 16-cylinder engine has also received numerous tweaks that enable it to pump out 100 more horses than the base model Chiron.
Top Speed: 304mph
Torque: 1,180ft-lbs
2021 Koenigsegg Jesko
1,600HP
Unveiled in 2019 at the Geneva Auto Show, the Jesko is the spiritual predecessor to Koenigsegg's Agera RS, named after the founder of the swanky Swedish brand's father. This so-called "megacar" packs an in-house-developed 5.0L V8 with twin ceramic ball bearing turbochargers, a carbon fiber intake manifold, Koenigsegg's nine-speed Light Speed Transmission, and the world's lightest V8 crank, a machined stainless steel billet item weighing just 27.5lbs. Built around a carbon fiber monocoque, this 300mph beast of a vehicle also gets carbon-ceramic brakes, optional Koenigsegg Aircore carbon fiber wheels, an active aero kit that can generate over 3,000lbs of downforce, and a cabin with carbon fiber sport bucket seats with memory foam cushioning, upholstered in either leather or Alcantara.
Top Speed: 300mph+
Torque: 1,106ft-lbs
2021 Koenigsegg Gemera
1,700HP
Touted by its manufacturer as the first-ever "Mega-GT" car, the Gemera is Koenigsegg's first model to utilize a four-wheel-drive setup, as well as the brand's first four-seater. Engineered for touring in maximum comfort, the car features a state-of-the-art sequentially turbocharged 2.0L inline-three engine paired with a trio of electric motors that allow for speeds of almost 250mph. Interestingly, the three-cylinder hybrid powertrain utilizes the Swedish firm's "Freevalve System" with solenoid-activated intake and exhaust valves, rather than using traditional camshafts. The Gemera is also built around a carbon fiber tub-style chassis with aluminum sub-structures and rides on a pair of carbon fiber rims that come as standard.
Top Speed: 248mph
Torque: 2,581.5ft-lbs
Despite a development process that was kicked off over a decade ago, the SSC Tuatara wouldn't appear in final production-ready form until earlier this year, though by the time the cover was pulled off of the American-made hypercar, it became abundantly clear it was well worth the wait. Limited to only 100 units in total, the Tuatara—the Maori word for "first"—is powered by a twin-turbocharged 5.9L flat-plane-crank V8 that's mated to a seven-speed CIMA transmission that can perform gear shifts in under 100 milliseconds. Tipping the scales at just 2,750lb, the 300mph+ Tuatara also gets active aerodynamics and adjustable suspension geometry, as well as a carbon monocoque frame, and carbon bodywork that earns it a class-leading 0.279 drag coefficient.
Top Speed: 304.7mph
Torque: 1,280ft-lbs
2020 Dendrobium D1
1,800HP
Dendrobium Automotive's inaugural model, the D1 is a British-built fully electric hypercar that weighs in at just under 3,900lbs, thanks to a compact proton-powered powertrain and an advanced carbon fiber and composite tub frame. Taking obvious inspiration from modern-day Le Mans racers, this cross between a closed and open-wheel machine was developed in collaboration with legendary race outfit, Williams Advanced Engineering. In addition to offering relatively bonkers aesthetics and performance capacities—with 200mph speeds, 1,800 horses, and nearly 1,500ft-lbs of torque—the D1 also represents a major step forward in terms of EV technology, utilizing a solid-state pattern setup.
Top Speed: 200mph+
Torque: 1,475ft-lbs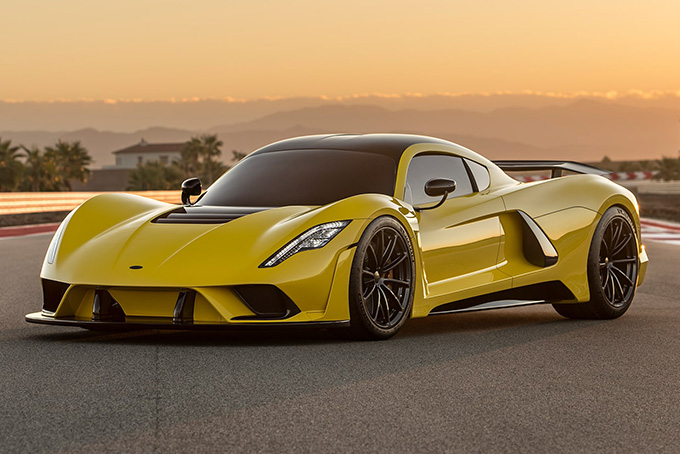 2020 Hennesey Venom F5
A bonafide feat of modern mechanics and engineering, the latest Venom F5 is a ridiculously impressive machine, built around an all-new carbon fiber chassis that weighs only 190lbs. Loosely based on the traditional American muscle car V8 configuration, the F5's 6.6L engine was also fully designed in-house, receiving dual Precision ball bearing twin turbochargers, 3D-printed titanium construction compressor housings, and a slew of other noteworthy internals and components that afford the American hypercar the ability to achieve speeds exceeding 300mph. A sleek bodywork design backed by an active aero kit complete this exotic package.
Top Speed: 310.7mph
Torque: 1,193ft-lbs
2021 Pininfarina Battista
1,900HP
Though Automobili Pininfarina is best known for its elite coachbuilding work, the Italian-born company is now a Munich-based outfit that's transitioned to churning out world-class hypercars, starting with the Battista. First appearing in 2019, the Battista was penned by Luca Borgogno, and maintains its classic Italian visual theme, albeit while appearing wholly modern. The fully-electric vehicle is equipped with liquid-cooled PMAC motors housed in each wheel, drawing energy from an advanced 120kWh (Rimac-made) Lithium Nickel Manganese Cobalt Oxide battery pack that allows for a 280-mile range on a single charge.
Top Speed: 217mph
Torque: 1,696ft-lbs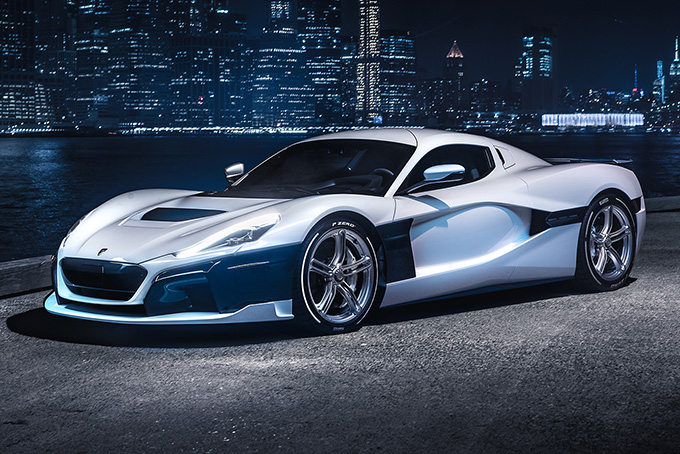 Hailing from Croatia, the Rimac C Two is another thoroughly modern and advanced all-electric hypercar with class-leading performance and specs. With nearly 1,700ft-lbs of torque and just shy of 2,000hp, the C Two's 250mph+ speeds are frankly unsurprising. The C Two's range of approximately 400 miles on a single charge is equally impressive, with Rimac actually being responsible for supplying batteries on other elite models, including the previous entry on this list. Furthermore, its 120 kWh Lithium Nickel Manganese Cobalt Oxide battery pack can receive an 80% charge in as little as half-an-hour. Like the NextEV EP9, the C Two boasts semiautonomous driving capabilities, with Level 4 autopilot abilities.
Top Speed: 256mph
Torque: 1,696ft-lbs
Continuing the Lotus brand's 70-year history of automotive innovation, the Evija was engineered to be an envelope-pushing hypercar. Also heavily inspired by contemporary Le Mans racers, the vehicle features streamlined bodywork flanked by a bevy of Venturi tunnels. At the heart of the British EV are four electric motors feeding power through a single-speed automatic transmission. The Evija's insane power output, when coupled with its lightweight, allows for sub-three-second 0-60mph runs and speeds of over 200mph. In fact, with a curb weight of just north of 3,700lbs, the Lotus Evija is touted as the production lightest EV hypercar of all time. It is worth noting that the Evija, unfortunately, isn't street-legal on US soil.
Top Speed: 217mph
Torque: 1,253ft-lbs
If we had to pick a single vehicle to convey the massive strides being made in today's automotive industry, we would undoubtedly turn to the mighty Aspark Owl. The Japanese brand's inaugural model features quad PMAC motors drawing energy from a 1,300kW Lithium-Ion battery pack that together affords the Owl a whopping 2,012hp and 1,475ft-lbs of torque. Paired with the Owl's sub-4,200lb curb weight—which is achieved through the use of a carbon fiber monocoque chassis adorned in carbon fiber-reinforced polymer bodywork\—the vehicle can achieve 1.69 second 0-60mph times and a top speed in the ballpark of 250mph, all while offering a range of 280 miles.
Top Speed: 249mph
Torque: 1,475ft-lbs
The 20 Fastest Cars In The World
Want to check out a few more of the most capable vehicles in existence? Then be sure to cruise over to our guide to the fastest cars in the world for 20 200mph+ supercar and hypercar production models.