While camping offers an incredible interlude from congested cities and the woes of day-to-day living, the freedom afforded by the activity typically comes at the price of leaving the majority of our creature comforts behind. Two or three seasons out of the year this isn't a problem – we would actually argue that it adds the experience — though during the colder months, braving the elements requires a few extra winter camping essentials, and when looking to warm up your temporary pole-framed dwelling, you'd be hard-pressed to do better than a tent heater.
On top of providing spaces with ambient heat, tent heaters come with a bevy of supplementary benefits, as well. Utilizing a tent heater mitigates the need for packing as many heavy layers of clothes and a bulkier low-temp-rated sleeping bag, lightening and lessening your cold-weather camping load out. Better yet, these portable heaters allow campers to extend their camping season, rather than having to hang it up once the snowfall starts. So, whether you're looking to warm up a bivy sack on extended backpacking trips or heat up a family-sized dome tent, one or more of the items on this list of the best tent heaters is sure to keep you cozy and content, no matter how far the needle plummets.
Best Tent Heaters Breakdown
Best Budget Heater

Texsport Portable Propane Heater

Best for Mountaineering

Mr. Buddy MH9BX Heater

Best for Backpacking

Martin Portable Gas Catalytic Heater

Best for RV Camping

Sengoku HeatMate Portable Heater

Best Butane Heater

Kovea Cupid Portable Heater

Best Bang for Your Buck

Dewalt DXH12B Portable Radiant Heater

Best Industrial-Grade Heater

Allegro 9401‐50 Working Tent Heater
Types Of Tent Heaters
Though all tent heaters perform the same basic function, there are a variety of different sizes and types currently available. The two primary types are gas heaters and electric heaters. Gas heaters run off readily-accessible and affordable fuels like butane, kerosene, and the most popular: propane. This means carrying extra fuel is as easy as grabbing a spare canister or bottle. Electric heaters require an outlet which is an obvious downside as it requires a generator, though there are also batteries, though they're often on the heavier side. Unlike their gas-powered counterparts, however, battery-operated heaters can be juiced-up via solar power, making them ideal for off-the-grid applications, especially for situations such as desert camping where the days are warm and sunny and the nights are absolutely frigid.
Tent Heater Tips
Tent heaters are plenty efficient on their own, however, their efficacy can be greatly increased with a few simple tricks. This allows you to preserve fuel, too. Tent heaters become markedly more effective when a tent is better insulated. This can be accomplished by draping blankets and tarps over the tent, (or hanging them inside) and lining the floor with a carpet, blanket, or mat of some kind.
It's also recommended to use as small of a tent as possible when running a tent heater, as the smaller the square footage, the more effective the heater will be and the smaller the unit will be required. In addition to your intended application, another important factor to consider is your existing camping gear loadout. If you regularly drive into camp and already own a solid generator, you're almost certainly better off investing in an electric unit (and an extension cord). If you already possess camping equipment such as a stove or light that run off of a particular type of gas, you're likely better off going that same gas route for your heater.
Safety Guidelines
Like a campfire, you never want to leave a burning heater unattended, nor do you want to go to sleep with a heater running. Also, much like a campfire, a tent heater can easily burn someone or cause a fire if objects are placed on or too near it, and thus demonstrating great caution is always recommended when using one. And while the entire concept of a tent heater is to trap heat within an enclosed area, proper ventilation is nonetheless a must when utilizing a tent heater. You also want to follow any specific safety instructions provided by the manufacturer.
Texsport Portable Propane Heater
Pros
Cheap
Allows for 2 different propane sizes
Stable base despite height
Cons
Control knob in an awkward place
Best Budget Heater: Cold-weather camping shouldn't require luxurious amenities. And so, to help you save your shekels, we've provided you with a fantastic option for staying warm. Starting at the more accessible end of the spectrum, we have the Texsport Portable Outdoor Propane Heater. Offering up to 2,890 BTUs (British Thermal Units) at the twist of a knob, this compact camping gadget uses standard 16.4oz and 14.1oz propane cylinders to heat its durable stainless steel burner and aluminum reflector. Large folding plastic feet provide a stable base for the device and an automatic shut-off valve cuts off the fuel supply should the flame go out. The propane tanks aren't included, but with this heater being over half the price as the next best option, that's an expense we're willing to make.
Fuel Type: Propane
Max BTUs: 2,890
Mr. Buddy MH9BX Heater
Pros
Operates at high altitudes
Heats 225sq.ft area
Has a tip-over kill switch
Cons
Can be hard to light the first time
Best for Mountaineering: Lightweight, powerful, and capable of traversing, Mr. Buddy's MH9BX Heater is great for indoor cabins but can also be a nice companion for mountaineering treks. A potent heater in a compact package, this propane-powered device from the specialist brand offers up to 9,000 BTUs, which is enough to comfortably heat a 225-square-foot shelter. Lit via an easy-to-use piezoelectric spark igniter, this heater has a built-in cavity to accommodate a single one-pound cylinder which can run the device for up to six hours. Designed to operate at altitudes as high as 7,000 feet, the heater is armed with an oxygen depletion sensor and tip-over kill switch so you can keep warm without worrying about your safety.
Fuel Type: Propane
Max BTUs: 9,000
Martin Portable Gas Catalytic Heater
Pros
Only 4.5lbs
Easy to use
Efficient heating without wasting heat
Best for Backpacking: You may think that carrying a heater while backpacking calls for unnecessary poundage. However, if you want to keep yourself protected from the winter elements, you may want to reconsider your options. This gas catalytic heater from Martin runs off propane, but uses a flameless system that not only generates heat safely but does so much more economically than the majority of other offerings with a 99.98% efficiency — almost twice that of standard flame-burning heaters. This translates to a single one-pound cylinder stretching a whole seven hours at its maximum heat of 3,000 BTUs. The heater also boasts an electric ignition and adjustable thermostat dial. Tipping the scales at under 4.5lbs, this collapsible heater is a great option for backpacking and car camping alike.
Fuel Type: Propane
Max BTUs: 3,000
Sengoku HeatMate Portable Heater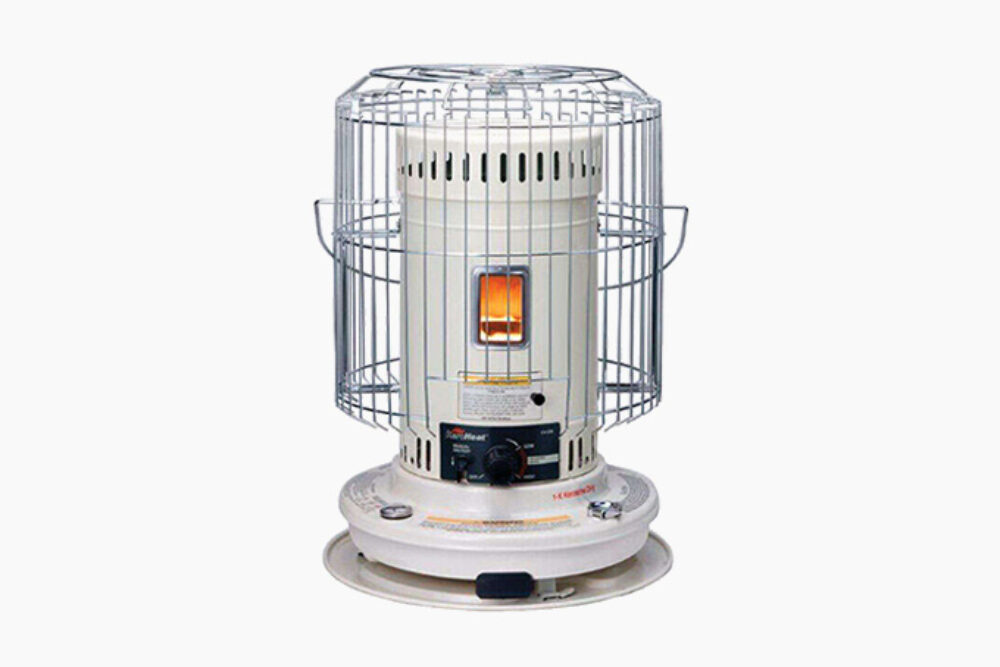 Pros
Heats for 14 hours with kerosene fuel tank
Safety shield protects from burns & blocks winds
2-year warranty
Features a tip-over sensor
Cons
Kerosene can have a smell that's unpleasant for some
Best for RV Camping: While many RVs and campers come with their own heating systems, you may want to invest in a backup unit, or even a more powerful option, for times when the days or nights get a little too cold. For over six decades Sengoku has been producing quality heating devices, like the outfit's HeatMate Omni-Radiant heater. Putting out an enormous 10,000 BTUs, this heater is good for keeping up to 380 square feet of living space nice and toasty. And with a 4.5-liter fuel tank, this Sengoku item can offer said heat for up to 14 hours before requiring a refill. A unique safety shield design not only protects users from burns, but also blocks the burner from the wind. Sold with a two-year factory warranty, this potent portable space heater also comes equipped with an automatic shut-off, tip-over sensor, adjustable flame, and electric ignition.
Fuel Type: Kerosene
Max BTUs: 10,000
Kovea Cupid Portable Heater
Pros
Only 3lbs
Super compact
Butane burns at 71g per hour
Ceramic heating plate is very efficient
Sturdy low-profile base
Cons
Doesn't work in colder weather
Best Butane Heater: More energy efficient than propane and less toxic, butane is an affable choice for many travelers. Not as ideal in super-frigid environments due to its higher boiling point, the fuel is still a smaller and slightly more affordable choice for those looking to save in those regards. Kovea has established itself as a leading brand in its industry, and with offerings like the Cupid heater, it's not hard to see why. Despite the heater's diminutive size — weighing in at only 3lbs and measuring 10.5"W x 7" L x 5.5" D — it still puts out a competent 3,333 BTUs, all while sipping butane at a rate of just 71 grams per hour. The heater's ceramic-based heating plate helps efficiently emit heat throughout a camping tent, while its foldable legs ensure a sturdy base and its included hard-case guarantees its safety while in transport.
Fuel Type: Butane
Max BTUs: 3,333
Dewalt DXH12B Portable Radiant Heater
Pros
Has propane & battery functions
Quiet operation
Super powerful; heats 450sq.ft area
Integrated high-velocity fan spreads heat well
Cons
Not great in higher winds
Best Bang for Your Buck: Legends in power tools and construction gear for just around a century, DeWalt manages to do everything in its space pretty darn well, including providing heat to workers and adventurers. The Maryland-based brand's Portable Radiant Heater offers the primary functions of a powerful tent heater, as well as a handful of additional handy camping amenities. The propane-powered heater runs for up to 7 hours off of a single one-pound cylinder, with an output of as much as 12,000 BTUs which is good for regulating up to 450 square feet of space thanks to an integrated high-velocity fan. Alongside the propane cylinder, the steel-cased heater also runs on electricity, accommodating a rechargeable 20V (MAX or FLEXVOLT) battery that allows the heater to run its LED light bar and operate at a super quiet noise level. Not just that, but this heater doubles as a device charger with its trio of USB ports.
Fuel Type: Propane + Battery
Max BTUs: 12,000
Allegro 9401‐50 Working Tent Heater
Pros
Heavy
Features a five-blade fan to circulate heat
Super strong powder-coated metal housing
Can pump out cool air too
Cool retro aesthetic
Cons
Expensive
Be careful not to set it to its coldest setting on accident
Best Industrial-Grade Heater: Don't let the old-school vintage flair of this heater fool you, it's more than capable of performing at the level of its $400+ price tag. While far too cumbersome and powerful for a backpacking-style bivy tent, this industrial-grade tent heater from Allegro is one of the best heavy-duty units on the market. Though its BTU output is limited to 5,000, it nonetheless is capable of heating large areas thanks to its five-blade fan and ability to circulate heat at 115 cubic feet per minute. Encased in rigid metal housing with a green powder-coated finish, the heater packs a 120V, single phase, 60Hz, fully-sealed motor that allows for controlled temperatures between 32°F to 100°F (or 0°C to 37.7°C).
Fuel Type: Electric
Max BTUs: 5,000
The Best Sleeping Bags for Camping
While you're getting cozy by the camp heater, make sure you also have a quality sack from our guide to the best sleeping bags for camping.