When it comes to hiking gear and apparel, boots, backpacks, and jackets tend to get the lion's share of the attention, which is admittedly strange considering your legs are experiencing the vast majority of the movement and work while beating the path. And it's for this reason that hiking pants are so instrumental to achieving a proper loadout for the trail, as they massively bolster durability, mobility, comfort, and performance.
The outdoor garment space has also benefitted in recent years from a slew of advancements in technologies, materials, and weatherproofing coatings and treatments. Though these breakthroughs are largely spurred on by the jacket segment, these same advanced constructions and membranes are no less present in the latest hiking pants. And it's this cutting-edge crop of trail-specific trousers that we'll be exploring today in our guide to the best hiking pants.
Coverage, Constructions, & Mobility
The Elements To Factor In When Buying New Hiking Pants
Purchasing pants specifically for hiking applications actually differs pretty significantly from the process of buying ordinary men's jeans or pants. As such, it helps to be armed with a few basic areas of understanding in order to ensure you get your hands on a quality pair. Below, we'll briefly touch on each of the most crucial aspects to take into account before pulling the trigger on your purchase.
Durability: Because hiking pants have to be able to survive the rigors of countless hours out of the trails, durability is an incredibly important factor. Though how rugged a pair of hiking pants are ultimately beginning with the primary construction, there are plenty of pants with reinforcements or overlays in less stress or abrasion-prone areas using materials like CORDURA. The construction techniques used will also play a pivotal role in how hardwearing a given pair of pants is, with techniques like laser and taped seams boasting higher degrees of durability than traditional stitching.
Breathability & Waterproofing: Almost certainly the greatest advancements in this space, breathability and waterproofing have seen massive improvements over a short period thanks to a growing number of increasingly capable membranes, which are 100% waterproof and shield their wearer from the elements while allowing moisture and body vapors to pass through the jacket, preventing sweating and discomfort. Many of today's hiking pants are also fortified via supplementary coatings such as a DWR finish, which, on a microscopic level consists of tiny spikes that help water to bead and roll off of the surface of a garment rather than seeping into it.
Fitment & Adjustability: Hiking-specific pants afford better mobility and range of motion than your average pair of chinos or jeans, which makes sense considering the intended use. However, in order for hiking pants to perform to their full potential, they need to fit their wearer somewhat precisely. For this reason, pants that are equipped with a wide range of adjustment points are able to afford a markedly better and more snug fit. And, on top of sporting breathable membranes, a great many of today's hiking pants also feature open and closable ventilation ports to allow even more airflow to pass through when trekking through warmer climates.
Comfort: Just like with a quality pair of premium hiking boots, a good pair of hiking pants should offer all-day comfort. The use of soft liners, a slew of adjustment points, primary constructions with breathable membranes and/or stretch properties, and a suite of vents collectively make for a much more comfortable experience. You want to be sure to factor in the different areas that affect this particular aspect as comfort really does make an enormous difference when it comes to hiking pants.
Style: Not unlike the vast majority of genres of clothing, hiking pants come in a wide array of different styles, cuts, and colors. Some pairs take a more military-inspired tactical approach, while others opt for more subtle, understated pairs. The point is, no matter what your personal tastes happen to be, there's almost certainly a high-end pair of hiking pants out there that will jive with your visual preferences. And, unsurprisingly, hiking pants are offered in a heap of different color options, as well.
Trail-Specific Trousers
The Best Hiking Pants Currently On The Market
Now that you're privy to what to be looking for when shopping, let's delve into our choices for the latest and greatest hiking pants that money can currently buy.

Under Armour UA Canyon Pants
While no doubt best-known for its sports and activewear offerings, Under Armour has also gained favor with a large number of LEOs and military personnel with durable and highly utilitarian items like the UA Canyon Pants. Composed of an elastane-infused nylon stretch-woven blend with moisture-wicking and four-way stretch properties, the UA Canyon Pants are resistant to salt, chlorine, and stains, good for blocking UPF 30 sun rays, and boast articulated knees and a dedicated right-hand knife pocket.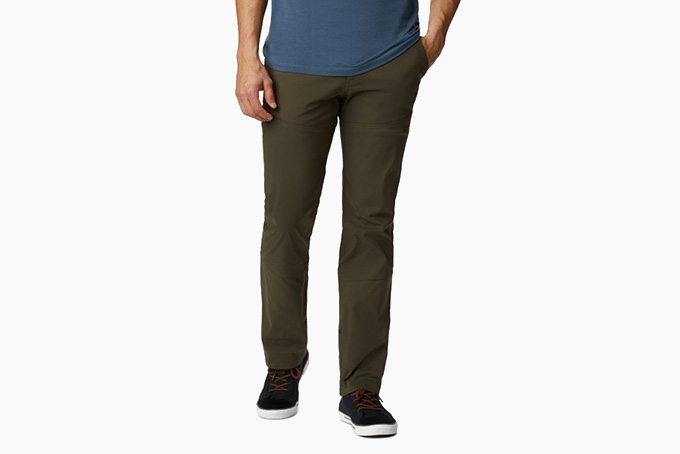 Mountain Hardwear AP Pant
Winner of Backpacker's coveted Editor's Choice Award (for hiking pants), Mountain Hardwear's Hardwear AP Pant offers ample comfort and durability in a featherweight package that weighs just 7.2oz. Good for shielding its wearer from rays of up to UPF 50, these pants are made from a stretch cotton nylon canvas blend that's produced in a whopping eight color options. A myriad of secure open and zippered pockets, articulated knee, and Mountain Hardwear's unique roll-up snap feature complete the package.
Coalatree Trailhead Pants
Coalatree's Trailhead pants are a highly-calculated performance pair of hiking trousers born out of the most successful outdoor pant Kickstarter campaign of all time, amassing more than $400K. This allowed the sustainably-minded manufacturer to develop a purpose-built pair of hiking pants with a DWR-coated and bluesign-approved Spandex-infused nylon blend that's highly tear-resistant and completely waterproof and breathable, as well as sporting four-way stretch and antimicrobial properties. This pair also packs and stuffs into its own front right pocket for easy storage when not in use.
Patagonia Point Peak Trail Pants
A hardwearing pair of hiking pants that's soft on the planet, Patagonia's Point Peak Trail Pants are composed of 90% recycled 6.5oz nylon infused with a double-weave Spandex and fortified with a DWR finish. Fair Trade Certified-sewn and made from bluesign approved materials, this sub-one-pound pair of hiking pants also boasts articulated legs and a gusseted crotch that allow for an unrestricted range of movement, waist and cuffs adjust with hook-and-loop tabs and center-front boot hook-equipped cuffs for a snug fit, and abrasion-resistant front-paneling from midthighs to cuffs and on the seat that ensures season after season of dependable use.
Triple Aught Design Recon RS Pants
An updated-for-2020 version of an already-stellar pair of hiking and adventure pants, Triple Aught Design's Recon RS Pant is one of the most thoroughly considered and over-engineered pairs of trousers on the market. Made in America from a DWR-finished NYCO RS material that combines the strength, abrasion-resistance, and durability of nylon with the soft touch of cotton, these four-season pants sport triple and double-needle stitching, a completely unrestricted range of motion, and a plethora of pockets including inset zippered cargo pockets with internal attachment points, top-entry hand pockets with internal welt pockets and hidden webbing loops allows the wearer to neatly organize their gear, and TAD Diamond reinforcements at the pockets prevent wear and tear from knife and tool clips.
Prometheus Design Werx Raider Field Pant EX
Prometheus Design Werx is well-known for putting its signature hardwearing and tactical spin on everyday garments and gear, and the brand's Raider Field Pant EX wonderfully encapsulates PDW's regular modus operandi. Cut and sewn in small batches in California, these pants are crafted from a custom-milled high-tenancy nylon and polyester blend infused with SpandexTwill and four-way stretch, and feature nylon mesh pocket liners, custom nylon slotted buttons, YKK nylon coil zippers with locking sliders, T40 Nylon threading, double-reinforced knees with articulated darts, and double-reinforced rear cuffs.
GoRuck Challenge Pants
Whether it's footwear, EDC bags, or apparel, everything GORUCK produces is American-made, built-to-last, and backed by the company's generous Scars Lifetime Guarantee, and GORUCK's Challenge Pants are by no means an exception. These pants boast a streamlined cut and fit with no back pockets, a curved waistband, drainable cargo pockets, a diamond gusset, and articulated knees, and are made from fast-drying, abrasion-resistant, multi-way-flex ToughDry fabric. Manufactured in black, gray, and coyote, GORUCK's Challenge Pants feature an understated yet modern aesthetic, with a few tactical details that reveal themselves upon closer inspection.
Norra Ljung Outdoor Pants
Equal parts lightweight, rugged, and sustainable, the Norra Ljung Pants were originally born out of a 2018 Kickstarter campaign and now represent some of the most high-performance hiking pants on the market. Made from a blend of recycled polyester and organic cotton, these pants of fortified via a fluorocarbon-free DWR treatment and feature replaceable and removable knee pads made from EVA foam. An array of adjustment points also ensure a snug fit no matter the wearer.
The North Face Dryzzle FUTURELIGHT Full Zip Pant
After years of utilizing GORE-TEX membranes, the outdoor experts at The North Face have jettisoned the well-known material in favor of its own proprietary membrane dubbed "FUTURELIGHT," an ultra-soft and insanely lightweight windproof construction that reportedly offers the best breathability and waterproofing of any membrane on the market. And it's this cutting-edge three-layer material that's been used to create TNF's Dryzzle FUTURELIGHT Full Zip Pant, which also sports kick patches, a partially elasticized waistband with a float-bonded front, articulated knees, an adjustable snap-tab closure at the hem, and full-length side zippers.
Fjällräven Keb Trousers
Though they've now existed for several years, Fjällräven's Keb Trousers remain one of the best pairs of hiking pants that money can buy. Produced in seven color options, these pants are crafted from a combination of stretch fabric and Fjallraven's environmentally-conscious G-1000 ECO material and boasts reinforced knees, pockets, and pant-seat, ventilation zippers running from the knees to the hips, internal attachments for suspenders, detachable strap adjustments at the ends of the legs, and boot hooks and loops for use with stirrups. Weighing only 21.5oz, the latest version of these pants also feature redesigned leg-endings that allow for easier on-the-fly adjustments and easier repairs —should you manage to damage these hardwearing pants.
Arc'Teryx Leaf Atom LT Pant Gen 2
When shopping around for high-end hiking or outdoor gear, it never hurts to see what today's most elite military units are using, and with dan-near unparalleled performance and durability, it's frankly no surprise that many operators put their trust in Arc'Teryx Leaf. Designed to be worn as a mid-layer or as standalone shell pants, the brand's second-generation Atom LT Pant is made from a combination of LI PENG high air perm nylon ripstop backed by a TORAY mechanical stretch mini-rip Lightweight, a 7.5oz PONTETORTO 7.5oz hard face fleece, and a DWR-coated 20z CLIMASHIELD 2oz Combat Fiberfill Insulation. Other noteworthy details include full side zips, a vertically-routed cuff drawcord, and an elasticized, adjustable nylon web waist.
On Waterproof Pants
On's plainly-named Waterproof Pants take the idea of unrestricted mobility to new heights. Engineered specifically for trail-running applications, these quick-drying, moisture-wicking pants feature a polyamide and elastane blend construction backed by a 100% waterproof and breathable triple-layer membrane. Weighing less than 8oz, these pants also sport a number of other elements that make them more conducive to trail-running such as built-in vents, articulated knees and multi-way stretch, extended ankle zips, and connector loops for combining the pants with On's inner-tights or shorts.
Vollebak Planet Earth Pants
A more lightweight — but no less innovative — alternative to Vollebak's game-changing 100 Year Pants, the company's Planet Earth Pants were engineered from the ground up to offer maximum comfort in the world's harsher conditions. Designed to handle the planet's toughest, most unforgiving locales, these pants feature an elastic, rope tied waistband, seams that are reinforced with welded Bar-Tacks, pockets that are all laser-cut and bonded, a plethora of pockets (including a dedicated watch pocket), the highest UV protection of any pants at over 50, waterproof and bonded zippers throughout, and Italian-sourced nylon and elastane blend construction benefitting from a fluorocarbon-free plant-based water repellent technology that acts as a natural DWR-like coating.
The 12 Best Rain Jackets For Hiking
Now that you've got your trail pants situation all sorted, why not check out a selection of stellar upper body counterparts from our guide to the best hiking rain jackets for breathable yet fully waterproof options to keep you dry while out on the trails.