Jun 1, 2022
Category: Gear
It's time to stop pretending that any of us really enjoy granola, energy bars, and MREs while we're out on the trails. Sure, they serve a purpose — to fuel us up when we need the energy — but they're so far from anything you might consider "culinary" that it's practically laughable. Thankfully, if you want a genuine hot lunch or a home-cooked dinner while you're out camping, you're not completely out of luck.
Camping stoves are a great alternative to cold, prepackaged foods — so long as you're willing to make some concessions in regards to weight and storage space, both in regards to the stoves themselves and the food supplies you'll want to bring along. If you're interested in taking your kitchen skills out to the woods and trying your luck at some campground cooking, you'll definitely want to have a gander at our following collection of what we believe are the 12 best camping stoves money can buy.
What's In A Camp Stove?
Factors To Consider
Just because something can create a flame, that doesn't mean it will function properly as a camping stove. And not all camp stoves are alike in regards to their size, shape, features, etc. If you're in the market for one, there are some things you should know. That way, you'll make an educated decision based on the technology out there and what you specifically need and want out of a campfire cooking apparatus. The following are four of the most important metrics to keep in mind:
Size/Weight: If you are car camping, heading out in an overlander, or going on a trip where you and your crew will remain largely stationary, the size and weight of your camping stove aren't that big of a deal. However, if you're a hiker/backpacker, you'll want to be sure the camp stove you're interested in isn't too big and bulky to pack along with you. Trust us, even an extra pound added to an already stuffed loadout could bog you down badly.
No. of Burners: This particular metric is most important if you're making anything that requires a high volume of ingredients or multiple different cook times and temperatures. If the food you plan to make can fit in a single cast iron pan or lightweight pot, you can get by with a single burner. But if you're making a lot of food or a more complex dish, you may want to opt for something with larger or more cooking surfaces.
Type of Fuel: Most camping stoves utilize either propane or isobutane-propane (which is lighter, more energy-rich, and more expensive than propane). That means that these types of fuels in a variety of canister sizes are widely available. However, there are also alternatives — like wood-burning options. Wood-burning stoves don't burn as clean and you're stuck dealing with embers and ashes, but they require less equipment. You just have to decide what's more important.
Alternative Features: Though not all of them offer it, some camp stoves have alternative features that can make them all the more valuable when you're out on the trails. For instance, the BioLite Camp Stove 2 features an onboard battery that turns flame heat into usable electricity — that way you can charge up your tech anywhere you can build a fire. Of course, it's worth checking in to see whether the stove you're interested in has more basic things like an adjustable flame or wind-blocking shields.
Coleman Two Burner Propane Stove
It might not be sleek and elegant, but the Coleman Two Burner Propane Stove you see here is one of the most trusted, widely-used, reliable camping stoves around. The dual burners offer a bit of versatility regarding the kinds of meals you might make — it even supports a portable griddle top if you have a Lodge cast-iron one — and the compatibility with propane fuel makes getting this bad boy ready to grill a simple prospect. It is a touch bulky and heavy, so it's definitely not backpacking-worthy, but it works plenty well on more casual camping, off-roading, and beach-going trips.
Weight: 11 lbs
Burners: 2
Fuel Type: Propane
Snow Peak LiteMax Titanium Stove
If keeping your kit to an absolute minimum regarding used space and weight is of the utmost importance to you, then you can't go wrong with Snow Peak's ultralight LiteMax Titanium Stove. It's so light and compact, you might even forget you have it in the first place. But it will definitely come in handy when you want a hot meal. Simply plug in a fuel canister, light it up, and put your cookware of choice on top and you're all ready to go. Furthermore, the folding arms even act as an ad-hoc windscreen for breezy days on the trails. Best of all, breaking it down is just as simple as setting it up.
Weight: 0.125 lbs
Burners: 1
Fuel Type: Isobutane-Propane
MSR PocketRocket Deluxe Stove
Like the Snow Peak offering above, the MSR PocketRocket Deluxe Stove is an impressive, ultralight backpacking-ready camp stove that's prepped for adventure. In fact, it's actually the lightest camp stove that MSR makes, which is saying something. With a burn time of 60 minutes total, a boil time of just 3.5 minutes, and a built-in piezo igniter, this tiny titan is super simple, effective, and convenient. All you have to do is make sure you've got a canister of IsoPro fuel to go along with it and you'll be ready to cook in no time flat.
Weight: 0.18 lbs
Burners: 1
Fuel Type: Isobutane-Propane
Solo Stove Titan
Not everyone has the ability nor desire to carry around a complement of fuel canisters as they head out on an adventure. However, if you're wandering through the woods, you might come to realize that there is natural fuel all around you. That's where the Solo Stove Titan comes in handy. This minimalist camp stove was made for burning wood, which you can typically gather from the surrounding landscape, and actually has a design made specifically with natural convection in mind — meaning you get a cleaner, more efficient flame that's easier to get and keep going. Just make sure, once you're done, that you put out all the smoking embers, as starting a devastating forest fire is not something anyone wants.
Weight: 1 lbs
Burners: 1
Fuel Type: Wood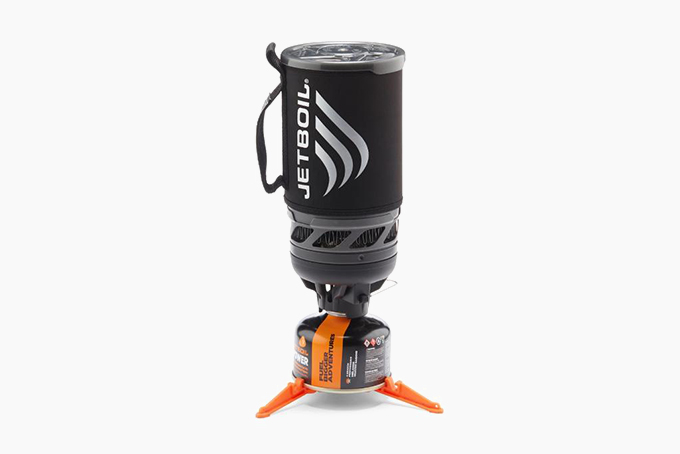 Jetboil Flash Cooking System
If you're big on soups and/or chili while you're out on the trails — after all, soup and chili can be tasty, can help you stay hydrated, and are nutrient-rich — then you're definitely going to be interested in the Jetboil Flash Cooking System. That's because this system hinges on a fuel canister that feeds into a burner, which attaches to a self-contained pot of sorts — making it more stable and safer for cooking liquid-based foods. It can boil a liter of water in just 100 seconds — meaning you can easily and quickly decontaminate drinking water, as well — and it has a color-change indicator to let you know when it has done its job.
Weight: 0.82 lbs
Burners: 1
Fuel Type: Isobutane-Propane
Blackstone Table Top Grill
If pancakes, bacon, and eggs sound like good campground foods to you, you may be interested in a camp stove that can make those earthly delights properly. And the Blackstone Table Top Grill is one such camp stove. You see, this isn't just a flame-making platform — it's a fully-functioning flat-top griddle that has its own integrated grease tray. Granted, this is one of the heaviest camp stoves around — clocking in at a whopping 32 pounds — so you'd really need a single campground area or a 4×4 overlander to move it from place to place, but it's also remarkably versatile and handy from a cooking perspective. They even make it in small and large sizes, so you can choose your cooking area based on how large your meals tend to be.
Weight: 32 lbs
Burners: 1
Fuel Type: Propane
GSI Outdoors Selkirk 540 Camp Stove
GSI Outdoors made a name for themselves by making some of the best ultralight, ultra-compact camp stoves around. But they also wanted to try their hand at, to paraphrase the brand themselves, going big or going home. And, boy, did they succeed with the Selkirk 540 Camp Stove. This two-burner stove is the largest the brand has to offer, yet it still collapses down to a relatively compact format that makes it great for camping trips and off-roading alike. It can fit up to two 10″ pans side-by-side on its burners, has a simple push-button ignition, boasts a durable powder-coated steel exterior, and still manages to weigh just 10 pounds. Sure, it's not backpacking-friendly, but this is a pretty spectacular offering if mobility isn't high on your list of concerns.
Weight: 10 lbs
Burners: 2
Fuel Type: Propane
Kovea Slim Twin Propane Stove
As far as larger two-burner camp stoves are concerned, the Kovea Slim Twin Propane Stove you see here might just be the thinnest when collapsed. It also weighs under 10 pounds, boasts propane compatibility (which is cheap and widely available), can boil 1L of water in around 3 minutes, and can burn for nearly 2 hours straight with a 1-pound propane tank. Pair that with a removable lid and built-in piezo igniter, and it's easy to see that this is a stellar offering all-around — so long as keeping the weight to a minimum isn't a necessity for you and yours.
Weight: 9.5 lbs
Burners: 2
Fuel Type: Propane
MSR Dragonfly Portable Camping Stove
Weighing in at under a pound, the MSR Dragonfly isn't the brand's lightest backpacking-friendly stove, but it might be their most versatile. This is due, in part, to its huge list of compatible fuel types: including white gas, kerosene, unleaded auto fuel, diesel, and jet fuel. Essentially, if you have a flammable gas canister, this stove can probably use it as fuel. It's also made in the USA, collapses down small for better portability, and has its own included stability arms that can support pots and pans up to 10″ in diameter.
Weight: 0.875 lbs
Burners: 1
Fuel Type: White Gas, Kerosene, Unleaded Gasoline, Diesel, & Jet Fuel
BioLite CampStove 2
Technology has invaded just about every single part of our lives. Even out on the trails, we sometimes need access to power to keep our pathfinding tech juiced up. Well, the Biolite CampStove 2 works great as a wood-burning fire-maker, but it also has a unique feature: a built-in battery that can turn the energy from its wood fire into usable electricity. That means, so long as you have access to kindling, you can charge up your smartphone even when the sun is down. And that's just one of the many, many features that makes it such an impressive offering.
Weight: 1 lbs
Burners: 1
Fuel Type: Wood
Jetboil HalfGen Base Camp Stove
Roughly the same size as a stovetop eye, the Jetboil HalfGen Base Camp Stove isn't the lightest or most compact of offerings, but it does have plenty of other things going for it. For starters, it can support pots and pans that are larger than most of its ultralight competition. Furthermore, it can function in temperatures as low as 20-degrees Fahrenheit; comes with its own frying pan, windscreen, and fuel regulator; and it can be linked with other JetLink stoves for even more versatility.
Weight: 3.5 lbs
Burners: 1
Fuel Type: Propane
Camp Chef Deluxe Outdoor Camp Oven
For most people, the idea of hauling what amounts to a full-sized oven out to the campground is an absolutely insane thought not even worth considering. However, there are some serious foodies that will almost definitely appreciate the impressiveness of the Camp Chef Deluxe Outdoor Camp Oven. This hefty rig — which is actually quite lightweight at 32 lbs — boasts a two-burner stovetop and a genuine two-rack oven that can be used to bake even when you're far away from civilization. This is probably an offering only suited to vehicle-based outdoor adventure — like traveling in an RV or overlanding — but it's really cool to see that someone thought to make a camp-friendly oven for serious chefs that also appreciate the outdoors.
Weight: 32 lbs
Burners: 2 + Oven
Fuel Type: Propane
The 12 Best 4-Season Tents For Winter Camping
Food isn't going to do you much good if you don't have a safe and cozy place to sleep out on the trails. Thankfully, you can put up any of the offerings on our list of the best 4-season winter camping tents and enjoy your outdoor adventures while knowing you've got shelter to return to at the end of the day.
HiConsumption is reader-supported. When you buy through links on our site, we may earn an affiliate commission. Learn more