A fire is a staple of any good campsite, whether you're holed-up in the mountains or sleeping on a tropical beach. Unfortunately, not every venue has pre-established pits or is conducive to building a fire from scratch. Luckily, there is still a solution in portable fire pits.
Whether they're compact, folding, flat-packed, or some combination of all three, portable fire pits are the best way to ensure you can coax light and heat no matter where you are camping. And, better still, they're also often safer, make things like camp cooking a bit easier, and can be used again and again. So, how do you know which one on which you should spend your hard earned coin? Well, you could scour the web and take a trip to your local sporting goods store. Or you could rely on our expertise and make your pick from the following list of the ten best portable fire pits.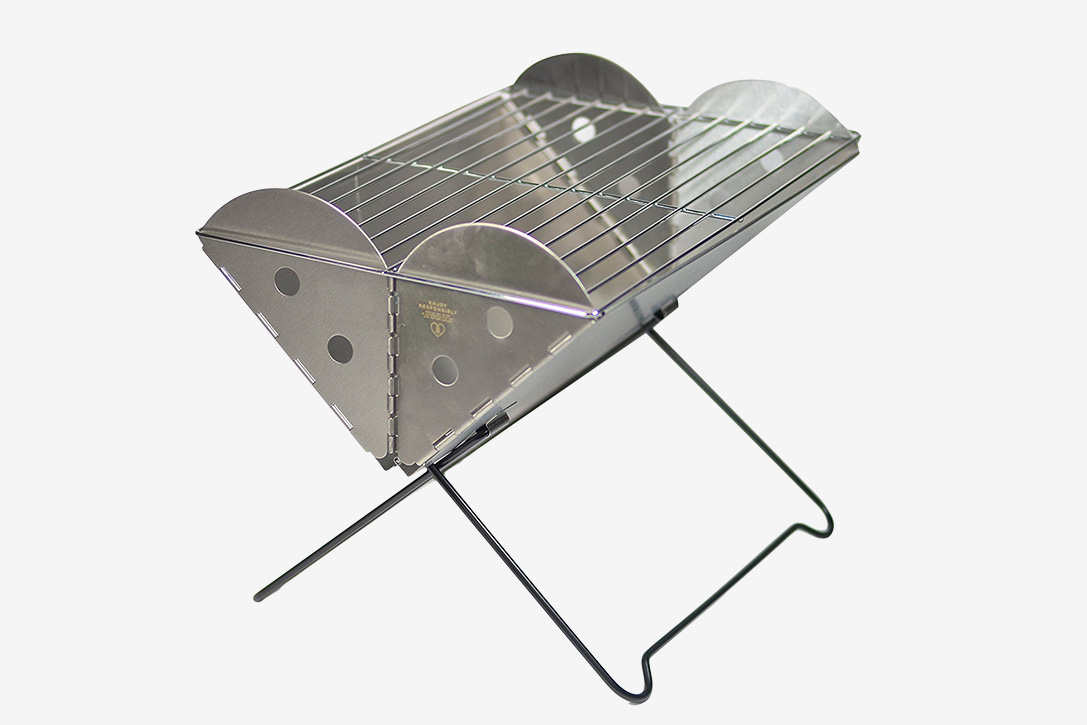 UCO Flatpack Portable Fire Pit
Built entirely from stainless steel, this folding fire pit from UCO is the perfect quick and easy solution for creating a campfire on the go. It can set up in just 30 seconds, comes with its own carry case (so you can keep your mountaineering backpack or car clean during transport), has a wind-resistant design, and even comes with a grill top to turn it into a campground grill. It's also available in two different sizes and is definitely the best bang-for-your-buck value on our list.
AmazonBasics Folding Fire Pit
Say what you will about Amazon and their market domination, some of the things that their house brand, AmazonBasics, offers are just too good to pass up. Or at least that's the case with their folding fire pit. Built from solid steel, this pit looks good enough that you could keep it in your backyard year-round, but the folding format also gives you the opportunity to take it with you on adventures. That's bolstered by the fact that it comes with its own carrying case, features tool-free setup and breakdown, and comes with a cooking grate (excellent for grilling steaks) and fire screen (to keep sparks and ashes from floating off and out of control).
Sportes Firewall-003 Fire Pit
This flat-packable four-piece fire pit doubles as an excellent way to keep your fire contained and in order, thanks to its log-stacking design. It's also built from stainless steel entirely in Canada, comes with its own orange carrying sack, and has what is probably the most unique design of any of the portable fire pits on our entire list. It's also super easy to clean and a snap to set up and take down, making it ideal for impromptu trips or temporary campsites on longer through-hikes.
Heininger 5995 Portable Fire Pit
Having a portable campfire is great if you're taking a trip in your adventure vehicle or camper van, but it can be a time-consuming process to get logs lit. Of course, you don't have to use wood fuel, so long as you pick up this portable fire pit – it's fueled by propane. It burns clean and smokeless (which also makes it easy to clean between uses), is lightweight and easy to move from place to place, and comes with a 10-foot hose – so you can keep your fire a good distance from your fuel source for added safety.
Camco Little Red Campfire
Besides having a cute name that harkens back to the wagons we had when we were kids, this portable fire pit kit is one of the simplest and most effective burners out there. It comes with an 8-foot hose, compatible with standard LP gas cylinders, has an elevated fire tray to keep your flames off the ground, and comes with a sturdy latched lid that doubles as a carry container for simple and quick transport. As far as gas-burning campfires are concerned, this no-nonsense on is one of the best.
Primus Kamoto OpenFire Pit
Built from sturdy and durable steel, this foldable fire pit packs down flat – making for an excellent travel fire option. And, though it works just fine as a campfire container, it also comes with a grill rack, so you can use it as a cooker when you're out on the trails, as well – though the open design doesn't bode super well for charcoal, so we suggest sticking with wood, as intended. It also weighs a total of 13 pounds and 7 ounces, looks great, and comes with a lifetime warranty.
Snow Peak Pack & Carry Fire Place
There are some folks that will look at the price of this folding fireplace and laugh. But those aren't the types of people who are in the know about Snow Peak as a brand. Sure, it's simple, but it's also stylish and brilliantly designed – both qualities that are too few and far between when it comes to outdoor gear. It's built from super slim 1.5mm stainless steel (which has excellent corrosion resistance), stores completely flat, and pops up in seconds. The off-the-ground design also keeps your flame from damaging the ground below – an added bonus if you're a leave-no-trace kind of camper.
BioLite FirePit
By far the largest and bulkiest option on our list, BioLite's FirePit isn't going to win any portability awards. But, what it lacks in haul-friendliness, it more than makes up for in capabilities and onboard tech. For instance, the 4-log capacity burner is encased in an X-ray mesh body that allows for 360-degree viewing, but also acts as a particulate-stopping grate, resulting in a smokeless flame. It also comes with a rack to turn the top into an hibachi style grill, features Bluetooth smartphone app controls (you can actually control the size of the flame), and there's even an optional USB rechargeable power pack attachment.
Solo Stove Bonfire
If you're looking more for simplicity in format and functionality and bulk is not so much a concern, you might be in the market for the Solo Stove Bonfire. This entirely stainless steel cylinder might look pretty basic (and, in its function, it is), but the technology that went into it is anything but. Designed to completely contain your campfire while giving your fuel excellent airflow, the Bonfire has a series of cold air intakes around the bottom and a wind-resistant fire ring around the top. It also features an internal vent system that feeds pre-heated oxygen to your fire, creating a bigger flame with less smoke. And, of course, there's an ash pan inside to keep the remains of your fuel easily cleaned and disposed of.
Stahl Camper Fire Pit
The cream of the crop when it comes to portable campers, this offering from Stahl is equal parts a fuss-free fire container and a meticulously crafted work of art. The Camper features a stainless steel center plate and a series of Type III hard-coated aluminum heat-resistant side walls. That means it can both survive extreme heat and is incredibly durable. This fire pit also packs down flat for easy storage and transport, and is offered with an optional sling bag to make carrying it a cinch. Our favorite part of this portable fire pit, however, is that it was made entirely in the United States.
How To Start A Campfire
If you're going to bring a portable fire pit on your next adventure, then it's probably a good idea to know how to get your fuel burning. Lucky for you we've put together a handy guide on how to start a campfire.