As the weather changes and you start to plan your upcoming camping trips, you'll likely take stock of your gear from the past few summers and realize it's time to upgrade. Your old tent is dirty and torn, and you probably forgot to let it fully dry before packing it away last time (oops!). Chances are, you're ready for a new one. If so, why not consider investing in a good hammock tent? To help you shop for your above-ground camping solution, we've compiled a guide to the best suspended hammock tents for your next camping trip.
Best Hammock Tents to Buy
Best Budget Hammock Tent

Lawson Blue Ridge Camping Hammock

Best Hanging Cocoon

Vivere Cacoon Double

Best Hammock Cover

Sierra Madre The Nubé MK IV

Best for Backpacking

OPEONGO AERIAL A1

Best for Couples

Kammok Sunda 2.0

Best for Families

Tentsile Stingray 3.0

Best Luxury Tree Tent

Cocoon Tree Hut
Why Use a Hammock Tent?
It's understandable if an elevated sleeping situation is daunting, but once you climb on in, you'll wonder why you hadn't tried a hammock tent sooner. Solving issues such as the uncomfortable hardness of the ground, the occasional wetness seeping in, and even bugs and certain animals that may get in your way, suspended tents get us off the ground and can be a fun change of pace as well. They're also pretty versatile and can often convert from a sleeping situation to an elevated lounger for mid-day breaks.
Hammocks in general are also easier and less time-consuming to set up than a traditional camping tent. Likewise, the fewer structural parts (i.e., non-shell materials) make these easier to pack in your trunk as well.
What to Look For in a Hammock Tent
Weight: Most hammock tents made for camping will be considerably lightweight. However, if you're planning on lugging these into the forest, every pound matters (doubly so if you're backpacking). Materials such as nylon and polyester will help you out in terms of the tent itself, however, the stakes and strap systems will often make up most of the poundage.
Hammock Accommodation: It's important to note that certain hammock tents are simply coverings that will go over your hammock, providing shelter from rain, wind, and insects. Some companies will provide bundles with their own hammocks while others would require you to purchase your own separately.
Capacity: Both in terms of space and maximum weight, the capacity of your hammock tent will make or break any purchase. If you're camping solo, most options will suffice, but if you are heading out with your significant other or your entire family, opt for a model that can hold significantly more.
Insulation: Since there is no ground coverage, insulation of your hammock tent is even more important to look at, especially when it comes to how the floor is insulated.
Straps/Rigging Systems: Make sure you know whether or not these hammock tents come with their own rigging systems before you make the purchase. Likewise, certain offerings are much simpler to set up than others.
Lawson Blue Ridge Camping Hammock
Pros
Lightweight
Can also be used on the ground
Detachable rain fly
Cons
Straps must be purchased separately
Best Budget Hammock Tent: Lightweight, yet durable, Lawson's Blue Ridge Camping Hammock has the accessibility of a hammock, but the reliability of a tent. The brand's proprietary spreader bar and arch pole system keep this sleeper taut so you don't have to worry about waking up to adjust your position every few hours. Made to be packed away easily for backpacking and easy travel, the Blue Ridge Camping Hammock is simply one of the best options you can buy, especially if you don't need to share space with another person.
Weight: 5lbs
Max Capacity: 275lbs
Vivere Cacoon Double
Pros
Really fun to use
Not practical for camping
High max weight capacity
Tripod stands available
Several color options
Cons
Won't stay completely flat
Poor customer service
Best Hanging Cocoon: A fun addition to your backyard, the Vivere Cacoon Double holds two adults or several kids at once. Hanging from only one tree branch, this sleeper looks great as well, with an array of color options to match any aesthetic. Able to hold up to 440lbs, the Cacoon is bigger and sturdier than it appears, its 6-foot diameter circular interior the perfect size, even if you just want to lounge around and read a book. If you have the space, this hanging tent can be a permanent fixture inside your home as well, with tripod stands available from Vivere's website.
Weight: 12.23lbs
Max Capacity: 440lbs
Sierra Madre The Nubé MK IV
Pros
You can use any size hammock
200lbs of storage
Easy in and out
Good for all seasons
Cons
Hammock sold separately
Setup/adjustment could be easier
Best Hammock Cover: Sierra Madre's latest version of its flagship Nubé hammock shelter is a three-in-one apartment in the sky that features two large doors for easy entry, with the option to keep them opened or closed depending on what the weather is like. Pairing optimally with the brand's single-person Pares Hammock (although you can use your own), which can be bundled together with the shelter, the highlight of the Nubé is the addition of the gear pouch within the floor that lets you store away anything you'll need (up to 200lbs) without having to climb down to retrieve it. If there are no trees in sight, the gear pouch tucks into the bottom so you can use the shelter as a ground tent.
Weight: 2.8lbs
Max Capacity: 350lbs
Haven XL
Pros
Comes with insulated mattress
Really effective rainfly
Open-air option with bug net-only mode
Spacious
Easy setup
Cons
Doesn't have reclining option of non-XL Haven
Could use a two-way zipper
Best Overall: Haven is a relatively new company that's been starting to dominate the industry in recent years, and rightly so. The bestselling Haven XL is a bigger version of its standard tree tent at 80in long and 30in wide, yet weighs virtually the same thanks to the 40d ripstop polyester used for the sidewalls and 70d ripstop polyester for the floor. The sleeper comes with an insulated mattress pad for unbelievable comfort, which shouldn't overshadow the tent's sturdy structure. The 20d ripstop rainfly helps you keep out the water and bugs, but lift it up and you get the amazing open-air feeling of being inside a hammock.
Weight: 7.66lbs (with pad)
Max Capacity: 285lbs
OPEONGO AERIAL A1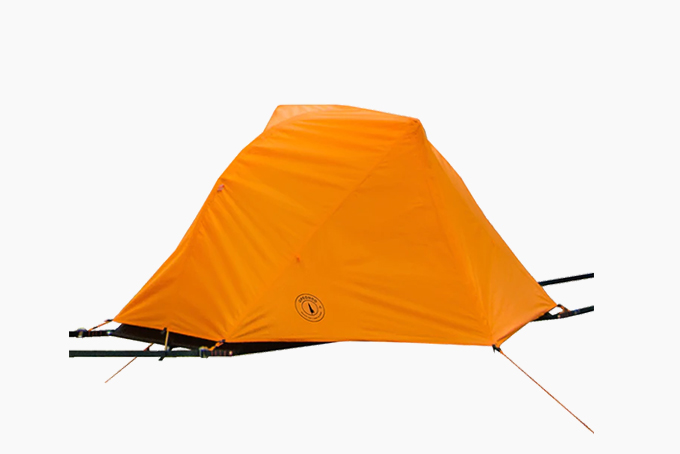 Pros
Lots of pockets
Six-minute setup
Lightweight
Sleeping bag-compatible
Incredibly durable
Cons
Setup is difficult first time around
Best for Backpacking: With an array of pockets, sleeping bag compatibility, and a six-minute setup, OPEONGO's AERIAL A1 is not only one of the most user-friendly hammock tents available, but it's insanely durable thanks to alloy buckles that have a minimum break strength of 3,370lbs and 7000 series DAC press-fit aluminum poles and spreader bar. Whether you're lying flat on the 80-foot mattress or sitting with your legs hanging off the edge of this sleeper, the bottom remains straight the whole time.
Weight: 6lbs
Max Capacity: 275lbs
Kammok Sunda 2.0
Pros
Lightweight
Roomy
60-second setup
Lots of storage, including bathtub floor
Cons
Weight limit could be higher for 2 people
Best for Couples: Launched after its founder fell from a torn hammock over a decade ago, Kammok has become a standard of sorts for durable sleepers. Already dominating the industry with its 400-pound weight capacity (Kammok's Roo Double holds up to 500lbs) and water-resistant, ripstop nylon fabric, the company has now updated the industry's first two-person hammock tent with the Sunda 2.0, which you can fully set up in less than 60 seconds. Vestibules for storage are even larger this time around and the bathtub floor makes this a great option any time of year.
Weight: 6.16lbs
Max Capacity: 400lbs
Tentsile Stingray 3.0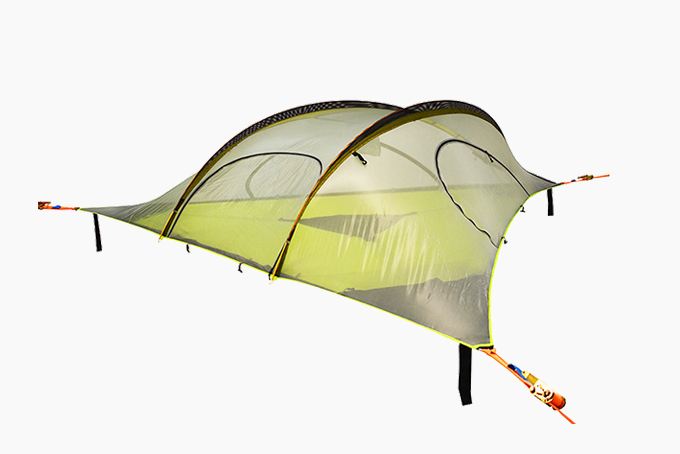 Pros
880-pound max weight
Spacious
Entryways on all sides
Incredibly durable
Lots of storage
Cons
Not a lot of headspace towards sides
Heavy, but not too heavy
Requires trees
Best for Families: Tentsile has several amazing models out on the market, and any of them is a great choice, but the company's flagship Stingray 3.0 hammock tent is its most versatile. Able to hold 3 adults — or 2 adults with 2 kids — with its 880-pound weight limit and 4-foot vertical height, this tent also offers over 78sq.ft of space with its triangle-shaped floor that's 13.5ft on each side. The spaciousness of the tent also means it's a bit heavier than other options (24.4lbs), however, the Stingray still compresses down nicely for travel. With ample storage room, entryways on all sides, and unbelievable durability, this is the best choice for larger families.
Weight: 24.4lbs
Max Capacity: 880lbs
Cocoon Tree Hut
Pros
Looks great in any backyard (it's a permanent fixture)
Fits entire double bed inside + extra space
White outer membrane lasts 5 years (frame lasts a lifetime)
Holds up to harsh weather
Cons
Expensive
Takes more than 1 person to install
Takes a few hours to set up initially
Best Luxury Tree Tent: There's no reason why suspended sleeping tents can't be permanent fixtures in your yard. Cocoon Tree Hut is an architectural beauty that will keep you safe with its six anchor points. With a near-10-foot diameter, this spherical shelter might take you a few hours (and a friend who's free) to set up, but it's large enough to fit an entire double bed inside, with extra space for whatever you please to turn this Tree Hut into a personal respite from the daily grind. Thanks to the unique structure, strong winds won't affect it much, and the PVC-coated polyester keeps this thing waterproof. While the white membrane on the outside is made to last you 5 years, the aluminum mainframe will last you for a lifetime.
Weight: 529lbs
Max Capacity: N/A
The Best Hammock Chairs for Camping
If you're looking for a complementary piece to go along with your hammock tent, try one of the models from our guide to the best hammock chairs.