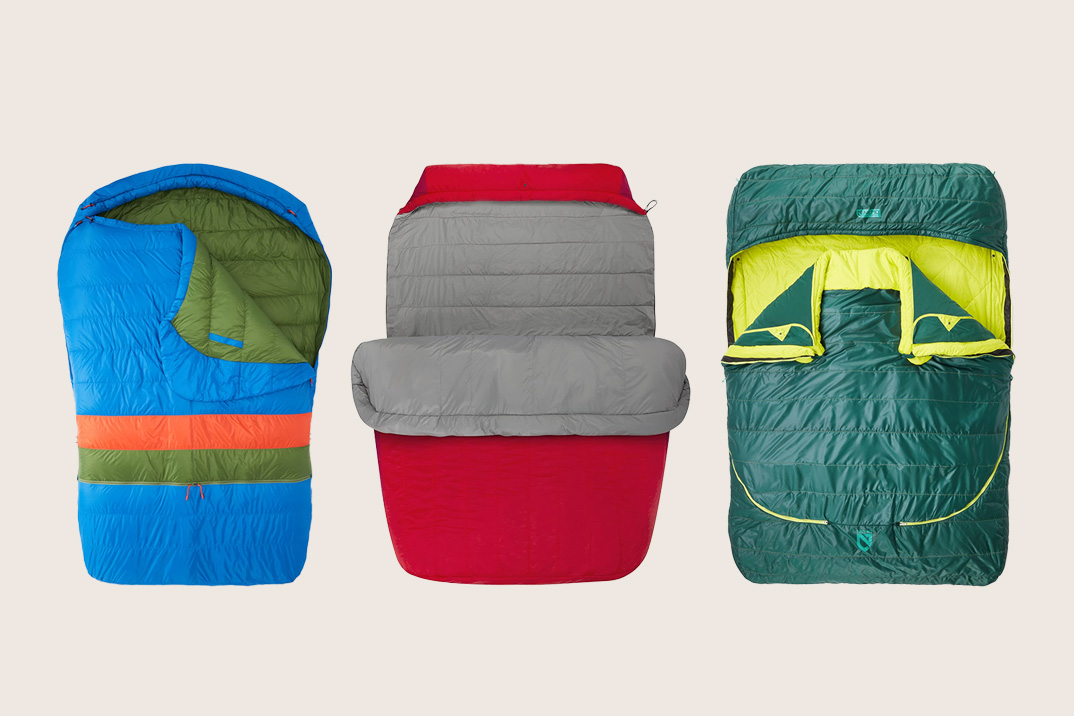 Though heading off to the great outdoors usually means leaving the vast majority of one's creature comforts at home, a comfortable, full-size bed doesn't have to be one of them. Whether sleeping alone or as a couple, two-person sleeping bags and bedrolls much more closely replicate the experience of sleeping on a full or queen-sized mattress with bedding compared to traditional sleeping bags. What's more, not only are double sleeping bags markedly more comfortable, but they also make for substantially warmer beds through the sharing and recycling of its users' body heat.
While there were only a handful of available options a decade ago, the double sleeping bag market has absolutely exploded in recent years, giving way to an ever-growing number of different two-person sleeping bag models from a wide range of reputable outdoor brands. The sheer abundance of available choices does, however, make it difficult to hone in on the best the industry has to offer. So, with this in mind, we've scoured the space to deliver this handpicked guide to the best double and two-person sleeping bags.
Best Double Sleeping Bags
Best Overall

Teton Sports Mammoth Queen-Size Double

Best for Glamping

Sierra Designs Frontcountry Bed 20° Queen

Most Comfortable

Big Agnes Double Wide Camp Robber Bedroll

Best for Summer Camping

NEMO Jazz Synthetic Double

Best for Car Camping

Sea to Summit Basecamp Synthetic

Best Quilt Sleeper

Therm-a-Rest Vela Double 20 Quilt

Best for Cold Weather

Marmot Sawtooth Doublewide

Best Upgrade

Zenbivy Luxe Bed Double 25°

Best High-End

The North Face Inferno Double
What To Look for in Double Sleeping Bags
There are admittedly dozens of factors one can consider when shopping around for a double sleeping bag, however, in an effort to make things easier, we've broken down the most pivotal areas to think about before making your purchase.
Type: Two-person sleeping bags come in several different styles. There are obviously traditional sleeping bags in wider, double sizes, as well as two-person mummy bags, old-school-style two-person flannel sleeping bags, and more modern bedroll-style items that see a pad or base adorned in a comforter-like cover/blanket — the latter of which is arguably the most similar to sleeping in an actual bed.
Size: Just like with normal beds, two-person sleeping bags come in a plethora of different sizes. Typically measured in width and length, double sleeping bags are offered in full and queen-sized setups, and are also occasionally offered in extra-long (or extra-wide) versions. A couple will likely want a larger two-person sleeping bag, as where a single user will almost certainly be comfortable in a smaller, full-sized bag.
Shell: Whether single or double-sized, sleeping bags are constructed around a shell, making this primary material extremely important. On top of the material being used to construct the shell, it's also worth exploring if said material has been treated to any type of waterproof or water-resistant coating or finish (such as a DWR treatment).
Insulation: Trapping heat inside the sleeping bag and protecting the shell from cold temperatures, a sleeping bag's insulation plays an enormous role in its warmth. As such, this is one of the most important areas to consider when buying a sleeping bag. Alongside the type of insulation used, you'll also want to review said insulation's weight or fill power. Below, we'll also explore the rating system used to objectively convey a sleeping bag's level of warmth.
Liner: Though they don't play as significant of a role in a sleeping bag's thermal retention capabilities compared to shells or insulation, a sleeping bag's liner can still be an important factor to check out when shopping. Liners can make for a much more comfortable sleeping bag — especially when using materials that are soft to the touch — and can also be infused with properties to bolster their heat retention properties, making for even warmer sleeping bags without the added weight of additional insulation.
Rating: A sleeping bag's T-Comfort or T-Limit (Lower Limit) tells you how cold of conditions a model can stand up to while still keeping its user safely and comfortably warm. While your first instinct may be to opt for the lowest-rated model available, there is very much such a thing as a sleeping bag that is too warm. You want to find a sleeping bag with an appropriate T-comfort rating relative to your intended uses, or there's also the option of purchasing a modular sleeping bag system that is conducive to a variety of seasons and conditions.
Weight: A sleeping bag's weight can be an important factor to consider — especially if backpacking or hauling gear into camp on foot. Fortunately, there's no shortage of incredibly comfortable — and thoroughly warm — sleeping bags that come in shockingly featherweight packages. We will point out that the more comfortable two-person sleeping bags also tend to be heavier, but there's a balance that can also be had to find the sweet spot for your particular wants, needs, and use.
Teton Sports Mammoth Queen-Size Double
Why It Made the Cut
Teton's Mammoth is on the heavy side but features an old-school flannel interior that's extremely warm and cozy for bundling up with your loved one.
Best Overall: Backed by a lifetime warranty, Teton Sport's Canvas Mammoth Double Sleeping Bag is an old-school-inspired two-person model made for both regular and car camping. The bag is constructed around a dual-layered 600-denier polyester-canvas shell with SuperLoft Elite Single Channel Hollow Fiber insulation and a polyester flannel liner. Weighing 14lbs, this sleeping bag also boasts a mummy-style hood, full-width baffles, and anti-snag two-way zippers with metal pulls. This sleeping bag can also be completely unzipped, allowing it to serve as two camp comforters.
Shell: Double-Layered Canvas
Insulation: SuperLoft Elite Hollow Fiber Fill
Weight: 14LBs
Temperature Rating: 20°F
Sierra Designs Frontcountry Bed 20° Queen
Why It Made the Cut
Despite the budget-friendly price tag, this luxurious option from Sierra Designs sports an integrated comforter, an integrated sleeping pad, a foot vent, and a patent-pending zipperless design.
Best for Glamping: Boasting a T-Comfort rating of 20° Fahrenheit, Sierra Designs' Frontcountry Bed 20° Queen was engineered from the ground up with a primary focus on comfort. Aimed at the glamping crowd, the Frontcountry Bed features an oversized, integrated comforter that utilizes a (patent-pending) zipperless design that tucks into itself. Equipped with an integrated sleeping pad, a patented self-sealing foot vent, and full-length, insulated hand/arm pockets, this sleeping bag also sports synthetic insulation sandwiched between a 68-denier poly-taffeta liner and a 30-denier poly ripstop shell. Good for three-season use, this sleeping bag's elastic pad sleeve can also fit over a queen-sized air mattress.
Shell: 30D Polyester Ripstop
Insulation: 72.5oz Synthetic
Weight: 8.34LBs
Temperature Rating: 20°F
Big Agnes Double Wide Camp Robber Bedroll
Why It Made the Cut
With a similar comfort level as a luxury mattress, the Big Agnes features a plush quilted top layer, integrated sleeping pad, and a super lightweight construction.
Most Comfortable: New and improved, the Big Agnes Double Wide Camp Robber Bedroll is quite possibly the most comfortable off-grid bedding setup currently on the market. Offering levels of comfort typically only afforded by a luxury mattress and blankets, the Camp Robber Bedroll features a plush quilted top layer that connects to an integrated sleeping pad — allowing it to be used as a traditional sleeping bag or as a traditional bed and blanket setup. Weighing only 3.375lbs, this sleeping bag boasts a DWR-coated recycled polyester taffeta shell paired with 650-fill power DownTek insulation. A clever cinch system also enables this two-person sleeping bag to easily slip over a camp air mattress for an even more comfortable night's sleep.
Shell: DWR-Coated Recycled Polyester Taffeta
Insulation: 650-Fill DownTek
Weight: 3.375LBs
Temperature Rating: 45°F
NEMO Jazz Synthetic Double
Why It Made the Cut
Great for cold weather as well, this double from NEMO has a built-in sheet that can be used as a thin layer for warmer nights.
Best for Summer Camping: Crafted around a DWR-treated 50-denier shell made from 100% recycled polyester, NEMO's Jazz Synthetic Double was designed to mimic the experience of sleeping in bed at home. Using a tapered geometry, this sleeping bag features an overfilled quilt and featherbed-style bottom that are stuffed with 100% recycled Stratofiber synthetic insulation and lined with a soft taffeta. This model's built-in sheet also makes for the perfect thin layer for warm summer nights. Other highlights include NEMO's Blanket Fold draft collar, an integrated pad sleeve, and double zipper pulls on both sides of the sleeping bag. Sold with an included duffel storage bag, this sleeping bag is also backed by NEMO's lifetime warranty.
Shell: DWR-Coated 50D Recycled Polyester
Insulation: Synthetic Recycled Stratofiber
Weight: 8.93LBs
Temperature Rating: 30°F
Sea to Summit Basecamp Synthetic
Why It Made the Cut
Packing to only 5lbs, this double from S2S is temeprature rated to 20ºF and lends itself to backpacking as well.
Best for Car Camping: Though designed specifically for car camping, Sea to Summit's Basecamp Synthetic Sleeping Bag is no less conducive to general camping applications — plus at only 5lbs, even lends itself to backpacking and hike-in camping. The sleeping bag features a DWR-coated 30-denier nylon shell that houses THERMOLITE HL-1 insulation arranged in a WaveLoft construction that allows the fill to expand out into air-trapping curves. This sleeping bag's thermal retention has also been increased through the use of a three-dimensional THERMOLITE HL-1-filled chamber along the zipper tracks that ensure heat doesn't escape the sleeping bag.
Shell: DWR-Coated 30D Nylon
Insulation: THERMOLITE HL-1
Weight: 5.06LBs
Temperature Rating: 20°F
Therm-a-Rest Vela Double 20 Quilt
Why It Made the Cut
Not a straightforward sleeping bag, but this sleeper quilt can easily cover two people, with box-baffled construction and a lightweight build.
Best Quilt Sleeper: Therm-a-Rest's Vela Double 20 Quilt was born out of a pursuit to deliver the most comfortable two-person sleeping bag possible while simultaneously keeping weight to a minimum. And while this is admittedly a ridiculously difficult balance to achieve, the team at Therm-a-Rest has managed to do exactly that, with a plush comforter-style bed roll with a 20° Farenhiet rating and a weight of less than 3lbs. Equipped with a box-baffled construction with full-perimeter side baffles, this sleeping bag features a DWR-treated ripstop polyester shell stuffed with an RDS-certified 650-fill-power Nikwax Hydrophobic Down that absorbs 90% less water than traditional down while drying three times faster — and doing so without the use of any PFCs.
Shell: 20D Ripstop Polyester
Insulation: Nikwax Hydrophobic Down
Weight: 2.8LBs
Temperature Rating: 20°F
Marmot Sawtooth Doublewide
Why It Made the Cut
Marmot's Sawtooth Doublewide is lightweight, rated to 15ºF, and retains its insulation loft even when it's wet.
Best for Cold Weather: Constructed around a shell made from 20-denier recycled nylon ripstop, the Marmot Sawtooth Doublewide is a high-end take on a two-person sleeping bag that's stuffed with 650-fill power down insulation and boasts a temperature rating all the way down to 15ºF. On top of dual lower leg zipper to better regulate internal temps, the use of Down Defender also helps ensure the sleeping bag's insulation remains loft even when damp or wet. Other noteworthy details include an internal stash pocket for stashing camp headlamps or smartphones, an included stuff sack, and a wrap-around zipper that converts its top layer to a comforter.
Shell: 20D Recycled Nylon Ripstop
Insulation: 650-Fill Down Defender
Weight: 4.52LBs
Temperature Rating: 15°F
Zenbivy Luxe Bed Double 25°
Why It Made the Cut
Zenbivy's premium zipperless sleeping bag not only looks stylish but is incredibly warm, lightweight, durable, and comes with a fitted sheet and soft-lined double quilt.
Best Upgrade: The Luxe Bed Double 25° is Zenbivy's take on an ultra-premium sleeping bag that brings the comforts of home bedding to the backcountry. Filled with Zenbivy's ultra-premium 800 fill-power HyperDRY down, this sleeping bag is outfitted with a fully-Pongee fitted sheet and a soft-lined double quilt. In lieu of using zippers, this sleeping bag utilizes hook and loop attachments that connect to the sheet's "wings." Other highlights include a double-wide hood, a fitted double sheet, and a fixed foot-box design. Simply add an air mattress and set of camp pillows and you've got everything needed for a great night's sleep off-grid.
Shell: 20D Nylon Taffeta
Insulation: 800-Fill HyperDRY & Duck Down
Weight: 4.5LBs
Temperature Rating: 25°F
The North Face Inferno Double
Why It Made the Cut
Replicating the comfort and feel of a solo sleeping bag, this Inferno Double from TNF weighs just 3lbs, is waterproof, and is temp rated to 15ªF.
Best High-End: The North Face's Inferno has long been a go-to choice for outdoor enthusiasts and adventurers looking for a true expedition-grade sleeping bag. Recently, TNF team athletes Hilaree Nelson and Jim Morrison came up with the idea of producing a two-person sleeping bag that retains the properties, traits, comfort, and warmth of the original one-man bag. Weighing in at just over 3lbs, the Inferno Double features an aluminized XReflex-coated 15-denier shell crafted entirely from recycled nylon and stuffed with an 800-fill power ProDown insulation that affords the sleeping bag a T-Limit of 15° Fahrenheit. This model also boasts a fully waterproof and breathable NeoVent Air fabric construction along the head and foot-box, plus trapezoidal side-chamber baffles that reduce cold spots and help the insulation to retain its loft.
Shell: Aluminized XReflex-Coated 15D Recycled Nylon
Insulation: 800-Fill ProDown
Weight: 3.125LBs
Temperature Rating: 15°F
The Best Sleeping Bags for Camping
Camping solo? We have some options for you too with our guide to the best sleeping bags for camping.