Taking a much-needed break from the fast-paced work world to go camping is a breath of fresh air for your spirit. Unplugging yourself from the system every once in a while is essential, but you have to map out every detail. The plan should include how you're going to set up camp, what you'll be wearing, what meals you'll be cooking, and the utensils you'll need to bring.
Buying cheap, disposable utensils is not recommended, and eating a meal with your bare hands can be difficult. We may be animals, but we still have standards. There is the option of buying plastic cutlery, but that's a bummer for the environment and you can't reuse them. Your best bet is to find camping-friendly utensils, so we rounded up a list of the best camping cutlery that fits the bill.
Best Utensils for Camping
Best Budget-Friendly Utensil

CRKT Eat'N Tool Outdoor Spork Multitool

Best Tactical Utensil

Ka-Bar Tactical Military Sporks

Most Compact

Ka-Bar Original Hobo All-Purpose Knife

Best for Meal Prep

MSR Alpine Utensil Set

Best Multi-Tool Utensils

Outdoor Edge Chowpal Mealtime Multitool

Best Titanium Utensils

Snow Peak Titanium Fork & Spoon Set

Best Overall

Gerber ComplEAT

Best Folding Utensils

Esbit Lightweight Folding Titanium Utensils
How to pick the right cutlery
Weight/Materials: When camping, you want to stay away from using your household utensils. That's because kitchen utensils are heavy and you don't need any extra weight in your backpack.
Grubbing with lightweight, high-quality tools is ideal, which means that polycarbonate plastics and titanium are your best options. However, stainless steel is also a solid choice because it's heavy-duty strong. There are also some brands that use a reliable plastic called 'Tritan.' If you decide to purchase plastic cutlery, make sure you're shopping for BPA-free tools.
Durability: You certainly want your camping utensils to be durable. Choose a collection that's tough enough for any adventure because they'll be digging into plenty of hearty meals. Titanium and aluminum utensils are preferable – you want to purchase utensils that won't break on you in the middle of a meal.
Storage: Finally, you should consider how you're going to store the utensils. They need to be portable, foldable, or linked together so you can clip them to your carabiner or backpack; a sleek protective case does the job well too. Their design for storage is important because the last thing you want to do is lose your utensils. Sure, you can eat like a savage, but that's not as cool as it sounds.
CRKT Eat'N Tool Outdoor Spork Multitool
Pros
Doubles as bottle opener, screwdriver, and hex wrench
Incredibly durable
Attaches to keychain/carabiner
Cons
Short
A bit heavy for a single tool
Best Budget-Friendly Utensil: CRKT (Columbia River Knife and Tool) is popular for their war-forged knives and axes, but they also make a reliable multi-tool that includes utensils. Their spork multi-tool contains a spoon, fork, bottle opener, screwdriver, and three hex wrench holes. Utilizing sturdy 3CR13 steel, the compact and portable Eat'n Tool is small, lightweight, and hooks easily onto your keychain. Who would've thought you can tighten the screws on your bike and eat a can of beans with the same tool? It comes in a black non-stick coating or a bead-blast finish.
Material: 3CR13 stainless steel
Weight: 1.5oz
Ka-Bar Tactical Military Sporks
Pros
Lightweight
Easy to store
Made in the USA
Affordable
Best Tactical Utensil: It's not very often that a spork looks dangerous, but the Ka-Bar Tactical Military Spork is a special case. Made by the prominent knife company that equips military and law enforcement, this durable spork is ready for anything. Use the spork for camping, hunting, fishing, and even self-defense if you need to arm yourself. Constructed with a high-strength and food-safe Grilamid polymer, the lightweight USA-made tool detaches at the center to become a spork and serrated knife. At nearly 7″ when assembled, it's a bit long, but the singular tool can squeeze inside of bags fairly easily.
Material: Grilamid polymer
Weight: 1.26oz
Ka-Bar Original Hobo All-Purpose Knife
Pros
Essentially a Swiss Army knife for eating
Minimalist design
Only 4″ long when folded
Cons
Pricey
One-hand deployment would be better
Most Compact: If you're looking for a Ka-Bar utensil that's a little more low-key than the Tactical Military Spork, their all-purpose knife has a minimalist design with excellent functionality. Ka-Bar's multi-tool utensil features a fork, knife, and spoon that are made from 3Cr13 stainless steel for on-the-go outdoor dining. Each piece slides in and out of the handle, making it easy to store. It's seven inches long when opened and just under four inches when folded. Ka-Bar's all-purpose knife also comes with a convenient nylon carrying case.
Material: 3Cr13 Stainless Steel
Weight: 5.6oz
MSR Alpine Utensil Set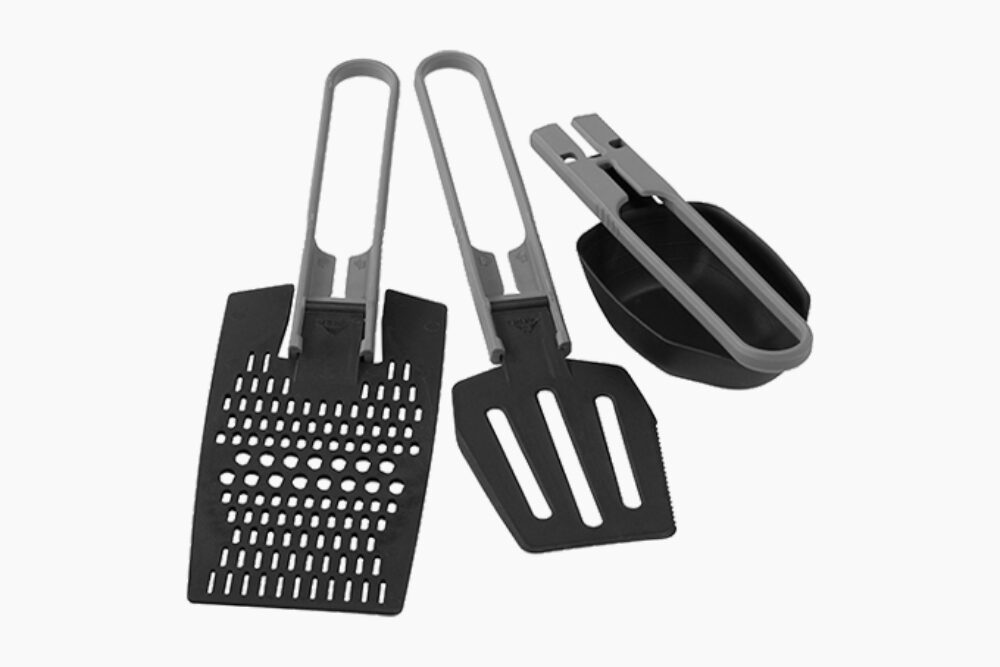 Pros
Glove-friendly
Lightweight
Folds down to be super compact
Cons
Folding design can be a nuisance when in use
Best for Meal Prep: If you're looking to prepare a meal that requires more complex tools, the MSR Alpine Utensil Set is what you'll need to get the job done. Made of high-strength nylon, they are glove-friendly and can be packed easily in your backpack thanks to their folding mechanism. The set comes with a strainer, cheese grater, spatula, and spoon. Flip your steak, add some cheese to your meal, or serve chili with this nifty set that's perfect for outdoor cooking.
Material: Nylon
Weight: 3oz (entire set)
Outdoor Edge Chowpal Mealtime Multitool
Pros
All 3 pieces fit together in a single unit
Folding knife has frame lock
Features a bottle opener, can opener, graduated wrench, & flathead screwdriver
Ergonomic grips
Best Multi-Tool Utensils: Constructed from sturdy 420J2 stainless steel, this multitool set has everything you need to grub outdoors. For chow time, this set has a fork, spoon, and frame-lock folding knife, all combined into a single unit. It also comes with a bottle opener, can opener, and flathead screwdriver, which are all essentials for any camping trip. Each utensil slides out when you're ready to eat and snaps back into place when you're all set to put it away. For easy storage and convenience, it comes with a bright orange nylon pouch.
Material: 420J2 stainless steel
Weight: 2.4oz
Snow Peak Titanium Fork & Spoon Set
Pros
Very lightweight
Hole at end of each utensile for keyring/carabiner attachment
Cons
Handles may be a bit too thin for some
Best Titanium Utensils: You may know Snow Peak as the brand that specializes in titanium camping solutions, which makes it a frontrunner for any type of lightweight gear for the outdoors. Packed inside of a slim canvas carrying case, the Japanese brand's Titanium Fork & Spoon Set supplies the bare essentials for those who want something similar to their at-home eating utensil setup. Together, the set weighs just 1.4oz (including the case) and each tool stretches to be 6.5″ long. And if you'd like to forego the carrying case altogether, the ultra-lightweight utensils each have a hole for attaching a keyring or carabiner at the end.
Material: Titanium
Weight: 1.4oz
Gerber ComplEAT
Pros
3 utensils fit together in one unit
Comes with 4-tool multi-tool
Very durable
Lightweight
Transforms into tongs if needed
Best Overall: When it comes to intuitively designed knives and multi-tools, few do it better than Gerber. Each of the company's products boasts extra features that can make your experience using them more helpful and even enjoyable. There's nothing out there quite like Gerber's ComplEAT utensils. The set includes a reusable fork, spoon, and spatula, all three of which are held together by a 4-tool multi-tool that doubles as a can opener, bottle opener, vegetable peeler, and package opener. The spatula is handy in and of itself, with one serrated edge and one silicone edge. It can be paired with either the fork or spoon to be used as a pair of tongs. The 7.5-inch length of each tool may be long for some but will also get you much closer to your at-home setup.
Material: High-temp nylon with silicone overmold
Weight: 2.9oz
Esbit Lightweight Folding Titanium Utensils
Pros
Very lightweight
Features locking handles
Non-magnetic
No metallic flavor
Best Folding Utensils: Having compact utensils is important when you're trekking through nature, which is why it's noteworthy that Esbit's titanium utensils fold down to less than 4.2″. They're also sturdy, heat-resistant, and non-magnetic, so you can stir the contents of a scorching metal pot without a second thought. For efficiency, while you dine under the stars, the handle of each utensil locks into place. Most importantly, the only thing you'll taste when you feast on your meal is your food because the titanium is polished and won't leave you with a strange flavor on your palate.
Material: Titanium
Weight: 1.5oz
The Best Portable Camping Grills
Once you've gotten your utensils, you'll need a way to make your food. Take a look at our picks for the best portable grills for camping.