Whether it's something done five days a week or merely on the occasional night or weekend, anyone that spends extended periods working on their feet is almost certainly aware of how vital it is to be equipped with a quality set of footwear. This is because a decent pair of boots — work or otherwise — needs to be able to afford all-day comfort and stability while providing ample traction and fortifications from abrasions, impacts, and the elements; and be able to do so day in and day out for years, if not decades.
So, while this is admittedly a tall order, there is nonetheless a selection of reputable manufacturers and workwear purveyors that have managed to perfect this formula, striking an ideal balance between these characteristics to deliver work-specific footwear that epitomizes the term "built-to-last." And it's this segment that we'll be exploring today in this guide to the best men's work boots you can buy as we highlight our picks for the finest pairs currently on the market, as well as delving into the factors one should consider before buying.
Contractor-Grade Kicks
The 12 Most Important Elements To Think About When Purchasing New Work Boots
Buying work boots is a fairly straightforward process, though over the last decade or two there have been a number of advancements that have made shopping in this segment a bit more complex of an experience. Below, we'll briefly touch on the dozen most crucial areas to take into account before pulling the trigger on your purchase.
Main Construction: As the main element that comprises it, the primary construction (i.e. the material used to craft the boots' uppers) is extremely important. The uppers on most modern boots are either crafted from leather, high-denier nylon, or some type of synthetic material — or a combination of the above — and are regularly fortified with additional treatments to add extra protection from the elements or increase longevity.
Construction Technique: Almost as important as what a pair of boots is made from is how they are crafted, better known as the "construction technique(s)." Regular machine-stitched construction remains fairly common, though there are also techniques such as stitchdown, lockstitch, Goodyear welt, or storm-welted constructions that routinely appear on more premium work boots. A decent number of the boots on this list are also made entirely by hand, allowing for a much higher degree of craftsmanship and quality control.
Protection: One of the most important jobs for a pair of work boots is to protect your feet from hazards on the job site, and one of the most common ways we see this accomplished is through the use of safety toes — reinforced rigid constructions used to comprise or reinforce a boot's toe-cap. While steel-toes have been commonplace for decades, in recent years we've started seeing lighter — though no less effective — safety toe constructions such as high-grade aluminum, carbon fiber, or other advanced composites.
Height: While some may think a boot's height is simply about personal preference or aesthetic tastes, the reality is that this dimension determines how much of the foot is covered, as well as how the boot fits and the degree of stability it offers. Typically, 6″ is considered short, 9″ is seen as medium-length, and 12″ or more is viewed as long. It's also worth noting that the longer boots tend to offer better protection and fortification from precipitation and cold weather.
Weatherproofing: Alongside the height or length of a boot, the other main area that determines a boot's level of protection from the elements is whether to not it is equipped with a waterproof — and almost always breathable — membrane, and if so, what type of membrane is uses. GORE-TEX's membranes still remain the king in this space, though there is a slew of other proprietary membrane materials currently on the market. There are also plenty of boots that are lined with insulation to afford more warmth and more robust protection from the cold.
Outsole: It doesn't take an expert to know that ample traction and grip are paramount to a quality pair of work boots, as a lack of these two areas can be extremely hazardous on almost any job site. Fortunately, there is a myriad of wildly grippy outsole compounds available at the moment — many of which are proprietary constructions from premium brands like Vibram — that are incredibly resistant to slipping, oil, and even heat.
Comfort: When you spend your days laboring on your feet, the comfort of a pair of boots is of utmost importance. Knowing this, plenty of boot-makers have managed to manufacture pieces of work-focused footwear that are immensely comfortable, while still providing plenty of protection. A boot's comfort mainly boils down to the arch of the boot, its footbed, its midsole, and insoles. There is always the option of upgrading to aftermarket insoles, however, plenty of today's boots come equipped with wildly plush — sometimes name brand — insoles straight from the factory.
Additional Amenities: Components such as the uppers, membranes, and outsoles do make up the most important parts of any pair of boots, though there are often supplementary elements that are worth looking into. This includes areas such as the last that a pair of boots are built on, if they have protective coatings or treatments, or if their uppers have been fortified with rubber or TPU rands, just to name a few.
Closure System: The vast majority of today's work boots use standard lace closures, though there's actually quite a bit of variation just within this one area, as factors such as the number of eyelets and whether they are supplemented via a speed-lacing system/hooks can greatly affect how precisely and snuggly a given pair of boots will fit. There are also boots with ratcheting closures or models that utilize BOA closure systems.
Lifetime: Though every single pair of boots on this list is designed to last for an extended length of time — and were at least partially selected because of this — some modern work boots offer markedly longer lifespans than others. This is not only owed to the materials and construction techniques utilized to create a pair of boots, but also whether or not a pair can be re-soled, as this essentially allows them to be repaired as needed and used for a literal lifetime. Hell, these boots can in theory be passed down to future generations who can continue having them re-soled as needed.
Specialty Features: A standard set of work boots will lend itself to a wide variety of tasks and applications, however, for certain jobs, specialty amenities can be extremely useful. On top of safety toes, this includes components such as met (i.e. "metatarsal") guards, work boots that are compatible with crampons, and even pairs with Aramid linings that allow them to stand up to chainsawing duties.
Style: At the end of the day, there are a lot of work boots that can perform the same basic duties, which is why allowing your aesthetic tastes to at least partially guide your decision is often a decent idea — so long as it takes a back seat to more crucial areas such as primary construction and your intended use. Not only do work boots come in a wide variety of lengths, colors, and constructions, but there are also plenty of thoroughly modern-looking pairs, as well as ultra-minimalistic items and work-specific pieces of footwear with an unmistakably vintage-inspired appearance — in fact, some of the boots in this latter category have been modeled directly after boots from more than a century ago, albeit while now using more contemporary materials and construction techniques.
The Best Work Boots You Can Buy
Carhartt Non-Safety Toe Oxford Shoe
Designed to resemble a more casual sneaker while concealing a host of work boot essential features, this hybrid item from Carhartt features a set of soft, oil-tanned full-grain leather uppers lined with a waterproof and breathable Storm Defender membrane and an antimicrobial, quick-drying, and sweat-wicking FastDry lining. On top of cushioned polyurethane insoles, the pair also sports a dual-density rubber outsole that's mated to the hybrid sneaker-work boot using Goodyear welt construction and backed by secondary protection that affords it fortification from electrical circuits of up to 18,000-volts — as well as ASTM standard-certification.
Primary Construction: Full-Grain Leather
Waterproof: Yes
Length: 6″
Toe: Non-Safety
Outsole: Dual-Density Rubber
KEEN Troy 6″ Waterproof Boot
An unmistakably contemporary take on a pair of do-it-all work boots, KEEN's waterproof Troy boot packs a laundry list of noteworthy features such as a carbon fiber toe, a KEEN.DRY waterproof and breathable membrane, a moisture-wicking textile lining, and an ultra-advanced dual-density PolyAer PU footbed that's supplemented with an aerated pillow-top cushioning arrangement. Assembled in Portland, this pair also sports the KEEN.BELLOWS FLEX system which allows the foot to more easily bend in key areas, and leather uppers that are mated to the outsoles using a direct PU construction that affords a markedly more secure bond than traditional cement or glue.
Primary Construction: Leather
Waterproof: Yes
Length: 6″
Toe: Carbon Fiber
Outsole: Heat, Oil, & Slip-Resistant Rubber

Danner Steel Yard 6″ Steel Toe
A timeless pair of modern work boots from one of the Pacific Northwest's most revered footwear outfits, Danner's Steel Yard boots – which are produced in a dozen different variants that include a myriad of different safety toes and 6″, 8″, and 11″ lengths — are built atop the famed footwear firm's 610 Last and boast Danner's own Steel Yard outsoles, Danner Dry waterproof liner, and a patented dual-density footbed. Weighing only 64 oz. (or 4 lbs.) per pair, the boots also feature shanks made from steel and ASTM-certified protection from electric hazards and shocks.
Primary Construction: Full-Grain Leather
Waterproof: Yes
Length:  6″
Toe: Steel
Outsole: Danner Steel Yard Rubber
Chippewa Edge Walker Comp Toe
Made by a company dating back to 1901, Chippewa's Edge Walker boots are a classic pair of shop and work kicks that hide a slew of decidedly modern components such as a nano-composite safety toe and shank, Vibram Christie Wedge outsoles, a DRI-Lex Waffle Sonora lining, ASTM-certified electrical protection, Ortholite removable insoles, and Goodyear welt construction. Crafted in Wisconsin, these American-made work boots are also equipped with plain-looking cowhide uppers that are actually comprised of Haystack waterproof leather — a feature that affords them remarkable protection from the elements, especially when paired with the boot's Chip-A-Tex waterproofing.
Primary Construction: Haystack Waterproof Leather
Waterproof: Yes
Length: 6″
Toe: Nano Composite
Outsole: Vibram Christie Wedge
Thorogood American Heritage 6″ Emperor Comp Toe
Dating back to 1892, Thorogood is one of America's oldest and most respected boot-makers, and with offerings like the American Heritage Emperor model, it's not hard to see why. Boasting a timeless appearance, these made-in-America boots are crafted from full-grain leather using Goodyear storm welt construction and are built on top of a modern MAXWear90 outsole. These vintage-style boots also conceal a composite shank and safety toe, as well as a removable single-density polyurethane footbed. Bolt-style eyelets and speed-lacing hooks afford this model a bit more visual flare, while still readily announcing themselves as work boots.
Primary Construction: Full-Grain Leather
Waterproof: No
Length: 6″
Toe: Composite
Outsole: MAXWear90
Red Wing Traction Tred 10875
Red Wing's Traction Tred 10875 wonderfully encapsulates the "if it ain't broke, don't fix it" ethos, employing a largely unchanged design that dates back well over half-a-century with its iconic shallow-lugged, flat-bottomed outsole and Oro-Iginal leather construction – the latter of which is sourced from U.S.-raised cattle and only uses hides with minimal surface imperfections. These boots are also pieced together using an ultra-rugged amalgamation of triple-stitching and Goodyear welt construction. Not only are these boots re-solable, but Red Wing also offers a selection of additional factory repair services, as well as upgrade options.
Primary Construction: Oiled Full-Grain Leather
Waterproof: No
Length: 6″
Toe: Non-Safety
Outsole: Traction Tred Cushion Crepe Wedge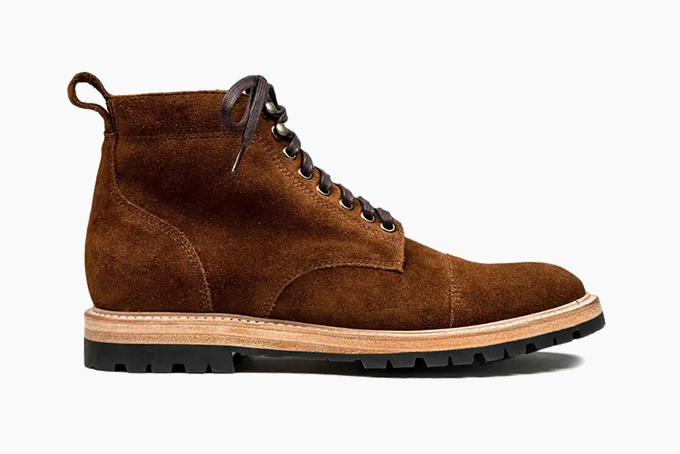 Taylor Stitch The Moto Boot
In typical Taylor Stitch fashion, the Northern California company's Moto Boot represents a more fashion-forward interpretation of the segment it's tapping into, in this case delivering a dapper-looking pair of hybrid work and moto riding boots crafted by hand in León, Mexico using triple-needle lockstitch and Goodyear welt construction from 4 oz. weatherproof Snuff suede. Not requiring any break-in period like most work boots, this limited edition pair comes outfitted with durable and grippy Vibram outsoles, a true double-layer toe-cap, natural leather midsoles, lining, and insoles, waxed Cotton laces, and a half-dozen antique brass eyelets paired with a set of antique brass speed hooks.
Primary Construction: 4 oz. Snuff Suede
Waterproof: Water Resistant
Length: N/A
Toe: Double-Leather Cap
Outsole: Vibram
Filson Roughout Leather Workshop Boots
One of the newest pieces of footwear offered by iconic Pacific Northwest outfitter and gear purveyor Filson, the Roughout boots were engineered from the ground up as something of the ultimate shop boot. As such, the pair sports uppers made from ultra-hardwearing, heavily-oiled Roughout leather that are mated to a suede-lined toebox and shock-absorbing Vibram Christy Morflex outsoles via Goodyear-welted construction. Made in Portugal and re-solable, these boots also get gusseted tongues and cork footbeds with removable — and easily upgradable — insoles.
Primary Construction: Full-Grain Roughout Leather
Waterproof: No
Length: N/A
Toe: Non-Safety
Outsole: Vibram Christy Morflex
Wolverine Original 1000 Mile Boot
First released in 1914, Wolverine's 1000 Mile model has long stood as one of the most lauded work boots of all time, which is ultimately what more recently inspired the Michigan workwear manufacturer to unveil a contemporary reissue of the boot, maintaining the original's design and silhouette while bestowing it with a host of modern materials and upgrades. Handcrafted in Big Rapids using Goodyear welt construction, the modern version of this 107-year-old model features Horween leather uppers that form a unique patina over time with regular use, as well as its predecessor's classic leather outsole — which is now supplemented via a Vibram rubber heel — flat, waxed-cotton laces, and cork midsoles. As one might guess from the name, these boots can be re-soled, too.
Primary Construction: Horween Leather
Waterproof: No
Length: N/A
Toe: Non-Safety (Also Available In Comp)
Outsole: Leather & Vibram Rubber
White's Boots Foreman Lace-To-Toe
White's tradition of producing unfailing footwear dates back to before the American Civil War, making the Spokane brand well worth looking into whenever shopping for heritage-grade boots. And while you really can't go wrong with any pair from White's, the historic heritage label's heirloom-quality Foreman Lace-To-Toe model is particularly noteworthy, as its extra set of eyelets — which extend further down the toe — allow for a more precise and anatomical fit (though they do sacrifice the protection of a steel toe which is also offered on another variant of White's Foreman model). Crafted around a low-arch 610 Last atop a Vibram Cristy Crepe outsole, the Foreman Lace-To-Toe boot utilizes a re-solable, stitchdown construction, a half leather slip and shank, and water-resistant 6″ full-grain leather uppers.
Primary Construction: Full-Grain Leather
Waterproof: Water-Resistant
Length: 6″
Toe: Non-Safety
Outsole: Vibram Cristy Crepe
Zamberlan 5011 Logger Pro GTX RR Work Boots
Unequivocally one of, if not the most advanced and robust pair of logger boots in existence, this model from Zamberland features Hydrobloc Perwanger leather uppers reinforced with full, around-the-boot rubber rands and a heavily cut-resistant triple-layer aramid lining that affords it protection from chainsaw cuts. Completely re-solable, the Italian-made 5011 Logger Pro GTX RR Work Boots are built around Zamberland's ZBPK last and come loaded with impressive amenities like GORE-TEX Performance Comfort membranes, double-density PU wedges, Vibram Teton anti-static rubber outsoles with a built-in fully-automatic PCS crampon system, aluminum safety toes, polypropylene and fiberglass anti-perforation midsoles, a double-tongue system, and ISO-certification for slip-resistance, heel energy absorption, antistatic construction, and puncture resistance.
Primary Construction: Hydrobloc Perwanger Leather
Waterproof: Yes
Length: 9″
Toe: Heavy-Duty Aluminum
Outsole: Vibram Teton
The Best Men's Workwear Essentials To Buy
Want to further build out your workwear wardrobe? Then be sure to head over to our guide to the best workwear essentials for a look at some of the best jackets, pants, boots, and other key staples currently on the market.