Presented by
For casual weekend campers, having a tent that can fit in your car is usually all you need. Things like size, weight, format, etc. are not something that is necessary to take into account. And that's fine, if you're transporting yourself to and from your campsite via a spacious motor vehicle. Backpacking, however, is a completely different story.
When out on the trails for days at a time, every single ounce you carry makes a difference – from your water purification system, to your foodstuffs and camp cooking gear, and especially to the weight of your sleeping shelter. Thankfully, we live in a time where materials keep getting both stronger and lighter at the same time – meaning there are some incredibly lightweight tents out there that will still give you the coverage and protection you need in inclement weather. If you're a long-haul camper, then this is your lucky day, because we put together the following list of the 10 best ultralight camping tents for backpacking that weight under 3 pounds total.
ENO HouseFly Rain Tarp Tent
Though it is certainly the most budget-friendly option on our list, the ENO HouseFly does not function as a stand-alone backpacking tent. It has to be paired with a ground-friendly bivy sack, sleeping bag, or a hammock – as it doesn't have a floor of its own. What it does have, however, is a waterproof construction of silicone-treated nylon, which can keep you dry in even the gnarliest of storms.
Maximum Weight: 1 lbs 9 oz
Size: 1-Person
Material: Silicon-Impregnated Nylon
Marmot Tungsten UL 1P Tent
One of the things we really love about marmot is that they continue to try and innovate with their gear, but they're not so snobby that they slap a huge price tag on their most-advanced gear. Take, for instance, their Tungsten ultralight tent. This bad boy features a weatherproof seam-taped construction, a very roomy headspace, a UV-resistant no-sag rainfly, and much more. It even has an integrated pocket designed specifically to hold your headlamp and create ambient internal lighting.
Maximum Weight: 2 lbs 14 oz
Size: 1-Person
Material: 15D Nylon No-See-Um Mesh Canopy, PU-Coated 20D Polyester RS Fly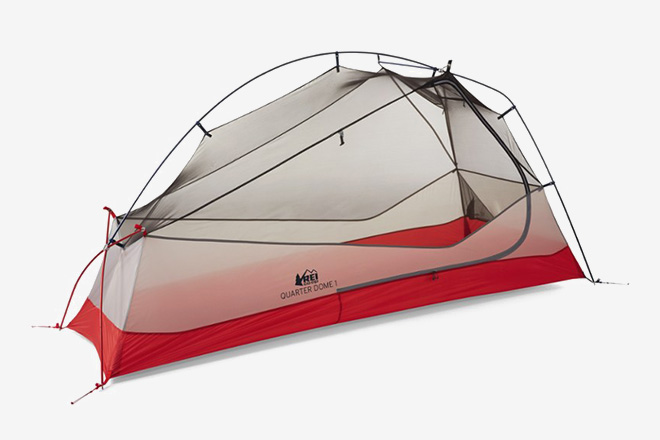 REI Co-op Quarter Dome 1 Tent
There's a reason that REI keeps revisiting their Quarter Dome tent designs: adventurous people around the world love them. This completely redesigned one-person ultralight camping tent features a new architecture, more high-tech materials, and some bonus points in the category of ruggedness. With a minimum pack weight of two pounds, seven ounces, this backpacking tent is a great trail-friendly option that won't break the bank.
Maximum Weight: 2 lbs 14 oz
Size: 1-Person
Material: 20D Ripstop Nylon Floor & Canopy, 15D Ripstop Nylon Fly
The North Face Mica FL 1 Tent
It should come as no surprise that the folks at The North Face managed to create one of the best ultralight tents for camping and backpacking out there. It should also not be a shocker to anyone aware of the outdoor world that this particular tent has some neat features that make it stand out from the crowd – like one of the best footprint-to-interior ratios around (thanks to its extremely high ceiling). It's also got great ventilation, is completely freestanding, and comes with the brand's lifetime guarantee.
Maximum Weight: 2 lbs 8 oz
Size: 1-Person
Material: PU-Coated 20D Ripstop Nylon
Sierra Designs High Route 1 FL Tent
Designed at the behest of Andrew Skurka, a National Geographic "Adventurer of the Year," it's safe to say that the Sierra Designs High Route tent is suited perfectly to just about any expedition. It features full-sided coverage, which is great in inclement weather, but still has plenty of interior room in which to stretch out after a long day. Waterproof, wind-resistant, and the bane of mosquitos everywhere, this tent means business.
Maximum Weight: 2 lbs 12 oz
Size: 1-Person
Material: 30D Ripstop Nylon Floor, 15D Nylon No-See-Um Mesh Canopy, 20D Ripstop Nylon Fly
Sea To Summit Specialist Structure Tent
Designed to comfortably fit your bivy sack or sleeping bag while giving you room to sit upright, Sea To Summit's Specialist Structure still only weighs a maximum of 29 ounces – and that's if you get the 2-person version. The single-size tent is only 22 ounces overall, which is an even more enticing figure to the gram-counting solo hiker. While its incredibly lightweight, it also still has plenty of noteworthy features – like mosquito netting, seam-seals for 3-season camping, and an ultra-tough floor. Whether hiking alone or with a friend, the ultralight backpacking tent options don't get much better than this.
Maximum Weight: 1 lbs 13 oz
Size: 1- or 2-Person
Material: 15D Ultra-Sil Nano Vestibule & Floor, Pertex Endurance 20D Nylon Canopy
Big Agnes Fly Creek HV1 Platinum Tent
Big Agnes just recently announced that they were on the cusp of releasing their own Dyneema tent, in the same vein as Hyperlite Mountain Gear. Turns out, however, you don't have to wait for that expensive release in order to get an incredibly lightweight camping tent from the brand, as they have one in their Fly Creek HV1 Platinum tent. Crafted from polyester and PU-coated ripstop nylon, this tent was built to handle even the toughest weather, but it still weighs just 1-pound, 13-ounces. It can also be pared down to just a fast fly setup weighing only 15 ounces, if that's more your speed.
Maximum Weight: 1 lbs 13 oz
Size: 1-Person
Material: Silicon-Treated Ripstop Nylon
MSR Carbon Reflex 2 Ultralight Tent
MSR is always near the top of the list when it comes to excellent outdoor gear. And with offerings like their Carbon Reflex 2 ultralight tent, it is easy to see why. With enough room for two hikers and all their gear, this tent still weighs just over 2 pounds in total – though it can be pared down to a tidy 1.56 pounds, if you're really concerned with making every ounce count. It's also quick and easy to set up, taking just a few minutes, which is especially nice after a long day of hiking.
Maximum Weight: 2 lbs 3 oz
Size: 2-Person
Material: 15D Ripstop Nylon Floor, 10D Polyester Micro-Mesh Canopy, 7D Ripstop Nylon Fly
NEMO Hornet Elite 2P Tent
Perfect for three-season camping and housing two people, this dual-door and -vestibule outdoor shelter is one of the more luxurious options on our list. But it still manages to clock in at under two pounds, which is extremely impressive, considering how much you get out of it. It is not, however, completely free-standing and requires being staked down to function properly – though that is hardly an issue with everything else this backpacking tent has to offer. Better still, this one also comes with its own repair kit, so you can fix any issues on-the-go.
Maximum Weight: 2 lbs 3 oz
Size: 2-Person
Material: Polyurethane-Coated Ripstop Sil Nylon
Hyperlite Mountain Gear Ultamid 2 Tent
Dyneema is a brilliant material, and Hyperline Mountain Gear is a brilliant brand for using is as the platform for all their ultralight camping gear and outdoor apparel. Their Ultamid 2 pyramid tent is just one example of that very fact. Made entirely in the USA, this tent weighs a grand total of 1.17 pounds, but is practically indestructible. It's also large enough for two people and a dog or one solo camper and a ton of gear. You'll pay for the quality, to be sure, but this is basically the bomb shelter of tents.
Maximum Weight: 1 lbs 3 oz
Size: 2-Person
Material: DCF8 Dyneema
Keeping In Touch: Spot X Satellite Messenger
If the weekend trip takes you deep into the backcountry, Spot's two-way satellite messenger will allow you to keep in touch with friends and family throughout the entire trip. Additionally, each device comes equipped with a built-in compass, social media connectivity, and a check-in function for good measure.