Is there a style of watch that ignites the same kind of fiery animosity as the two-tone watch? For some reason, the mixing of gold and steel tones on a single watch causes tremendous anger in some people. They say that two-tone watches are ugly, outdated, and should be worn by no one outside of '80s Wall Street traders and septuagenarian yacht owners with lots of chest hair. But we wholeheartedly disagree. We say what was cool in the '80s is still cool now (for the most part), and the best two-tone watches of today are a daring way to show off your style.
Given two-tone watches' strong association with the 1980s, you may be shocked to learn that the style even exists today at all. But we're happy to report that not only are they still around, but two-tone watches are thriving, with a number of prominent brands now offering a variety of tempting models. Some of these will give you '80s flashbacks (in a good way), but a solid number of these new two-tone watches are far more modern and do interesting and unexpected things with their bimetal makeups. So have a look below to discover a dozen of the best two-tone watches for men currently on the market.
Timex Q Timex Reissue Falcon Eye
Even if you don't like the '80s, odds are that you like the '70s because, well, everyone likes the '70s. And that's the decade that this retro quartz number from Timex invokes. The Falcon Eye is a reissue of a Timex from 1978, and it replicates the Me Decade's trademark knack for funky watch design. The watch mixes a wavy textured blue dial with sharply hooded lugs, a woven stainless steel bracelet, and a gold-tone bezel in a mix that sounds weird but looks great in the metal.
Case Size: 38mm
Water Resistance: 50m
Movement: Quartz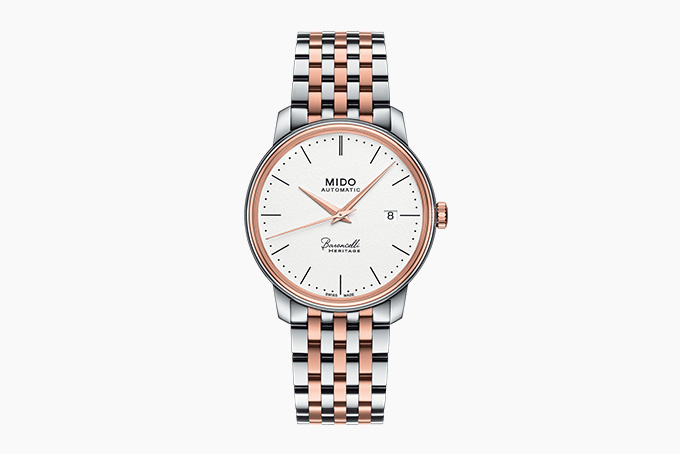 Mido Baroncelli Heritage Gent
Mido is one of the most underrated Swiss watch houses, as the mid-level brand routinely churns out compelling and beautiful watches while receiving few accolades. One such model is their Baroncelli Heritage Gent. A classic of the brand, this dress watch features an eggshell dial, dual-finished faceted hands, and an astounding thinness of just 7.3mm. Several variants exist, but if you want a little extra presence, opt for this version that adds a mix of rose gold PVD to the case, hands, and bracelet.
Case Size: 39mm
Water Resistance: 30m
Movement: Automatic
Tissot Gentleman Powermatic 80 Silicium Solid 18K Gold Bezel
Tissot's Gentleman Powermatic 80, a new addition to the popular Swiss brand's lineup in 2019, was already one of the most compelling affordable everyday watches on the market thanks to its combination of classic sports watch construction, 80-hour automatic movement, and high finishing quality. But apparently, that wasn't good enough for the Le Locle-based brand, so they had to go and outfit the Gentleman with a solid 18K gold bezel. Solid gold components are literally never seen at this price point, which makes this watch one fine gentleman indeed.
Case Size: 40mm
Water Resistance: 50m
Movement: Automatic
Zodiac Super Sea Wolf GMT Two-Tone
Zodiac has been cranking out quality, affordable, Swiss-made sports watches for a very long time. The brand's Sea Wolf debuted in 1953, the same year as the Blancpain Fifty-Fathoms, AKA the first professional dive watch, and their Aerospace of the early 1960s was one of the first GMT watches to market. Not much has changed, as Zodiac continues to produce the same excellent watches they made in the mid-century. This two-tone version of their Super Sea Wolf GMT is oozing with retro style, and it's one of the best travel watches you'll find for under two-grand.
Case Size: 40mm
Water Resistance: 200m
Movement: Automatic GMT
Longines HydroConquest
A lot of brands are into the whole vintage reissue scene these days, including Longines, whose Heritage line offers some of the best vintage-style watches in the business. But sometimes you just want a good, solid, modern dive watch. Thankfully, Longines is pretty darn good at making those too. The HydroConquest is a modern classic with its bold wrist presence, 300m water resistance, and ceramic bezel, but the two-tone version is even more special. By adding a touch of gold flash to the watch, you end up with a classic luxury diver that will look great on any wrist.
Case Size: 41mm
Water Resistance: 300m
Movement: Automatic
Oris Divers Sixty-Five
Two-tone watches almost always use gold as a complement to a stainless steel base, either through solid gold or through a PVD or plating treatment. But there are other amber-hued metals out there, and they can look just as fetching on a two-tone watch when done right. And this Oris diver is certainly done right. By using bronze in place of gold, the watch exudes more of a casual and tough tool watch feel than it would if it featured gold, and the nature of bronze means that this piece will become even more rugged-looking as the material patinas over time.
Case Size: 40mm
Water Resistance: 100m
Movement: Automatic
Tudor Black Bay Chrono S&G
Sometimes it's hard to describe a watch as being anything but "cool," and that's the vibe we get from this Tudor. With its gold reverse panda bicompax layout and touches of solid yellow gold throughout the case and bracelet, this chronograph is just dripping with swagger. Looking at this watch, we assume that as soon as you put it on a leather jacket materializes on your torso and a motorcycle appears in your garage. Absurd hyperbole aside, this is one excellent looking watch, and it may be our favorite of Tudor's new line of "Baytona" Chronographs.
Case Size: 41mm
Water Resistance: 200m
Movement: Automatic Chronograph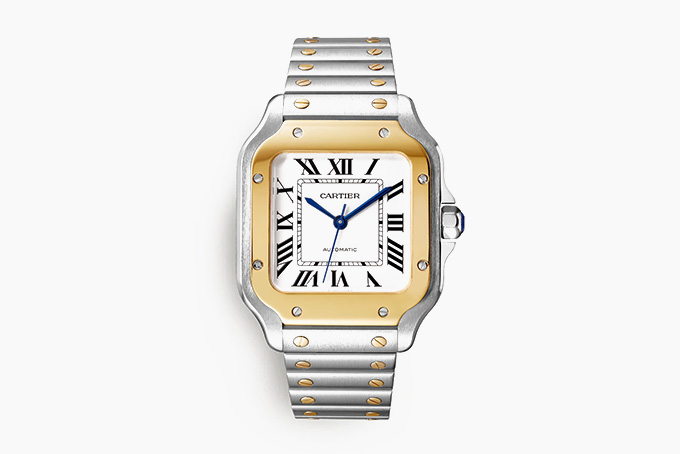 Cartier Santos De Cartier
Cartier doesn't do retro, Cartier does classic. The historic French luxury design house has been around forever, and when they find a design that works, they stick with it. Take the Santos, for instance. The watch first debuted in 1904, and while it has certainly evolved since then, it's still unmistakably the same watch today. From the iconic curved rectangular shape and roman numeral indices to the spinel-embedded crown and blued-steel hands, everything about this timepiece says "class" — especially when you add solid 18K yellow gold to the formula.
Case Size: 35mm
Water Resistance: 100m
Movement: Automatic
Omega Seamaster Diver 300m Steel
The name's Bond… Gold Bond. Oh, wait, scratch that, Gold Bond is a brand of foot powder — look, what we're trying to say is that Omega has a two-tone version of their iconic James Bond Seamaster Diver. And while the thought of slathering gold on such a legendary timepiece may seem garish and sacrilege, the end result is actually quite tasteful and attractive. That's because Omega used the gold accents sparingly to make it a complementary color rather than a focal point, and because of the lovely muted pink tone of the brand's proprietary Sedna Gold alloy.
Case Size: 42mm
Water Resistance: 300m
Movement: Automatic
Rolex Datejust
You knew this was coming. It's impossible to put together a list of the best two-tone watches and not include the Rolex Datejust. It is the two-tone watch. The Patrick Bateman watch, the watch of the aforementioned yuppies and hairy boat owners, the watch that will cause people to make assumptions about you that maybe aren't so flattering. Yes, the Datejust is all of those things, and yet we still love it. The solid gold fluted bezel. The mix of metals in the Jubilee bracelet. The cyclops date window. This is as two-tone as two-tone gets, and thanks to some flashy new dial designs for 2021, it's even becoming hip again.
Case Size: 36mm
Water Resistance: 100m
Movement: Automatic
Breitling Chronomat B01 42
Like the Datejust, the Chronomat is a watch that is largely associated with the '80s thanks to the popular ref. 81950 that was produced from 1984 to 1990. But unlike the Datejust, the Chronomat stayed in the '80s after retiring in 1990 — until recently, that is. Breitling has brought back a modern version of the '80s Chronomat, and like any proper '80s watch revival, you can get it in two-tone. Outside of its signature "Rouleaux" bracelet, the new Chronomat chronograph doesn't go too heavy on the retro vibes, with red gold accents and sleeker styling bringing some much-appreciated modernity.
Case Size: 42mm
Water Resistance: 200m
Movement: Automatic Chronograph
Patek Philippe Nautilus 5980/1AR
Even the most ardent of two-tone skeptics will find little to argue with here. This example of Patek's famous steel sports watch is not all steel, as rose gold has joined the party on the pushers, crown, dial, center links, and most notably, on the trademark vertically-brushed porthole bezel. The luxurious precious metal accents, combined with the watch's innovative single-register chronograph and coveted blue dial, make this one of the finest Nautilus references we've ever seen.
Case Size: 40.5mm
Water Resistance: 120m
Movement: Automatic Chronograph
The 15 Best Affordable Integrated Bracelet Watches
Two-tone is hardly the only retro style that's currently being perpetuated by the watch industry. Heck, it's not even the only '80s style. Integrated bracelet steel sports watches, the kind that flourished in the 1970s and '80s, are once again hugely popular. The problem is, most of them — like the Audemars Piguet Royal Oak and Patek Philippe Nautilus — are outrageously expensive. But there are some great affordable integrated bracelet watches out there if you know where to look. And thanks to our handy guide, you will.