There are a lot of exceedingly useful pieces of outdoor and tactical gear on the market. From camping tents to survival water filters to MOLLE-ready backpacks, everything you could ever need likely already exists in some form or another. There are also a few categories of gear that have a bit of overlap. For instance, a fixed blade knife can serve some of the same functions as, say, a machete, saw, or even a tomahawk.
However (and that's a big however), there are also pieces of gear that serve those overlapping functions more precisely. For instance, you can definitely use a fixed blade knife to chop up kindling, but an axe of almost any type will work much better. Tactical Tomahawks capitalize on that specialization even further, offering exceptional durability, packability, and (often) multi-functionality. We're not saying you should forgo a fixed blade the next time you're headed into the field or wilderness. Rather, you should probably bring both. Regarding tactical tomahawks, you'll find the 12 best for your money right here.
What Is A Tactical Tomahawk?
Compact & Capable
Just to be absolutely clear, tomahawks are a type of axe — meaning they have a bladed head attached to a long handle and they're typically used for chopping tasks. However, tomahawks are on the smaller side of the spectrum — like hatchets and/or camp axes. Believe it or not, there's not actually a definitive distinction between tomahawks and hatchets. Typically, however, hatchets tend to serve traditional outdoor functions, whereas tomahawks are more closely associated with battle — originating in name and function from Native American tribal warriors. In fact, "tomahawk" was lifted directly from the Virginian Algonquin language.
Tactical tomahawks, as one might imagine, capitalize on that battlefield association — albeit with more up-to-date constructions and uses in mind. Contrasting with their more-traditional steel-and-wood hatchet brethren, tactical tomahawks are often much more aggressive in their styling and are usually built with more modern materials, especially in regards to their handles. This includes high-end steels, synthetics like G10 and/or glass-reinforced nylon, etc. It's also not uncommon to see blades with modern coatings to alter their appearance and increase their durability — like DLC, Cerakote, or titanium nitride (TiNi) — or those that have alternative functions built-in.
While you could certainly use any of these tactical tomahawks on the battlefield, you absolutely do not have to be a soldier to get plenty of use out of them. In fact, it's pretty likely that most folks that own them use them much more often in an outdoor capacity. Whether you're a hardcore outdoorsman who needs a chopping tool that's tough enough to weather constant hard use or you're an occasional adventurer that wants a survival contingency plan and something to help with, say, chopping up firewood, a well-built tactical tomahawk will serve you beautifully.
11 Best Tactical Tomahawks
Estwing Black Eagle Tomahawk
One of the few brands still making their tools in the USA, Estwing holds a special place in the hearts of those who appreciate good quality gear on a budget. And that doesn't change when it comes to their Black Eagle Tomahawk you see before you. This aggressively-styled tomahawk boasts a black-finished forged steel construction with a shock-resistant hammer-style handle, a blade on one side of the head and a pick on the other, and it comes with a nylon sheath. For the price, you can't do better.
Length: 15.5″
Steel: Forged Steel
Handle: Patented Nylon Vinyl
Cold Steel Trench Hawk
If the Vikings had access to modern manufacturing facilities, they might've built something like the Cold Steel Trench Hawk. Simple, straightforward, reliable, and aggressive, this tactical tomahawk features a 1095 steel black-finished head with a blade on one end and a pick on the other. The head is mated to a durable polypropylene handle, which offers a measure of shock-resistance, and it comes with a patented sheath for easier storage and transport when not in use.
Length: 19″
Steel: 1055 Carbon
Handle: Propylene
Walther WAL50748 Tactical Tomahawk
If you recognize the Walther name, it's probably because of its association with James Bond, as this is the brand that builds the legendary PPK pistol. However, that's not the only thing they build well, as evidenced by their tactical tomahawk you see here. With an appearance that looks not unlike a fireman's axe, this hatchet boasts a durable and versatile 420 steel head with a wide blade and aggressive spike, a synthetic handle, and it comes with its own fabric sheath for safe storage and transport.
Length: 16.25″
Steel: 420
Handle: Synthetic
SOG Voodoo Hawk
One of the smaller options on our list, the SOG Voodoo Hawk is the definition of "tiny buy mighty." At just 12.5 inches, it's small enough to fit even in a compact daypack. But its 3Cr13MoV steel head with its blade and spike combo, glass-reinforced nylon handle, and hammer pommel make it surprisingly formidable, even amongst its peers. Pair that with the fact that this hatchet is one of the most suitable to throwing and it's pretty easy to see the versatility and value therein.
Length: 12.5″
Steel: 3Cr13MoV
Handle: GRN
CRKT Kangee Tomahawk
Apart from its unique appearance, the CRKT Kangee Tomahawk has something going for it that none of the other ones on our list do. You see, along with its powder-coated high-carbon head, a sturdy and grippy GRN handle, and an included tactical sheath, it also boasts a blade on the top of its head. That means it has a blade for chopping, a spike on the reverse end, and a chisel-style blade for forward thrusts, which could come in handy regarding both self-defense and outdoor applications, like cutting through plant roots.
Length: 13.75″
Steel: SK5 Carbon
Handle: GRN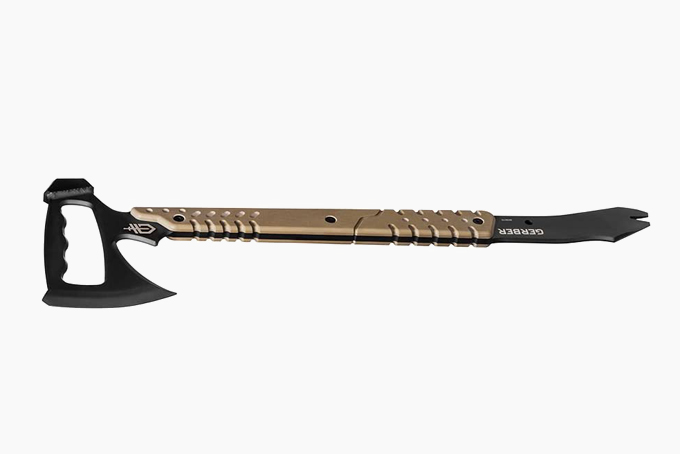 Gerber Downrange Tomahawk
Calling the Gerber Downrange a tomahawk absolutely does not do this device justice, as it more closely qualifies as a hardcore multi-tool. This is due in part to its three-in-one design — meaning it has an axe blade, a hammer head, and a pry bar built right in. It's also built from 420HC steel with a Cerakote finish, it features a durable and grippy G10 handle, and it even comes with a MOLLE-compatible sheath. Best of all, the whole thing is made in the USA.
Length: 19.27″
Steel: Cerakote 420HC
Handle: G10
Hogue Knives EX-T01 Tomahawk
For anyone who counts every single ounce of gear — like big-time backpackers — the Hogue Knives EX-T01 might be the tactical tomahawk for you. Not only was it designed in conjunction with Allen Elishewitz, but its exceptional construction — consisting of a partial-tang S7 steel head mated to G10 handle scales — is bolstered by a skeletonized head that helps cut weight while retaining almost all of its strength. It can also be fitted with either a spike or hammer optional attachment, it has a proprietary secure magnetic sheath, and it has a Cerakote finish.
Length: 14.125″
Steel: S7
Handle: G10
Spyderco WarriorHawk
Spyderco has always had a bit of a tactical edge, but that flair is on full display in their WarriorHawk you see here. Still unmistakably Spyderco in its styling, this unique tactical tomahawk has an impressive billet D2 tool steel full tang head mated to contoured G10 handle scales, comes with a custom-molded snap-fit Boltaron sheath, and the brand even managed to incorporate their signature Spyderco hole. Not to mention the backside of the head features a tactical spike and the pommel doubles as a pry bar.
Length: 15.82
Steel: TiNi D2
Handle: G10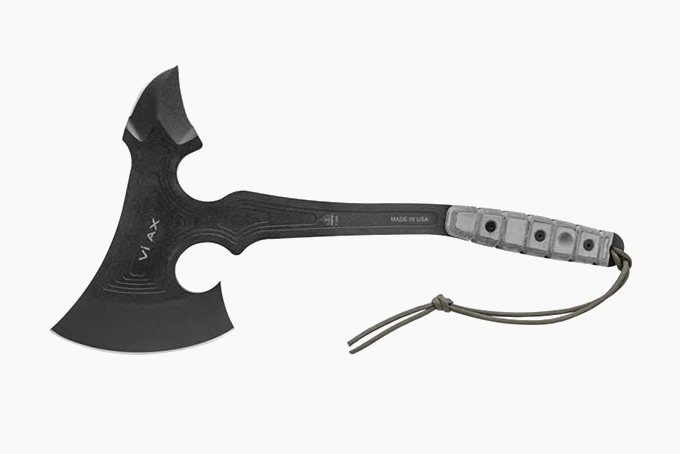 TOPS Knives VI Ax
Designed by the brand's president, Leo Espinoza, the TOPS Knives VI Ax (short for Viking Ax) is a beautiful blend of a classic silhouette and modern materials. The blade and tang are built from a solid slab of 1075 steel — offering better impact-resistance and only slightly worse edge retention than 1095 — and its mated to a grippy and handsome linen Micarta handle. All told, the tactical tomahawk measures up at 15.25 inches in length, weighs 2.44 pounds, has a 5.25″ cutting edge with a spike opposite, and it comes with a black leather sheath.
Length: 15.25″
Steel: 1075
Handle: Micarta
RMJ Tactical Jenny Wren Tomahawk
RMJ Tactical undoubtedly thrives in the tactical tomahawks space and, honestly, you could close your eyes and pick out any of their offerings and you'd be getting something spectacular. That being said, their Jenny Wren does stand out for its size — just 11.5″ overall — and its exceptional construction — consisting of 80CrV2 steel and textured G10 handle scales. Made for breaching and close-quarters combat, this small-scale tactical tomahawk has a wide cutting edge, tail end spike, and comes with a handy Kydex sheath.
Length: 11.5″
Steel: 80CrV2
Handle: G10
Paragon War Party Tactical Tomahawk
With an aggressive name reminiscent of post-apocalyptic thrillers, like Mad Max, and one of the more unique silhouettes around, the sci-fi-styled Paragon War Party tactical tomahawk features a hefty D2 tool steel head made for swinging, a handle boasting a combination of carbon fiber and G10, and there's even a lanyard hole on the pommel. It was also made in collaboration with Sakura Blade Works of Japan, it comes with a Kydex sheath, and it's a limited-run offering — so you'd better act quickly if you want to get your hands on it.
Length: 13″
Steel: D2
Handle: Carbon Fiber & G10
The Best Machetes You Can Buy
Axes, hatchets, and tomahawks are hardly the only option for an outdoor-focused chopping tool. If you want proof (and some alternatives), just have a gander at our list of the best machetes.