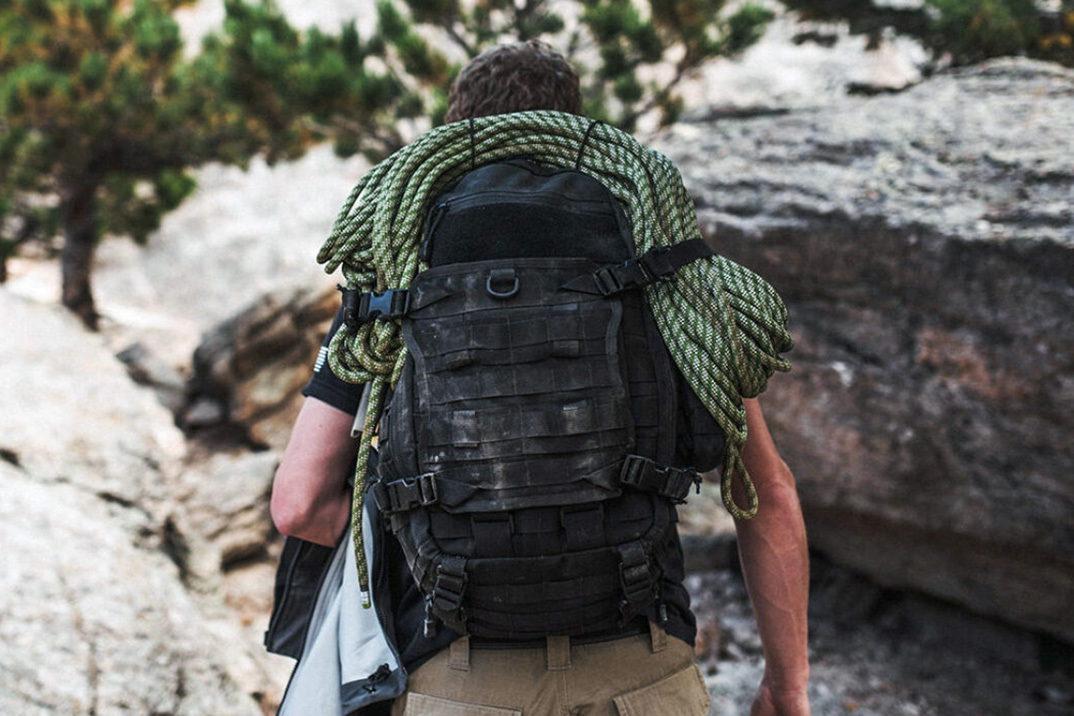 Nobody ever wants to get stuck in a worst-case scenario. But that's sort of how it works — it isn't something you choose, so much as it's something that happens to you. But, just because you hope to avoid a dire emergency doesn't mean you shouldn't be ready for one. Of course, setting up a fully-stocked underground apocalypse shelter might be overkill. Thankfully, there is a middle ground.
Whether you live in a place prone to blizzards, tornados, earthquakes, fires, tsunamis, or any other natural disaster, it might be a good idea to put together a bug-out bag — a collection of emergency supplies and rations to help you and your family survive during the immediate hours following a disaster. And while you could buy a pre-built kit, you're probably better off building out your own customized version. And that's what this guide is geared toward. These aren't fully-stocked bug-out bags; they're ultra-tough, often modular, tactical-focused backpacks that serve as the base for your own, personal bug-out bag — which means you can fill them as you see fit and on your own terms.
Best Bug-Out Bags
Best Budget Pick

Condor 3 Day Assault Pack

Best for Camping

5.11 Tactical Rush72 Backpack

Best for Solo Camping

Mystery Ranch 2-Day Assault Pack

Best Overall

Spec-Ops T.H.E. Pack U.A.P.

Best for Everyday

Triple Aught Design FAST Pack EDC

Best for Hunting

Kifaru 357 Mag Backpack

Best for Travel

GORUCK GR3 Ruckpack

Best Modular Pack

Eberlestock J79 Skycrane II Backpack

Best Upgrade

Arc'teryx LEAF Assault Pack 45 Multicam
DIY vs. Pre-Built?
Why You Should Customize
If you do not have the time or knowledge of what a bug-out bag is and how they're meant to function, your best bet is probably going to be buying a pre-built disaster kit — if there's truly no other option for you. However, a pre-built kit is often, as the saying goes, a jack of all trades, master of none. That is to say, they're loaded to the gills with gear but designed to suit a wide variety of people and purposes — meaning they're not specialized to your own personal needs, desires, locale, etc. and, therefore, there might be a lot in them you will never touch.
If you're confident in your knowledge of survival skills and you have a bead on what you and your family might need in an emergency, you may be able to actually save money and build out a better, personalized survival grab-and-go kit on your own. We wouldn't necessarily suggest this to novices, but that doesn't completely rule out the possibility, either. Even a beginner in the world of survival can probably find enough useful information in survival books, on survivalist blogs, or even through documentaries to manage on their own. Again, if you're not confident in your knowledge or your ability to synthesize knowledge, a pre-built bug-out bag is still a better bet — but you should at least consider the possibility of crafting your own.
What To Look For in a Bug-Out Bag
Materials: The material of your bag will both ensure its durability and allow it to optimize weight (see below). Look for ripstop nylon, especially CORDURA, to get the job done.
Capacity: This will largely depend on what you're planning on bringing with you and how many people you're supplying for. If you're a solo hiker, you'll likely want to go with a smaller option, especially for the sake of shedding some weight where you can.
Weight: Likewise, you'll want a pack that optimizes weight with capacity so you're not being buckled down unnecessarily. Materials such as nylon and CORDURA nylon will do the trick.
Waterproof: It goes without saying that if your gear is compromised by a little water then many of the items in your bag won't do you much good. That's why it's good to find an option that's water-resistant at the very least.
Condor 3 Day Assault Pack
Pros
Comes with two 3L hydration packs
A lot of exterior MOLLE webbing
Cons
Zipper pulls and waistbelt unreliable
Best Budget Pick: Thankfully, a relatively tight budget doesn't have to stop you from getting your hands on a worthy bug-out bag starter backpack, so long as you know where to look. Starting with the Condor 3 Day Assault Pack is definitely not a bad idea with its 50L internal capacity, external modular webbing for attachments, and durably nylon exterior. This bag was crafted specifically to suit tacticians on 72-hour missions — so it should be plenty big and capable enough for the average person's bug-out needs. It's not fancy or boastful, but it will get the job done.
Capacity: 50 Liters
Weight: 5 Pounds
5.11 Tactical Rush72 Backpack
Pros
Super reliable 1050D CORDURA shell
Media pocket + laptop sleeve
Comes in other sizes as well
Hydration compartment
Cons
Difficult to adjust straps
Best for Camping: If your budget is just a touch looser, we'd be remiss in our duties if we didn't suggest having a gander at 5.11 Tactical's Rush72 Backpack. Like the bag above, this one is designed for tactical usage across spans of up to 72 hours — that's three full days, for those keeping tabs — and boasts a 1050D Cordura nylon exterior, MOLLE modular webbing, and plenty of internal organization. Furthermore, if this particular version doesn't quite suit your needs because you need something somewhat smaller or bigger, there are also two other sizes of this particular bag. It even has a hydration-compatible compartment, self-healing YKK zippers, and so much more. This bag, truly, is a steal.
Capacity: 55 Liters
Weight: 5.29 Pounds
Mystery Ranch 2-Day Assault Pack
Pros
Triple-zip main compartment offers unique access options
Lightweight
Compression straps take up unused volume
Cons
Only 27L capacity
Could have better grab points
Best for Solo Camping: If you're part of a large family, the Mystery Ranch 2-Day Assault Pack might not be for you, as it has a fairly limited capacity of 27L. However, if you're going solo these days, it might be exactly what you're looking for, as it has plenty of room for a single person, it's designed with speed in mind, and it still has many of the features (and more) shared by its larger, heftier competitors. That includes things like a unique triple-zip main compartment, an internal frame sheet, modular webbing on the exterior, a complement of internal organizational pockets and pouches, and it even meets most carry-on guidelines.
Capacity: 27 Liters
Weight: 3 Pounds
Spec-Ops T.H.E. Pack U.A.P.
Pros
Bombproof
Very comfortable
Intuitive storage and cargo, with easy access
Lifetime warranty
Cons
Price has gone up, but still more affordable than others
Best Overall: For those who are familiar with the Spec-Ops T.H.E. Pack, Tactical — think of this version as the bigger, tougher brother. After all, U.A.P. actually stands for "Ultimate Assault Pack." And, no, that's definitely not just a name; this is actually an improved and even over-engineered version of the brand's best-selling pack. In fact, Spec-Ops has improved cargo access, ergonomics, comfort, and durability — all without compromising anything else. It also can house a hydration bladder, is reinforced to make it even more bombproof, and it included the brand's proprietary BATTLE BUCKLES hardware. As if that's not enough, the brand also builds this pack in the USA and slaps each and every one of them with a lifetime guarantee.
Capacity: 37.68 Liters
Weight: 3 Pounds
Triple Aught Design FAST Pack EDC
Pros
Incredibly durable
Made for organization with optimal PALS placement
Comfortable
Made for modular add-ons
Cons
Not great capacity-to-weight ratio
Best for Everyday: If you're not familiar with Triple Aught Design — TAD, for short — then it's about time we cleared that up, as they're one of the best high-end tactical gear and apparel brands around. In fact, their FAST Pack EDC isn't just a great base for a bug-out bag, it's one of the all-time best backpacks ever made — period. Built like a tank, this Cordura nylon hauler features plenty of internal storage, a huge amount of PALS webbing (both inside and out) for modular attachments and better organization, and it was specifically designed to be comfortable wearing it on-the-go. Honestly, from head to toe, this bag is a formidable contender. Truly, the only downside might be its limited starting capacity — but that can be altered with the simple addition of some modular pouches, thereby nixing it out almost entirely as a downside.
For a closer look at this pack, check out our TAD Fast Pack EDC Fast Pack Litespeed review.
Capacity: 28 Liters
Weight: 4.5 Pounds
Kifaru 357 Mag Backpack
Pros
Lightweight for its size
Tall frame is great for carrying game
Great internal organization
A few size options for waist belt
Cons
Outer webbing may be overkill for hunting
Best for Hunting: If, to you, the phrase "bug-out bag" elicits images of hunting tactical bags with a ton of storage and durability, then you might be seeking something like the Kifaru 357 Mag Backpack. All told, its numerous compartments come together to offer a whopping 54.75 liters of internal storage — which is bolstered by a comprehensive amount of modular webbing across the exterior of the bag. It's also hydration bladder-compatible, was designed specifically to be lightweight and easy to haul compared to similarly-sized bags, and it also has a comprehensive internal organizational format with attachment points to keep your gear from bouncing around too much.
Capacity: 54.75 Liters
Weight: 4.81 Pounds
GORUCK GR3 Ruckpack
Pros
Bombproof laptop sleeve
Meets carry-on standards
Optimal grab point options
Cons
Zippers should be lockable for travel
Stash pocket hard to access when bag is full
Best for Travel: GORUCK is the brand responsible for creating one of the best everyday backpacks of all time — the GR1. However, while that bag is still amongst the best of the best, they've also expanded their catalog a touch to include follow-ups — one of which, the GR3, is perfect as a base for a bug-out bag. It's still made with the same ultra-tough materials and includes the legendary bombproof laptop sleeve, but it's also more capacious for all your emergency supplies and has even more PALS external modular webbing than its smaller counterpart. Better still, at 45L, the GR3 still meets carry-on standards — if you have to hop on a plane for whatever reason.
Capacity: 45 Liters
Weight: 5.15 Pounds
Eberlestock J79 Skycrane II Backpack
Pros
You can optimize storage by removing extra packs or adding on
Holds a lot in total capacity
Super versatile
Cons
Can get really heavy when stuffed
Best Modular Pack: While the Eberlestock J79 Skycrane II looks like a single-piece tactical and/or hunting pack, looks can be quite deceiving. In fact, this offering is actually comprised of a trio of modules that can work in tandem or on their own. This includes the main pack, a smaller daypack, and an even smaller sling bag — which together are good for a whopping 73.3L of storage space. That also means you can cater those individual bags to different gear types — e.g. first-aid in one, foodstuffs and alternative supplies in another, and maybe even a smaller bug-out bag for unforeseen cut-and-run situations. If you're looking for versatility above all, this one is hard to beat — even when you consider the price.
Capacity: 73.3 Liters
Weight: 11.75 Pounds
Arc'teryx LEAF Assault Pack 45 Multicam
Pros
Distributes weight really well
Somewhat modular
Can be worn with body armor and helmet
Easy compartment access
Cons
Doesn't claim to be waterproof like other LEAF bags
Best Upgrade: If a hefty investment doesn't scare you off, your top-of-the-line option might just be the Arc'teryx LEAF Assault Pack 45 Multicam. For those not in the know, LEAF stands for "Law Enforcement & Armed Forces," meaning the gear produced by this wing of the Canadian technical outdoor brand was designed and geared specifically for tactical usage on the highest end of the performance spectrum, and is also designed to be worn with body armor and helmets. As the name also suggests, this pack can hold up to 45L of gear inside it and it's also configured with Velcro to accommodate aftermarket pouch insertion. Made for maritime operations, this bag is more than capable of handling your bug-out loadout, so don't shy away from this option if the price tag isn't too daunting.
Capacity: 45 Liters
Weight: 4.125 Pounds
Basic Survival Skills Everyone Should Know
In a disaster that calls for the use of a bug-out bag, your ability to adapt and survive is paramount. Fret not, as we have you covered with our guide to the basic survival skills every man should know.