Sep 30, 2019
Category: Gear
When colder weather rolls around, sometimes you require a jacket that places performance over style, especially if your job or hobby requires one that's gear-friendly. Typically inspired by military apparel, a tactical jacket goes above and beyond what an everyday coat is capable of. This type of jacket performs well in challenging conditions while keeping you warm and functional in adverse weather. Whether you need one for hiking, hunting, or the battlefield, a tactical jacket makes a significant difference in terms of functionality when it counts.
For mission-focused individuals, a tactical jacket keeps you organized and ready at the drop of a hat, so you can react appropriately to obstacles and prevail. It's a significant piece of apparel even if you're a civilian who enjoys spending time in the comforting, but often trying, great outdoors. These days, the word "tactical" is thrown around so often that it's difficult to decipher whether or not you're investing in a quality garment. We took the time to scour the web, researching top brands to create a list of the best tactical jackets on the market today. Our goal is to get you in a tactical top that suits your needs perfectly.
Features To Seek
Finding The Right Garment
There are a variety of tactical jackets to choose from, so you should first hone in on the purpose of this rugged piece of apparel, letting it guide you to the right option. However, no matter what you'll use it for, there are a few aspects that point to a quality-made tactical top. Here are a few things to keep in mind while searching for an ideal tactical jacket:
The jacket should be made from materials that are durable and comfortable, such as polyester, fleece, and nylon.
To assist you in surviving the elements, make sure the jacket is windproof, water-resistant or waterproof, and moisture-wicking.
The tactical top should have ample storage for all of your field gear. Hidden pockets and ones made specifically for magazines or concealed carry are a plus.
A hood comes in handy when it pours, so choose one packing a rain shield for your dome.
Remember to think of how the jacket will fit your body type, so you can move naturally while on the field.
Condor Summit Soft Shell Jacket
Built from 100% rayon fabric, Condor Summit's Soft Shell Jacket is an affordable quality option for cold-weather missions. It features a full-length YKK front zipper, underarm vent zippers to keep you cool, two high-rise slash chest pockets, and a stow-away hoodie for extra protection when it pours down heavy rain. And to make the jacket fit well to your unique body, it has a drawstring waistband and hood. Zip this jacket it on and equip it with your favorite trusty gadgets to take on the next challenge.
Tru-Spec 24-7 Series Tactical Softshell Jacket
Tru-Spec thought of just about everything when they designed their 24-7 Series Tactical Softshell Jacket. The 100% polyester tactical jacket with a DWR water-resistant finish has two angled waist pockets with waterproof hidden zipper closures, angled sleeve pockets, side seam zippers for easy side-arm access, and hook-and-loop self-fabric cuff closures. And the wind- and water-resistant jacket provides room for a ballistic vest, in case your mission requires more protection.
Rothco Special Ops Tactical Soft Shell Jacket
Featuring a three-layer construction, Rothco's Special Ops Tactical Soft Shell Jacket deflects wind, preserves body heat, and wicks away moisture. It has a waterproof polyester outer shell, fleece-lined collar with a hidden detachable hood, drawstring waist, and hook and loop wrist cuffs. It also allows you to carry all of your EDC gear securely via two high-rise slash chest pockets with internal D-rings, a zippered shoulder pocket, two internal pockets, and a double zipper back pocket.
Alpha Industries M-65 Field Coat
Nothing beats a classic, and Alpha Industries' M-65 Field Coat is one of the best old school tactical jackets out there. Built to military specifications, the iconic M-65 is fashionable yet highly practical. It's oversized so you can carry all of your gear just like the original design, as well as wind- and water-resistant. It features a concealed hood in the collar, four spacious body pockets, one interior welt pocket, a bi-swing back, and a signature wire field coat zipper.
5.11 Braxton Jacket
This lightweight tactical jacket by 5.11 is highly functional and has a clean minimalist design. It has ReadyPocket compartments, RAPIDraw pass trough for quick concealed handgun access, a brushed Tricot chin guard, and Dual Ready Pocket compartments with hook and loop opening. Organize your gear with two horizontal chest pockets and front hand pockets that are easy to access while you're on the move. Not to mention, it's made from 100% polyester mini-ripstop with a DWR finish, so it can survive any battlefield.
Under Armour Tactical Duty Jacket
Under Armour's full-cut Tactical Duty Jacket has a windproof construction to protect you from the harsh elements to complement its UA Storm technology to repel water while preserving breathability. It's made from a bonded three-layer softshell material with a stealthy outer layer and plenty of flexibility to accommodate your natural range of motion. This 100% polyester tactical jacket is equipped with plenty of storage, including chest and hand pockets, as well as side zips so you can draw your side-arm quickly.
UF Pro M1 Field Jacket
Combining highly functional performance with a stylish silhouette, UF Pro's M1 Field Jacket is tactical apparel that performs well outdoors and around the city. The windproof tactical jacket is highly water-repellant thanks to the use of EtaProof Fabric and has room for all of your gadgets. It also has a detachable Merino wool body-warming liner, so you can use the coat year-round. To make it even more rugged, the M1 Field Jacket has CORDURA reinforcements in critical abrasion-abundant areas.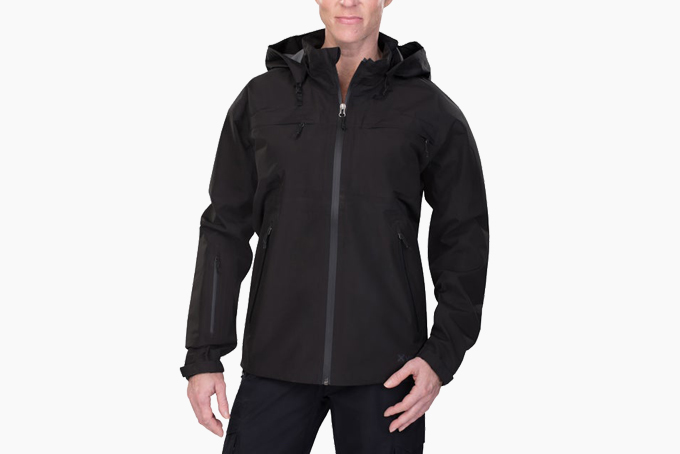 Vertx Integrity Shell Jacket
Take on the elements of Mother Nature with the Vertx Integrity Shell Jacket. Featuring 37.5 technology with a 100% polyester construction and VaporCore technology, this coat protects you from wind, ice, snow, and water. It has a fully adjustable hidden hood with a built-in visor, hidden drawcord system, chest pockets with storm flaps, secure side pockets, and sealed seams and zippers for protection against harsh weather conditions.
PDW Iliad Field Jacket
Prometheus Design Werx's Iliad Field Jacket is inspired by the ancient Greek story about an epic journey. Made for those who go off-the-beaten-path to chase the horizon like a true adventurer, this jacket is constructed from resilient Tweave Durastretch 7.20-ounce Nylon/Spandex with a DWR finish. The tactical jacket has four-way Stretch Tweave patterning for natural movement, two front zippered hand pockets, two zippered sleeve pockets, two accessory organizer pockets, and a two-way main zipper.
5.11 Sabre Jacket 2.0
5.11 makes another well-deserved appearance on this list with their Sabre Jacket 2.0. Featuring a 100% polyester bonded softshell, seam-sealed 10K/10K membrane, and a patented Quixip System for stellar performance during warfare or a challenging backpacking trip. It also has utility pockets on each shoulder, three zip-out ID panels, integrated storm cuffs, and YKK zippers. And thanks to its casual appearance you can use it as a go-to jacket for work.
Amabilis Responder Tactical Jacket
Amabilis makes some amazing duffel bags, but they also produce excellent tactical wear. Their Responder Tactical Jacket is versatile apparel for hiking, carrying additional camera gear, heading to the shooting range, or navigating foreign lands. It's made form a NYCO 50/50 Nylon Cotton blend and has neoprene-coated armor plating, as well as a laser-cut military MOLLE pattern. And it's packing over 10 pockets, so you can keep all your essential gear close at all times.
T.A.D. Raptor Hoodie
This lightweight and ferocious Raptor Hoodie by Triple Aught Design is made from a three-layer Polartec Neoshell material and 100% nylon ripstop face and tricot liner. It has a fully seam-taped hardshell and a 100% polyurethane membrane, making it a fierce piece of garment for those in the military or adventure-hungry individuals who need tough apparel. It's packing plenty of storage too, including two bicep pockets and two hand pockets with pull tabs and YKK AquaGuard zippers.
UF Pro Gen. 2 Tactical Rain Jacket
UF Pro's Gen. 2 Tactical Rain Jacket is a wet-weather option that will keep you dry, so you can focus on the mission. It features a three-layer GORE-TEX laminate, making it 100% waterproof,
and an outer fabric with DWR treatment. The tactical jacket also does well with heavy backpacks thanks to UF Pro air/pac foam technology, which distributes weight evenly, so you can stay comfortable under pressure. And it has a Hood/Harness system that allows you to customize the size of the hood.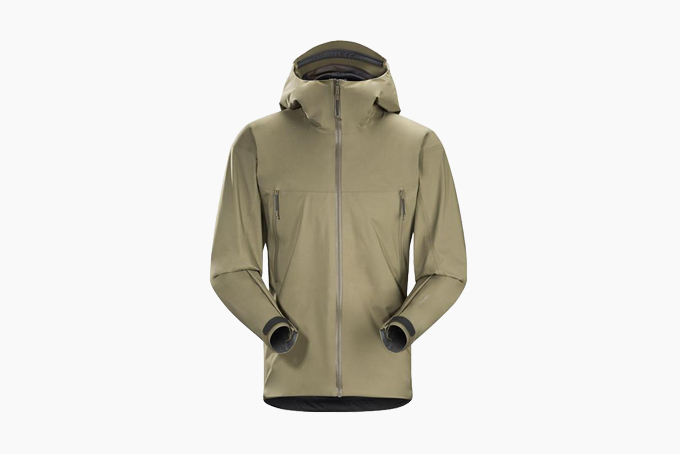 Arc'teryx LEAF ALpha Jacket LT Gen 2
With GORE TOF DPS1 military certification, the Arc'teryx LEAF Alpha Jacket LT (Gen 2) is battlefield tough. It features GORE-TEX L&F 3L 30D nylon plain weave construction and a military fit, allowing you to layer for cold weather. You can pack what you need safely thanks to its two internal stretch zip pockets and dual chest pockets, and protect yourself from heavy rain with its fixed hood with an elasticized stow loop.
Outdoor Research Infiltrator Jacket
The Outdoor Research Infiltrator Jacket boasts Hybrid Mapped construction for exceptional mobility and GORE-TEX material to withstand the elements of Mother Nature. It also features military fabric and Stretch Technology, so you can maneuver the playing field with ease. To keep you cool, it has TorsoFlo ventilation, which vents heat and moisture while giving you easy access to your sidearm.
The 15 Best Tactical Pants
After getting a durable and action-ready tactical jacket, don't stop there. Take a look at our picks for the best tactical pants and pick up a pair to complete your field attire.
HiConsumption is reader-supported. When you buy through links on our site, we may earn an affiliate commission. Learn more