What few people realize is that the t-shirt got its start only a little over 100 years ago — around the turn of the 20th century when laborers would cut their jumpsuits in half in order to keep cool during the warmer months of the year. However, once the U.S. Navy got word of the veritable garment and its benefits, it wasn't long before it began to see widespread implementation. Everyone from factory workers to farmhands wanted in on the action, and as it became increasingly popular throughout these labor-intensive industries, it also took on a cultural significance unto its own. Thus, by the time the 50s rolled around and Brando and Dean had donned a t-shirt on the silver screen, it was already well on its way toward becoming a staple element of every man's wardrobe.
These days, you'd be hard-pressed to find someone without at least one tee in their rotation. Because let's face it. Even if you prefer business casual to active apparel, you'll at least need a solid undershirt to get you through the day. As such, there are more t-shirts on the market than ever before. And, while the variety is good for the inherent competition that it brings, it also means that you're left with the unfortunate task of choosing between them. If it's loud and covered with graphics, it's easy enough to make that determination for yourself. But when it comes to the basics, it can be considerably trickier. After all, there are only so many kinds of cotton that any one person can reasonably understand. Rather than going it alone and making things harder than they have to be, give our list of the best basic t-shirts for men a look. You'll thank us.
Uniqlo U Crew Neck Short Sleeve
As one of the foundational pillars of men's fashion, it's important that a basic tee be affordable. At just 15 bucks a shirt, you can't argue with this option from Uniqlo. Designed by Christoph Lemaire as part of the Parisian-based U subbrand, it features a 100% heavy-duty cotton construction and a fit that can be dressed down for casual weekend wear or spruced up for more formal occasions.
Everlane Organic Cotton Crew
The Organic Cotton Crew is a part of Everlane's Uniform series, an assortment of 12 everyday essentials that are as handsome as they are hard-wearing. The brand is so confident in the quality of the collection that it's given it a 365-day guarantee, meaning that should the shirt shrink or develop a hole, it will be replaced no questions asked. And when you consider that it comes with a Global Organic Textile Standard (GOTS) certification, it makes for a value proposition that's pretty hard to beat.
Forty Five Supima Crew Tee
If you're after a basic shirt that boasts a quality American-made construction, look no further than Forty Five's Supima Crew Tee. Cut and pressed in Los Angeles, California, it's made from 100% organic cotton and preshrunk for a perfect fit. Add to that a wide variety of garment-dyed colors, a set of tailored sleeves, and a length that's ideal for tucked or untucked wear, and the result is a shirt that's earned a spot in any menswear wardrobe.
Mack Weldon Pima Crew Neck T-Shirt
Tired of sorting through sub-par underwear and socks at the local department store, Brian Berger founded Mack Weldon specifically for the purpose of bringing better basics to mainstream menswear through first-rate fabrics and original designs. This crew neck t-shirt is a case in point, for though it's made from super-soft Pima cotton (like some of the other options on this list), it's also been given an eco-friendly enzyme bath to make it even softer. And because it's been made with a robust recovery collar and some strong ladder stitches, it'll be with you for years to come.
Buck Mason Slub Classic Tee
As is often the case, Buck Mason manages to do what everyone else does, but better. For instance, their Slub Classic Tee comes with a vintage-inspired straight hem as well as a slightly shorter body and sleeves. Complimented by a lightweight loose-knit cotton fabric construction, the result is a new shirt that wears just like any old favorite. In fact, you'll be so happy to slip this one on that you'll have to make room in your rotation for more.
Taylor Stitch The Cotton Hemp Tee
Although Taylor Stitch's Cotton Hemp Tee is technically considered a menswear basic, in practice it's anything but. That's because it's made with 70% organic cotton and 30% hemp, a combination that allows it to be incredibly durable while still being both soft and lightweight enough to be layered. But the best part is that because it comes pre-shrunk with a tailored fit, you don't have to worry about losing your look in the wash. On the contrary — it makes for an offering that's as at home on its own as it is under a blazer.
American Giant Premium Slub Crew T
American Giant spent well over a year developing its slub fabric, so it goes without saying that it'd make for a men's basic tee that's a cut above the rest. With its tailored fit, uniquely textured yarn, and clean interior taping, it's exactly that — a better piece of clothing, made better. As with every piece of American Giant clothing, it's 100% USA-made, meaning that it supports honest communities around the country rather than capitalizing on the latest trend in fast fashion.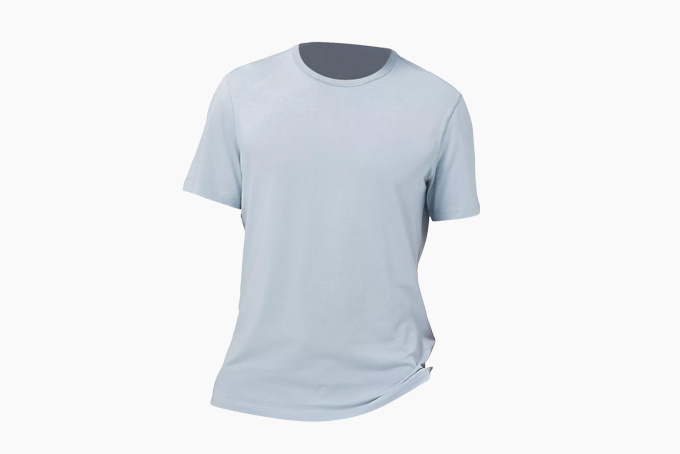 lululemon 5-Year Basic Tee
Although lululemon is perhaps best known for its athletic apparel, the brand has been quietly rounding out its everyday offerings as well. Their 5-Year Basic line includes a variety of timeless menswear items, each one modernized with the use of innovative materials. For instance, this tee is made from the lululemon's Vitasea fabric, a blend of pima cotton and Lyocell with an added dose of Lycra for improved stretch and shape retention.
Outerknown Sojourn Tee
Once Kelly Slater wrapped up his sponsored surfing career, he started Outerknown, a brand built on the express purpose of furthering sustainability throughout fashion. The Sojourn exemplifies his philosophy to a tee, using only the highest quality organic Peruvian Pima cotton. Sourced from over 390 local farmers throughout Peru, the Sojourn skips on the chemicals of conventional cotton in favor of providing safer conditions for workers. All that is to say — you'd be hard-pressed to find an offering that does more for the planet and its people.
Calvin Klein Three Pack Cotton Jersey T-Shirts
Sure, basics are decidedly simple garments, but it's not as easy as picking the first one that comes your way. Rather, with so many options on the market, it makes the most sense to buy in bulk once you've found yourself a winner. Take Calvin Klein's Cotton Jersey T-Shirts, for instance. With their mid-weight, breathable fabric, and relaxed cut, there's not a chance you'd want to be wearing anything else. It just goes to show that good things really do come in threes.
Todd Snyder Made In L.A. Classic Jersey T-Shirt
If anyone knows how to make fashion-forward men's apparel, it's Todd Snyder. As its name implies, this classic jersey t-shirt adds to the brand's Los Angeles-manufactured line, a collection of clothing items that work well year-round — no matter the weather. Available in everything from 'Heather Grey' to 'Greenstone,' these shirts come garment-dyed for a fuller color and texture that only gets better with age.
Reigning Champ 2-Pack Pima Jersey Shirt
Rounding out our list is Reigning Champ's Pima Jersey Shirt 2-Pack. Granted, these shirts come at a much higher price point than any other offering we've featured here; however, they're truly in a league of their own. For starters, they're made with a rib-bound collar and smooth flatlock seams, a combination that makes for superior durability and a cut that'll last over the long-haul. Add to that some understated colors and subtle branding elements, and you have a shirt that's fit to call itself Reigning Champ.
10 Men's Basics Brands You Should Know
While these tees make for a good first foray into simple menswear staples, we've but scratched the surface of the segment. Head on over to our guide to men's basics brands you should know for a roundup of manufacturers with offerings ideal for everyday wear.