Whether on the street or track, safely piloting a motorcycle requires proper safety gear that affords solid protection against abrasions and impacts. However, many of the jackets are the market lack the breathability needed to lend themselves to riding in warm weather. Recognizing this long-held issue, a growing number of leading moto gear brands have begun producing warm weather-specific riding layers that offer robust protection while keeping their wearers cool — the latest and greatest of which we've rounded up for this curated guide to the best summer motorcycle jackets you can buy.
Needing to offer a calculated balance between airflow and abrasion resistance, these jackets have the ability to massively improve comfort without compromising on protection. In addition to counting down our picks for the best summer riding jackets currently available, we'll also be delving into what factors to consider when making your purchase. So, without further ado, let's drop it into first and get into it.
Warm Weather Jackets 101
Factors To Consider When Buying A Summer Moto Jacket
While mostly similar to regular riding jackets, summer-specific leathers do possess a handful of finer points that one should be privy to prior to pulling the trigger on their purchase. Below, we'll unpack the five most crucial areas to consider when buying a summer riding jacket.
Style: Just like with regular riding jackets, warm weather motorcycle jackets come in a wide variety of styles, from cruiser jackets to old-school cafe models to ADV items to sport and track jackets. We'd recommend using whichever style you happen to be partial to as the starting point for your search.
Primary Construction: The single most important factor that determines the quality and efficacy of a summer riding jacket is its primary construction. The most common materials used in this segment are textiles, mesh fabrics, and perforated leathers — all of which can afford ample airflow while still providing solid protection when going shiny-side down. In recent years, we've also seen a marked rise in the use of proprietary constructions such as CORDURA, Dyneema-infused materials, and custom-developed mesh constructions that offer abrasion resistance that's on par with traditional leather hides.
Secondary Construction(s): While the primary construction will pretty much always be the most important factor to consider, secondary materials can also play a crucial role in how a jacket performs, thanks to things like sweat-wicking liners and reinforced overlays for abrasion-prone areas. Secondary materials can also be used to comprise a jacket's trim or accents.
Armor: Abrasion resistance is owed to a jacket's shell and construction, however, the ability to soak up blunt-force impacts is afforded by armor. A beyond-crucial safety element for any riding jacket, armor is manufactured by a range of different companies, each with its own proprietary take on the genre. On top of the type of armor being used, you'll also want to consider where the armor is placed (typically on the elbows, shoulders, and spine), whether it's removable, and whether it's sold with the jacket or needs to be purchased separately. Some of the more sport- and track-focused models in this segment also see their internal armor overlaid with alloy construction sliders that are often crafted from aluminum or titanium.
Ventilation: Ventilation/airflow is another tremendously important area to review when buying a summer moto jacket. Much of a jacket's airflow will boil down to the materials used to construct it, however, additional ventilation and exhaust ports also have the ability to hugely bolster this area. This one factor will play a bigger role than any other in determining how comfortable a jacket is to wear in warm weather, and how well it will keep its wearer cool.
ICON Upstate Riding Shirt
First unveiled in early 2020, ICON 1000's Upstate Riding Shirt is a cutting-edge textile moto jacket that offers a remarkable blend of airflow and abrasion resistance. These properties are owed to a shell that's crafted from a proprietary material known as Iron Weave Mesh, which is further fortified via CORDURA canvas overlays across the elbows, shoulders, and spine, as well as D3O armor occupying these same areas. Produced in an olive and black colorway or a black-on-black scheme, the Upstate Riding Shirt also features snap-secured breast pockets and a snap-secured main closure.
Primary Construction: Iron Weave Mesh
Armor: D3O
Merlin Chigwell Lite Jacket
Taking inspiration from old-school café racer jackets, Merlin's Chigwell Lite Jacket is a premium piece of moto riding gear that was engineered specifically for use in warm climates and seasons. CE-AA-certified, this jacket is modeled after Merlin's heavier Chigwell jacket, though replaces its 12oz waxed construction with a more free-breathing 8oz Halley Stevensons waxed cotton shell that's supplemented via Reissa waterproofing and Cotec and mesh accents and panels. Sold in black or brown color options, this jacket also comes with included D3O shoulder, elbow, and spine armor. 
Primary Construction: 8oz Halley Stevensons, Mesh, & Cotec
Armor: D3O
Pando Moto CAPO COR 01 Armored Shirt
Made in Europe, Pando Moto's CAPO COR 01 is an armored, slim-fit, button-up shirt-jacket that sports a 12oz super-stretch CORDURA denim shell, open and closeable zippered under-arm ventilation ports, and a temperature-regulating, moisture-wicking COOLMAX lining. Fully CE-certified, the CAPO COR 01 can stand up to slides of more than 50 feet. Backed by a two-year warranty, this moto-specific overshirt also comes with an included suite of SAS-TEC TripleFlex elbow and shoulder armor, as well as pockets for accomodating an optional QUATROFLEX spine protector.
Primary Construction: 12oz Super-Stretch CORDURA Denim
Armor: SAS-TEC TripleFlex (& Optional QUATROFLEX)
Fuel Arizona Jacket
Made specifically for hot-weather riding, Fuel Motorcycles' Arizona Jacket offers the Spanish shop's signature blend of modern materials and old-school aesthetics. Built around a polyester shell, the Arizona Jacket features a myriad of strategically-placed mesh back and chest panels to optimize airflow while suede accents and leather closures add additional durability along with some visual flair. EN-certified, this jacket also boasts YKK zippers, removable Smoothways CE level 2 protection elbow, shoulder, and spine armor, and arrow-shaped pockets that are reminiscent of standard-issue U.S. Military garments from the 1940s. 
Primary Construction: Polyester, Mesh, & Suede
Armor: Smoothways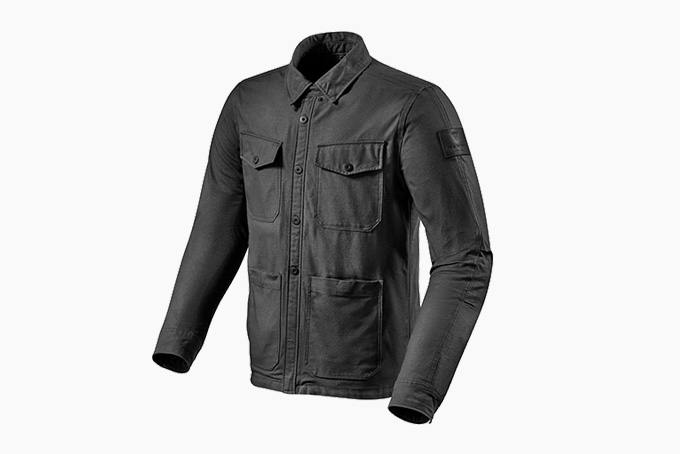 REV'IT! Worker Overshirt
Modeled after traditional workwear-style overshirts, the REV'IT! Worker Overshirt is a fashion-forward piece of riding gear that was designed to keep riders looking their best both on and off the bike — without skimping on protection. Built around an 11oz CORDURA canvas shell, this item also features a zipper connection for linking to riding pants, a ventilation panel, four exterior pockets, an inner pocket, and laminated reflective details. What's more, this riding-specific overshirt comes equipped with Seesmart CE 1 level elbow and shoulder armor and can accommodate an optional Seesoft Type RV spine protector. 
Primary Construction: 11oz CORDURA Canvas
Armor: Seesmart
JANE Moto Mechanic's Jacket
A meticulously-engineered piece of vintage-inspired riding gear, JANE Motorcycles' Mechanic's Jacket offers old-school looks backed by modern levels of protection. Made in New York City, this mechanic-style jacket is made from a rugged 11oz Bull Denim cotton twill and paired with zippered hand pockets and cuffs and pockets for accomodating D3O shoulder and elbow armor (which are sold separately). On top of being offered in multiple color options, this jacket — which can comfortably be worn on or off the bike without ever looking out of place — is also available in a limited-edition FLYING TIGER version with a chain-stitched Mott Street Tiger adorning its back. 
Primary Construction: 11oz Bull Denim Cotton Twill
Armor: D3O
Alpinestars Viper Air Jacket
The Alpinestars Viper Tech-Air is an incredibly lightweight textile motorcycle jacket that offers remarkable levels of protection thanks to its compatibility with Astars' state-of-the-art Tech-Air airbag system (which is sold separately). The jacket is crafted around a rugged yet lightweight, PU-reinforced 600-denier poly-fabric shell that's highly resistant to tearing and abrasions. In addition to coming loaded with Alpinestars' shoulder and elbow Bio-Armor, this warm weather-specific jacket also features a removable windproof inner vest lining, a cooling full interior mesh liner, a secure wallet pocket, pre-curved sleeves, reflective detailing fore and aft, YKK auto-locking zippers, and an extensive array of airflow-bolstering mesh panels. 
Primary Construction: 600D Poly-Fabric & Polyurethane
Armor: Bio-Armor
SA1NT Unbreakable Jacket
After introducing the world's first single-layer protective riding jeans, SA1NT has applied this construction to the creation of a single-layer riding jacket crafted from the same Dyneema-infused denim. Affording nearly six seconds of slide time in the event of a crash, this EN- and CE-certified denim jacket boasts mesh pockets for housing D3O Viper Back Armour and D3O Ghost shoulder and elbow armor and comes with black and white faux fur shearling collars, both of which are removable. Currently in its sixth generation, this material will also slowly fade over time with use, taking on a unique patina. 
Primary Construction: Unbreakable 6.0 Dyneema Denim
Armor: D3O Ghost & D30 Viper
REV'IT! Ignition 3 Jacket
Offering the abrasion resistance of a leather riding jacket with the airflow of a textile jacket, REV'IT!'s Ignition 3 Jacket is made from an ultra-breathable yet hardwearing combination of Dynax mesh, Monaco Performance cowhide, a PWR-coated 500-denier stretch shell, Lorica, and a 600-denier wax polyester. This third-generation jacket features safety seams, a detachable thermal layer, a removable, fully waterproof yet breathable Hydratex membrane liner, reflective logos and detailing, a series of zippered ventilation ports, a suite of inner and outer pockets, Seeflex CE Level 2 shoulder and elbow armor, and a pocket for accomodating a Seesoft CE Level 2 spine protector. In other words, it's not exactly lacking in the features department.
Primary Construction: Monaco Performance Cowhide, Dynax Mesh, PWR-Coated 500D Stretch, 600D Wax Polyester, & Lorica
Armor: Seeflex (& Optional Seesoft)
SPIDI Bolide Perforated Jacket
Employing a heavily-perforated 1.2mm-thick cowhide construction supplemented via high-tenacity elastic flex Tenax nylon, SPIDI's Bolide Jacket offers track-grade performance and protection while simultaneously delivering incredible airflow. On top of a jacket-to-pant zipper connection, this jacket also features an adjustable waist, pre-curved sleeves, and a fixed lining. What's more, this item also sports Warrior shoulder armor, Force-Tech elbow armor, and pockets for housing optional chest and spine protectors; as well as exterior sliders atop the shoulders and elbows of the jacket. 
Primary Construction: Perforated Cowhide & High-Tenacity Elastic Flex Tenax Nylon
Armor: Force-Tech & Warrior Protectors
AETHER Draft Mesh Moto Jacket
The AETHER Draft Mesh Moto Jacket is another terrific warm-weather piece of riding gear that's been engineered from the ground up for use during the year's hottest months. Constructed around a three-layer stretch woven shell, this seam-sealed jacket sports a weatherproof main zipper, a leather collar, hand pockets, bottom hem, and sleeve panels, a zippered kangaroo pouch, zippered mesh gussets, zippered hand pockets, Field Nylon adorning the back yoke and shoulders, and embossed AETHER branding. The jacket's removable LP1 Series D3O shoulder and elbow armor and a D3O Viper spine protector come in adjustable pockets, guaranteeing a precise fit. Protected by AETHER's lifetime guarantee, this jacket is also packable and can be broken down and stuffed inside one of its own pockets.
Primary Construction: 3-Layer Stretch-Woven Nylon
Armor: D3O
Dainese Tuono D-Air Perforated Jacket
The Dainese Tuono D-Air Perforated Jacket offers the absolute pinnacle of protection for motorcyclists, combining the high-end materials and construction techniques regularly employed by the elite Italian gearmaker, with Dainese's cutting-edge D-Air airbag system. On top of its ultra-state-of-the-art airbag system — which can deploy in just 45 milliseconds — this super high-end summer riding jacket also features a D-skin 2.0 full-grain cowhide leather construction that's supplemented via perforated panels, a NanoFeel liner, an aerodynamic spoiler, a Racing-cut collar, a tri-axial back elasticated insert, and a full suite of CE-rated Pro-Armor set beneath replaceable aluminum and composite Dainese-branded elbow and shoulder sliders. 
Primary Construction: Perforated D-skin 2.0 Full Grain Cowhide Leather
Armor: Pro-Armor & Aluminum Slider Plates
The 14 Best Motorcycle Riding Vests
Want to check out an additional area of riding gear that's perfect for warm-weather use? Then be sure to cruise over to our feature article on the best motorcycle vests for more than a dozen sleeveless riding layers.
HiConsumption is reader-supported. When you buy through links on our site, we may earn an affiliate commission. Learn more