Because they tend to be more expensive than most other types of grills and the public is generally less familiar with the genre, wood pellet grills and smokers aren't quite as popular as their gas and charcoal-powered counterparts, which is a real shame because pellet grills arguably offer the best overall grilling experience. These grills offer rich smokey flavor, unparalleled consistency, a solid range of versatility, and are insanely easy to use. With most modern premium models being fully-self-contained and automatically regulated, producing mouthwatering meat is as simple as setting temperature and pressing the ignition button.
Though they operate in the same basic capacity as when the first production models were introduced in the mid-1980s, pellet grills have hugely evolved over the last three and a half decades or so, with numerous key advancements hugely pushing the envelope of technology and performance within this space. And as more and more manufacturers have tossed their respective hats into the pellet smoker ring, it's become increasingly difficult to navigate the current crop of offerings. So, with this in mind, we've reviewed all of the latest and greatest releases from recent years to bring you this guide to the best pellet grills and smokers.
Where There's Smoke
What Exactly Is A Pellet Grill?
Wood pellets are a type of fuel source that is used to power a specific type of grill. Taking the place of charcoal or gas, these tiny uniform pellets are able to provide a tremendously consistent cooking experience while maintaining ultra-precise temperatures. Rather than utilizing heat straight from the burning charcoal, pellet grills deliver indirect heat, that cooks at a slower rate, though offers better results in terms of moisture, tenderness, and overall flavor.
Premium modern pellet grills take this consistency and convenience to new heights. These models can ignite the pellets with the push of a button and have systems that act on their own, adjusting the fuel-adding rate and using an electronically fan-controlled airflow in order to constantly maintain the desired temperature. Additionally, many of these models feature Wifi or Bluetooth connectivity and can pair with a smartphone or tablet in order to monitor or adjust the grill's temperature or airflow.
All The Flavor With None Of The Work
The Many Benefits Of Modern Pellet Grills And Smokers
Charcoal can provide varying cooking experiences and heat levels depending on its volume and how it's positioned, plus charcoal's heat output will slowly diminish as the fuel source becomes increasingly spent–assuming you aren't constantly taking temperature readings and adding new fuel. On the other hand, wood pellets are a ridiculously precise and uniform fuel, that will deliver the exact same heat and cooking experience time after time with unparalleled accuracy and consistency.
Premium pellet grills are often outfitted with metal heat baffles positioned directly above the burning fuel source that helps to disperse heat evenly inside the cooking area, rather than just directly below the primary grilling grate. When helped along by convective air from internal fans, premium pellet grills actually deliver such even internal heat, that the second cooking racks that are normally used for warming bread and buns can utilize for smoking meats.
Modern high-end pellet grills also typically have diffusion pans underneath the main grilling grate that can catch grease and vaporize it upon contact, returning the flavor and moisture into the air to envelop the above meat—just like with a charcoal grill–without any risk of flareups whatsoever. Whatever doesn't vapors, will simply funnel down into the grill's grease pan or catch. Because of these aforementioned factors, pellet grills are a fantastic choice as they offer the convenience and ease of a propane-powered grill with the rich smokey flavor of a charcoal offering.
Properly slow-cooking meat requires a good deal of time and patience, with many cuts requiring 12 hours or more. Modern pellet grills are not only able to precisely maintain temperatures throughout the duration of smoking, but with the benefit of smartphone connectivity, allow you to remotely monitor and/or adjust the grill as it smokes meats overnight, or for other extended periods, giving you the freedom to do your own thing while having the ability to periodically check on the status of your grilling.
Using a traditional charcoal grill or smoker comes with a pretty significant learning curve, taking ample repetition to master with so many small variables to consider. Premium pellet grills, however, will deliver pretty much the exact same quality of meat regardless of who is at the helm, considering these items do the vast majority of the work for you, and maintain an unrivaled level of consistency throughout the duration of cooking. This practically guarantees novice grillers won't accidentally over-smoke meat.
Obviously pellet grills and smokers are great for low-and-slow-style cooking, but modern premium models are also capable of operating at some impressively high temperatures, with some units able to reach the 700-degree ballpark. Furthermore, many high-end models can offer direct heat straight from the flame for searing and caramelizing, allowing for a wide range of versatility.
Though they'll pretty much always maintain a uniform size and form, wood pellets are available in a wide variety of flavors. Whether you're looking for cherry wood, hickory, alder, mesquite, or charwood, wood pellets can deliver whatever kind of smoked taste you like, the vast majority of which are completely natural rather than artificially flavored.
The only real downside to pellet grills—aside from them being less environmentally friendly than gas grills—are their relatively steep price, at least when compared to charcoal or gas-powered models. Having said that, you definitely get what you pay for, with the higher cost of entry affording a markedly more convenient, precise, consistent, and overall superior cooking experience. The majority of high-end grills are also built to last, making them a worthwhile investment that you can enjoy for the rest of your life.
When shopping for a pellet grill or smoker, it is worth considering charcoal and gas-powered items alongside the more high-end pellet grills, especially if your cooking needs don't necessitate super-precise temperatures, or if you don't feel like shelling out the premium for smartphone connectivity. There are even a few charcoal and gas smokers that can give elite pellet grills a good run for their money in regards to performance, build quality, and amenities.
Weber Smokey Mountain Cooker 18" Charcoal Smoker
For those looking to dip their toes into the smoking realm, an old-school charcoal unit can be a fantastic way of learning the fundamentals, and Weber's Smokey Mountain Cooker is a minimalistic yet well-built grill that's beginner-friendly, while still offering plenty of room for growth—as well as room to smoke a full-sized turkey. Built around premium-grade steel bowl, lid, center section, and water pan that are porcelain enamel-coated inside and out, the 18" model packs dual plated steel cooking grates with a collective 481-square-inches of cooking space,glass-reinforced nylon handles, rust-resistant aluminum heat shield and fuel door, and is also sold with an included cover to protect it from the elements when not in use.
Fuel Source: Charcoal
Total Cooking Area: 481 sq-in
Smartphone Connectivity: No
Traeger Ranger Portable Wood Pellet Grill
Joe Traeger first unveiled his pellet grill in 1985 before receiving a patent the following year, and though a slew of competitors has since come and gone, the American brand remains one of, if not the most respected names in the pellet grill game. Traeger's Ranger portable tabletop model manages to cram the majority of the brand's larger grill's performance capabilities into a diminutive 13" x 20" x 21" form, though can still accommodate a full rack of ribs. This portable grill is also equipped with a 36,000 BTU output, a built-in meat probe that can monitor the internal temperature of a cooking protein without the need for lifting the lid, and a "Digital Control Ark" that allows the temperature to be precisely adjusted in five-degree increments from a "warming mode" up to 450-degrees.
Fuel Source: Wood Pellets
Total Cooking Area: 176 sq-in
Smartphone Connectivity: No
Pit Boss Copperhead 7 Series 29" Vertical Pellet Smoker
Despite a rather small footprint, this vertical smoker contains half-a-dozen adjustable, porcelain-coated cooking racks that offer a whopping 2,059 square inches of cooking space. Riding on heavy-duty caster wheels, the cabinet itself is double-walled and made from cold-rolled steel with a high-heat coating Hammertone copper finish. With a 60-pound pellet hopper capacity, this grill can smoke meats for a full 24-hours before needing a refill. The Copperhead 7 Series is also incredibly easy to operate, thanks to a simple control knob and LED readout—which also boasts displays for two internal meat probes—for setting temperature and a 300-watt pellet igniter that fires up the fuel before a fan-forced draft stokes and automatically maintains heat levels.
Fuel Source: Wood Pellets
Total Cooking Area: 2,059 sq-in
Smartphone Connectivity: No
Grilla Grills Alpha Grilla Wood Pellet Smoker
Using convection airflow and a uniquely-shaped EvenTemp Chamber to evenly distribute heat, the brand's Alpha Grilla model boasts its signature Alpha Smoke Dual Controller that affords users the option of the utilizing Grilla Grills' new PID Controller which precisely-controls and regulates heat over the entire course of cooking, or call on Grilla's traditional temperature mode which maximizes smoke output in a bid to enhance flavor. Offering an impressive heat range between 180 and 500-degrees, this model also features a digital control panel, include meat probes, a push-to-ignite starter, and a two-tiered stainless-steel cooking surface. And, as its name suggests, this 145lb grill is extremely rugged, with all stainless steel internal components and side trays, heavy-steel main construction, and powder-coating throughout.
Fuel Source: Wood Pellets
Total Cooking Area: 488 sq-in
Smartphone Connectivity: No
Big Green Egg Large
While Big Green Egg doesn't produce pellet-powered grills, it's nonetheless become one of the most eminent names in the smoking and grilling space and is well worth being on your radar if shopping in this arena. Originally founded in the mid-1970s in Atlanta, Big Green Egg famously produces distinct-looking egg-shaped Kamado grills that utilize a special type of ceramic construction that hugely helps to maintain lower cooking temperatures over prolonged periods without dehydrating its contents—in fact, quite the opposite. A significant part of what makes these grills special is their immense cooking range, with the ability sear steaks or cook brick-oven-style pizzas at well over 800-degrees. And, though they're already decently-durable and hardwearing, BGE backs its grills with a (limited) lifetime warranty.
Fuel Source: Charcoal
Total Cooking Area: 262 sq-in
Smartphone Connectivity: No
recteq RT-700 Wood Pellet Grill
recteq's RT-700 is an imposing pellet grill, standing at over 4' tall and sporting micro-polished stainless steel bull horn handles and a bull-ring-style towel ring. Backed by a six-year warranty, this grill is bulletproof, with all heavy-duty steel main construction, and equally-rugged smaller components such as a corrosion and rust-impervious ceramic ignitor rod rated for up to 100,000 lighting cycles. Despite its old school western appearance, this is a cutting-edge grill through and through, with a temperature—that ranges between 200 and 500-degrees, allowing the RT-700 to bake, smoke, grill, roast, broil, sear, and even dehydrate meats—that's precisely regulated via a proprietary PID algorithm, and can relay readings from its multiple included meat probes along with general cooking temperatures to a smartphone or tablet thanks to WiFi-connectivity and a dedicated app.
Fuel Source: Wood Pellets
Total Cooking Area: 702 sq-in (1,054 sq-in w/ optional 2nd shelf)
Smartphone Connectivity: Yes
Traeger Timberline Series 850
The Timberline range is the original wood-pellet grill company's most elite offering, representing Traeger's most advanced grill in its 34-year history. Also offered in a larger 1300-spec, the Timberline 850 is an elite grill with heavy-duty double-walled and insulated 304 stainless steel construction backed by Traeger's WiFIRE technology/connectivity that lets user control settings, monitor progress, or set cook cycles via the Traeger smartphone app. At the brain of the grill is its all-new D2 controller, which is reportedly the most cutting-edge and precise PID unit on the market. Other noteworthy standard fare on the Timberline range includes TRU convection (aka European convection) air circulation, a brushless DC motor-controlled pellet augur, a low-pellet sensor, and a SuperSmoke setting that sets the grill to its lowest heat setting and kills the fan, letting meat bask in the natural airborne flavor.
Fuel Source: Wood Pellets
Total Cooking Area: 850 sq-in
Smartphone Connectivity: Yes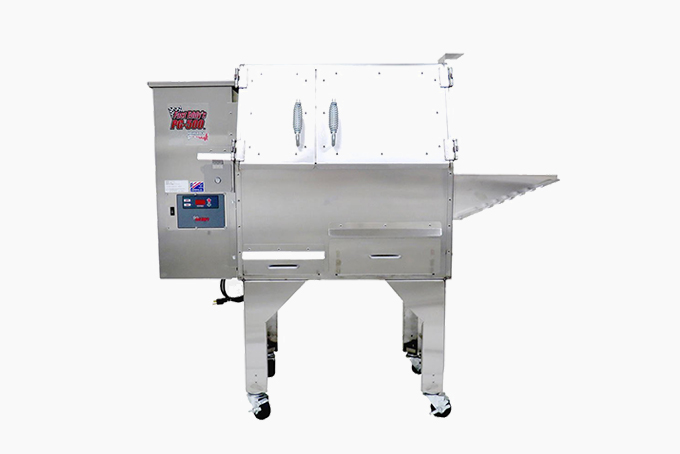 Cookshack PG500 Fast Eddy's Pellet Grill
Ed "Fast Eddy" Maurin is a renowned, award-winning pit-master with more than three decades of experience in his trade. A few years before the turn of the millennium, Fast Eddy recognized the need for a professional-grade pellet grill to be used in the restaurant trade, ultimately prompting him to design his first production grill, the FEC750, and go into business with Cookshack, marking the first in a series of ever-evolving pellet grills and smokers. This lineup continues today, with the PG500, a more affordable take on the brand's PG1000 model from 2010. The PG500 uses four distinct cooking zones that afford ample versatility simultaneously, as well as offers almost 750-square-inches of cooking real estate, and boasts heavy-duty stainless steel construction and cooking grates and nickel-plated plated secondary wire cooking grates.
Fuel Source: Wood Pellets
Total Cooking Area: 748 sq-in
Smartphone Connectivity: No
Lynx Sonoma Smart Smoker
The Lynx Sonoma Smart Smoker is a unique, modern alternative to pellet-powered grills, bringing the same level of performance and convenience to the table while replacing the solid wood fuel source with gas. Pretty much every element on this grill screams "top-shelf," with hand-tooled, welded, and polished construction, an integrated full-color LCD touchscreen, and a bevy of sensors and Wifi-connectivity that relay real-time info to the Lynx exclusive MyChef mobile app. Adjusted via LED backlit control knobs, this smart grill offers a temperature range between 160 and 350-degrees, while a generously-sized wood chip drawer houses enough fuel to smoke food for up to eight hours without needing a refill, and a whopping 1,000 square inches of cooking space that provides enough room to accommodate half-a-dozen baby back ribs.
Fuel Source: Propane
Total Cooking Area: 1,000 sq-in
Smartphone Connectivity: Yes
Memphis Grills Elite Wood Fire Pellet Smoker
For those unwilling to compromise on have the latest and greatest in terms of features and performance capabilities—and who don't mind spending a few extra dollars—there's Memphis Grills' mighty Elite Wood Fire Pellet Smoker. Resembling a premium freestanding gas grill, the EWFPS features all double-walled 304 stainless steel construction, smartphone and wifi-connectivity, dual convection fans, an oven-grade gasket, a pellet hopper with a two-dozen-pound capacity gives the grill more than 60 straight hours of smoking before requiring any human intervention, and a temperature range between 180 and 700 degrees that allow for everything from slow cooking to searing. Designed and made in the USA, the grill is backed by a seven-year warranty and is sold with an included direct flame insert, genie tool, and a singe meat probe sensor.
Fuel Source: Wood Pellets
Total Cooking Area: 844 sq-in
Smartphone Connectivity: Yes
The 12 Best Charcoal Grills
Looking for a grill that's still capable of smoking meats but offers a bit more versatility? Then be sure to check out our guide to the best charcoal grills for a wider range of cooking applications that doesn't compromise on rich smokey flavor.