Though a hard-sided suitcase or a full-size travel backpack should serve as your primary storage solution while flying or on the road, packable bags can make a stellar and sensible addition to any travel loadout, providing a smaller, secondary vessel for shorter excursions that don't require your complete kit. Whether hitting the trails for a day hike or exploring the concrete jungle of a new city, packable backpacks offer a more streamlined and compact carrying solution to traditional pieces of travel luggage — plus they don't make their user stick out like a sore thumb or readily announce themselves as being an obvious tourist.
While options in this space have traditionally been fairly limited, the packable backpack and bag space has absolutely exploded in recent years, giving way to an ever-growing number of increasingly lightweight, compact, and utilitarian packs that can conveniently break down and stow away when not in use. With so many bags currently on the market, it can be difficult to know which to even consider, much less buy. So, with this in mind, we've thoroughly scoured the segment to deliver this handpicked guide to the best packable backpacks and bags for travel and adventure. Alongside counting down our picks for the best packable bags on the market, we'll also be delving into which factors to consider when shopping.
Packable Practicality
The 6 Main Areas To Review When Buying A Packable Backpack Or Bag
While they serve a similar function to regular everyday-focused backpacks, there are more than a few factors that are unique to the packable bag space. Below, we'll briefly touch on half a dozen of the most crucial areas to take into account when shopping around for a packable backpack.
Storage Volume: The entire purpose of a packable backpack is to provide a smaller, more streamlined storage solution so your main suitcase can be left at your hotel or accommodation. As a result, the amount of storage space that one of these bags offers is arguably the most important factor to consider — along with packed size, which we'll touch on more below.
Weight: While not quite as important as packed size or storage volume, the weight of a packable bag is still more than worth taking into account, as it will be another item that will be added to your larger kit — and its overall weight. Fortunately, these secondary storage solutions have been engineered to be as compact and lightweight as possible, with most models tipping the scales at around the one-pound-mark — though some packable bags are as light as just 0.2lbs.
Materials: Just like with hiking packs or everyday carry bags, the overall quality and durability of a packable backpack will primarily boil down to the materials used to make it — as well as the construction technique(s) used to piece it together. In addition to a bag's primary construction, you'll also want to look into whether or not it features a separate liner material, if its bottom (or any other areas) has been reinforced, or if the bag has been fortified through the use of a PU or DWR coating or treatment. Despite the lightweight and packable nature of these bags, quite a few models on the market are actually crafted from some surprisingly hardwearing, high-denier materials, with ripstop nylon and CORDURA being two of the most popular choices.
Hardware: Though a bag's primary construction is the main factor determining quality and durability, its hardware also plays a key role in its overall longevity, performance, and toughness. This includes everything from zipper tracks and pulls to buckles and sternum straps to carabiners and metal keepers and loops.
Organization & Storage: Unlike office bags or travel packs that are rich with organizational features, packable models tend to be fairly sparse when it comes to pockets and compartments. For this reason, it's important to review a bag's internal organizational features, as well as if it has exterior pockets or other storage amenities such as external attachment points or MOLLE webbing.
Packed Size: The primary benefit of a packable bag is that it can be broken down and stored in a larger bag when not in use. As such, the size a packable bag breaks down to is extremely important. Luckily, most manufacturers give a decent sense of just how compact their respective bags get when folded, rolled, or packed. While on the subject, it's also worth noting that most of these bags come with an accompanying stuff sack, while a few models on the market break down and are self-stowing, fitting into one of their own pockets or compartments.
Editor's Note: Sizes of compacted bags shown are not to scale.
Video Guide: 5 Best Packable Backpacks
Want a better idea of how these bags pack down? Then be sure to check out our accompanying 4K video review of the best packable backpacks for a visual breakdown.
The Best
Our Top Packable Bag Picks
Herschel Packable Daypack
Best Minimalist Pick: Offered in more than a dozen different patterns, solid color, and camo options, the Herschel Packable Daypack is about as minimalistic as packable bags get. Offering 24.5 liters of storage space, the bag is crafted from a 70-denier poly ripstop fabric and is comprised of a single main compartment that's supplemented via a single quick-access front pocket. The interior of the pack also features an internal self-storage pocket with a snap closure that the entire bag can fit inside when not in use. Herschel's Packable Daypack also features custom HERSCHEL-branded plastic zippers and adjustable webbing shoulder straps.
Capacity: 24.5L
Primary Construction: 70D Poly Ripstop Fabric
Weight: 0.41LBs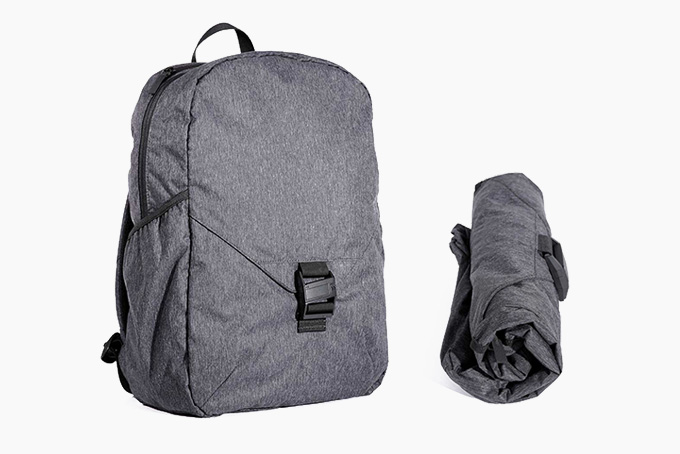 Aer Go Pack
Best Grab-&-Go Pick: Cut from a 300-denier CORDURA ripstop, the Aer Go Pack is a highly-calculated packable travel bag that can accommodate everything needed for day trips and brief excursions — and then some. Despite, the incredibly compact size that the bag breaks down to, the Go Pack boasts a slew of amenities and organizational features that are typically reserved for more robust travel and EDC backpacks. This includes a dedicated laptop pocket, a luggage handle pass-through, an interior zippered pocket, dual exterior water bottle pockets, and a soft-lined quick-access top pocket. Aer has also outfitted the Go Pack with a range of top-shelf hardware, with the bag boasting YKK zippers with Hypalon pulls, Duraflex hardware, and a magnetic FIDLOCK buckle securing its front pocket.
Capacity: 21.4L
Primary Construction: 300D CORDURA Ripstop
Weight: 1.0LBs
Mystery Ranch In and Out 22
Best Space-Saver: A larger, updated version of the In & Out 19, the Mystery Ranch In and Out 22 is a feature-laden daypack that offers nearly 22 liters of storage volume while breaking down to a size no larger than your average water bottle. Capable of being stuffed into its own front pocket, the In and Out 22 sports a shroud-style main compartment fortified via a lid flap and a drawstring closure, plus contoured shoulder straps with an adjustable sternum strap, a pair of external zippered access pockets, an exterior stretch-woven water bottle pocket, dual tool carry loops with securing straps, side compression straps, and a two-liter hydration reservoir pocket. Constructed around a fixed harness, the bag is also made from a 100-denier CORDURA Mini Rip and features YKK zippers inside and out.
Capacity: 21.9L
Primary Construction: 100D CORDURA Mini Rip
Weight: 0.9LBs
Matador Beast18
Best Hiking Pick: Weighing only 1.3lbs, the Matador Beast18 is a fully-featured alpine backpack that's also fully packable. Constructed around an innovative spring steel frame, the Beast18 sports a UTS-coated, DWR-treated 210-denier Robic nylon shell that's been paired with a 100-denier Robic nylon liner. This packable hiking backpack also boasts an asymmetrical dual compartment design with a half clamshell zipper that opens to reveal a key loop and a pair of internal pockets. Sold with an included compression storage sack for travel, the Beast18 also features gear loops for hiking poles, ice axes, or tools, an adjustable sternum strap and removable hip belt, Hypalon-reinforced external daisy chain, oversized water bottle pockets, and EVA foam-padded breathable mesh shoulder straps and back panel.
Capacity: 18L
Primary Construction: 210D Robic Nylon
Weight: 1.3LBs
Hyperlite Summit Pack
Best Ultra-Tough/Rugged Pick: An insanely-hardwearing alpine pack that just happens to be fully packable, the Hyperlite Mountain Gear Summit Pack is a spartan affair, consisting of a large main compartment with a roll-top closure and a front face adorned in shock cord and four external daisy chains. Made from DCH50 (or DCH150 for the available black colorway) — an ultra-rugged woven Dyneema and polyester hybrid — this highly-durable pack is made all the more hardwearing via the addition of bar-tacked reinforcements on all stress points and a proprietary seam tape on all main body seams. Other highlights of the Summit Pack include an Ultralight 3/4″ webbing hip belt, multiple grab loops, removable top vertical compression straps, minimalist shoulder straps with spacer mesh, and an adjustable sternum strap with an integrated whistle.
Capacity: 30L
Primary Construction: DCH50 or DCH150
Weight: 0.82LBs (or 0.96LBs)
The Rest
Seven More Stellar Packable Bags
Osprey Ultralight Stuff Pack
Produced in four color choices, the Osprey Ultralight Stuff Pack is an extremely svelte backpack that offers 18 liters of internal real estate while tipping the scales at a scant 0.2lbs. Despite the remarkably lightweight nature of this pack, it still manages to bring quite a few amenities to the table, including a dual-zippered main compartment, a top zippered slash pocket, a stretch mesh side gear or water bottle pocket, and an ultra-compact, built-in storage pocket. What's more, the use of 40-denier nylon ripstop for the bag's primary construction, accents, and bottom allows for it to be incredibly lightweight yet rugged.
Capacity: 18L
Primary Construction: 40D Nylon Ripstop
Weight: 0.2LBs
Dakine Packable Backpack 22L
Another minimalistic yet well-appointed packable day bag, this Dakine item offers 22 liters of storage space in an 18" x 10.25" x 8", 0.7-pound package. Depending on the colorway or pattern selected, Dakine's Packable Backpack 22L is crafted from either 115-denier, 150-denier, or 182-denier plain-weave recycled nylon — all three of which are bluesign-approved and fortified via a water repellent finish. Capable of packing into its own internal pocket, this packable backpack also sports lightweight, mesh shoulder straps, an adjustable and removable sternum strap, a mesh side pocket, a dual web handle with a snap loop, and an exterior quick-access pocket. Though it is devoid of a storm flap, the backpack's main compartment is also protected via a drawstring closure.
Capacity: 22L
Primary Construction: DWR-Coated Recycled 115D, 150D, or 182D Nylon
Weight: 0.7LBs
Fjällräven High Coast Foldsack 24
Clocking in at only 1lb, the Fjällräven High Coast Foldsack 24 is a feature-rich, outdoor-focused, 24-liter daypack that rolls up into a water bottle-sized package. Manufactured in eight color options, the High Coast Foldsack 24 sports zippered pockets inside and out, lightly-padded shoulder straps, detachable sternum straps, a removable hip belt, a laptop compartment capable of housing notebooks as large as 15", and a main compartment that's secured via a G-hook-equipped storm flap. This five-pocket bag is also made from a 210-denier polyamide construction, and while it doesn't sport taped seams or waterproof zippers, the use of this heavily-water-resistant fabric `affords the pack solid weatherproofing.
Capacity: 24L
Primary Construction: 210D Polyamide
Weight: 1.01LBs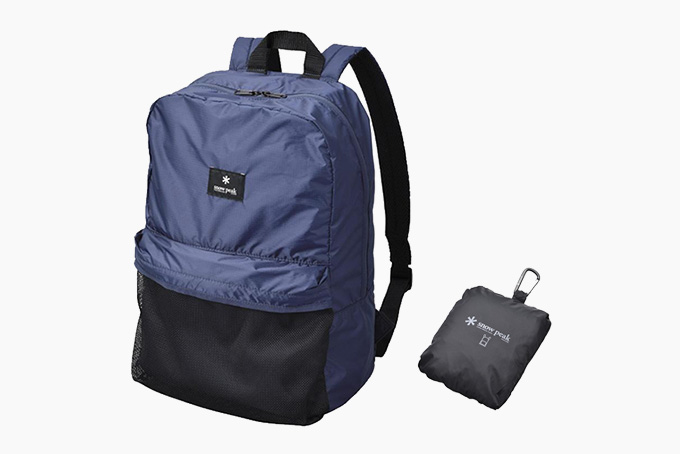 Snow Peak Packable Daypack
For Snow Peak's take on a packable day pack, the renowned outdoor brand has followed its regular MO, delivering a streamlined and fully-functional bag that's as rugged as it is minimalistic. Produced in navy blue, OD green, or black colorways, the Snow Peak Packable Daypack features a shell made from a 40-denier CORDURA nylon that's backed by a repellent finish. In addition to a quick-access front pocket supplementing its primary compartment, this pack also comes with a mini stuff sack that the entire bag can neatly fit inside of. What's more, the stuff sack also comes with an integrated carabiner that allows the compacted pack to easily be attached to the outside of other larger storage solutions.
Capacity: 20L
Primary Construction: DWR-Coated 40D CORDURA Nylon
Weight: 0.41LBs
The North Face Flyweight Duffel
For those times when a bit of extra storage space is needed, a packable duffel can be a fantastic option. The North Face's take on the genre — the Flyweight Duffel Bag — provides a full 27 liters of storage space while still being able to break down to a fist-size footprint, stuffing inside its own pocket. The duffel bag's body is crafted from a combination of 1.7oz nylon and CORDURA which have both been DWR-treated before being paired with 210-denier nylon and 70-denier mesh outer pockets. The bag also boasts webbing handles, an adjustable shoulder strap, and a pair of external, water bottle-sized mesh pockets to supplement its main zipper-secured compartment.
Capacity: 27L
Primary Construction: DWR-Coated CORDURA Ripstop
Weight: 0.41LBs
Waterfield Packable Backpack
Made in America, the Waterfield Packable Backpack benefits from an enormous amount of public and user feedback — intel that ultimately lead to this pack's proprietary construction, a layered Taslan nylon and tricot woven structure with a micro-porous breathable waterproof coating. Cut and sewn in San Francisco, the bag also features a 400 x 300-denier Silver, diamond ripstop nylon lining, two side pockets, waterproof zippers with custom metal lockable pulls, and a front pocket with a sewn-in keyfob. Sold in five color choices, the entire pack also breaks down and easily stows away inside one of its own pockets.
Capacity: 16L
Primary Construction: Proprietary DWR-Coated Layered Taslan & Tricot Structure
Weight: 0.75LBs
Triple Aught Design Azimuth Pack
Taking its name from the horizontal angle or direction of a compass bearing, Triple Aught Design's Azimuth Pack maintains TAD's signature brand of hardwearing, mil-spec materials and tactically-inspired design. This American-made backpack is crafted from either X-Pac VX21RS or X42. This extremely rugged and heavily-water-resistant construction has been paired with Uretek #5 reverse zippers, ITW Classic SR Buckles and triglides, Duraflex Tensionlocks and Sternum clips, and Hypalon reinforcements. On top of a main compartment with duffel-style access and vertical compression, the pack also boasts a dedicated front storage pocket, a hydration bladder hanger, a pair of side pockets with daisy chain tether points, an internal zippered pocket, and side Helix attachment points.
Capacity: 19L
Primary Construction: VX21RS or X42
Weight: 0.8LBs
The 12 Best Hard-Sided Suitcases for Travel
A packable backpack is an excellent addition to any travel loadout, however, the bags aren't particularly useful without a solid main piece of luggage to store them in. So, if you haven't already got a main piece of luggage, we highly recommend checking out our guide to the best hard-sided suitcases for travel for a dozen of the finest options currently on the market.