Sep 20, 2019
Category: Gear
Whenever you head out to cruise the countryside on your favorite two-wheeled steed, it's always a great idea to throw on some safety gear beforehand. Not only does this enhance your riding experience, overall, but it also ensures that you'll have at least a little bit of a barrier between your precious skin and the blacktop, should things go south. But we get it; not everyone wants to cruise around town in a suite of large, cumbersome protective gear.
Luckily, many of today's leading gear manufacturers have taken note of the community's cries for a more stylish approach to modern protective peripherals. From helmets, jackets, and gloves, all the way to bespoke footwear and jeans, the industry has become inundated with fantastic offerings that will both protect, and keep you looking as suave as ever, without much sacrifice in the comfortability department. Here, we'll take a look at one of the most important aspects of your protective wardrobe: jeans. Nothing says heritage style quite like a pair of durable, dependable denim; so, we've decided to round up a handful of our favorites to help you round-out your moto-oriented collection.
Street & Steel Oakland
Street & Steel broke the mold when they created the Oakland, offering buyers a pair of traditional denim legwear companions that look and act the part of high-quality protective gear, but encompass some of the finer qualities found in contemporary jeans. Not only are they made with comfortable 12-ounce stretch denim, but they're also heat- and tear-resistant, making them the quintessential pair to utilize over long distances and rides. Each leg features a removable and adjustable C.E. knee pad; and thanks to their attractive boot-cut design, they're a great option for riders who want to stay protected, and keep things casual.
Icon 1000 MH1000
Icon is a household name when it comes to protective motorcycle gear, and thanks to the company's commitment to aesthetically-pleasing items, you can rest assured knowing that the 1000 MH1000 jean is truly a cut above the rest. With everyday wear in mind, the company set out to create the quintessential riding jean, outfitting the MH1000 with reinforced CORDURA stretch denim, Aramid knee reinforcements, and three-position D30 knee/hip impact protectors to keep safety at the forefront. If you're looking for a comfortable, capable legwear that places a high value in its enhanced range of motion, Icon's MH1000 might be the perfect jean for you.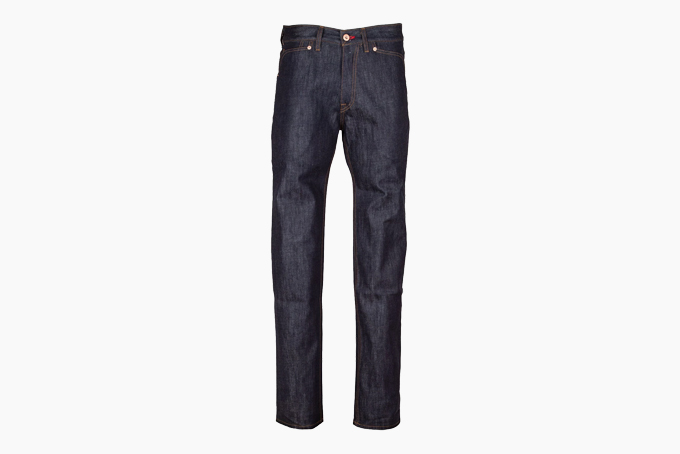 Iron & Resin Enduro
Iron & Resin have an expansive catalog of motorcycle-savvy gear and place a strict emphasis on the creation of casual items that are both stylish, and structured. At first glance, the company's Enduro jean might look like something out of a high-end denim store; and, in many aspects, it is. These unique examples feature a premium denim construction, courtesy of North Carolina's famed Cone Mills factory, and elaborate on their durable orientation with Dyneema fabrics, allowing them to stand up to the wear and tear that's associated with daily riding. Enhanced abrasion and tear resistance are only two attractive attributes of the Enduro; you'll also find a rugged five-pocket layout, triple-needle felled rise, and twill reinforcement throughout, complementing intricate accents like a raw vegetable-tanned leather label and custom-made I&R copper rivets.
Dainese Bonneville
Dainese needs no introduction when it comes to safety and style. Thanks to their involvement, and passion, within the two-wheeled space, the company has become somewhat synonymous with modern motorcycling. The Bonneville jean serves to reinforce this notion even further, offering riders a pair of great-looking jeans that double as protective peripherals. Hailing from one of Italy's most lauded denim factories, these soft and supportive variants feature an internal DuPont KEVLAR fiber mesh, helping to reinforce their sides, back, and knees. In each of the legs, you'll find a set of adjustable Pro-Shape protectors, complementing the legwear's reflective inserts — allowing for better visibility at night — and optional foot gaiters, which help to keep them secure as you commute.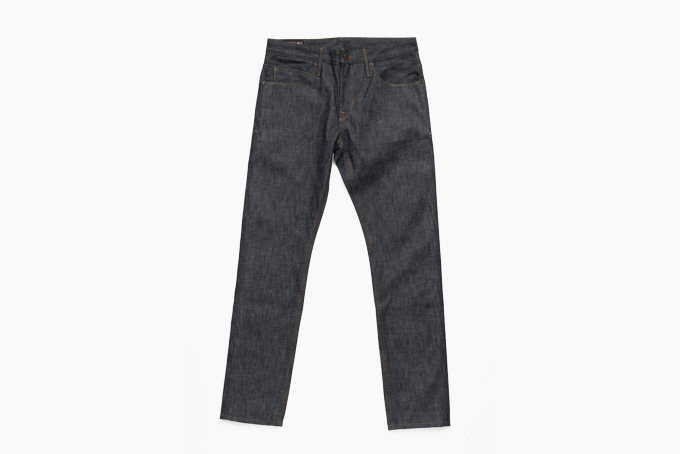 Freenote Avila
Freenote's Avila jean is a great-looking alternative that places an emphasis on minimalism. Not only are they one of the most simplistic offerings on our list, but they're also as close as you can get to traditional denim. The Avila opt-out of protective characteristics like knee pads and reflective integration; instead, they focus on a calm, comfortable, and precise tailoring process that's rooted in iconic moto culture. Each pair is crafted from capable 13-ounce selvage denim from Japan, and feature flat-felled seams, durable YKK zippers, double-needle accents, and custom rivets/tacks to hold everything together. Freenote's stylish offering isn't the most protective jean on the market, but when it comes to fashionable function, they're hard to beat.
Seaweed & Gravel Crawford
Seaweed & Gravel have struck the perfect balance between form and function with the Crawford — a handsome jean that exemplifies motorcycling's heritage-imbued culture. Each pair is made entirely in the USA, using premium goods from local proprietors. They feature a durable, 100% recycled 12-ounce Right-Hand selvage denim, two extra inches on each leg for cuffing purposes, and a serial number that demarcates their place in the company's limited production line. Better yet, each raw example is hand-crafted by skilled clothiers in California, so you can rest assured knowing that you'll receive high-quality garments at an attractive pricepoint.
Deus Ex Machina Missendon
Deus Ex Machina is an all-encompassing brand that lives, eats, and breathes motorcycling. Not only does the company foster an expansive catalog full of essential style items, but they also take pride in the creation of some of the world's finest jeans. The Missendon is one such variant. Staying true to the company's traditional aesthetic, these jeans harken back to denim styles of old, and boast a high-quality, 13-ounce Japanese vintage denim, Italian Cobra zippers and trim, and an established artisanal crafting process that's exclusive to America. Each pair is hand-crafted using fine-tuned, old-school shuttle looms, giving the Missendon a depth of character not often reached by Deus' competitors.
Klim K Fifty 2
Klim's K Fifty 2 jean is another deep dive into the protective side of denim. These abrasion-resistant examples are filled to the brim with interesting traits, including a heavy-duty nylon/cotton blend denim that's been reinforced with CORDURA, a set of D30 EVO knee and hip armor, and an adjustable knee pad pocket that allows for a wide range of pad placements, depending on the situation. Inside, you'll find reinforced panels dressed in KEVLAR, a PORON XRD tailbone pad, and dependable YKK zippers, providing wearers with a perfect range of protective attributes for their daily ride. But don't worry, they still look great. Flat-felled seams, a stone-washed finish, and whiskering help to set them apart from the competition as a pair of stylish, fashionable options for everyday wear.
Pando Moto Steel Black 9
Pando Moto's Steel Black 9 jean places a huge emphasis on rider freedom, offering wearers the perfect blend of capability, composition, and tasteful characteristics. To bring them into modernity, they feature an up-to-date, slim-fit cut, single-layer stretch denim, and a two-position armor slot for both knee and hip protection. Better yet, they even bring reflective cuffs and reinforced chain stitching to the forefront, while remaining relatively handsome in every aspect. Each pair is crafted using 25% Dyneema construction, giving it qualities that have been lauded as 15-times stronger than steel, and feature heat conductivity for those rides when the sun is a huge deterrent to comfortability.
Saint Unbreakable Slim
To round out our list, we're going to touch on Saint Unbreakable's Slim jean. Not only does Saint foster one of the most established names in the industry when it comes to trusted gear, but they've come into their own in regards to unique stylization, offering some of the best-looking variants on the market today. The company's Slim jean is lauded as the "most advanced" denim on the planet, offering wearers a single-layer example that's been reinforced with 25% Dyneema double face black stretch fabrics, AA-rated impact and abrasion resistance, and a lightweight orientation that makes them all-the-more comfortable during long-winded commutes. The company has also opted to improve the jean's mobility through the implementation of elastane, making it one of the most adaptable jeans on the market today.
The 10 Best Motorcycle Goggles And Glasses
Now that you've found the perfect pair for ride-savvy denim jeans, take your well-rounded outfit to the next level with our guide on the best motorcycle goggles and glasses.
HiConsumption is reader-supported. When you buy through links on our site, we may earn an affiliate commission. Learn more