Camping can and should be enjoyed by the people who don't want to get down and dirty all the time. As our attachment to technology is stronger than it's ever been, the dichotomy between traditional camping and staying home is at an all-time high. It's understandable why those of us who desire to experience the fresh air and excitement of being off the grid would still want to maximize our comfort level where we can.
These days, luxurious outdoor living is easier than ever. Whether you're heading out in a decked-out RV or simply want to spruce up your experience in and out of your single-person tent, companies have found ways to make "glamping" not only fun but accessible. Since there are tons (and we mean tons) of gear and accessories to aid you on your next adventure, the landscape can get murky. To help you out, we've compiled this guide to the best luxury camping essentials for you to buy before heading out.
Handpresso Pump
Why settle for haphazard brews just because you're enjoying nature? Although you're likely getting a better night's sleep while glamping, you still haven't kicked that caffeine addiction. The Handpresso Pump is your solution to getting the intensity of cafe-quality Italian espresso even when you're miles from the nearest barista. With this little device, you can use E.S.E. pods or coffee grounds to make a 1.7oz cup without any electricity, thanks to the 16-bar pressure enabled just by pushing the button up top and infusing hot water into your coffee, which comes out the other side into your cup.
Presto Nomad Traveling Slow Cooker
If you've ever craved braised beef ragu or short ribs while camping, then get yourself the Presto Nomad Traveling Slow Cooker, which can help you get your gourmet fix even in the most remote locations (meat not included). Using three temperature settings, you can prep your meal in the morning and play the long game until it's tender and ready at night. This cooker holds up to 8 quarts and weighs just 8.55lbs for easy travel, with a handle on top for relocating throughout the day. Plus, the dry erase board on the front lets you label what's inside for buffet-style meals.
Outwell Fuji Electric Camping Heater
You shouldn't have to wrap yourself up like a burrito just to stay warm at night. Oftentimes the elements can catch you by surprise, even during the summer months. Outwell's Fuji Electric Camping Heater will keep you warm inside or outside your tent with two settings: 600W or 1,500W. The hanging curved fixture provides overhead warmth in all directions without causing a smell, and the calming light from the halogen lamp gives off a nice glow as well. Use a carabiner to position this heater anywhere you like, with a cord over 6ft long for added convenience.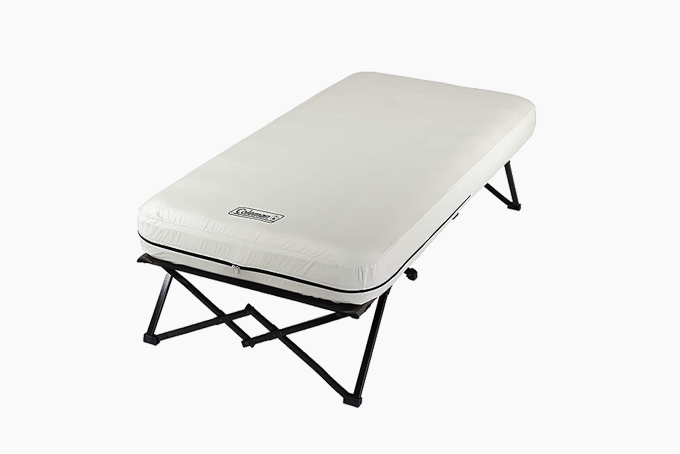 Coleman Airbed Camping Cot
The first thing you should take care of before heading out glamping is your sleeping situation. While a comfortable bed is desired whether or not you're glamping, that's exactly the reason why one shouldn't get overlooked. Coleman is a top-notch brand that covers every corner of the outdoor gear sphere, which explains why its Airbed is one of the best options for above-ground sleeping. Just inflate the mattress and put it inside the sewn-in cover. Unlike other air mattresses, Coleman's is factory tested to be leak-free. If that's not enough, the frame also comes with a built-in side table and cup holder.
BioLite SolarHome 620+
If your glamping setup consists of multiple rooms or tents, then grab yourself the BioLite SolarHome 620+, the best way to mimic the lighting arrangement of your homestead. Using a 6W solar panel to power the entire system, this device features a mainframe light and three overhead fixtures, emitting 450 lumens in total, with wall-mounted on/off switches for convenience. To spread throughout your living space, each light also comes with an 18ft cord. What's more, the mainframe has an AM/FM radio and an LED screen which provides you with information on your solar intake.
YETI Trailhead Camp Chair
There are camping chairs and then there's the YETI Trailhead Camp Chair, perfectly constructed by the outdoor experts at the Austin-based favorite. Chairs this durable just simply aren't supposed to fold up this easily, but the lightweight frame construction lets you take it anywhere and the tensioner technology locks it into place when open. Made from Flexgrid fabric, the chair holds up to 500lbs and molds to the shape of your body without stretching out, and its UV resistance will keep the fabric from getting brittle over time too. The chair comes with a cupholder that can be snapped into place wherever you want it, and the extra-wide feet give you gripping support on any surface.
Snow Peak Bartender Set
Few brands are more synonymous with luxury camping than Snow Peak. The Japanese brand's range of titanium outdoor cooking gear and accessories covers coffee drips and firepits, but its Bartender Set is perhaps the most unique. Made for the great outdoors, these lightweight tools are perfect for making margaritas and old fashioneds, which can be mixed inside the 15oz titanium mug using the stainless steel measuring spoon, which ranges from 0.5tsp to 2tbsp. This set also caters to saké lovers, who can transport their favorite label via the taste-protecting titanium 18oz bottle, which pours into a pair of saké cups.
Camp Chef Deluxe Outdoor Oven and Stove
You don't have to jerry-rig a spit over a fire in order to roast some chicken on your campout and you don't have to settle for s'mores as your sole dessert option either. If you just long to have your own oven and stove from home with which to cook, then look no further than Camp Chef's Deluxe Outdoor Oven. Featuring two burners on top for making mac 'n' cheese, oatmeal, or chili, the oven can reach temperatures up to 400 degrees. After your gourmet meal, you can even make yourself and your family some fresh baked cookies or apple pie. With a 1lb propane tank, the furnace can last for up to 7 hours at 350 degrees.
DemerBox DB2 Indestructible Bluetooth Speaker
Outdoor sound systems can be pretty terrible, but you don't have to sacrifice quality for durability when having your weekend excursion. DemerBox's DB2 Indestructible Bluetooth Speaker is completely waterproof with its hard Pelican case, and the sound coming out of it are unbelievable as well. The American-made DB2 is lightweight and easy to transport, featuring an interior case that keeps your EDC gear dry and protected as well. A USB port to charge your devices while listening to music, 50 hours of battery life, and Bluetooth pairing that reaches up to 100ft round out the specs on this impressive gadget.
Solo Stove Bonfire
A portable fire pit may be the very definition of glamping. Solo Stove's Bonfire weighs just 20lbs and does most of the work for you without requiring you to swap positions every time the wind changes direction. The company's famed 360-degree Signature Airflow Technology minimizes smoke without eliminating the coveted campfire smell, and the efficient double-walled design ensures your flames will last you longer. There are plenty of available attachments that allow you to optimize the device for different situations and needs, and since it's built from 304 stainless steel, the Bonfire will last you a lifetime.
Dometic CFX3 55IM
Coolers are a dime a dozen, but Dometic's CFX3 55IM is the last one you'll ever need. Serving as an on-the-go ice chest for campouts, this cooler also doubles as an electric fridge or freezer with a 53L capacity that holds the equivalent of 83 soda cans. The Rapid Freeze Plate can make ice cubes in only a couple of hours and the heavy-duty ExoFrame structure is super durable, yet considerably lightweight. Don't mess with extra ice if you don't have to — just plug this cooler into your portable power source and control the temperature either from the hi-res display screen on the front or remotely via WiFi or Bluetooth.
Goal Zero Yeti1500X
If you're going to camp in style, then you're definitely going to need some place to plug in all these devices. Grab yourself Goal Zero's Yeti1500X, which supplies over 1,500Wh for maximum backup. Capable of powering your entire home in an outage, this safety net can be paired with the Goal Zero's solar panels or charged via car battery if you're off the grid for a number of days and will give your smartphone over 125 recharges in one cycle. Featuring 4 USB ports, 2 AC outlets, and various high-power charging ports, this mobile generator is essential for any luxury camping experience.
Lotus Belle 16ft Outback Deluxe
At the end of the day, you'll need someplace to sleep. We understand your aversion to hunching over inside a small tent, so to minimize back problems and maximize floor space, we recommend grabbing Lotus Belle's 16ft Outback Deluxe, which has all the features of a standard camping tent but comes with 193.8sq.ft of standing room. The proprietary canvas wall is water-, fire-, and rot-resistant with seal-in Velcro ground coverage to keep out small critters. To eliminate flying insects, there's a zippered mesh panel on each of the two windows and two doors. Big enough for six twin-sized beds, this mega-tent will fit your whole family and you'll still have some extra room for the fun stuff.
The Absolute Best Camping Gear Under $100
If you're trying to save some money on your next non-luxury camping trip, then be sure to check out our guide to the best budget camping gear for under $100.