Ever since first hitting the silver screen in 1963, James Bond has enamored fans with death-defying actions, supermodel dates, clever gadgets, and an array of elite vehicles. And while the international super-spy might be most famously and closely associated with the cars he drives, 007 has also swung his leg over a significant number of motorcycles throughout the more than half-century that the Bond franchise has existed.
Though not as iconic as some of Bond's cars — such as the classic Aston Martin models the spy has driven — the world-famous film franchise has featured a slew of scoots over the years. And it's this crop of sleds that we'll be exploring today in our ultimate guide to James Bond's motorcycles, counting down every bike that the MI6 agent has piloted, from the very first appearance of a moto to the two-wheeled machines featured in the series' news installment, No Time To Die, and touching on a few other famous bikes shown in the films.
Bond & Bikes
Why Motorcycles Make For An Ideal 007 Vehicle
While not utilized as routinely or heavily as cars, the more-than-two-dozen Bond flicks have featured more than their fair share of bikes…and for good reason. With their unparalleled power-to-weight ratios and ability to zip through traffic and easily catch or evade enemies or pursuers, motorcycles actually make for something of the perfect vehicle for the international super spy. What's more, motorcycles can also be modified and/or outfitted with weapons systems or other gadgets from Q, plus they still allow the MI6 agent to take one of his female suitors along for the ride. From a filmmaking standpoint, bikes also allow for markedly more interesting, idiosyncratic, and elaborate chase scenes.
Motos, Mods, & Movies
Altering Motorcycles For Use On Screen
It's true that many of the motorcycles shown in the Bond universe are depicted in their stock form, however, this isn't the case for some of the scoots shown in the films. Many of these bikes have been extensively modified in order to achieve a particular style or appearance or to make them lighter and more nimble, and therefore more capable of performing difficult stunts or tricks. In fact, some of the two-wheelers featured in the Bond franchise are smaller, lighter models that have been completely reskinned with the bodywork of bigger bikes — a practice that's fairly common in the movie industry and was famously utilized for the Harley-Davidson Fat Boy jump in the LA River chase sequence in Terminator 2.
Super Spies & Superbikes
Counting Down Every Motorcycle James Bond Has Ridden
From the first-ever appearance of a motorcycle in Ian Flemming's Bond universe in 1960 to the latest film's two-wheeled co-stars, let's unpack each and every motorcycle that the super spy has piloted over the franchise's 68-year history – and a few merely featured onscreen.
BSA M50
For Your Eyes Only
Interestingly, the first-ever appearance of a motorcycle in the James Bond universe predates the first film by several years, with a BSA M50 being ridden by the super spy in Ian Fleming's 1959 short story From a View to a Kill. In the story Bond disguises himself as a moto dispatch-rider while trying to solve a murder, utilizing the Birmingham Small Arms bike in the process. It's also incredibly fitting that the first motorcycle featured in the Bond universe is a thoroughly British one.
BSA A65 Lightning
Thunderball
The first motorcycle ever motorcycle shown onscreen in a James Bond film wasn't actually piloted by the MI6 agent himself, but was instead used by villainess and SPECTRE assassin Fiona Volpe — played by actress Luciana Paluzzi — to chase down Bond in his Aston Martin DB5 in Thunderball. The motorcycle shown is another model from BSA, this time an A65 Lightning that had been treated to a full fairing complete with cutouts to accommodate two sets of front-firing missiles. Rather than filming on public roads, the sequences showing the Beezer were actually shot in England's iconic Silverstone Circuit on the track's Hangar Straight between turns 14 and 15, though fake scenery was added to make the set resemble a regular public roadway.
Honda ATC90
Diamonds Are Forever
The franchise's first appearance of Bond actually in the saddle features a rather unusual choice of scoot in the form of Honda's ATC90 – a fat-tired, rigid-framed, Osamu Takeuchi-designed three-wheeler that would eventually be banned due to its proclivity to flip over. Ridden by Sean Connery in the 1971 installment Diamonds Are Forever, the "All-Terrain Cycle" was extensively utilized in a chase scene in which Bond is pursued by three baddies while driving the film's famous "moon buggy" after escaping a research facility. Bond eventually commandeers one of the three-wheelers and uses it to ultimately make his escape.
Kawasaki Z900 (Sidecar-Equipped)
The Spy Who Loved Me
After more than-half-decade since the last onscreen moto appearance in Diamonds Are Forever, the Bond franchise famously featured another motorcycle in its 1977 installment, The Spy Who Loved Me. Sharing its screen-time with the film's submersible Lotus Esprit, the '70s era Kawasaki Z900 shown in the '77 flick is widely considered to be the first two-wheeler to be heavily embraced by the Bond universe, and was the first example of a Bond bike being outfitted with a host of weapons and gadgets — in this case, an utterly bonkers rocket-propelled sidecar. The black and yellow Z900's iconic chase scene is also one of the longest in all 25 of the (official) films.
Yamaha XT500
For Your Eyes Only
When the production team for For Your Eyes Only needed to cast a pair of seriously off-road-capable bikes to chase Bond on skis, the crew behind the 1981 flick went with Yamaha's extremely competent XT500 — a machine that had proven its capabilities in spades by winning the first two runnings of the now infamous Dakar Rally. In this movie, as Bond attempts to make his getaway down a snow-covered mountain, he is chased by two villains riding the Japanese enduros — both of which were outfitted with carbide tire studs and equipped with machine guns hidden in the bikes' front turn signals.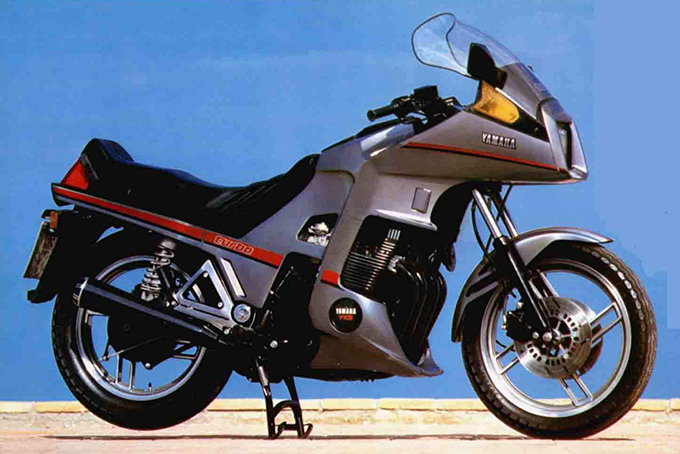 Yamaha XJ650 Seca Turbo
Never Say Never Again
Born out of the 1980s "Turbo Wars," the motorcycle featured in 1983's Never Say Never Again was Yamaha's forced induction XJ650 Seca Turbo model. Another Bond bike ridden by Sean Connery, the film's XJ650ST also received various cutting-edge upgrades from Q including rocket launchers, a one-off Windjammer-style full fairing, and a custom exhaust system. Upon closer inspection, however, it quickly becomes clear that the sled shown on screen is actually a smaller, lighter dual-sport model that's been dressed up in the turbo'd model's bodywork, with the 21″ spoked front wheel being something of a dead giveaway.
The inaugural appearance of a BMW motorcycle in the Bond universe was a version of the Bavarian brand's R80 model featured in 1983's Octopussy, and though it wasn't ever ridden by the international super spy, it nonetheless holds a special place in the franchise's history. In the 1983 film, Bond can be seen attempting to evade a German cop in his Alfa Romeo GTV6 as the "Polizei" officer makes chase on his police-spec Beamer. The R80's appearance would also mark the first of a myriad of BMW cars and bikes to be used in the films.
After an extended 12-year hiatus, the Bond franchise welcomed another two-wheeled co-star onscreen in the form of several mil-spec Cagiva W16 600s. Featured in GoldenEye, the Italian-made dual-sport bikes are used to chase James Bond — played by Pierce Brosnan — before the MI6 agent ultimately launches the Cagiva off a cliff. It's also worth noting that Brosnan's moto stunt double in this movie was none other than legendary British stuntman, Edward Kidd, making the film one of the last projects Kidd would work on before being paralyzed in a crash the following year.
BMW R1200C
Tomorrow Never Dies
BMW's R1200C wasn't just featured in the 1997 installment, Tomorrow Never Dies, the Bavarian-built cruiser was actually worked into the flick as a marketing tie-in. In the movie, the bike is given ample screen time and used for a plethora of stunts including wheelieing the thing, performing controlled laid-down slides, and jumping the motorcycle over a helicopter, just to name a few — feats made possible thanks to the expert stunt-work of John-Pierre Goy. Despite the R1200C's extensive product placement in the film, the German cruiser would ultimately go on to represent one of BMW's biggest commercial flops of all time — though the brand has since redeemed itself in the cruiser segment with its new R18.
Montesa Cota 4RT (Heavily Modified)
Quantum of Solace
The Montesa Cota 4RT featured in Quantum of Solace is unequivocally one of the most interesting motorcycles ever to grace a Bond flick. This is because the Cota 4RT is a dedicated trials bike, and as such lacks a seat and traditional tank. For the production of the 2008 film, the Spanish trials bike was extensively modified, transforming the roughly 170lb scoot into a retro-inspired street scrambler. By thoroughly re-skinning the Cota 4RT, the movie's stunt crew was able to execute some incredible performances, including jumping the thing onto and off of boats at a dock.
Honda CRF250R (Modified)
Skyfall
The 2012 installment, Skyfall featured an absolute tour de force of moto stunt-work, easily representing the franchise's most ambitious and impressive two-wheeled chase scene to date by a substantial margin. Shot in Istanbul, the film's three-minute opening sequence sees Bond chase another baddie down on a bike and includes both riders ripping through alleys, shops, public plazas, up and down flights of stairs, and ultimately across a series of rooftops of the city's Grand Bazaar. The production and stunt teams managed to pull this sequence off by taking a modern pair of Honda CRF250R motocross bikes and adorning the Japanese MX models in new bodywork to conceal their underlying modern frames, suspension setups, and powertrains.
Triumph Scrambler 1200 XE
No Time To Die
The latest Bond flick also heavily utilizes motorcycles for its various envelop-pushing stunt sequences, namely one of Triumph's new Scrambler 1200 bikes, though the film also includes several of the Hinckley firm's Tiger 900 adventure bikes. The modern-retro scrambler is used by James Bond to perform some of the franchise's most daring stunts, including a massive jump in Italy that required stuntman — and four-time World Enduro Champion — Paul "Fast Eddy" Edmondson to launch the Triumph off of a 25′ ramp at 60mph. To commemorate the bike's appearance in the latest Bond flick, Triumph has released a limited edition run of just 250 Bond Edition Scrambler 1200 XE models that feature a blacked-out livery complimented via a slew of black-anodized componentry and prominent "Bond" and "007" branding.
The 12 Best Bond Watches
Still haven't gotten your fix of the super spy's go-to items? Then be sure to check out our guide to the best Bond watches for a dozen of the finest timepieces worn by the MI6 agent.