As the literal foundation of your kit, arguably no other piece of gear plays as pivotal of a role in determining the overall quality of your experience in the backcountry as what hiking boots you opt for. Providing their wearer with traction, comfort, and protection from impacts, abrasions, and the elements, hiking boots are must-have items for anyone headed into the outdoors for more than an hour or two. Because these outdoor essentials have been being created for such a long time, the latest offerings benefit from an enormous number of advancements and groundbreaking features, too.
The vast nature of the market, however, can make it difficult to find the right pair for you and your needs — a problem further exacerbated by the brisk pace at which the industry moves, making it even harder to distinguish the latest and greatest from yesterday's old news, technologies, and features. So, for the last year, we've been keeping tabs on our favorite hiking boot releases to compile this exhaustive list of the 25 best hiking boots for men. Regardless as to what genre or style you've got your eye on, this list of wearable adventure-ready essentials has got you covered.
Getting Acquainted With The Big 7
What To Look For In Hiking Boots
Application: Like most pieces of outdoor gear, hiking boots can be divided into multiple categories depending on their intended application. A boot's intended use will ultimately determine what elements and amenities it's equipped with, such as insulation or waterproofing for nasty weather or cushioning and support for increased stamina on long hikes.
Weight: While pretty much every entry on this list is considered lightweight by traditional hiking boot standards, a model's weight can still play a pivotal factor when shopping, as certain genres such as trail running shoes massively benefit from a lightweight form, as do boots designed for all-day use during backpacking trips.
Materials & Construction: Whether shopping for a sleeping bag, camping tent, or pair of hiking boots, the materials and construction techniques used in the creation of a product play an enormous role overall quality. You'll want to keep an eye out for GORE-TEX membranes, rugged construction, and hardwearing, abrasion-resistant uppers, as well as reinforcement elements and fortifying finishes or treatments. Composite shanks are also popular fare on modern models.
Comfort: You don't need to possess a wealth of hiking experience to know just how unpleasant ill-fitting boots can be out on the trail. Fortunately, the evolution of modern hiking boots has given way to a wide array of technologies and designs that make for incredibly comfortable models. Be sure to take factors such as linings, tongues and collars, insoles, and footbeds into account.
Traction & Grip: Hiking can be extremely unpredictable and steep inclines and loose or slick terrain can become extremely problematic without proper traction. Fortunately, this is another aspect of hiking boots that has massively evolved over the years, resulting in a host of widely-available and highly-grippy outsoles and tread-patterns that afford hiking boots uncompromising levels of grip. When considering this area, it's always a safe bet to go with trusted, name-brand offerings such as the ever-so-popular Vibram Megagrip outsole.
Water/Weatherproofing: Keeping your feet dry while out in nature is a must, and luckily it isn't that tall an order with so many of today's hiking boots offering waterproof membranes and upper-treatments that make them highly-impervious to water and the elements. Unless you exclusively plan on hiking in the desert, this is one area that you should almost certainly factor into your decision.
Style: With so many different models and genres being produced by so many different brands, today's market boasts a massive array of styles, from modern, technical pairs, to minimalistic streetwear-inspired items, to retro-themed boots, and so on. While you don't want this area to trump application or construction/materials in terms of importance, it's still okay to let your aesthetic tastes partially guide your purchase.
Vasque Breeze LT GTX
Vasque's Breeze LT Mid GTX is proof that hiking boots don't need to be bulky or cumbersome to provide solid traction, performance, or protection from the elements. Despite an impressive 1.6875lb weight (per pair), these hiking boots are equipped for water-crossings with abrasion-resistant microfiber mesh uppers with GORE-TEX membranes and the use of an exclusive outsole that combines Vibram Megagrip with Vibram's Lightbase tech, resulting in a wildly-stable platform that's still extremely lightweight. Moving inside, the moisture-wicking boot sports dual-density, compression-molded EVA EnduraLast midsoles and an anatomic, high energy-returning footbed that provides support while absorbing impact.
Timberland Euro Hiker Cordura Fabric Boots
After spending several years as one of Timberland's best-selling hiking models, the American brand has released a ruggedized reissue of its Euro Hiker now bestowed with Cordura fabric uppers. This ultra-hardwearing, rip and abrasion-resistant variant retains the original model's rubber soles and cushion-providing EVA midsoles, though now also features 100% recycled PET laces and lining. Offered in a variety of colors including navy and olive, the Euro Hiker Cordura Fabric Boots also feature a shaft that extends a full 5" from the arch.
The North Face Ultra Fastpack IV Mid FUTURELIGHT
A modern hiking boot benefiting from a host of advanced materials and technologies, The North Face's Ultra Fastpack IV Mid FUTURELIGHT calls on "nanospinning" technology to deliver a stretchable, 100% waterproof membrane that's both incredibly breathable and lightweight, with each shoe weighing less than a pound. Wrapped around this advanced membrane are abrasion-resistant performance mesh uppers with TPU overlays. All-day comfort is ensured too, thanks to the shoe's FastFoam midsoles, gusseted tongues, ESS midfoot shanks, an integrated Ghilie lacing system, and OrthoLite X35 Hybrid footbeds, while solid traction is afforded by the boot's proven Vibram Megagrip outsoles.
FORSAKE Range High
The result of infusing daily-wear sneakers with hiking boot capabilities, Forsake's Range High is a durable pair of hikers that boast a modern and semi-fashion-forward spin on the genre while retaining performance and protective elements such as a Vibram Megagrip outsole, composite shanks, and breathable, sweat-wicking, anti-microbial linings. Equipped with a nubuck leather and breathable mesh hybrid upper, the Range High shields its wearer from the elements via an internal waterproof booty, taped seams, and a gusseted tongue. This is one offering that sets itself apart thanks to its unique appearance, while still retaining the aspects that make for a competently-performing hiking boot.
The North Face Trail Edge Mid WP
As the streetwear community began to increasingly embrace the silhouettes and designs of The North Face, the company responded by unleashing a slew of products that maintain the outdoor brand's quality and purpose-engineered designs, while taking a more fashion-forward, urban-inspired direction aesthetically. And one winning result of this formula was the brand's newly-unveiled Trail Edge Mid WP. Made specifically for all-day, daily-use, this multi-purpose boot features suede and mesh uppers and synthetic underlays built around a waterproof DryVent membrane. The shoe is subtly fortified through a nylon midfoot shank, UtrATAC rubber outsole, and a synthetic toe-cap, while inside ample comfort is made possible by single-density EVA midsole, OrthoLite Hybrid footbed, foam collar and tongues — the latter of which is gusseted for added weather protection.
Adidas TERREX Free Hiker
The Terrex Free Hiker was the result of Adidas setting out to create a shoe that would deliver exceptional comfort on long-distance treks. Tipping the scales at only 1.5lbs (per pair), these boots feature a Primeknit textile upper backed by a synthetic lining that together hugs the wearer's foot and provides a tight, snug fit. A specially-designed "Responsive Boost" midsole allows the shoe to provide unparalleled energy return, greatly helping to mitigate fatigue on long jaunts. And despite its relatively-thin appearance, protection is afforded from heel caps, molded toe-caps, stability-providing midsole stiffeners, and rubber outsoles made by tire manufacturer Continental. The boot's construction is solid too, thanks to abrasion-resistant welded reinforcements.
Salewa Mountain Trainer Lite Mid GORE-TEX
The Mountain Trainer Lite Mid GTX is an extremely-rugged, high-performance hiking boot, just one step down from full-on expedition winter footwear. Designed to excel on technical summit missions, this boot delivers an enormous amount of protection from both jagged trails and nasty weather, with breathable, abrasion-resistant synthetic uppers mated to a moisture-wicking, fully-waterproof GORE-TEX Extended Comfort lining, rubber toe-cap, and a nylon shank. Inside there's also the brand's Pomoca MTN trainer Lite sole, for four-season comfort.
Danner Mountain 600 EnduroWeave
Already one of Danner Boots' all-time most-popular models, the Mountain 600 sees its traditional construction replaced with full EnduroWeave uppers: an ultra-lightweight, breathable, and durable textile supplemented via an additional carbon wash. Cushioning is provided by open-cell PU OrthoLite footbeds, while further breathability comes from a moisture-wicking air mesh lining. On top of airflow, the EnduroWeave-spec Mountain 600 also provides solid traction and protection on the trail thanks to a Vibram Fuga outsole, nylon shank, Vibram SPE midsole, and an abrasion-resistant, PU-coated leather heel frame.
Teva Grandview GTX
Teva's Grandview GTX is another thoroughly modern hiking boot with a Vibram Megagrip outsole, waterproof leather uppers backed by GORE-TEX Leaf booties, a wide toe-box, PU-footbed, TPU-shank, EVA foam midsole, and soft, micro-waffle knit lining. And while these aforementioned features by themselves make for a solid boot, what really sets the Grandview GTX apart is its use of a special, adjustable universal heel lock system. Inspired by Teva's iconic outdoor hiking sandals, this system is made from 100% recycled polyester straps and helps to keep the wearer's foot firmly in place during downhill descents on the trails.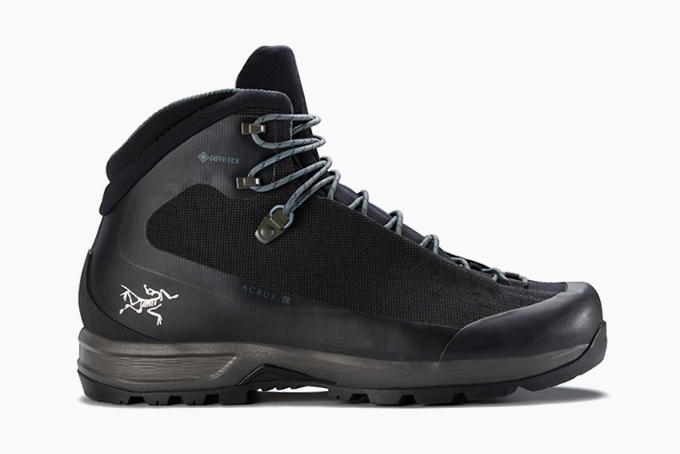 Arc'teryx Acrux TR GTX
While certainly not the lightest model at 2.425lbs (per pair), Arc'teryx' Acrux TR GTX is an exceptional pair of hiking boots that excels in practically every quantifiable metric. The boot is completely weatherproof and ultra-durable, with uppers made from a combination of epoxy-based resin and insanely cut and abrasion-resistant SuperFabric (with micro-plated technology) which has been mated to a full GORE-TEX membrane. Ample stability comes from an injected EVA midsole with 4mm Ortholite 3D-molded inserts and an injected thermoplastic polyurethane chassis at the mid and forefoot. Built atop a rugged Vibram Megagrip outsole, the Acrux TR GTX was designed specifically with backpacking in mind, though it fits the bill for just about any (non-arctic-weather) hiking application.
Altra Tushar
Taking their name from Utah's majestic Tushar Mountains, these ultra-hardwearing hikers benefit from a host of advanced and rugged materials. 1,000D ballistic nylon with rubberized reinforcements constitutes the uppers, while eVent waterproof booties ensure your feet will stay dry regardless of the conditions you find yourself in. Grid-style Innerflex grooved midsoles, TRAILCLAW canted lugs, and DuraTread rubber outsoles provide fantastic flexibility and grip, as well. Apart from the ultra-rugged construction, these boots are surprisingly comfortable, featuring a Signature Altra FootShape toe-box that allows the toes to spread out naturally without getting pinched.
HOKA ONE ONE Sky Kaha
Hoka One One has developed a much-deserved reputation for producing modern running shoes that are as advanced and refined as they are comfortable, and these same defining traits appear in spades on Hoka's Sky Kaha. Like many of the brand's running shoes, the Kaha is equipped with a more than generous amount of cushioning and a special design that makes it easier to ascend or descend a trail with maximum stability. On top of that, the Kaha packs abrasion-resistant, full-grain leather uppers backed by GORE-TEX membranes, EVA middles, and Vibram Megagrip outsoles. And, while they admittedly have a chunky look to them, the Hoka Kahas clock in at just 1.1375lbs, landing them on the lighter end of the spectrum.
Under Armour UA Infil Hike GORE-TEX
Though Under Armour originally built its name on advanced, performance-optimizing synthetic base layers, it later entered other segments while retaining its core MO. And the Baltimore-based brand's UA Infil Hike GORE-TEX is one such example, bestowing the traditional hiking boot with a myriad of 21st century, performance-bolstering materials and technologies. Starting with the uppers, we have an anatomically-molded abrasion-resistant textile with Anafoam overlays, married to a TPU stability chassis and a breathable, waterproof GORE-TEX membrane. The bottom of the boot is outfitted with a molded rubber toe-cap, internal wishbone TPU plate, scratch rubber heel overlay, full-length EVA midsole, Vibram Megagrip outsole, and Cupron Anti-Fungal Pro Fibers that reduce odor and kill 99.9% of athlete's foot fungus.
Nike ACG Air Terra Antarktik
A recently released offering from Nike's ACG (All Conditions Gear) range, the Air Terra Antarktik GORE-TEX is a winterized, streetwear-inspired hiker made from a host of hardwearing materials. Built atop a specially-developed, super-grippy outsole made from Nike's 068 Hard Rubber, the shoe features a knit-style ripstop textile upper mated to a full-length GORE-TEX liner — lending credence to Nike's description of the shoe being a "jacket for your foot." A unique lacing system adds to the shoe's idiosyncratic appearance, while also helping to ensure a precise and snug fit, utilizing an arrangement that sees the heel extensions providing leverage for the top laces.
ON Running Cloudrock
An unabashedly modern hiker, the ON Running Cloudrock's novel-looking design is far more than a mere gimmick to set it apart from its competitors, with the boot's unusual aesthetic actually serving several performance-enhancing functions. Dubbed "Cloudtec Soles," the waffle-like bottoms of the shoe uses Missiongrip rubber overlays to help afford grip on wet surfaces or in other situations where traction is comprised. The unique design also bolsters stability during forward motion (such as when trail running) on uneven terrain. Fitted with high, protective collars and a sock-construction that provides a tight, comfortable, knit-style fit, the Cloudrock also features dual-sided, Swiss-engineered hooks that give the wearer the option of using a lock-down function or fast-lacing setup.
Vivobarefoot Tracker FG
Another unique-looking design that serves an inherent purpose, the Tracker FG is a "barefoot hiking boot" that affords its wearer an enormous amount of grip and feedback through its thin, yet protective outsole. Think wrestling or climbing shoes, but markedly more rugged and engineered for the backcountry. The boot is constructed from premium leather with a water-resistant treatment and an inner Hydrophobic breathable membrane. Good for year-round use, the Tracker FG is sold with a removable thermal insole that can be called on during the colder months and is also equipped with firm 3mm lugs for bolstered traction on loose or wet terrain. The thin nature of these boots also makes them highly conducive to travel, as they can be folded up and tucked away in a bag or backpack.
Dynafit Sky Pro
At just 280 grams (0.61lbs), the Dynafit Sky Pro is the lightest shoe in its category by an impressive margin. Essentially a ruggedized, knit-style trail running shoe, the Sky Pro boasts a full waterproof Dynashell-gaiter that extends up past the ankle, protecting the wearer from rocks, dirt, pebbles, and the elements. A full-length zipper and Velcro-secured ankle make it easy to slip into this tightly-fitting shoe, too. The entire thing is constructed atop a Feline UP PRO Outsole: a jagged tread pattern with deep lugs, made from Vibram Megagrip rubber that allows for maximum traction while moving quickly out on the trail. The Sky Pro also packs a molded TPU toe-cap, Ortholite footbed, a quick-lacing system, EVA midsole, and the brand's Heel Pre Loader arrangement.
Dachstein Super Leggera GTX
Manufactured in Europe, Dachstein's Super Leggier GTX is a high-end piece of hiking kit that emphasizes precise fitment and comfort in a lightweight package. The shoe features watertight, seamless woven AeroKnit uppers that allow for a snug, highly-adjustable fit. The uppers are also reinforced with a TPU-coating in the shoe's more abrasion-prone areas and a full GORE-TEX membrane, while the heel is protected via a TPU cap. The bottom of the boot is lined with a MotionFlex sole: a special unit co-developed by Vibram and Dachstein that is based on humans' natural walking style/gate.
Hanwag Banks GTX
Based in Germany, Hanwag has been producing quality footwear dating back to 1921, and in the Vierkirchen firm's nearly century-long existence, Hanwag has released a vast array of noteworthy models, several of which it has evolved over the years such as the brand's Banks GTX boots. An updated take on an already popular offering, the Bank GTX is adorned in nubuck leather and synthetic suede uppers that hide a GORE-TEX membrane. Capped off with a Vibram Endurance Pro outsole, this boot is constructed using stitch-and-turn seams and packs a reinforced PU foam wedge that allows for a superior roll-off. Weighing in at 2.75lbs, this robust boot also has cast metal lacing hooks.
Fracap M120 Ripple Sole Scarponcino
An absolutely stunning take on a vintage-inspired hiking boot, Fracap's M120 epitomizes old-world craftsmanship, with each specimen produced in Italy using ultra-premium materials. Decorated in subtle debossed branding, the M120 is wrapped in premium leather uppers that have been given beefy stainless steel d-rings and lace-guides, and a classic two-tone weave pattern hiking lace. The inside of the boot is also lined with supple leather, before being sewn onto the M120's "Rubber Ripple Sole" — an element that adds equal parts utility and style. And, as an added bonus, these boots happen to look equally at home in the city or on the trails.
La Sportiva TX Top GTX
La Sportiva's TX Top GTX is a lightweight, heavily-winterized take on a trail running shoe that retains all of the crucial elements, but sheds any and all superfluous components, resulting in a spartan running shoe weighing only 500 grams per shoe (or 2.2lbs per pair). Starting from the top, we have a single-mesh upper supplemented via a water-resistant, anti-drag, stretch gaiter with a PU-Tech Lite rubber rand and GORE-TEX Extended Comfort membrane. Moving down, there are stabilizing mid and insoles injected with EVA and outfitted with STB Control inserts, a 4mm Ortholite Approach footbed, and a super-grippy Vibram Megagrip outsole with La Sportiva's Impact Brake System that boasts differentiated lugs for optimal grip on steep climbs and descents, even at speed.
Danner x Filson Combat Hiker
As two of the most respected brands in the outdoor space, when news of a hiking boot collaboration between Danner Boots and Filson first broke, it was a pretty big deal. And the result of this much-hyped recent joint effort would ultimately yield the Danner x Filson Combat Hiker. Made in the USA, this military-inspired hiking boot boasts an unmistakably vintage aesthetic, though underneath the surface there's a host of modern elements such as a full GORE-TEX liner, Vibram Bifida outsole, fiberglass shank, polyurethane footbed, and an abrasion-resistant, fully-wrapping rand that encompasses the entire boot. Developed in conjunction with Filson in Seattle before being produced by Danner in Portland, these limited-edition boots are adorned in top-grain nubuck leather uppers that have been lightly sanded for an almost patina-esque quality.
Zamberlan Vioz Lux GTX RR
While certainly not the lightest of shoes at 3.618lbs, Zamberlan's Vioz Lux GTX RR is nonetheless a stellar and versatile pair of hiking boots, suitable for day hikes, and multi-week backpacking stints alike. Built around the brand's "Backpacking Last," the Vioz Lux GTX RR is made by hand in Italy with waxed Tuscan leather uppers treated with Zamberlan's proprietary "Hydrobloc Technology." Said uppers are also paired with calf-skin leather-lined collars, rubber toe rands, and a GORE-TEX Performance Comfort membrane. Other modern amenities include Vibram 3D outsoles, dual-density PU midsoles, and nylon midsole shanks. And, unlike some of the other entries on this list, this hiking boot can be re-soled with several outsole options.
Paraboot Avoriaz Lisse Ecorce
Named after the port in Brazil where the company sources the rubber for its soles (and has for almost a century), Paraboot is a French heritage footwear brand that's been in operation since 1908. And the old-world craftsmanship that the company built its reputation upon continues today, with Paraboot retaining its tradition for masterful, artisanal workmanship. The Avoriaz Lisse Ecorce is a boot that boasts all of the company's hallmark traits, calling on traditional materials with its soft leather upper and lining. The rubber soles on the boot use genuine welted Goodyear rubber, too. Made by hand in France, the Avoriaz Lisse Ecorce is also outfitted with an almond-shaped toe and a speed-lacing closure.
FEIT Wool Hiker Leather
Created in response to today's mass-produced world, FEIT is a boutique European footwear brand that creates top-shelf shoes and boots that combine old-world craftsmanship and timeless design with modern materials. FEIT's Wool Hiker is another one of the brand's offerings that are individually made by hand, using some of the finest materials that money can buy. Designed to stand up to the winter months in style, these boots feature a hand-sewn wool shearling lining mated to seamless one-piece leather uppers with a gusseted tongue. A Vibram Gumlite outsole and old-school leather laces wound through punched-out leather eyelets and unique quick-lacing posts setup complete this super-premium package.
The 10 Best Sleeping Bags For Camping
With your footwear all figured out, you're going to need to get your off-grid sleeping situation properly sorted, and regardless as to what kind of climate you'll be facing, our guide to the best sleeping bags for camping has got you covered.
HiConsumption is reader-supported. When you buy through links on our site, we may earn an affiliate commission. Learn more