Whether trekking through the snowy Alps or traversing the Serengeti, footwear will almost always constitute the single most important piece of kit in a hiker's loadout, affording its wearer with the necessary support, protection, and traction needed to successfully negotiate the trails and other off-grid terrains. Each year, manufacturers manage to bolster these aforementioned characteristics in the form of increasingly capable new hiking boots, and while there is genuinely no shortage of fantastic pairs on the market, there is a shortlist of models that objectively stand above the rest, distinguishing themselves through the use of innovative materials and designs.
Despite an already robust product space, the onslaught of the COVID-19 virus and the consequent need for socially distanced activities has resulted in an even more expansive range of offerings. So, to help narrow down your search, we've thoroughly poured over the market and its last 18-months worth of releases to shine a light on the best hiking boots currently available, highlighting a selection of the finest hikers that money can buy, while also delving into what factors to consider when shopping for a new pair of hiking boots.
Getting Acquainted With The Big 7
What To Look For In Hiking Boots
While there are dozens of factors one can consider when looking at hiking boots, there are a few key areas that are unequivocally the most crucial. To help streamline your shopping experience, we've broken down the seven most pivotal areas to think about before pulling the trigger on your purchase.
Application: Like most pieces of hiking boots can be divided into multiple categories depending on their intended application. A boot's intended use will ultimately determine what elements and amenities it's equipped with, such as insulation or robust waterproofing for nasty weather or cushioning and support for increased stamina on long hikes.
Comfort: You don't need to possess a wealth of hiking experience to know just how unpleasant ill-fitting boots can be out on the trail. Fortunately, the evolution of modern hiking boots has given way to a wide array of technologies and designs that make for incredibly comfortable models. Be sure to take factors such as linings, tongues and collars, insoles, and footbeds into account.
Materials & Construction: Whether shopping for a sleeping bag, camping tent, or pair of hiking boots, the materials and construction techniques used in the creation of a product play an enormous role in overall quality. You'll want to keep an eye out for GORE-TEX membranes, rugged construction, and hardwearing, abrasion-resistant uppers, as well as reinforcement elements and fortifying finishes or treatments. Composite shanks are also popular fare on modern models.
Style: With so many different models and genres being produced by so many different brands, today's market boasts a massive array of styles, from modern, technical pairs, to minimalistic streetwear-inspired items, to retro-themed boots, and so on. While you don't want this area to trump application or construction/materials in terms of importance, it's still okay to let your aesthetic tastes partially guide your purchase.
Traction & Grip: Hiking can be extremely unpredictable and steep inclines and loose or slick terrain can become extremely problematic without proper traction. Fortunately, this is another aspect of hiking boots that has massively evolved over the years, resulting in a host of widely available and highly grippy outsoles and tread patterns that afford hiking boots uncompromising levels of grip. When considering this area, it's always a safe bet to go with trusted, name-brand offerings such as the ever-so-popular Vibram Megagrip outsole.
Water/Weatherproofing: Keeping your feet dry while out in nature is a must, and luckily it isn't that tall of an order with so many of today's hiking boots offering waterproof membranes and upper treatments that make them highly impervious to water and the elements. Unless you exclusively plan on hiking in the desert, this is one area that you should almost certainly factor into your decision.
Weight: While pretty much every entry on this list is considered lightweight by traditional hiking boot standards, a model's weight can still play a pivotal factor when shopping, as certain genres such as trail running shoes massively benefit from a lightweight form, as do boots designed for all-day use during backpacking trips.
KEEN Targhee III Waterproof Mid
Over the last 18-years, KEEN has developed a variety of proprietary materials, technologies, and systems that its shoes hugely benefit from. Case in point, the Portland-based footwear purveyor's Targhee III Waterproof Mid model, which is an updated take on one of KEEN's already immensely popular hiking boots that features its own in-house KEEN.DRY waterproof, breathable membrane, Cleansport NXT antimicrobial technology, an ESS shank supplemented via an internal shank, an injected TPU heel-capture system, a dual-density, compression-molded EVA midsole, a breathable mesh lining, a removable, metatomical dual-density EVA footbed, leather mud shields, and a combination of weather-treated leather and performance mesh uppers.
Uppers: Waterproof Leather & Performance Mesh
Membrane: KEEN.DRY
Outsole: KEEN All-Terrain Rubber
Salomon X Ultra 3 Mid GTX
Another already best-selling hiking boot that's been further evolved for the 2021 season, Salomon's new X ULTRA 3 MID GTX now sports the brand's patented Descent Control technology — a lightweight chassis shoehorned between the boot's outsole and mid-sole that helps optimize motion control, protection, and energy management — allowing for markedly better support and control, regardless of the typography or terrain. In addition to a full GORE-TEX membrane, these hikers also feature a soft, breathable lining, a protective leather, synthetic, or rubber wrap around the base of the foot, OrthoLite insoles, EVA foam shock absorption, and Salomon's foot-cradling SensiFit system.
Uppers: Mesh & Synthetic
Membrane: GORE-TEX
Outsole: Contra Grip
The North Face Ultra Fastpack IV Mid FUTURELIGHT
Even several years after its debut, The North Face's Ultra Fastpack IV Mid FUTURELIGHT remains one of the best hiking boot options on the market. Drawing inspiration from more fashion-forward street-wear-style sneakers, these boots blur the line between speed hikers and traditional trail boots, delivering ample protection in an ultra-lightweight package. Built atop a Vibram MegaGrip outsole mated to a FastFoam midsole with ESS shank cushions, TNF's Fastpack IV Mid also features the outdoor brand's proprietary FUTURELIGHT membrane, along with mesh uppers fortified via TPU overlays and a rubberized toe cap.
Uppers: TPU Overlaid Mesh
Membrane: FUTURELIGHT
Outsole: Vibram MegaGrip
Vasque Breeze LT NTX
An environmentally friendly and sustainable take on a pair of modern hiking boots, Vasque's Breeze LT NTX Mid is another updated take on a contemporary classic, receiving a new recycled construction Nature Tex membrane, and uppers crafted from a combination of 70% recycled mesh derived from spent coffee grounds and vegetable-tanned suede leather uppers sourced from a Leather Working Group-rated tannery. These boots are also lined with Vibram Ground Control LiteBase outsoles — a Vasque exclusive that's made from Vibram's proven Megagrip Compound.
Uppers: Recycled Mesh, Suede, & TPU Yarn Mesh
Membrane: Nature Tex
Outsole: Vibram Ground Control LiteBase
HOKA One One Anacapa Mid GTX
Released in early July of 2021, HOKA ONE ONE's Anacapa Mid GTX model retains the innovative qualities and unparalleled performance that the French footwear firm is known for while coming in a markedly more sustainable package. This has been accomplished through the use of uppers made from Leather Working Group-certified waterproof Nubuck leather and up-cycled poly mesh lining and collar laces. Even the full GORE-TEX liner present on these boots is crafted from repurposed textiles, though it doesn't stop there, as this boot also features a sock-liner made from 50% soybean oil.
Uppers: Nubuck Leather & GORE-TEX Textile
Membrane: GORE-TEX
Outsole: Vibram Megagrip
adidas Terrex Swift R3 Mid GORE-TEX Hiking Hoses
While best known for its on-the-court apparel and running garments, adidas has been increasingly tapping into the outdoor space with its Terrex lineup, delivering modern hiking boots that still benefit from the German brand's performance-focused designs. adidas' immensely versatile Swift R3 Mid GTX hiking shoes feature GORE-TEX membrane-backed waterproof textile uppers that are paired with EVA foam midsoles, a speed-lacing system, a molded heel cup with an external clip, and ultra-grippy Continental rubber outsoles. And, as part of adidas' ongoing effort to minimize production waste, the Swift R3 Mid GTX is partially composed of recycled materials, as well.
Uppers: Waterproof Textile
Membrane: GORE-TEX
Outsole: Continental Rubber
Salewa Mountain Trainer 2 Winter GTX
Winner of a coveted ISPO award, Salewa's second-generation Mountain Trainer Winter GTX boots are an even more impressive take on an already objectively capable and high-performance piece of footwear. Weighing just 2.75lbs, these boots are outfitted with suede uppers backed by a water-repellent treatment and paired with AlpineWool heel collars, a Microporose mid-sole, Vibram Icetrek II soles equipped with Artic Grip technology, a Kevlar 3F heel support system, a dual-compartment GORE-TEX Performance Comfort membrane, and a form-fitting insole made up of varying density layers of foamed polyurethane, simultaneously allowing for stellar breathability and heat retention.
Uppers: Stretch Fabric & Suede
Membrane: GORE-TEX
Outsole: Vibram Icetrek II
La Sportiva Trango Tech GTX
While almost certainly a bit overkill for your average trek through the woods, La Sportiva's Trango Trango Tech GTX is undoubtedly one of the best alpine-grade mountaineering boots currently in production. Made using Strobel Lasted construction, these hardcore cold-weather hiking boots are built atop a Vibram x La Sportiva "Cube" outsole with the brand's patented Impact Brake System and feature thermo-tech injection-coated QB3 Waterproof fabric uppers, a PU Light & PU Protective Skin mid-sole with a heel TPU crampon insert, a GORE-TEX Performance Comfort lining, and an ultra-precise "To-the-toe" lacing system.
Uppers: Thermo-Tech Injection Coated QB3 Waterproof Fabric
Membrane: GORE-TEX Performance Comfort
Outsole: Vibram La Sportiva "Cube"
Vivobarefoot Tracker II FG
Managing to be both tremendously protective and fully packable,  Vivobarefoot's Tracker II FG boots, offer the best of both worlds in terms of performance and sustainability. Made from a naturally scarred leather source from free-roaming cattle on small independent farms, the Tracker II FG features hi-tech seal waterproofing technology, a breathable inner membrane, and Firm Ground Sole with a 2.5mm base and 4mm lug height that allows for optimal grip on a variety of different terrains. Removable thermal insoles also make these boots conducive to year-round wear, and best of all, the Tracker II FG was designed to be remade and re-worn, allowing it to legitimately last a lifetime with only some basic maintenance over the years.
Uppers: Weather-Resistant Treated Leather
Membrane: Recycled Plastic
Outsole: Firm Ground
MAMMUT Ducan BOA High GTX
It is exceedingly difficult to upgrade or improve an already high-performance pair of modern hiking boots, though that's nonetheless exactly what MAMMUT has done with its popular Ducan hiking boots. On top of a game-changing BOA fitment system, this up-specced pair of MAMMUTs are equipped with an elastic 3D Knit sock-style construction built atop a set of Vibram Flextron outsoles. Also benefitting from MAMMUT's Georganic 3D Technology, the Ducan BOA High GTX's sock-like fit and BOA closure system collectively afford one of the most precise fitments currently available.
Uppers: 3D-Knitted Textile
Membrane: GORE-TEX
Outsole: Vibram Flextron
Naglev Hightop Unico Combat Hiker
Made by a sixth-generation family of Italian shoemakers, Naglev's Unico Combat Waterproof model is an incredibly lightweight yet rugged pair of hiking boots, utilizing a single-piece Kevlar construction for the uppers that are mated to a breathable and waterproof thermo-regulating wool sock liner and a vegetable-tanned leather and coconut fiber footbed and bonded to an outsole that's crafted from natural rubber. This artisan-quality boot also features an integrated speed-lacing system and TPU overlays. The use of the single-piece Kevlar uppers not only adds untold amounts of lightness but also effectively eliminates weak points that are present on traditional hiking boots.
Uppers: Kevlar
Membrane: Wool
Outsole: Natural Rubber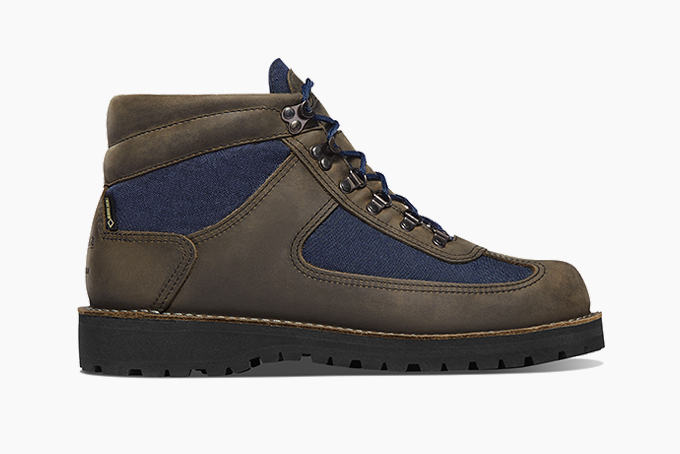 Danner Feather Light Revival
For Danner's Feather Light Revival, the Pacific Northwest footwear outfit has looked back on its expansive 89-year history to deliver a retro-style boot that's backed by thoroughly modern materials and construction techniques. Drawing direct inspiration from a model originally introduced in the early '80s, the Feather Light Revival is made in America and features uppers crafted from an amalgamation of full-grain leather and 1,000D ballistic nylon, as well as a fiberglass shank, a waterproof and breathable GORE-TEX membrane, and an ultra-grippy Vibram 148 Kletterlift outsole.
Uppers: Leather & 1,000D Nylon
Membrane: GORE-TEX
Outsole: Vibram 148 Kletterlift
ROA Andreas Hiking Boot
Beautifully blending traditional hiking boot designs with that of modern streetwear-style sneakers, ROA's Andres model represents a stylish yet thoroughly functional and utilitarian pair of boots. The Andres' uppers are made from a combination of Kudu and calf leather that's supplemented via mesh and rubber overlays. Ample comfort and impact absorption is afforded through the boot's poly lining and foam mid-soles while a precise fit is made possible via its speed hook eyelet system. And, whether you're on the street or on the trails, the Andres' Vibram Megagrip outsoles are guaranteed to provide plenty of traction on wet or dry surfaces.
Uppers: Weather-Resistant Treated Leather
Membrane: Polyester
Outsole: Vibram Megagrip
AETHER Dolomite Boot
When looking to develop a pair of heirloom-quality vintage-inspired hiking boots, AETHER turned to the experts at the more-than-century-old Italian shoemaker Fracap. The result: an artisan-quality hiker that combines modern traits with old-school shoemaking techniques. As such the Dolomite boot sports Italian calf leather and suede uppers that are outfitted with genuine metal eyelets and lacing hooks and constructed atop a set of Vibram outsoles. Protected by a lifetime guarantee, these boots — which are available in five different color options — are also made by hand in Italy.
Uppers: Calf Leather & Suede
Membrane: N/A
Outsole: Vibram
Arc'teryx Acrux LT GTX Boot
If money is no object and you're simply after the best modern hiking boots that money can buy, then there's a very decent chance that the Arc'Teryx Acrux LT GTX Mountaineering model is the boot for you. The boot features insanely-rugged micro-plated SuperFabric uppers tacked to a Vibram Mont outsole. Other highlights on this spare-no-expense model include PU foam mid-soles, a 3mm carbon footplate, a full GORE-TEX laminate membrane, and a locking lace closure system. And, not only are these high-performance boots built-to-last but they're also protected by Arc'Teryx's limited lifetime warranty.
Uppers: SuperFabric
Membrane: GORE-TEX
Outsole: Vibram Mont
The 12 Best Hiking Socks For Men
In order to make the most of your new hiking boots, you're going to want to pair them with an equally capable set of trail-specific socks. So, with this in mind, we've scoured the sector for the best hiking socks for men, highlighting a dozen of the finest options currently on the market.