When you're out in the backcountry battling the elements, there's no gear more important than the boots that protect your soles. Hiking boots are critical to your performance on the trail, keeping your feet comfy while shielding them from jagged terrain and bad weather. The consummate footwear to lace up is GORE-TEX hiking boots. Whether you're keen on grabbing heavyweight stompers or mid-weight variants to stay light on your feet, GORE-TEX is a must.
Investing in a reliable pair of GORE-TEX boots will allow you to roam the wild with confidence. GORE-TEX is waterproof, windproof, and breathable, making it the perfect material for sole protectors that will hold up in the backcountry. Now, not all boots are made the same, and we know shopping for the right pair of GORE-TEX footwear can be a major pain with all the choices out there. To make your search easier, we've curated a list of the best GORE-TEX Boots on the market today. All you have to do now is check out our list and choose your next adventure companion.
How Does GORE-TEX Work?
A Quick Primer
Gear with GORE-TEX technology is a must for any outdoor enthusiast. But how does it actually work? GORE-TEX works as a layering system, consisting of three parts: an outer shell, inner liner, and middle membrane. The middle membrane is what makes the system so beneficial and effective for outdoor activities. GORE-TEX patented a material called ePTFE, which has pores about 1/20,000 the size of a drop of water, making the system waterproof. However, these pores are 700 times larger than water vapor molecules, so when the water becomes gaseous, it can escape, resulting in superior breathability.
Choosing The Right Boots
Although GORE-TEX technology should be an attribute for the boots you grab, you should also look for the standard features of exceptional hiking footwear as well — including a secure lacing system, grippy traction, and comfort. We know that shopping online is convenient, but we do highly recommend trying on GORE-TEX boots in a physical store. If that is not possible, you can always order boots and try them at home. The worst case scenario is that you have to return them if they're not a perfect fit. Remember, comfort is a principal factor in choosing the right GORE-TEX boots. Do not let incredible features convince you to invest in boots that aren't comfortable.
Merrell Moab 2 Mid GORE-TEX
Straight out of the box, the Merrell Moab 2 Mid GORE-TEX boots are ready to conquer any trail ahead of you. Thanks to their waterproof membrane and excellent breathability, this hiking footwear can brave the elements. It also has protective rubber toe caps, breathable mesh lining, and EVA contoured footbeds with zonal arch and heel support. And with a lug depth of 5mm, you'll have a reliable grip on the terrain.
Vasque Breeze LT Mid GTX Hiking Boots
If you're looking for lightweight sole protectors with comfortable construction, the Vasque Breeze LT Mid GTX boots are an exceptional choice. They combine Vasque-exclusive outsoles with Vibram Megagrip and Vibram Lightbase technology for sure footing while saving 25% in weight. Their GORE-TEX construction provides you with waterproof protection and comfort throughout your hike no matter how long the trail. The boots' moisture-wicking materials reduce disgusting sweat buildup and the high-rebound footbeds give you ample support and shock absorption.
La Sportiva TX5 GTX Boots
You can always count on La Sportiva to produce high-quality hiking boots and this model is no exception. They have a resilient high-cut Nubuck leather upper construction and GORE-TEX protection to have your back when you're dealing with the fierce, unpredictable elements of the backcountry. They also feature a snug lacing system inspired by the La Sportiva Trango series and a 3D Flex ankle system so you can move naturally on your hike with proper footing to discover what nature has to offer.
HOKA ONE ONE Sky Kaha
Equipped with all the features you need to climb or ease your way down a trail, the HOKA ONE ONE Sky Kaha hiking boots are hard to beat. They have eVent waterproof booties to keep your feet dry and functional throughout the journey and full-grain, waterproof leather uppers to fend off the elements during the harshest weather. To keep you from slipping on the trail, they have Vibram MegaGrip high-traction outsoles so you can dig into the terrain. The boots also feature an adjustable lacing system for a secure, locked-in fit and cushiony bottom foam for responsiveness.
Salomon Quest 4D 3 GTX
Salomon's Quest 4D 3 GTX boots will allow you to walk in comfort on any trail you decide to tackle. The sole protectors boast technology to reduce fatigue over the course of your treks. They also have running shoe adapted characteristics while still being supportive enough for backpacking or hikes. Salmon's adventure footwear has EnergyCel midsoles, mesh and textile lining, protective toe caps, protective mudguards, SensiFit upper construction, and a standard anatomical fit.
Danner x Snow Peak Trail Field Pro Boots
When Danner and Snow Peak team up to revise a legendary pair of hiking boots, it's best to take notice. These boots are based on a pair from the 1960s, which are similar to the Mountain Trail model. The stylish footwear includes red metal lace clips and hooks and two matching lace options. Although they are a dapper pair, they're also highly functional, as you would come to expect from these two brands. They have GORE-TEX waterproof uppers to protect you from any weather conditions, premium leather construction, and Vibram outsoles. Grab these boots from Danner Japan and stomp on any ground you please.
Lowa Baldo GTX
For moderate terrain, the Lowa Baldo GTX boots are perfect for keeping your feet protected and cushioned throughout the trail. The boots keep each tongue centered with X-lacing, providing excellent comfort, and they have roller eyelets set on free-moving tabs to decrease pressure on your feet. These waterproof trekking boots have a cemented sole construction, split leather uppers, GORE-TEX lining, and Vibram Trac Lite II soles. And they feature Climate Control Footbed insoles to keep you content while you visit nature.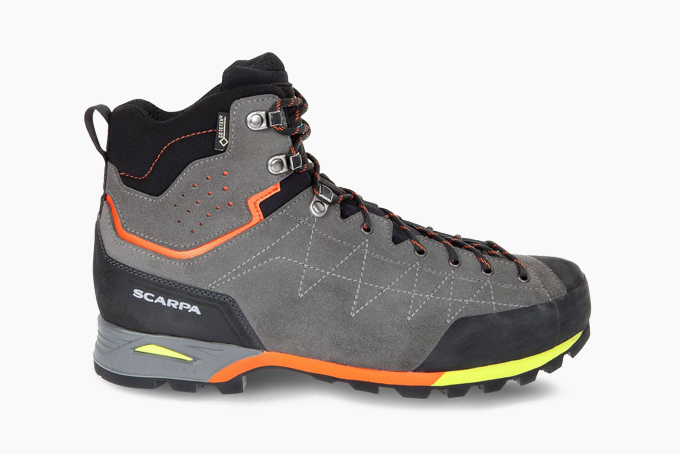 Scarpa Zodiac Plus GTX
With a soft, flexible construction, the low-profile Scarpa Zodiac Plus GTX is ideal for those who put comfort first. These breathable, waterproof boots perform best on moderate hikes where you still have to deal with trying weather. The boots are constructed with Vibram Drumlin outsoles, GORE-TEX lining, Pro insoles, suede Perwanger uppers, PU 3D EVA-MP midsoles, and leather. Get a grip on the trail ahead with these steadfast hiking boots.
Tecnica Forge GTX
Tecnica's award-winning GORE-TEX hiking boots were made for dedicated outdoor enthusiasts who seek the absolute highest level of protection and comfort. You're sure to move with confidence on any trail in any weather with the Forge GTX boots whether you're looking at single or multi-day hiking adventures. Combine Nubuck leather with a stretch fabric base, GORE-TEX lining, Vibram Forge MegaGrip outsoles, and Adaptive system midsoles — which have two layers of EVA and one layer of ESS — and you have the ultimate hiking footwear. We're confident that you won't walk away disappointed after testing out a pair of Tecnica's Forge GTX boots.
UA CH1 GTX Hunting Boots
Under Armour made a pair of their very own hunting boots under the guidance of bowhunting expert Cam Hanes. Over the span of three years, the CH1 GTX boots were created with every detail serving a specific function. The boots have a GORE-TEX membrane, Cordura polyamide for reliable performance, and vapor-permeable mesh to help you with sure footing while you track beasts in the wild. They also feature an integrated two-zone BOA lacing system and anatomical insoles with double-density EVA foam. The all-conditions footwear will stand up to any challenge lying before you on your hunt.
Arc'Teryx Bora2 Mid GTX Hiking Boots
The radically different approach Arc'Teryx took with the Bora2 Mid GTX Hiking Boots achieve a higher level of performance and versatility. They boast seamless, single piece thermo-laminated uppers and interchangeable stretch liners, providing you with supreme comfort along with Arc'Teryx Adaptive Fit technology. You'll stay ready in shifting weather thanks to the boots' GORE-TEX liners and permeable stretch micromesh, providing ventilation in dry environments. Working in tandem with the molded EVA midsoles is the Vibram outsoles so you stay agile while enjoying the protection of mountaineering boots.
The North Face Verto S4K GORE-TEX Boots
If icy white mountains are on your agenda, The North Face Verto S4K are hard to deny. These crampon-compatible boots have a GORE-TEX waterproof membrane, Smartlite PU mudguard, Northotic Pro+ premium EVA footbeds with gel heels, and OrthoLite forefoot-cushioning pads. To further make them ideal for climbing, they have TPU Cradle heel-stability technology, Vibram Mulaz outsoles, and TPU shanks. The Verto S4K GORE-TEX Boots will help you scale mountains while keeping your soles comfy. Not to mention, they come with a lifetime guarantee.
The Ultimate Guide to GORE-TEX
Now that you've picked up a pair of reliable boots for the backcountry, it's time to gain some in-depth knowledge on the material that makes them exceptional. Check out our ultimate guide to GORE-TEX and discover the magic behind the boots.