French press is the most common form of immersion brewing (mixing water and grounds together) when it comes to coffee. As opposed to a paper filter, the wider mesh filter produces a murkier brew, which may be preferable to some drinkers and can pair better with milk or creamer. When done correctly, you'll also get more of the essence of the bean itself by leaving most of the grounds in your drink for a longer period. Since there are an endless number of different units and models available, we've created this guide to provide you with the best French presses to buy right now.
What Is French Press?
A Stronger Flavor
One of the newest forms of making coffee, the French press, as we know it today, has only been around for about one hundred years. The 19th century saw rudimentary examples involving a metal rod and a cheesecloth, which was initially patented in France in 1852. But it wasn't until the 1920s when an Italian, ironically, filed a patent for a coffee pot unit with a metal press filter more similar to a tomato juice separator.
French press utilizes the immersion process, in which coffee grounds and hot water are literally mixed together in a cylinder. After several minutes of brewing, a wire mesh filter is plunged down through the liquid concoction, pushing the grounds to the bottom and leaving the liquid resting on top for you to pour into your cup. If done properly, this results in a stronger flavor for most drinkers when compared to a drip coffee maker.
What To Look For
Not All Made Equally
Although most French presses might look the same, the reality is there are clear winners when it comes to quality. We've done the work to provide you with the best options out there, but here are the standards to consider when picking one for yourself.
Mesh/Filter Almost every French press utilizes a metal wire mesh filter to prevent as many grounds as possible from making their way into the finished product. Some presses take this even further by implementing two or three, or even four meshes to the filtration system in an attempt to leave behind even more of that grit. Some units offer a paper filter option and the ESPRO has its own proprietary basket-style wire mesh filter.
Wall Material While metal walls hold the heat a lot better, glass — particularly double-wall glass — allows you to see the immersion process better, which can positively benefit the end result, especially for newcomers. On the other hand, a glass press can and usually will break easier, which is why these units are typically much cheaper. 
Ceramic presses have the same downsides as their metal counterparts. For starters, you can't see the brewing, which can be an issue for beginners. Alternatively, ceramic material gives you more color options, thus allowing you to be more stylish with your pick if you want something that fits your kitchen aesthetic. Unless it's AeroPress, which has a super quick brew time, stay away from plastic-wall presses.
Temperature Hold Heat retention is key to maintaining the quality of your coffee. Metal presses will give you upwards of an hour or two of hold. Meanwhile, glass has the shortest amount of heat retention at around a half-hour, although that time gets much longer if the glass is multilayered. Ceramic is a step up from glass presses and can hold heat for around double the time.
If you're looking to leave your coffee sitting out for an extended period, a good way to ensure that you're getting the maximum amount of heat retention from any French press is by preheating the unit with hot water ahead of time.
Capacity Many people shop for electric coffee brewers based on how much of the beverage it makes at one time. French presses are largely single- or double-serve units, however, there are some exceptions, as described below.
ESPRO P5
Best Overall: ESPRO is objectively a dominant force in the French press game. They feature a proprietary basket-style filtration system that produces a super clean cup of coffee with the same great flavor, and you can even swap in a paper filter as well. To prevent it from breaking if dropped, a scratch-resistant stainless steel cage surrounds the glass and locks it into place.
The glass itself is said to be 40% thicker than its competitors thanks to quality German engineering, thus holding the temperature for even longer. All of ESPRO's presses are fantastic, but the price-quality ratio on the P5 does the trick.
ESPRO Coffee French Press P5
Simply the best option on the market, especially for the price.
Pros
Hard to break
Holds heat longer than other glass presses
Cleaner-tasting coffee
BODUM Brazil
Best Budget Pick BODUM is known for its well-performing yet budget-friendly coffee gear and its entry-level French press is no different. A flagship of the brand since the 1980s, the Brazil model has a BPA-free plastic handle and base (in four color choices), but the body is made of borosilicate glass.
While all of BODUM's products defy the limitations of quality at a fair price, the Brazil is one of its most impressive. Utilizing a stainless steel single-mesh filter and plungers, the unit should be on the radar of anyone wanting to try this style of coffee for the first time.
BODUM Brazil French Press
A solid purchase for French press newcomers.
Pros
Really inexpensive
Several color options
Cons
Single mesh filter creates a murkier brew
ESPRO P1
Best For Travel: Not everywhere you go will have French press at the ready. The pack-and-go P1 model from ESPRO doubles as a travel mug for car rides and airplane commutes so you don't have to sacrifice cafe-quality coffee on the road. Like every other ESPRO unit, this single-serve unit utilizes the brand's proprietary micro-mesh basket filter for a cleaner taste.
Unlike other presses that require you to pour out the coffee when it's done brewing so the grounds at the bottom don't continue to add undesired flavors to your beverage, this system allows you to keep the liquid inside as long as you want, and the stainless steel wall holds heat for a long time.
ESPRO P1
The only on-the-go press to buy.
Pros
Stainless steel walls hold temperature well
Utilizes the brand's innovative basket filter
Sleek design
Cons
Opaque body might make brewing difficult for newcomers
Jetboil Flash Java Kit
Best For Camping: Arguably the best camping coffee maker you can buy also happens to be a French press. Thanks to Jetboil's patented FluxRing technology, this unit can boil 1L of water in just 100 seconds for everyone at the campsite. This all-encompassing kit also includes a measuring cup at the bottom and a 100g JetPower propane tank for boiling up to 10L of water in total.
The tank is activated with the push of a button and a heat indicator lets you know when it's time to add the coffee grounds. After it's plunged with the silicone press, the beverage stays warm inside the cup until you're ready to enjoy it.
Jetboil Flash Java Kit
All-in-one coffee maker for when you're off the grid.
Pros
Everything you need in a single unit
Heats water very quickly
Cons
Coffee flavor not as good as other brewers
Le Creuset French Press
Best Ceramic: A ceramic French press is an aesthetic choice more than anything else. While it does retain heat longer than a glass carafe, it doesn't do the job as well as a stainless steel unit — and at around the same price, if not more expensive. If you're going to go ceramic, take a look at this unit from Le Creuset, a premium stoneware brand with almost 100 years of history.
Available in a dozen different colors, this French press might be more breakable than one made from stainless steel, but it's also backed by a 10-year warranty. Plus, the glaze finish offers a super-easy clean-up afterward.
Le Creuset French Press
An aesthetic-forward choice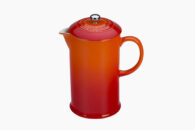 Pros
Holds temps well
Looks nice on a countertop
Easy clean-up
Cons
Can be pricey for its performance
Breakable
Frieling French Press
Best Stainless Steel: You could make a case that this system is the best available, and few would argue with you. Not only does the Frieling French Press look classy on the countertop but its unique dual microfiltration filters out multiple levels of ground coarseness, helping eliminate the guesswork and providing an amazing cup of coffee.
Built with a double-wall 100% 18/10 stainless steel construction for durability and coffee quality, this unit was originally made for restaurants and coffee shops and is now available for consumers. Ranging from 17oz to 42oz, the Frieling can accommodate any house size or occasion.
Frieling French Press
Built for quality of taste and longevity.
Pros
Great filtration method for tasty coffee
Insanely durable
Long heat retention
5-year warranty
SterlingPro French Press
Best Budget Stainless Steel: If you want the benefits of a stainless steel French press but don't want to pay stainless steel prices, your best bet is this unit from SterlingPro. Not only is it a great budget pick regardless of material but it's also a good choice for large households and parties, with options that range from 1L to 1.75L.
Made from 100% 18/10 steel, the brewer uses a double filtration system for a quality cup of coffee and has markers on the inside to help out with the measuring process.
SterlingPro French Press
A well-priced durable option
Pros
Super inexpensive
Double filter for better flavor
AeroPress
Honorable Mention: While the AeroPress functions in a similar way as a French press, it's not quite the same. All the rage right now due to its convenience, speed, and ease of storage, the device makes coffee in just one minute thanks to an air plunging method that simply pushes your mixture of water and grounds into your cup down below.
Additionally, the AeroPress swaps a mesh filter for a paper microfilter that gets screwed into place on the bottom, removing the grit and bitterness you'd get from a standard French press coffee. Traditionalists will still prefer their regular units, but this new method is great for travel and saving time.
AeroPress
Good for travel and saving time.
Pros
One minute brew time
Easy to store
Cons
Lacks the unique profile of French press
Plastic body
The Best Coffee Grinders to Buy
Before you make French press, you should invest in a device that can give you fresh grounds every time. Check out our guide to the best coffee grinders to buy.