The discovery and use of fire could reasonably be argued as mankind's greatest achievement. It can also be largely credited for bringing us out of the animal kingdom and putting us on a path toward the global civilization we know and live in today. Not to mention, to this day, it's still one of the most useful tools at our disposal — helping with everything from keeping us warm to cooking our food and everything in-between.
However, your ability to utilize fire as a tool is also dependent upon your ability to cultivate it. While our modern homes are typically equipped with appliances that can elicit a flame on-demand, making fire out in the wilderness is a different story altogether. And while it's probably a good idea to add a lighter to your EDC or outdoor kit, you might not want to put all your faith in one. As a backup, primary survivalist tool, or something in the middle, we suggest picking up one of the best fire starters — which we've gathered up for you in the following guide.
When To Carry A Fire Starter
And Why You Should
As mentioned, there are plenty of other ways to start a fire in the modern era. However, there are also a few strong arguments for carrying a fire starter as your primary method of creating a flame or even as a solid backup plan, which we've outlined for you below. Just remember: the fire starter you choose will depend largely on your own needs, desires, experience, space, and more.
Reliability: Lighters — especially weatherproof ones — are really spectacular about creating a flame. However, they all rely on some kind of fuel to function, be that lighter fluid, electricity, or otherwise. With a fire starter, your fire-starting fuel is actually found, well, everywhere around you. Since these devices, most often, hinge entirely on their ability to create a spark, they don't require power or fuel. All you have to do is use one to create a spark and apply that spark to kindling, fabric, etc.
Space- & Weight-Saving: Even when accounting for how compact pocket lighters have become, fire starters are almost always lighter and more compact. In the case of survivalism and/or long-term hiking, every ounce saved can make a difference. A lighter could require you to carry fuel and, even if it doesn't, it will still potentially weigh more than you're willing to carry — making a fire starter one of your best alternatives.
Practice: Obviously, this metric is predicated on the idea that you already want to carry a fire starter. However, until you're comfortable calling yourself a fire-starting expert, keeping one in your kit will allow you to practice at the drop of a hat. And this is essential, as you don't want to be left figuring out how to light a campfire as the sun dips over the horizon or a storm rolls in out in the woods — especially if you don't have any other options. Practice makes perfect, as they say.
Zippo Mag Strike
It should come as no surprise that one of the best and most budget-friendly fire starters comes from none other than beloved American lighter brand Zippo. Of course, even without the Zippo name, this particular device would still probably make our list. This fire starter comes with its own integrated housing, includes a ferro rod and striker, it boasts a shielded internal chamber, and even has a lanyard hole for simple, handy attachment to your backpack or duffel bag.
SOL Mag Striker
If there's beauty in simplicity, then the SOL Mag Striker is undoubtedly simple. This compact kit includes a ferro rod, striker, and a lanyard that connects the two — it's as simple and straightforward as that. The brand also promises that the rod itself is good for over 100 fires, though we'd venture to say it will work far longer than that, and that the magnesium flakes can produce sparks that are up to 5,400-degrees Fahrenheit — making it easy to light a fire in even the coldest, dampest conditions.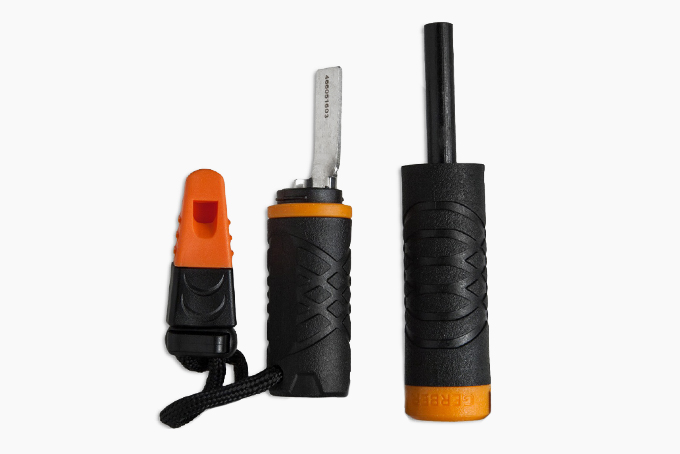 Gerber Firestarter
Gerber's simply-named Firestarter is actually more of a minuscule emergency kit than just a straightforward fire-starting tool. That's because, along with a ferro rod and striker in integrated housing, it also includes a 100-decibel emergency whistle — which is a nice, if unnecessary addition. Furthermore, it includes a waterproof storage capsule for hauling a bit of tinder and the striker even has laser-engraved instructions for easy usage, making this perhaps the most idiot-proof offering on our entire list.
Morakniv Firestarter
If you pick up Morakniv's bushcraft fixed blade, it actually comes with this very fire starter built into the hilt. However, if you're only looking for the piece that makes a spark, you can pick it up on its own in the form of the obviously-named Morakniv Firestarter. It's a simple ferro rod that requires something metallic to elicit a spark, but it's also ultralight and ultra-compact — making it a great minimalist option as far as fire starters go.
Outdoor Element Firebiner
One of the most clever fire starters to come out in recent times, the Outdoor Element Firebiner makes creating a spark a simpler affair on two fronts. First, the ferro element is actually a wheel built into the bottom of the carabiner — meaning you just give the wheel a quick and easy spin (like you might with a disposable Bic lighter) to spark it. Second, the carabiner design means you can use it as a keychain or attach it to just about any jacket, bag, etc. with a strap and/or attachment point. If ease of use and simplified carry are amongst your top concerns, this is the fire starter for you.
UST BlastMatch Fire Starter
Typically, ferro rod-style fire starters require two hands to use: one to hold the rod and the other to scrape a spark from it. However, the folks at UST have simplified that process by making a one-handed fire starter in the BlastMatch. With this one, all you have to do is aim it at your kindling and, with just one hand, give it a quick strike and you'll have a roaring campfire going in no time. Better still, it can pack down into its own cap for easier, safer carry and it will work for up to 4,000 strikes — even when wet.
UST StrikeForce
There are two things that we really love about the UST StrikeForce. First, it comes in its own integrated housing that also makes it, when sealed, weatherproof. We also love that, when separated into its two pieces, one side houses a built-in ferro and the other has a striker attachment — meaning it's as simple to use as striking the two sides together over some kindling. In case those two highlights aren't enough, it also comes with a pair of Light-Me Tinder pieces that can also store inside the case (or they can be replaced with other tinder)
ESEE Fire Steel
ESEE is unquestionably one of the best survival and outdoor knife manufacturers in the world — and their products are trusted by droves of professionals and amateur adventurers alike. As it turns out, they've also crafted one of the most clever fire starters around in their Fire Steel. This tool actually works two ways. First, the whole thing is built from heat-treated 1095 carbon steel and the edges can function as a ferro striker — eliciting sparks on its own. Second, it has a center divot that was made specifically for use alongside a bow drill — meaning primal survivalists can also try to create fire the old-school way, should they prefer to bone-up on their skills.
Exotac nanoSTRIKER XL
Measuring up at about the same size as an everyday carry pen, the Exotac NanoSTRIKER XL is sturdy, handsome, and ergonomic. It also boasts a self-contained design that comes apart to reveal the ferro rod and striker parts, making it ideal for those with limited space. Furthermore, the ferro rod itself is water-resistant and good for at least 3,000 strikes — meaning you can depend on this device potentially for years to come. As a cherry on top of that fantastic cake, it was also crafted here in the USA.
Benchmade Ferro Rod
Sometimes, our gear choices are the result of independent research with as little bias as possible. Other times, we like to put our faith in a trustworthy, tried-and-true brand. Whichever route you choose, however, Benchmade's Ferro Rod would still likely make the list. Sure, it's nothing fancy, but it works brilliantly and still manages to boast the brand's signature styling on the handle. It also helps that the handle doubles as a waterproof storage capsule for kindling and the ferro rod is replaceable — extending its lifespan indefinitely.
The 10 Best Lighters For Everyday Carry
Fire starters are great for camping and emergencies. However, if you need to spark up a flame in your normal day-to-day life, you might be better off carrying one of the picks on our list of the best EDC lighters.