Jun 1, 2022
Category: Gear
If you're reading this, you're probably already somewhat familiar with our stance on EDC — that there are a few pocketable pieces of gear we deem "necessities" that we believe everyone should carry day-in and day-out. Of course, there are some items that are a lot more ubiquitous than others. For instance, many people aren't too keen on carrying a knife with them at all times — likely because of their reputation as weapons and the concerns of danger therein. However, just about everyone has some version of a wallet they keep on their person almost compulsively.
Well, one of the absolute most widely carried pieces of everyday carry gear might actually be something you don't give much thought to in your comings and goings. We're talking, of course, about a keychain and/or keyring. Like a wallet — the device used to carry your money and identification — an EDC keyring is likely a true necessity, as most people need a means of carrying and organizing the keys to their house, car, mailbox (if you live in an apartment), etc. And while picking one out is a distinctly personal process, we've gone ahead and stacked the deck by putting together the following list of the 25 best EDC keychains and keyrings you can but right now.
Exotac FreeKey System
If there is beauty in simplicity, then the Exotac FreeKey System is a work of budget-friendly art. Designed specifically for organizational purposes, this split-ring system lets you group together keys so as to keep specific ones together should you need to remove them from your larger collection. Most people likely don't have enough keys to make use of this pick, but if you've got a key collection that's akin to those used by janitors, this could save you some major hassle.
TEC Accessories P-7 Keychain Suspension Clip
Proof that elegance and extreme minimalism can definitely go hand-in-hand, the TEC Accessories P-7 Keychain Suspension Clip does quite a lot for such a tiny piece of gear. Simply attach your keys to this device and you can keep them secure and at-the-ready in your pocket — but not jingling in a lump toward the bottom. It's small and simple, but it can be a lifesaver in a pinch and gets big points across the board for convenience and simplicity.
Big Idea Design Titanium Pocket Bit
Big Idea Design's Titanium Pocket Bit comes with a keyring, but the real star of the show is the attached dual-purpose bit driver. You see, this clever titanium keychain gives you access to a Philips and flathead bit at all times — so long as you have your keys on you. Better still, it doubles as an ad-hoc bottle opener and pry bar for a bit of versatility in its overall functionality.
Craighill Wilson Keyring
Most folks don't need to add or remove a bunch of keys or keychain tools often — but those that do might be interested in a keychain that allows you to take them off or put them back on without hurting your fingertips and/or fingernails. Such is the case with the Craighill Wilson Keyring — which uses age-old spring technology to stay secure and makes for easier opening when you need it. It's also elegant, beautiful, and available in your choice of brass or black.
Handgrey Knox Titanium Keyring
The keyring, as we know it, was invented quite a long time ago and then, so it seems, completely forgotten about by designers and craftsmen — meaning it hasn't really been improved upon since. That is until the Handgrey Knox came along. This clever keyring improves upon the innocuous device in two ways: it's made from lighter, stronger titanium and it boasts a split-ring design that makes removing or adding keys and keychain tools much less frustrating and painful without sacrificing security.
Maxx & Unicorn Pendulum Key Hook
Another beautifully simple and elegant alternative to traditional keychains and keyrings, the Maxx & Unicorn Pendulum Key Hook is made in the USA from solid brass and gives you the ability to keep your keys together and organized, but also — as an added bonus — allows you to hook them to your pocket for easier retrieval at a moment's notice. Just keep in mind, if you carry more than six keys and keychain accessories, this probably isn't the solution for you.
Keysmart Key Organizer
One of the more well-known keychain alternatives, Keysmart's Key Organizers are brilliant little devices that let you keep your keys secure and organized while also stopping them from clumping together in a lump at the bottom of your pocket. Think of them as Swiss Army Knives for your door-opening charms. Better still, you can get them in stainless steel or upgrade to lighter, stronger titanium.
Orbitkey 2.0 Key Organizer
What's really spectacular about the Orbitkey EDC key organizers — besides their simple and elegant design — is the sheer number of available options regarding colorways, materials, etc. You can organize up to 7 of your keys in a handsome canvas, polymer, or premium leather Orbitkey — and you can have it in a wide variety of colors including green, navy, black, tan, gray, etc. For those that want to mull over many different appearance options, there's not a better option out there.
Prometheus Lights Kappa Quick-Release
For many of us, there are a few keys or keychain tools we need access to more than the rest. And trying to use them while they're lumped together with the rest can be frustrating. That's where the Prometheus Lights Kappa Quick-Release shines. This device lets you keep two separate groupings of keys and/or tools that can be separated in a split-second for easier manipulation. Then, once you're done, you can reattach them just as quickly and they'll stay securely fastened until you need to separate them again.
Bradley Mountain Key Fob
For die-hard EDC enthusiasts, putting your keys in your pocket takes up valuable room that might otherwise be better used. As such, some prefer to clip their keys to a bag or belt loop instead — which is managed quite simply by using the Bradley Mountain Key Fob you see here. With a simple lever-operated clip, you can keep your keys secure and within reach without feeling like they could be lost at any moment. And it definitely doesn't hurt that it was made in the USA.
Defy Bags Key Chain
Made in the USA from a combination of Horween top-grain leather and a military-grade gun clip, the Defy Bags Key Chain is a gorgeous, sturdy, and reliable traditional keychain alternative that's perfect for everyday carry usage. It's also available in your choice of three different colorways: black, tan, and (our personal favorite) oxblood.
Taylor Stitch Keyhook
Another key hook offering, this time from the exceptional, trusted designers at Taylor Stitch, the brand's appropriately-named Keyhook is made in small batches from solid brass. Each comes with a pocket hook, solid ring, and a split keyring for all your keys and keychain accessories. Like its brethren, this one is also handy for hanging your keys at the top of your pocket, but the brand also touts it as a fidget accessory that's "fun to spin on your finger."
Arktype RMK Paracord Quick-Release Keychain
For those with an appreciation for tactical design cues and functionality, there might not be a better keychain or keyring on this list than the EDC-friendly Arktype RMK Paracord Quick-Release Keychain. This device comes in three parts: a mil-spec rifle hook, split keyring, and a neodymium magnetic quick-release in the center. And those three parts are all connected via woven 550 paracord that, in a pinch, can be used for emergency applications. Best of all, the whole thing was made in the USA.
Orbitkey Clip
As it turns out, key organizers aren't the only thing that Orbitkey is adept at manufacturing, as they also offer this spectacular, beautifully-designed keychain system. And while the carabiner clip and cleverly redesigned keyring are both big highlights, there's also a bonus in the form of a leather lanyard that can release the attached keyring for easier manipulation. It's quite brilliant and definitely stands apart from even the best of its everyday carry brethren.
TEC Accessories Python-QR Titanium Quick Release
Another spectacular take on a quick-release keychain, the almost bullet-like Python-QR from TEC Accessories is made from solid titanium, comes with dual keyrings, is corrosion-resistant, and was made in the USA. What more do you need to know about this beautifully brilliant device?
Handgrey Kin No. 6 Titanium Key Hook
A key hook with an almost brutalist minimalist design, Handgrey's Kin No. 6 is built from solid titanium — making it insanely tough and remarkably lightweight — and boasts a Bauhaus-inspired unibody design. That alone is enough to give this an edge against the competition, but it's also worth noting that its superb design and construction do come at an increased cost. Still, seeing as how you could utilize this device for generations, we'd say the cost is worth it.
Saturdays NYC Key Chain
What's in a name? Well, in the case of Saturdays NYC, it's a promise that everything they offer is well-considered and manufactured soundly from top-tier materials. This leather and stainless steel key chain is certainly no exception. Yes, it might not be particularly innovative, but it gets the job done right every time and that, paired with its beauty and grace, is more than enough for many.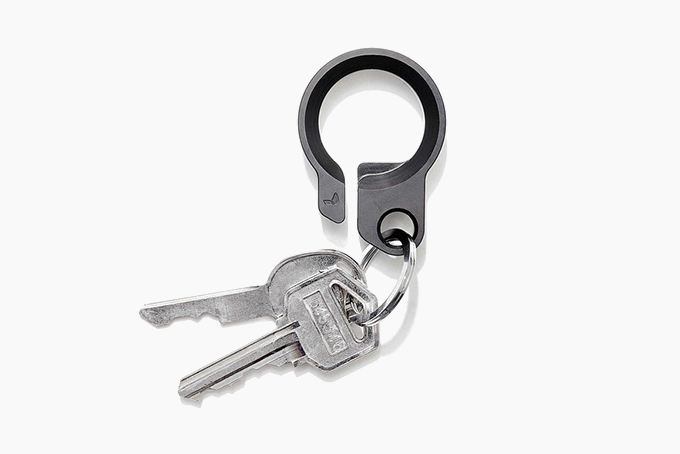 Grovemade Stainless Steel Key Ring
Grovemade has a knack for spectacular, well-considered minimalism in their designs — especially when it comes to the brand's everyday carry gear. Their Stainless Steel Key Ring is certainly no exception in that regard. And while its one-piece design seems quite simple, it also has some clever functionality built into it. For starters, it can be hooked to your pocket or belt loop for easy carry. But it also doubles as a bottle opener, which is very handy in a pinch.
WESN Quick Release Titanium Keychain
There are some quick-release keychains that are a bit unnecessarily complicated and boast many moving parts. The WESN Quick Release Titanium Keychain is not one such keychain and keyring alternative. Rather, it is simple — and gorgeous in that simplicity — while also being effective and reliable. Not to mention, it's crafted from solid titanium and, therefore, is made to last a lifetime or more.
Killspencer Quick Release Keychain
For those who are uninitiated, Killspencer is a high-end Los Angeles-based brand that specializes in simple, minimalist, high-end carry gear and accessories (amongst a slew of other categories). Their Quick Release Keychain is the perfect example of their prowess, hinging on a simple leather lanyard and a shackle-style quick-release carabiner hook. It isn't particularly boastful, but it is made from top-tier materials and exemplified the brand's signature style.
Filson Bottle Opener Key Chain
Most of us, at some point or another, have found ourselves needing a bottle opener. If this happens to you more often than not, you may be interested in Filson's USA-made Wicket & Craig leather bottle opener keychain. It's definitely a simple addition to your everyday carry, but it is effective, well-considered, and something you can be proud to carry with you every damn day.
Scout Leather Co. Scout Hook
As proof that there is elegance in absolute simplicity, we present to you the Scout Leather Co. Scout Hook. Available in brass, copper, or titanium, this bare-bones key hook also doubles as a bottle opener and that's pretty much all there is to it — which is more than enough if you ask us.
Billykirk No. 506 Key Bundle
Billykirk's take on a key hook doesn't have an integrated bottle opener like a lot of the other on this list. But it does come with an included key-shaped bottle opener to split the difference. Not to mention it's crafted from solid brass — including the keyring itself — and that means it will acquire a unique patina the more you use it.
Dapper Design Klip Titanium Knife + EDC Suspension Hook
At most, the largest portion of available keychains and keyrings offer a quick release function and maybe an integrated bottle opener. But this one from Dapper Design functions beautifully as a key suspension hook and offers up something none of the other ones do: an integrated knife blade. It's definitely unique when compared to the competition and, if you're trying to figure out how to get a blade into your carry without having to haul a full-sized folding knife in your pocket, this is an elegant and subtle way to manage that.
Tanner Goods Key Lanyard
If you're looking for top-tier craftsmanship in a unique, heritage-level package, go no further than the Tanner Goods Key Lanyard. It's built from a combination of stainless steel and natural tool leather, boasts secure double rivets, and comes with your choice of black or silver hardware.
HiConsumption is reader-supported. When you buy through links on our site, we may earn an affiliate commission. Learn more