Finding a good set of sunglasses is tricky, but narrowing down a pair engineered to improve your driving is even more challenging. And while you might consider any average pair of shades worthy of taking on the open road, you'll soon learn that several factors come together to create a high-quality option. Like any performance-driven sport, certain technical elements in a pair of sunglasses will bring the best out of your behind-the-wheel persona, so it's only fitting to pick up a pair geared toward driving.
Sure, your current sunglasses might be good for everyday activities, but you'll realize a positive difference when getting in your car if you're wearing a pair that's featuring all of the essential elements of a good set of driving specs. We've laid out the key qualifications you need to look for in a pair of driving sunglasses below, and then used those criteria to select a dozen top-tier options from across all price points. So get ready for your next road trip with this guide to the best driving sunglasses on the market.
What Are Driving Sunglasses?
What To Look Out For When On The Road
When you're buying a pair of sunglasses that are meant to be worn behind the wheel, there are a number of factors that you should keep an eye out for — no pun intended. Polarized lenses are the best place to start, as these will assist by vastly reducing the glare of the sun around you, which will ultimately lessen the chances of any accidents caused by light reflecting in your eyes. It's worth noting that polarized lenses may reduce your visibility of certain screens and gauges inside your car, depending on your setup, but their safety benefits far outweigh these annoyances in our opinion. The majority of polarized sunglasses will offer 100% UV protection, too, which is something you should be looking for in any pair of sunglasses to protect the health of your eyes.
The next factor to look out for is light resistance, a spec that tends to get overlooked on most retailers' listings but will typically appear on a pair of performance-geared shades. As a result of its scarcity, do your best to keep an eye out for the percentage, as it is often best to stay within the 0-19% range. Another aspect to look out for is the weight and fit of the glasses. The benefits of wearing a lighter, well-fitting pair when driving as opposed to a clunkier, heavy set of shades are immediately noticeable from a comfort standpoint, as you don't really want to be thinking about how uncomfortable your glasses are or be trying to adjust them when you should be concentrating on the road. Lastly, like any other pair of sunglasses, you should make sure they look good. It's hard to determine what exactly makes a good pair of driving sunglasses, as style is up to everyone's discretion, but believe we've done a good job at concocting an objectively chic guide to the 12 best driving sunglasses on the market today.
Sunski Makani
Sunski's polarized Makani shades are as friendly to your eyes as they are to the environment. This is a result of the affordable silhouette's SuperLight recycled frames and plastic-free packaging that further proves the brand's aim for sustainability. While the polarized lenses are available in a quartet of colors, the Ocean look has a blue tint that's perfect for the road.
Prada 0PS 02XS
You might be surprised to see something from Prada this early on the list, but its 0PS silhouette remains a seamless way for fans of runway fashion to bring a similar look to the road. The blacked-out shades are polarized for optimized viewing and then rounded out with a rubber frame that will play a major role in keeping you comfortable.
Raen Aren
Raen's use of premium Carl Zeiss Vision lenses makes most of its catalog ideal for driving, but this polarized model is as good as it gets. Its feathery frame is constructed from a traditional five-barrel hinge composition for sturdiness, while the CR-39 lenses provide 100% UVA/UVB protection. Plus, the Aren silhouette looks good in every color available, so the style factor is a no-brainer.
Ray-Ban Aviator Polarized
You can never go wrong with anything in Ray-Ban's timeless catalog, and that statement pertains to the iconic Aviator silhouette as much as any other pair. This particular iteration features polarized blue lenses and a sleek gold frame, but it is available in an array of fashionable colors that are sure to lend a hand on the road. Whether it's 1937, 2022, or 2097, there's no room for error with this classic look.
Revo x Jeep Desert Navigation
Revo is heralded as the leader in polarized lens technology, which has been made clear by its cooperative efforts with NASA. To no surprise, its space-grade tech operates just as well on the open road. The vintage-inspired Desert sunglasses are courtesy of a joint effort with Jeep and constructed using premium elements, like beta titanium and premium handmade acetate. These two pieces go hand-in-hand with the brand's signature Blue Water lens, which is ideal for shooing the sun away.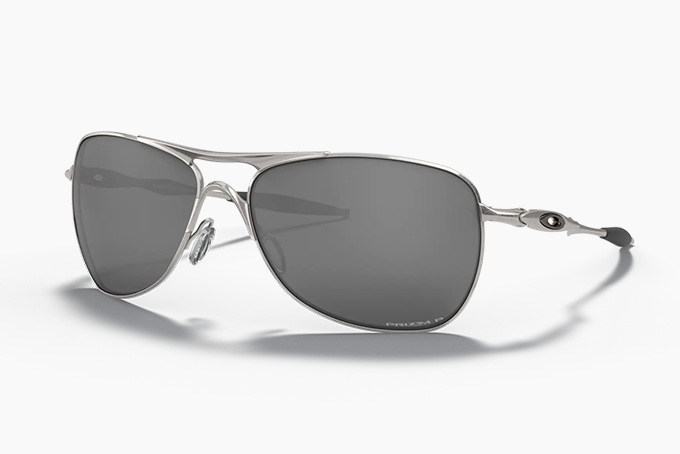 Oakley Cross Hair Metal Aviator
When it comes to sitting behind the wheel, few options are as fitting as a pair of aviators, and this is the first pair that you'll come across in our guide. Oakley is well known for its performance-ready sunglasses, whether it's hiking, training, or, in this instance, driving. This streamlined silhouette features Oakley's signature Prizm polarized lenses to reduce glare, as these stark shades have a light transmission percentage of 11%. Further, its frame is composed of lightweight C-5 alloy and rounded out with the brand's signature Unobtainium earsocks for all-day comfort.
AO Original Pilot
Anything from American Optical is guaranteed to tackle the sun's rays and then some. In a similar vein as Ray-Ban, the heritage brand's Original Pilot Sunglasses have been setting the standard since 1958, offering impact-resistant polarized lenses and sturdy nose pads supplied by Frey Winkler, a German plastic supplier that has been at it for decades. These will make sure they stay in place when you're flying — driving, rather.
Vuarnet Racing 1918
Vuarnet offers sunglasses for a plethora of activities, and its automotive-centric line checks all the aforementioned boxes. The Racing 1918 boasts adjustable temples and a unique, curved shape that wraps around any-shaped face flawlessly. As far as optics go, the sporty shades feature hydrophobic polarized lenses with an NPE filter to liven the natural colors you come in contact with. The sunglasses have a light absorption rating of 88%, which makes them perfect for gloomy overcast days.
Persol PO3272S
While this may look like a pair of Wayfarers, don't mistake one iconic brand for another. Persol's movie-set approved, square-shaped shades feature its proprietary polarized crystal sun lenses, crafted from a premium blend of optical materials to assure optimized clarity. Like with any other pair of acetate-framed Persols, the PO3272S model's frame is constructed from cotton and powder pigments, no two of which are alike.
DITA LSA-103
DITA's LSA lenses combine all the necessary elements to combat glare when driving. This particular model from the high-end eyewear boutique is highlighted by its signature tech, making it a great choice behind the wheel. The Land Lens paves the way for unsaturated depth perception, then the polarized Sea Lens eliminates any reflected glare around water, and, lastly, the Air Lens provides optimized contrast at any elevation. All in all, these are remarkably versatile sunglasses, and any color you choose will look great.
Porsche Design Sunglasses P'8696
It only makes sense to feature a pair of shades from Porsche Design on an automotive-geared list. These angular aviators are constructed from a lightweight blend of stainless steel and plastic. Looks and feel aside, Porsche Design's proprietary VISION DRIVE Lens tech paves the way for optimized protection against ultraviolet rays, top-tier anti-glare protection, and trusty impact resistance thanks to scratch-resistant coating.
Donkervoort Eyewear Denis
Like Porsche Design, Donkervoort is a German brand fully dedicated to automotive lore, and its catalog of sunglasses led us to the chic yet highly functioning Denis silhouette. The shades are engineered using lightweight carbon-fiber frames, titanium temples designed to fit beneath racing helmets, and CR39 polarized lenses from Leica Eyecare — yes, that Leica. All things considered (style, protection, and feel), there's no way you can go wrong with this uber-unique pair.
The 20 Best Sunglasses for Men
If you're looking to upgrade your everyday pair when you're outside of the car, take a look at our guide full of stylish shades to discover 20 of the best sunglasses on the market.