Dec 10, 2019
Category: Style
There are plenty of people that might say, in the wake of increasingly-ubiquitous technology, that the wristwatch is an obsolete thing. However, for those of us who sit squarely within the realm of horological fandom, these devices are about a good deal more than simply telling the time.
That is to say, watches aren't just timekeepers; they're statement pieces that can serve both to help bring an outfit together, as well as speak to the merits of the individuals wearing them. In perhaps no venue is this truer than the world of the upper crust — the top shelf, so to speak — of business and society. Whether you need a watch for a singular special occasion or you're the type that wants to look their absolute best day-in and day-out, you'll find superb options here on our list of the twenty best dress watches for men.
Braun BN0032 Watch
From the legendary brand that flourished under the practices of the Bauhaus movement, Braun's BN0032 is a simple piece that speaks monuments to those elites in the know. It's not braggy, but it boasts clean lines, a reliable quartz movement, a sturdy case, and unmistakable styling cues. And it manages all of that alongside a shockingly low entry fee.
Size: 40mm
Case: Stainless Steel
Movement: Quartz
Tissot Tradition Watch
Proof that top-shelf style doesn't have to be accompanied by a top-shelf price, this Tissot quartz watch is every bit as beautiful of some of its much more expensive brethren but at a fraction of the price. Its stainless steel case with its Roman Numeral markings is married brilliantly to a handsome leather strap and the whole thing is finished off with a subtle date window for extra utility.
Size: 42mm
Case: Stainless Steel
Movement: Quartz
Armogan Spirit Of St. Louis Chronograph
Inspired by the indulgent stylings of the late 1920s — specifically May of 1927, during which Charles Lindbergh made the first successful transatlantic flight from New York to Paris — Armogan's Spirit Of St. Louis Chronograph is a handsome aviation-inspired timepiece that looks great in any venue. It's also powered by a reliable quartz movement, has a trio of handy sub-dials, comes with a soft suede strap, and is even available in a trio of colorways for your personal styling pleasure.
Size: 44mm
Case: Stainless Steel
Movement: Quartz
Eone Bradley Apex Watch
One of the benefits of owning and wearing a watch, especially for dressed-up occasions, is that glancing at one is considered a good deal less rude than pulling out your smartphone to check the time. The folks at Eone have taken that a step further by creating a lineup of watches that offer tactile time-telling — meaning you don't even need to look at the watch to tell the time. On top of that added subtle utility, this one is also strikingly beautiful, has a ceramic and stainless steel case, comes with a leather strap, and has a reliable quartz movement.
Size: 40mm
Case: Ceramic & Stainless Steel
Movement: Quartz
Junghans Max Bill Watch
Another watch brand famous for its minimalist styling and beauty, Junghans' most popular and renowned lineup is probably their Max Bill collection. And one glance at this one can tell you just what makes it special — with incredibly clean and approachable design cues, an easy-to-read unencumbered dial, a handy date window, and a stainless steel case that matches beautifully with its leather strap.
Size: 38mm
Case: Stainless Steel
Movement: Quartz
Miansai M12 Watch
Clean, simple, easy — these are all words that might describe Miansai's M12 watch. However, if you take a closer look you might also find it to be sharp, reliable, and durable, too. And that can be credited to its stainless steel case, Swiss-made quartz movement, unique off-set crown, and a handsome-yet-comfortable leather strap. It's refined, not showy — but that's sort of the point.
Size: 39mm
Case: Stainless Steel
Movement: Quartz
Timex American Documents Watch
Based on the brand's mantle clocks from over a century ago, the Timex American Documents Watch is an exercise in bringing heritage styling into the modern world. And, truth be told, the renowned timepiece manufacturers at Timex have managed it brilliantly. With the exception of its gold-plated Swiss quartz movement, this watch was made entirely in the USA with American-sourced materials and it comes in a gorgeous cherry wood display box — another nod to the clocks on which it was based.
Size: 41mm
Case: Stainless Steel
Movement: Quartz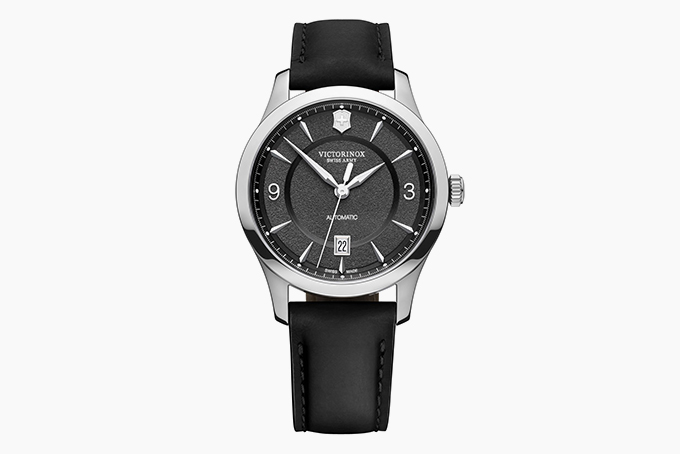 Victorinox Alliance Mechanical Watch
Victorinox has been making watches for a very long time. But not many of their offerings are quite as beautiful as this relatively new offering, the Alliance Mechanical. As you might imagine from its name, this watch boasts an automatic mechanical movement under its dial, but it is also equipped with a stainless steel case, a triple-coated sapphire crystal, it boasts 10 ATM waterproofing, and it comes in a quartet of trims — including a beautiful silver-and-gold all-metal option.
Size: 40mm
Case: Stainless Steel
Movement: Automatic
Defakto Vektor Silbermatt Watch
According to Defakto, their Vektor Silbermatt is heavily inspired by 1950s design but pares it into a modern, minimalist aesthetic. And we'll be honest: we think they're right on the money with that assessment. This watch is certainly marked by beautiful simplicity with its numeral-free dial, straightforward 3-hand timekeeping, cowhide strap, and more. But it's also got some clever touches hidden away — like an exhibition caseback that shows off its Miyota movement.
Size: 39mm
Case: Stainless Steel
Movement: Automatic
Hamilton Intra-Matic Auto Watch
We don't think there's anyone with a knowledge of the horological space that will deny Hamilton's expertise. However, we're also fairly sure people don't tend to view the brand as a high-end dress watch manufacturer — likely because their most famous offering is a field watch. But their Intra-Matic Auto watch you see here says otherwise with its beautiful, pared-down minimalist vintage-styled dial and textured leather strap. Mate that with a date window, 5 bar water-resistance, and automatic movement and this is a top-notch dress watch with a middle-of-the-road price.
Size: 38mm
Case: Stainless Steel
Movement: Automatic
Shinola The Runwell Automatic Watch
An automatic take on Shinola's flagship timepiece, The Runwell Automatic takes everything that was great about its predecessor and puts it into a package that doesn't ever require battery replacement. That means it still boasts a stainless steel case, the brand's signature bold indices, and an exhibition caseback to show off the new movement housed inside. It's a relatively subtle timepiece with layers upon layers for anyone with a keen enough eye to look for them. And if the silver-black-and-brown finish doesn't do it for you, the brand offers a number of different color combinations.
Size: 45mm
Case: Stainless Steel
Movement: Automatic
Oris Artelier Art Blakey Edition Watch
Oris manufactures a wide variety of exceptional timepieces — including plenty that might be considered ideal dress watches. We're quite fond of one of their newest offerings, however, for its design subtlety and minimalist uniqueness. You see, this pared-down timepiece was actually inspired by Art Blakey, a legendary drummer and jazz bandleader. In fact, the face is made to look like Blakey's bass drum — complete with its eight claws. Limited to just 1,000 examples, this gorgeous automatic watch is a subtle and knowing nod for music lovers and horological fanatics alike.
Size: 38mm
Case: Stainless Steel
Movement: Automatic
Weiss Titanium American Issue Field Ultralight Watch
One of the few brands that actually manufactures and assembles their watch movements on American soil, Weiss is a brand with plenty of reason to be proud of their catalog of offerings. So when we tell you that their Titanium American Issue Field Ultralight Watch stands above them all, we want you to know just what we mean. This gorgeous timepiece boasts a titanium case that surrounds a manual movement that measures up with a height of just 12.8mm in total. It also weighs just 56 grams, including the strap, and is limited to just 100 examples total.
Size: 42mm
Case: Titanium
Movement: Manual
TAG Heuer Carrera Calibre 1887 Watch
Omega's Spacemaster gets all of the attention for being the first watch on the moon. However, the honor of the first watch worn by an American in space belongs to TAG Heuer and their Carrera — which was wrapped around the wrist of none other than John Glenn during the Friendship 7 mission in 1962. This special edition automatic chronograph was inspired by that very watch. It also boasts a Swiss automatic movement with a 40-hour power reserve, chronograph functionality courtesy of a trio of sub-dials, a link bracelet, and iconic markings on the dial and case.
Size: 43mm
Case: Stainless Steel
Movement: Automatic
Omega Seamaster 1948 Watch
Back in 1948, Omega introduced a new watch that would go on to become one of the brand's most lauded and iconic offerings ever — the Seamaster. Now, they're paying tribute to their heritage with the Seamaster 1948, which is fittingly limited to just 1,948 examples. This absolutely gorgeous timepiece features subtle dial markings, a stainless steel case, a modern in-house automatic movement, and a specially-engraved sapphire crystal exhibition caseback that shows off the gorgeous mechanisms inside. It's expensive, to be sure, but that's because it has plenty of value — historical, nostalgic, and otherwise — outside of its constituent parts.
Size: 38mm
Case: Stainless Steel
Movement: Automatic
Grand Seiko SBGK009 Watch
There is something to be said for the ritual of putting on and taking off a watch — almost like the cherry on top of an outfit. And manual watches take that ritual to the next step by incorporating the necessity of winding into the whole process. We think there's something incredibly elegant about that, an elegance that can be found in spades within the Grand Seiko SBGK009 you see before you. This magnificent manually-wound Japanese watch is almost like a time-traveler for your wrist, helping to recenter you and bring you back to a time before smartphones and digital screens. It certainly doesn't hurt that it also features a sturdy and beautiful stainless steel case, a 72-hour power reserve, and a beautiful link band.
Size: 39mm
Case: Stainless Steel
Movement: Manual
Rolex Datejust 36 Watch
No well-thought-out list of dress watches would be complete without at least one Rolex on it — at least in our opinion. And while it would be easy to go for an old standard, it would be a disservice to Rolex, as the brand continues to innovate and produce new timepieces for our horological pleasure. In fact, the Datejust 36 you see here is a brand new offering made for the 2019 year. It's built from the brand's signature Oystersteel and white gold, it features an in-house automatic movement, has a unique saw-toothed bezel, and features the brand's signature magnifying lens above its date window. It's not a classic just yet, but it's only a matter of time before this Rolex, like so many others, is considered legendary.
Size: 36mm
Case: Oystersteel & White Gold
Movement: Automatic
IWC Ingenieur Automatic Watch
There are a lot of dress watches out there that are fairly milquetoast in their styling — sticking to safety in their design rather than trying to make a statement. As it turns out, however, you can have both timelessness and boldness in one offering if you know where to look. For us, they're found in the IWC Ingenieur you see here. This semi-sinister timepiece boasts an 18k gold case and indices that contrast wonderfully with its blacked-out dial and matching leather band. It's also home to a self-winding automatic movement, has a date window, and is even water-resistant to 12 bar. It's not for those with shallow pockets, but it's a rare find for those that can afford it.
Size: 40mm
Case: 18k Gold
Movement: Automatic
Patek Philippe Calatrava 5153R Watch
If you ever want to show off just how wealthy you are with just two words, all you have to say is Patek Philippe. This watch brand has cultivated a cult following of the ultra-rich and serves as its own reminder of just how good life can be. And that's to say nothing of this particular timepiece's rose gold case, minimalist markings, date window, leather strap, and the automatic movement that's powering it all. If you know the brand name, you already know that this watch is exceedingly expensive, but it's also the kind of watch that gets you noticed no matter where you go.
Size: 38mm
Case: 18k Rose Gold
Movement: Automatic
Audemars Piguet Royal Oak Ultra-Thin Watch
Although it's almost certainly out of the price range of any normal person, there's also no denying that the Audemars Piguet Royal Oak Ultra-Thin is one of the absolute finest watches ever made — a fact that's solidified by the fact that it just recently won one of the most prestigious awards in the entire horological industry. Exclusive to the brand's boutiques, this timekeeper boasts the thinnest perpetual calendar automatic movement ever created. And it still features the Royal Oak's signature geometric styling, a water-resistance rating of 20 meters, a titanium and platinum case, and so much more. The elegance and impressiveness of this watch cannot be overstated.
Size: 41mm
Case: Titanium & Platinum
Movement: Automatic
The 25 Best Luxury Watch Brands
Just because you haven't found the right dress watch, that doesn't mean it doesn't exist. In fact, it's more than likely the perfect timepiece for you can be found amongst our list of the best luxury watch brands.
HiConsumption is reader-supported. When you buy through links on our site, we may earn an affiliate commission. Learn more