When it comes to filling out your everyday carry and wardrobe, it can be pretty easy to get discouraged by high-priced gear — especially things you might view as a non-necessity. And some of the biggest offenders of sticker shock are wristwatches. However, you don't have have a swimming pool full of gold coins in order to afford those that are both handsome and reliable.
In fact, you can find a wealth of superb timepieces for under $500 if you know where to look. And that's exactly why we're here today. The following article is stacked with ten watches that are all affordable even for those on a tight budget. Better still, these aren't just a random assortment of timepieces; they're dive watches — a style of which every man should own at least one, whether you find yourself taking a dip in the ocean or not. Spend your hard-earned cash on these ocean-going wristwatches and you will not be disappointed.
Orient Mako II Automatic Dive Watch
You might think it laughable to think that you could find an automatic dive watch for a price as low as $121. But you'd be wrong because that's exactly what you'll find in the Orient 'Mako II' you see here. With a dive timer bezel, date window, 200m water-resistance, and stainless steel case with matching link band, this is one of the best budget-friendly watches you can find, bar none.
Case: Stainless Steel
Movement: Orient Calibre F6922 Automatic
Depth: 200m
Citizen Eco-Drive Promaster Diver Watch
While it's not an automatic timepiece like the Orient above, the Citizen Eco-Drive Promaster dive watch you see here is no less one of the best budget-friendly options out there. That's thanks in part to its iconic styling, stainless steel case, dive timer bezel, 200m water-resistance rating, and (in this particular case) durable and comfortable polyurethane strap.
Case: Stainless Steel
Movement: Eco-Drive E168 Quartz
Depth: 200m
Jack Mason D101 Diver Watch
Normally, when you want a dive watch that looks and functions as good as this, you have to pay double or more the cost of Jack Mason's D101. Thankfully, that's not the case here. With its clean, yet iconic styling, this watch would look good in any venue — watery or not. It also has a reliable Miyota quartz movement, SuperLuminova markings, 300m of water resistance, a nylon strap, and a 10-year warranty.
Case: Stainless Steel
Movement: Miyota Quartz
Depth: 300m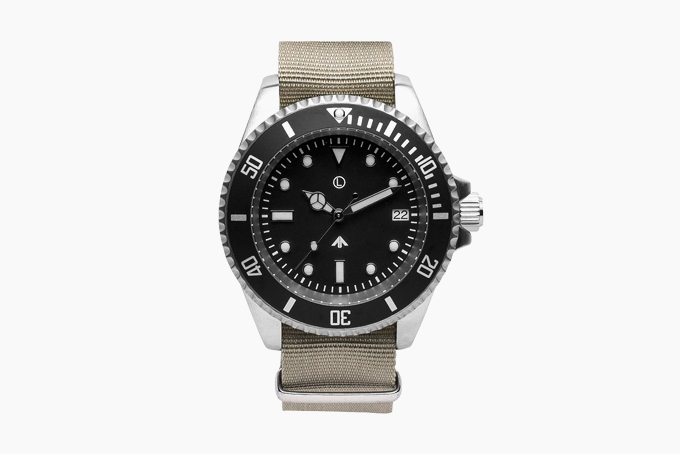 >MWC Submariner Military Dive Watch
As is the case with many of MWC's offerings, the Submariner dive watch was originally built to meet rigorous mil-spec standards — with the intention of field usage. Luckily, the brand also had the wherewithal to make some for civilian customers. That means, if you pick one up, you get a sturdy stainless steel case, a self-winding automatic movement, 300m of water resistance, a screw-down crown, a duo of NATO strap options, and timeless styling.
Case: 416L Stainless Steel
Movement: Automatic
Depth: 300m
Seiko Prospex Black Ion Automatic Dive Watch
As you probably already know, we're very fond of all-black-everything. But Seiko's Prospex Black Ion dive watch has us thinking that maybe black with a splash of gold is even better. This absurdly-stylish watch also benefits from a dive timer bezel, silicone strap, an automatic movement, 200m of water resistance, a date window, and a uniquely textured dial — amongst a slew of other things.
Case: Stainless Steel
Movement: Calibre 4R35 Automatic
Depth: 200m
Victorinox Swiss Army I.N.O.X. Professional Diver Watch
A member of Victorinox's noteworthy lineup of Swiss Army watches, this entry in their I.N.O.X. lineup is both affordable and unmistakably stylish. It can also handle depths of up to 200m, has a reliable Swiss quartz movement to keep it ticking right on time, a rubber strap to match its striking dial, and anti-magnetic housing to ensure the movement isn't affected by the Earth's ambient field. This is also one of the few watches on this list that's available in a wide variety of colorways, so you can match it to your own personal style.
Case: Stainless Steel
Movement: Quartz
Depth: 200m
Tissot Seastar 1000 Automatic Dive Watch
A classically-styled and handsome dive watch if there ever was one, the Tissot Seastar 1000 is so beautiful you might not want to ever take it into the water. However, if you do, you can be sure it will keep right on ticking, as it is water-resistant down to 300m below the surface of the ocean. It also has a stainless steel case, a striking blue dial with a rotating dive timer bezel to match, a steel link band, and a Swiss automatic movement to keep it ticking for decades and decades.
Case: Stainless Steel
Movement: Tissot Calibre Powermatic 80 Automatic
Depth: 300m
Luminox Navy SEAL Chronograph Watch
In case you're wondering, yes, the Luminox watch you see here was actually made for Navy SEALs — but it's also available for civilian purchase. And that means you can wrap this ultra-tough, blacked-out timepiece around your wrist with its CARBONOX case, Swiss Ronda movement, 200m water-resistance rating, scratch-resistant mineral crystal, black rubber strap, and more. If you want a dive watch built for the best waterborne soldiers in the world, this is it.
Case: CARBONOX
Movement: Ronda 5030.D HH1 Quartz
Depth: 200m
Seiko Prospex Sumo SRP777 Dive Watch
The tonneau-shaped 'Sumo' dive watch from Seiko is one of the most iconic and sought-after in the brand's lineup. It also happens to fit in under the $500 limit of our list, which is very good news for anyone in the search for a stylish and useful diver. It's also got an automatic movement, date window, luminous markings, a screw-down crown, and more.
Case: Stainless Steel
Movement: Calibre 4R36 Automatic
Depth: 200m
Casio G-Shock Frogman Dive Watch
Ostensibly, the G-Shock lineup doesn't really mesh with the rest of the dive watch world due to its odd-yet-iconic styling. But that doesn't really matter, especially when you consider the merits of their impressive Frogman watch you see here. With 200m of water-resistance, anti-shock housing, a solar-powered movement, and a wealth of useful onboard sensors, you could argue that this is actually a good deal more useful than any of the others on this list. And while it might not be suitable for a formal occasion, that's not really what this is about. This is an unbelievably impressive actual dive watch, whether you like it or not.
Case: Resin
Movement: Solar
Depth: 200m
How To Read A Watch Bezel
One of the most important parts of a dive watch, at least for the practice of actual diving, is the timer bezel. But it won't do you any good if you don't know how it works. Learn all about it on our guide covering how to read a watch bezel.