Every man should have at least one watch in his repertoire — more if he's serious about stylishness and looking put-together. And while there are a lot of different categories of wearable timekeepers — ranging from field watches, to racing watches, to outdoor smartwatches, and so much more — the dive watch might just be the number one must-have in our humble opinion.
Of course, the greater dive watch category is as vast in its options and price range as the oceans themselves. And that can make it extremely hard not just to narrow down your options, but to even determine which of those available are actually worth your hard-earned cash. That's where we come in. We've scoured the market to pare down a list of the 15 best dive watches you can get for under $2,000. For fashion or function, these are all worthy of being worn, wound, and passed down to future generations.
What To Look For
Choosing A Dive Watch
Whether you just want a sturdy and reliable timekeeper with a unique story or you actually plan to take your watch beneath the surface of the ocean, there is always a litany of factors to keep in mind. A lot of them are crossover metrics that apply to just about any watch purchase, but there are a few things you'll want to watch for to make sure the dive watch you choose is legitimate and not just something called a "diver" without any actual merit. We've outlined the basics below to help aid you in your search.
ATM/Water-Resistance: A dive watch, by definition, should be able to survive being submerged to a significant depth. As such, this is probably the most important factor to watch for when choosing yours. There are a few different ways this water-resistance factor is outlined: ATM (short for Atmospheres and measures up at roughly 10 meters per ATM), meters, and feet. It's fairly easy to convert these stats and it's a good idea to stay away from anything less than 10ATM, 100m, or 330 feet.
Movement: This is the device that directly translates to your watch's timekeeping ability and functional longevity. There are several different types — each with their benefits and drawbacks — that most-commonly include quartz (battery powered), automatic (requires no winding), solar (automatic powered by light), kinetic (automatic powered by movement), and digital (smartwatches). It's hard to say if there's a top contender, but you should at least be aware of what you're purchasing, both because it will determine how long your watch can go before needing a battery replacement or charging, and also because it can have greater implications about the dependability and accuracy of your timekeeper — with the higher-end options being more accurate and reliable.
Materials: Obviously, this is a factor that should be considered regardless of which style of watch you intend to purchase. And while there are a lot of options — with stainless steel cases being the most popular — it comes down to two major things: personal preference and price range. Things like stainless steel (for cases and bands) and nylon, silicone, or rubber (for bands) are very common and relatively inexpensive. More premium materials, like titanium or ceramic, are going to be more expensive but also come with added bonuses, like greater durability or lighter weight. Weigh the benefits and drawbacks when making your choice and you should do just fine in choosing your next dive watch.
Jack Mason D101 Diver Watch
With its contrasting stainless steel case (and matching link band) and black dive-timer bezel and watch face, this watch has looks that elevate it well-above its weight class. But it's one of the more budget-friendly options out there that still manages to be reliable and tough enough to go toe-to-toe with the rest of them. It also boasts a Japanese quartz movement, Super Luminova markings on the dial, a water-resistance rating of 300 meters, and comes with a 10-year limited warranty against defects.
Case Material: Stainless Steel
Movement Type: Quartz
Water-Resistance: 300m
MWC Kampfschwimmer Dive Watch
Specifically built to be wrapped around the wrists of law enforcers and military personnel working in extreme environments, the MWC Kampfschwimmer dive watch is exactly as tough as it looks. But if aesthetics aren't something you trust outright, the specs will certainly convince you. They include a 24-jewel automatic movement (meaning you'll never need to wind it or replace the battery), a PVD-coated stainless steel case, a comfortable and durable NATO nylon band, and 300 meters of water-resistance. This truly is one of the best ultra-durable, budget-friendly, mil-spec automatic diver watches available.
Case Material: PVD-Coated Stainless Steel
Movement Type: Automatic
Water-Resistance: 300m
Casio G-Shock GWF1000 Frogman Watch
Ask anyone in the watch world about Casio's G-Shock Frogman and you're likely to hear just how legendary this timepiece is — even from folks who aren't fond of Casio's bulky, shock-resistant sub-brand. One of the most durable watches on the planet, this thing can take bumps, drops, and will even keep ticking after taking a 200m dip. It also functions on solar power, so you don't have to worry about swapping in batteries, and has a wealth of other handy outdoor-focused functions — which range from 6-band atomic timekeeping, to a moon phase calendar, to information on tides, and so much more.
Case Material: Stainless Steel
Movement Type: Solar
Water-Resistance: 200m
Seiko Prospex Padi Diver Watch
Seiko, the famed Japanese watch brand, actually has quite a number of superb dive watches in their catalog across a range of budgets. One of our all-time favorites, however, is this limited-edition Prospex Padi diver — with its unique enveloping case, unidirectional dive timer bezel, deep-set ocean-blue dial, and sturdy silicone band. What's also intriguing about this offering is that it features a kinetic automatic movement, which means you don't have to wind it or swap in batteries. Rather, it acquires energy from the movement of the user to wind its movement. So, as long as you're relatively active, this watch will never stop ticking.
Case Material: Stainless Steel
Movement Type: Kinetic
Water-Resistance: 200m
Citizen Eco-Drive Promaster Depth Meter
While a lot of dive watches are fairly simple and focused timekeepers with little in the way of extras — with the exception of dive timer bezels — there's no actual rule that dictates how basic they must be. Take the Citizen Eco-Drive Promaster Depth Meter chronograph, for instance. It's still a true dive watch with a 200m water-resistance rating but it also boasts a wealth of other functionality built right in. That includes a date window, a trio of sub-dials, and even a depth meter (a handy addition for those hoping to actually take it underwater). And that's in conjunction with its stainless steel case, silicone band, and solar-powered movement.
Case Material: Stainless Steel
Movement Type: Solar
Water-Resistance: 200m
Victorinox Swiss Army 241429 Dive Master
Usually, dive watches boast a water-resistance of somewhere between 100-200 meters. But there are a few that buck the trend and offer a bit more, like the Victorinox Swiss Army Dive Master. With a whopping 500 meters of water resistance, there are few divers in the world who wouldn't be satisfied with how tough this one is for actual underwater exploration. And that's just one of the great bits about it. It also features a PVD-coated case and matching band, an anti-reflective and scratch-resistant sapphire crystal, a unidirectional rotating bezel, and handy 24-hour markings for anyone who prefers military time. It does, however, come with a quartz movement — which is accurate but does require a battery swap every couple of years.
Case Material: Stainless Steel
Movement Type: Quartz
Water-Resistance: 500m
Alsta Nautoscaph III Dive Watch
Alsta's Nautoscaph II dive watch is legendary, not just for being a great watch but also because it's the one worn by Richard Dreyfuss in the movie Jaws. The Nautoscaph III was built to almost the exact same specifications. The only difference: this one has a black PVD coating to up the durability even further. That also means it has a stainless steel case, Seiko NH35A automatic self-winding 24-jewel movement, screw-in crown, Super Luminova dial markings for easy reading in any light conditions, shock- and magnetic-resistance, a hardened mineral crystal, and a waterproof rating of 300 meters. It's a fresh take on an iconic timepiece and it's well-suited both to actual diving activities and more formal occasions.
Case Material: PVD-Coated Stainless Steel
Movement Type: Automatic
Water-Resistance: 300m
Garmin Descent MK1 Dive Smartwatch
Generally, when people think of dive watches, they don't think of smartwatches. That's because most smartwatches can't handle more than just a splash or two of water. Garmin, however, built a fully-featured smartwatch that was specifically made to go underwater. Granted it can't go as deep as some of the analog options on our list, but 100 meters is definitely nothing to scoff at. Especially when you consider that comes along with a full-color touchscreen display, GPS/GLONASS functionality and topographic mapping, a hardcore comprehensive dive log that can store info on up to 200 dives, a bevy of sensors (compass, gyroscope, barometer, etc.), and even activity tracking for fitness purposes. It even has a battery life that can last for up to 19 days straight.
Case Material: Fiber-Reinforced Polymer With Stainless Steel Or Titanium
Movement Type: Digital
Water-Resistance: 100m
Oris Aquis Date Diver Watch
Mating a gorgeous appearance with top-notch functionality, the Oris Aquis Date Diver Watch is a stunner with plenty to offer outside of its looks. Clean enough to be worn with a suit and tie, this bad boy can still handle depths of up to 300 meters — thanks to its stainless steel case, screw-down crown, and black rubber strap. It's also powered by a Swiss automatic movement that's got a 38-hour power reserve. And it comes with a push-button buckle for quick removal — even in a dry suit. If you're looking for simplicity and elegance, but not as a sacrifice for functionality and toughness, this is the dive watch for you.
Case Material: Stainless Steel
Movement Type: Automatic
Water-Resistance: 300m
Ball Engineer Master II Diver TMT
Back in 2006, French freediver and Ball spokesman, Guillaume Néry, set a world record free dive of a mind-boggling 109 meters. To celebrate that magnificent achievement, the brand built a commemorative watch equal in its magnificence to Néry's achievement. This is that watch. Limited to just 2,006 examples, this diver boasts an ultra-tough, lightweight, DLC-coated titanium case capable of handling depths of up to 300 meters — meaning it can be used for scuba as well as free diving. It can also handle and measure extreme temperatures from as low as -30 to 110-degrees Fahrenheit.
Case Material: DLC-Coated Titanium
Movement Type: Automatic
Water-Resistance: 300m
Hamilton Belowzero 2826 Auto Watch
If 'all-black everything' is your style guide of choice, then you'll not find a better dive watch to add to your wardrobe than the Hamilton BeLOWZERO Auto 2826 you see before you. Done up in multiple shades of black — just different enough for you to still be able to tell the time at a glance — this strikingly-stealthy timepiece is as sinister as they come. Of course, it's far more than just looks, as well. In fact, it features one of the best water-resistances of all the other options on our list — boasting a possible depth of up to 1,000 meters and a helium release valve. Mate that to a convex crystal, a durable rubber strap, and a screw-down crown and this is one of the best watches for real divers available.
Case Material: PVD-Coated Stainless Steel
Movement Type: Automatic
Water-Resistance: 1,000m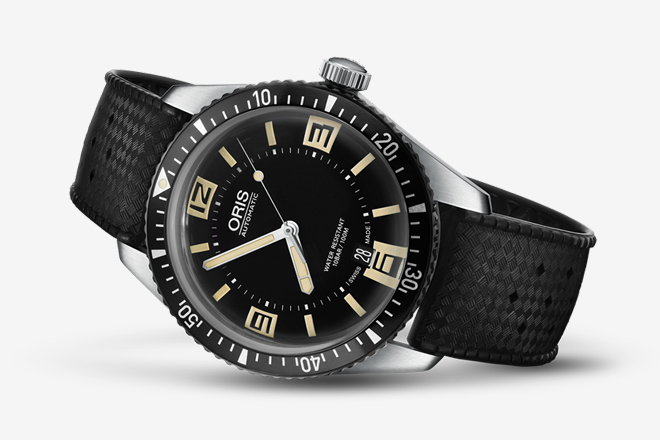 Oris Divers Sixty-Five Watch
With their spot-on styling and utterly reliable timekeeping movements, it's no wonder Oris is such a huge name in the horological world. And there is no watch more iconic in their catalog than their Divers Sixty-Five watch. And, wouldn't you know it, you can pick one up for under $2,000. This particular example boasts a corrosion-resistant stainless steel case mated to a vintage-inspired convex sapphire crystal. It's also powered by a Swiss-made automatic movement for the utmost in reliability, water-resistant to 100 meters for light underwater activities, and it's equipped with a uniquely-styled rubber strap that's as handsome as it is durable.
Case Material: Stainless Steel
Movement Type: Automatic
Water-Resistance: 100m
DOXA Sub 1200T Professional Dive Watch
While not a household name in the same vein as Oris or Omega, DOXA is a huge favorite of the fanatics in the horological world. We'd probably call them one of the best-kept secrets in timekeeping. Which is why we're so excited to share their gorgeous Sub 1200T Professional Dive Watch. With its striking contrast of a stainless steel case and band with a bright orange dial and bezel markings, this is an eye-catcher to be sure. But it's also definitely a capable accessory, with a depth rating of a monstrous 1,200 meters, a unidirectional rotating dive timer bezel, and a Swiss-made self-winding automatic movement. If you're seeking the ultimate brand-new sub-$2k diver watch, this might just be your stop.
Case Material: Stainless Steel
Movement Type: Automatic
Water-Resistance: 1,200m
TAG Heuer Aquaracer Chronograph Watch
Another iconic offering from an iconic brand, TAG Heuer's Aquaracer chronograph watch is a brilliant blend of stylishness and capability. From its stainless steel case and link band to its black dial with a contrasting trio of sub-dials, this wrist-mounted timekeeper is certain to induce more than a few second glances. But it's also scuba-ready for a depth of up to 300 meters for two hours straight. It boasts a handy dive-timer bezel, all the normal chronograph functions, and has a discreet date window between the four- and five-hour markers. If you want a horological icon that looks good in a suit — both tailored and wet varieties — this is the one for you.
Case Material: Stainless Steel
Movement Type: Quartz
Water-Resistance: 300m
Omega Seamaster Dive Watch
When it comes to dive watches, there are two iconic options that reign over the rest: the Rolex Submariner and the Omega Seamaster. Of course, you'll never find a working Submariner for under $2,000. Thankfully, the same can't be said for the Omega Seamaster. Obviously, the entry price for a brand-new one is well over the 2k mark, but (if you know where to look), there are used options out there that are more than serviceable. This one, for instance, features a stainless steel case and link band that contrasts beautifully with its bright red dial. It features a reliable and accurate automatic movement that's good for depths up to 300 meters. For a horological icon as historically significant as this one, $2,000 is a more than reasonable enough price.
Case Material: Stainless Steel
Movement Type: Automatic
Water-Resistance: 300m
How To Read A Watch Bezel
One of the most important features of a dive watch is its rotating timer bezel. Of course, it won't do you much good if you don't know how to use it. Learn everything you need to know on our guide on how to read a watch bezel.