Adventuring in the great outdoors can take a lot out of a person, which is why we like to try and set aside some well-deserved relaxation time, as well. And while you could certainly pin open your camping tent's door and lay in your sleeping bag, you might find it much more soothing to rock back and forth, enjoying the open air in an above-ground camping hammock.
There are numerous benefits to using a hammock on your camping adventures, including the fact that you're less likely to find bugs crawling up your leg, you don't have to worry about uneven ground or rocks underneath you, and more. To ensure that you've got the proper rig for your above-ground relaxation station, we've put together the following list of the ten best camping hammocks.
ENO SingleNest Hammock
With the ability to collapse down to about the size of a softball, ENO's SingleNest Hammock is one of the most convenient and packable camping accessories around. From its stretchy high-strength nylon to its included integrated stuff sack and everything in-between, this easy-to-setup relaxation station is as reliable as it is straightforward. Yet, despite its simplicity, it still has an impressive 400-pound capacity.
Material: 40D Nylon Taffeta
Max Weight: 400lbs
Max Occupants: 1
Therm-a-Rest Slacker Double Hammock
Sometimes, swinging the day away in the great outdoors is better with a companion. As such, Therm-a-Rest's Slacker Double Hammock was designed specifically to fit two bodies within it. It's also built from a soft and breathable polyester, which the brand claims is far more comfortable than nylon. This option can also haul up to 400-pounds, which is handy if you're going to have someone joining you inside it.
Material: Ripstop Polyester
Max Weight: 400lbs
Max Occupants: 2
Kammok Roo Single Ultralight Hammock
It could be argued that a hammock is not an essential piece of the gear when you're out on the trails. As such, getting one that doesn't weigh much and takes up very little room can be of the utmost importance. Enter the Kammok Roo Single Ultralight Hammock. This camping accessory weighs a paltry 5.6 ounces in total, collapses down into a "pocket-sized" integrated pouch, has a water-resistant DWR coating, and it's covered by a lifetime warranty.
Material: 20D Ripstop Nylon
Max Weight: 300lbs
Max Occupants: 1
Sea To Summit Ultralight Hammock
The fact that the Sea To Summit Ultralight Hammock looks like a banana is more than just a cute design choice. You see, the stem of the banana is actually the integrated siliconized Cordura stuff sack that the hammock collapses down into between uses. Furthermore, this accessory weighs just 7.7 ounces, is constructed from a highly-breathable moisture-wicking fabric, and can hold up to 300 pounds courtesy of included heavy-duty buckles and suspension straps.
Material: 20D Monofilament Nylon
Max Weight: 300lbs
Max Occupants: 1
Dutchware Chameleon Hammock
As far as camping hammocks go, there are actually quite a few spectacular options available on the market. However, the Dutchware Chameleon sets itself apart courtesy of a huge number of customization options. In fact, this hammock — with options that include color, materials, an optional secondary outer layer, bugnet, suspension, and more — might be the most customizable available anywhere. Of course, that is only bolstered by its overall quality.
Material: Varying
Max Weight: 200-400+lbs
Max Occupants: 1
ENO SkyLite Hammock
For the most part, hammocks trend toward minimalism — offering little more than a sack with some tree ties. If most hammocks are your basic daily driver sedan, then the ENO SkyLite Hammock is more like a supercar. Complete with ultralight DAC spreader bars, a 7-foot long ripstop construction, an integrated bugnet with a complete zippered closure, and a 250-pound weight limit, this spectacular hammock is made for the utmost in comfort and relaxation. Not to mention, 1% of sales of this particular option goes to environmental nonprofits.
Material: 40D NewWave Nylon
Max Weight: 250lbs
Max Occupants: 1
Mock ONE Folding Standing Hammock
The biggest drawback to most hammocks — be they for camping, backyard use, or otherwise — is that they require big, strong things to support them — like tree trunks. However, when that's not an option, there's the Mock ONE Folding Standing Hammock. In total, this standalone hammock weighs just 15 pounds, comes with its own four-legged support frame that eliminates the need for tethers, and it even has its own integrated shade to keep the bright sun out of your eyes while you take that afternoon snooze.
Material: 210T Parachute Nylon
Max Weight: 250lbs
Max Occupants: 1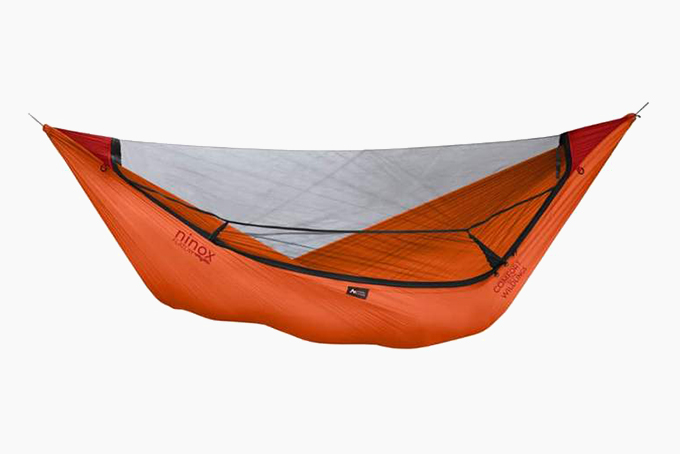 Sierra Madre Ninox Flat-Lay Hammock
As you may or may not know, the human spine doesn't normally curve like a bow. However, most hammocks force the user's spine into a curved, potentially uncomfortable and perhaps even damaging shape — at least over long or frequent periods of use. The Sierra Madre Ninox Hammock does away with that issue thanks to some clever engineering that lets the user lay flat within it. That means, whether you prefer to lay on your back, side, or stomach, you can manage that with this exceptional camping hammock. It even comes with a removable insect shield for even more serenity and comfort at the campsite, at the park, in your backyard, or anywhere else.
Material: 30D Teslon3 & Teflon
Max Weight: 1,000+lbs
Max Occupants: 1+
Hennessy Hammock Explorer Deluxe XL
While many hammock manufacturers offer some kind of additional netting to keep away the bugs, fewer can stave off a bit of inclement weather. The Hennessey Hammock Explorer Deluxe XL is one of the few, as this one comes with its own waterproof rainfly. It's also built from rugged durable nylon, it can hold up to 300lbs without failing, and — with a 7ft length — it's comfortable for even taller users. And that's just a few of the many, many features that make this rugged camping hammock worth the money.
Material: 140D High-Density Nylon
Max Weight: 300lbs
Max Occupants: 1
Crua Hybrid Bivy Sack
It might seem a bit of a hassle to bring both a camping tent and a hammock on your adventures with you. However, you can do away with that issue by utilizing the Crua Hybrid Bivy Sack, which essentially combines the two into a hanging or on-ground shelter. Rated to as low as 21-degrees Fahrenheit and available as a package deal with a sleeping bag and sleeping pad, this flat-lay hammock-tent is waterproof, has dual zippered side openings for easy egress and/or breathability, and more. You don't need a backup plan when you put your trust in this all-in-one camping hammock tent.
Material: Polyester
Max Weight: 260lbs
Max Occupants: 1
The 12 Best Camping Tents
Most of these hammocks are good for an afternoon snooze, but when you clock out for the night you may want something with a bit more structure and protection from the elements. And you can find exactly what you're looking for on our list of the best camping tents.