Mankind has been cooking with charcoal for literally thousands of years, with evidence of the naturally occurring carbon-rich fuel source being utilized as far back as 200,000 BC, though it wouldn't be until the late 1800s that the first charcoal briquette was patented. Despite more than a century passing since then—during which time the gas grill was introduced—charcoal very much remains the go-to choice for those who are serious about their barbecue.
While traditionally charcoal grills have been divided into recreational and industrial units, in recent years this line has been increasingly blurred, as the market is treated to more and more high-end and high-performance grills. And though this does mean a competitive and diverse market, it also means buying a charcoal grill requires poring through hundreds of different available styles and models. To help you get a solid grasp on this space and better understand what distinguishes the various available offerings, we've cooked up this guide to the best charcoal grills.
Breaking Down The Segment
The Four Main Types Of Charcoal Grills
There are grills that fall into more specialized and/or niche categories, though charcoal grills are generally divided into four primary groups.
Kettle Charcoal Grill: When most of us think of "charcoal grills," this is what comes to mind. Kettle grills are the classic dome-on-legs design and offer solid performance and an exceedingly reasonable price. This style of grill is typically lacking in bells and whistles but presents a great entry-level option for those looking to get into grilling.
Ceramic Grills: Also known as "Kamado grills," these grills benefit from ceramic construction that helps to recycle heat and moisture. Capable of operating at very high temperatures, these grills are enormously versatile and tend to boast robust, durable construction.
Barrel Grills: As the name suggests, these grills consist of a hinged barrel set on its side. Often resembling some gas grill models, this style of grill offers ample amounts of cooking space and is a fantastic option for smoking meats. These items tend to be extremely rugged and well-built, and are frequently backed by generous factory warranties.
Portable Grills: While this style of grill can hugely vary in design, these are compact grills that have been designed for mobile use, be it when camping, tailgating, or just spending a day at the beach or park. These models tend to be extremely lightweight and offer the bare essentials needed for off-grid grilling.
Taste & Tactics
The Main Benefits Of Charcoal Grilling
Though they may require a bit more setup time and a better overall understanding of grilling, charcoal grills offer a host of objective benefits over their gas-powered counterparts.
Higher Heats: Unlike gas grills, which have built-in maximum heat outputs, charcoal grills can reach markedly higher cooking temperatures, with the ability to adjust airflow (and/or simply add more charcoal/fuel) to bring the heat up.
Versatility: While charcoal grills are capable of operating at higher temperatures, they also have the ability to be utilized in a more versatile manner thanks to the use of direct or indirect heat. By setting up the coals on one side of a grill, one can simultaneously cook with direct and indirect heat, allowing for a single grill that can smoke, grill, sear, or roast. Hell, you can even use a charcoal grill to bake cookies if you're so inclined.
Flavor, Flavor, & Flavor: Flavor is one of, if not the biggest upsides to using a charcoal grill. Charcoal fuel emits smoke that adds a distinct taste to proteins. Furthermore, when grilling under direct heat, the drippings from the meat will trickle down onto the hot charcoal, vaporizing and returning to its source, bestowing steaks and other cuts with incredibly rich flavor. This plays an enormous role in delivering the unique taste afforded by charcoal grills.
Dual Zone Cooking: By building up the charcoal on one side of the grill, you're able to cook using direct or indirect heat at the same time, offering delicious slow-cooked meats with the option of a seared and or caramelized finish.
Juicer Cuts: Some of the more high-end gas grills feature infrared burners, which have the enormous benefit of sealing moisture into meats as they cook. Charcoal grills on the other hand produce infrared heat organically, offering this same benefit, without the exorbitant price tag. This direct infrared charcoal cooking yields mouthwatering meats that exhibit better moisture retention by as much as 35% when compared to other methods of cooking and/or heat transfer.
Supplementary Flavor: Charcoal grills also make it a breeze to add wood for further flavoring, be it mesquite, maple, hickory, or oak. And, while a smoker box makes this process easier, the reality is that you can toss wood chunks directly onto the hot coals
Different charcoal types: There are also numerous kinds of charcoal fuel available, each with its own unique traits, strengths and weaknesses, and flavor profile. On top of the more common classic charcoal briquettes and natural lump charcoal (also known as "charwood"), there are also premium charcoal fuel sources such as Japanese-style Binchotan and coconut shell charcoal, just to name a few.
Richer Flavor, Lighter Price:
There are premium charcoal grills that carry steep MSRPs, though generally speaking, charcoal grills tend to be substantially more affordable than their gas or pellet-powered counterparts. Without any valves, regulators, or burners, charcoal grills are cheaper to the manufacturer, ultimately making them cheaper to purchase. Fewer components also mean fewer parts that can break or need replacing.
Pride, Tradition, & Accomplishment: While gas grills admittedly offer much shorter setup and wait times, the ease of use and overall convenience of natural gas and propane-powered units tend to take away from the unique sense of pride, tradition, and accomplishment that comes from cooking on a charcoal grill. This mainly stems from charcoal grilling is more of a precise "art" than gas grilling, requiring specific knowledge and understanding to slowly perfect over time.
Smoke & Mirrors
What To Look For When Buying A Charcoal Grill
There's an enormous number of factors separating all of the different styles and models of charcoal grills on the market, however, there are a few key areas to consider that should help you better hone in on the grill that's best for your particular needs.
Intended Application: This area should be determined by what type of grilling you plan on doing. If you have aspirations of slow-cooking ribs and searing steaks, then you'll probably want to opt for a more high-performance model that offers a decent amount of versatility, though if you're only planning on grilling a few burgers and hot dogs every couple weeks, your average kettle-style grid should suffice.
Style: Using your intended use as a jumping-off point, you'll want to consider your grilling aspirations, before deciding which style of grill best lends itself to your specific wants and needs.
Extra Features: Compared to gas grills, charcoal grills—even of the premium and top-shelf varieties—are seldom outfitted with many bells and whistles. So, while you'll seldom find smartphone connectivity or integrated LED lighting, there are charcoal grills with smoker trays, adjustable racks, and other add-ons that afford them superior performance, versatility, and/or ease of use.
Appearance & Design: Gone are the days of the charcoal grilling space being limited to the simple barrel and kettle-style units, with today's market now boasting a wide array of grills hugely differing in industrial and aesthetic design. From the more traditional charcoal grills to contemporary items designed to blend into modern home decor, the increasingly diverse nature of this product space makes aesthetics a factor well worth taking into account.
Cooking Space: Ultimately translating to the square-footage (or inches) of available space on the grill/grates, this factor tells you grills cooking capacity. Many companies will also supplement this spec with a number of burgers or steaks that a grill can accommodate. Furthermore, a larger cooking space also affords a grill increased versatility, as more real estate also means a more effective dual-zone cooking environment.
Construction: Like any other appliance or piece of gear, the quality of the construction and materials used play a pivotal role in overall quality and durability. For the more entry-level models, this area is of less significance, though when investing a decent amount in a grill, you'll want to go with a model that will stand the test of time. Metal types and thicknesses are important to keep an eye on, as is the construction of smaller elements such as hinges, drawers, legs, or vents.
Mobility: Charcoal grills offer varying degrees of mobility, from units that can be wheeled a few feet around a patio, to models designed and engineered to be taken on the road. Though this area largely circles back to the intended use, you'll want to ask yourself where you plan on doing the lion's share of your grilling in order to factor in this element.
Weber 121020 Go-Anywhere Charcoal Grill
Weber's aptly-named Go-Anywhere grill is a solid, minimalistic charcoal unit that boasts surprisingly robust construction considering its sub-$60 price-point. Offering 160-square-inches of cooking space–or roughly six burgers–this grill—the Go-Anywhere is constructed from cast-iron steel coated in porcelain enamel and features a heavy-gauge steel charcoal grate and a plated steel cooking grate. At 14.5lbs, it isn't very conducive to carrying on foot, that its plated steel legs do fold up, which makes it easier to travel with, as does this model's locking lid.
Snow Peak Takibi Fire & Grill
Snow Peak's Takibi Fire & Grill is an incredibly versatile and compact item that breaks down to a 22" x 25" x 6" form that can be assembled or disassembled in around a minute. Made from heavy-duty stainless steel, the grill features an adjustable cooking grate with three heights and can double as a fire pit. In addition to a carrying case, the grill is also sold with an included baseplate that affords extra stability while cooking in the dirt and mitigates the likelihood of hot embers finding their way onto the ground.
Ikea ÄPPLARÖ / KLASEN
Part of Ikea's ÄPPLARÖ collection, this grill is a fantastic option for more style-conscious consumers that aren't looking to spend a fortune on a "designer grill." Alongside the stainless steel barrel-style grill itself, this unit is neatly integrated into a VARDA-stained wooden cart with a modular storage cabinet and shelf, and a prep table lined with stainless steel. Ikea also produces a full line of ÄPPLARÖ outdoor furniture that matches the grill and can be had for an equally accessible price, as well as the same grill with different cart setups.
Hasty-Bake Legacy Black Powder Coated Charcoal Grill
Hasty-Bake's Legacy grill has gone largely unchanged since its introduction in 1948, with the American-made charcoal units very much falling into the category of "don't fix what isn't broken." Manufactured in Tulsa, Oklahoma, this grill is outfitted with adjustable nickel-plated cooking grids, inside and an 18 gauge powder coated hood and base. While it does come in at a little over a grand, this is a grill that's engineered and constructed to last a lifetime (and then some). And, just like the motto says, this product "grills, bakes, and smokes."
Napoleon Charcoal Professional
Inspired by premium gas grill setups, Napoleon's Charcoal Professional grill is a high-end appliance designed to make charcoal cooking as easy as possible. Backed by a generous 15-year warranty, the grill features an adjustable charcoal bed with half-a-dozen settings and a myriad of adjustable air vents that allow the grill's temperature to be tweaked and regulated. Despite its heavy-duty construction, the grill's LIFT-EASE roll-top lid bares the vast majority of the weight of the hood when opened. Other highlights on this model include the brand's WAVE cooking grids, and a special charcoal basket provides heat for a rotisserie.
Weber Summit 24-Inch Charcoal BBQ Grill
Weber's Summit lineup is what the brand describes as an evolved take on the classic kettle-style grill. Offering 452 square inches of total cooking space, the charcoal cooking area is supplemented via a single gas burner with a Snap-Jet ignition. Protected by a lengthy warranty, the grill is comprised of an air-insulated double-walled porcelain-enameled lid and bowl with a heavy-duty steel cart frame, a vent setting for "low and slow" smoking, a "Rapidfire" lid damper, an aluminum high-capacity ash catcher, a dual-position heavy-gauge steel charcoal grate, and a stainless steel hinged diffuser plate and one-touch cleaning system.
Arteflame Classic 40" Grill
A beautiful amalgamation of form and function, Arteflame's Classic model is a modern grill that also doubles as a backyard fire pit. Weighing around 500lbs when loaded with fuel, this American-made grill is constructed from of a spun bowl of US CORTEN (or "weathering") steel and features a laser-cut 1/2″ carbon steel cooktop. The circular 40" cooking space yields higher cooking temperatures towards the center, enabling it to offer what are essentially dual heat zones. The grill is also designed to be left outside year-round, where its cylindrical body can further oxidize and continue to form a patina over time.
Everdure By Heston Blumenthal HUB 54-Inch Charcoal Grill
Charcoal grills really don't get modern than Heston Blumenthal's HUB series grill, which offers the convenience of a gas grill, with the rich flavor of a charcoal unit. Looking like something penned by Porsche's design team, the grill features a double-doored storage area and a patented, pop-up, three-height "Rotiscope" rotisserie that can support up to 85lbs. Powered by a 59" retractable cable, the grill hides a "Fast Flame" ignition that can bring charcoal and wood up to cooking temperatures in approximately ten-minutes. Built to last, the HUB series is made from powder-coated steel and has a chrome-hinged grill grate.
Primo Oval XL400
An American-made take on a Japanese-style grill, Primo Oval's XL 400 is a premium Kamado grill that's made from a special "SuperCeramic" that allows for bolstered heat, moisture, and flavor retention, and is coated in a protective, lead-free, and scratch-resistant porcelain glaze. Made in America, the grill rides on four heavy-duty caster wheels and boasts a powder-coated steel cart with side shelves constructed from marine-grade high-density polyethylene. Between the rack system and regular top grilling grate, the XL 400 offers a collective 680 square-inches of real estate for cooking.
Cajun Grill Preaux 36-Inch Stainless Steel Charcoal Grill
Cajun Grill's Preaux model can be described as a more top-shelf take on models like Hasty-Bake's Legacy. The Preaux is made entirely from heavy-gauge 304 stainless steel and is outfitted with a slew of adjustable vents and dual 12-gauge independent adjustable charcoal baskets, allowing for multiple heat zones. Premium through and through, even the minor components on the grill are made from top-notch materials, such as a 304 stainless steel full-width, pull-out ash catcher, seven-position control arms, and swivel air vents. Unsurprisingly, this grill also gets a lifetime warranty.
Kalamazoo Shokunin Kamado Grill
If ever there was a company that viewed grill design and manufacturer as an art form, it's Kalamazoo. The Chicago-based company builds insanely elite grills with world-class performance and equally enticing outward industrial designs, as thoroughly evidenced by its Shokunin model. An exclusive interpretation of a Japanese Kamado grill, the American-built Shokunin is comprised of a beautifully hand-crafted Brazilian walnut base, and a 304 stainless steel cook tower—also offered in a marine-grade-spec—with a full two-inches of insulation, allowing 12lbs of charcoal to maintain temperatures of 225-degrees for almost three-days, while the outside of the grill stays largely cool to the touch.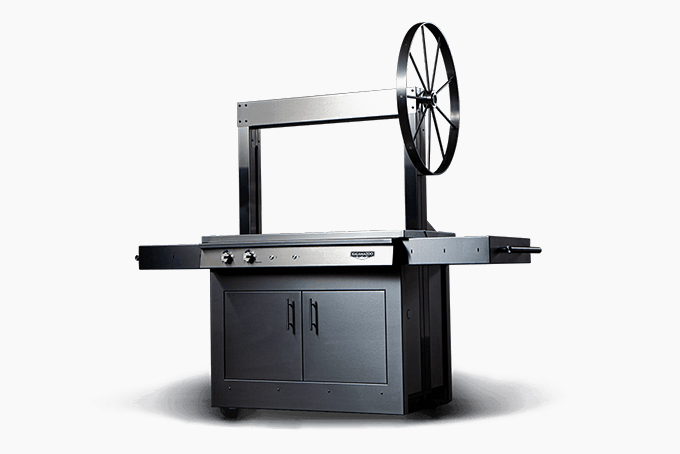 Kalamazoo Gaucho Grill
Named after the Argentinian horsemen and ranchers that would traditionally cook meat over an open campfire, Gaucho models are a unique style of grill that offers an even more intimate cooking experience than regular charcoal units, requiring whoever is at the helm to build up, stoke, and maintain the fuel source throughout the duration of grilling. As you'd expect from Kalamazoo, the American brand has put its signature elite, artisan spin on the South American grill, delivering an insanely premium Gaucho. Constructed entirely from 304 stainless steel, the grill also packs an automatic rotisserie, ratchetless 30" height adjustment wheel, and heavy-duty cast bronze gas burners that ignite wood or charcoal in just five minutes.
The 10 Best Gas Grills
Not swayed by the benefits of charcoal cooking? Then be sure to check out our guide to the best gas grills for a look at some incredibly easy-to-use models that don't skimp on performance.