Glampers aside, roughing it typically means forgoing the majority of the creature comforts of our homes in favor of the bare necessities needed for survival. After all, unless you're driving directly to the site, you'll likely be carrying any and all supplies into camp on foot — meaning your loadout will be limited to items you can fit inside a backpack. And while this does mean having to make some sacrifices, a good night's sleep doesn't have to be one of them, as a slew of leading outdoor brands has recently been delivering some increasingly plush yet lightweight and packable sleeping bags, pads, and camp pillows.
Today, we'll be focusing on this latter group of off-grid bedding, exploring the various innovations bestowed upon the segment along with the new and different types of camp pillows that have been unveiled as of late. Now offering all the comfort of regular at-home pillows in rugged and wildly condensable forms — often the size of a standard Nalgene water bottle though at times as small as a 12oz can —camp pillows have more and more become a must-have staple for everyone from overlanders and car campers to long-distance backpackers and off-grid overnighters. In this guide to the best camp pillows, we'll be shining a lot on the latest and greatest items currently available, as well as what you should take into account when shopping.
Compactable Comfort
Understanding The Finer Points Of Camping Pillows
Because the camping pillows space has genuinely evolved at such a rapid rate, it helps to have an educated sense of what advancements have been made in recent years in order to obtain a better grasp of what to look for when in the market for a camp pillow. Below, we'll highlight some of the more pivotal elements you need to factor in before pulling the trigger on your purchase.
Pillow Types: Before diving headfirst into the nitty-gritty, you'll want to have a general grasp on the main types of camping pillows that currently exist. There are some unique outliers, but for the most part, the lion's share of camping pillows will fall into one of these three categories. The first kind is regular, traditional-style camp pillows that are essentially just more durable, downsized versions of the kind you'd find in your bed at home. The next — and most popular — type is inflatable camping pillows, which contain an internal bladder that can be inflated to fill up the pillow, not unlike a sleeping pad. The final type is stuff-sack-style items, which are more like rugged pillowcases that you can stuff with clothing and other soft goods to make a usable pillow. There are also hybrid pillows that are inflatable but still contain some additional fill or insulation.
Construction: Considering that you'll be pressing your face and head up against its exterior, you'll want to opt for a pillow with a durable yet soft-to-the-touch outside material. On top of the construction technique(s) used to piece the pillow together, you'll also want to look into the internal materials, liner materials, and the type of construction used for the air bladder (if you're looking at an inflatable camping pillow). Seeing as it plays a pivotal role in determining durability and comfort — two of the three most important elements of a camp pillow — it's hard to overstate how crucial exterior construction is to achieving a solid camp pillow.
Insulation: Especially when looking at camping pillows intended for use in colder climates, you'll find offerings that feature insulation that provides additional warmth as well as padding. On cheaper items, more traditional fills are employed such as cotton, though on some of the more premium camping pillows brands have utilized high-end name-brand insulation — the kind you'd regularly find in premium outdoor jackets.
Size, Weight, & Compressibility: Another massively important element to consider when shopping for a camping pillow is its size, weight, and compressibility. Alongside weight, there are two size factors to think about, with the first being the dimensions of the pillow when unstuffed or fully inflated, and the second being the size of the pillow when compressed down into its most compact form. To give a general idea, a camp pillow roughly equal in size to your at-home pillow should break down to the size of a water bottle.
Durability & Weatherproofness: Unlike your pillows at home, camping pillows have to be able to contend with the dirt, grime, and weather brought on by off-grid existence. As such, you'll want to opt for a comfortable yet rugged pillow that isn't susceptible to mold or mildew. On a similar note, you'll also want to check out the care process for any given pillow, as some are much easier to clean than others.
Comfort Kings
The 12 Best Camping Pillows Currently On The Market
Now that you're all caught up on the various types that exist and are all privy on what to be looking for, let's dive into our choices for the finest camping pillows that money can currently buy.
Best Camping Pillows Available
Marmot Strato Pillow
In a bid to minimize weight and bulk without compromising on comfort or support, Marmot designed its Strato camp pillow. Constructed from a combination of nylon and 20D embossed polyester using ultra-hardwearing RF welded seams, this pillow boasts a clever 3D ergonomic design with flex-baffle technology that uses the minimum material required to properly cradle its user's head and neck. Weighing just 1.41oz and capable of compressing down into a palm-sized (included) stuff-sack, the Strato also sports a fine-tune locking valve for easy and precise inflation.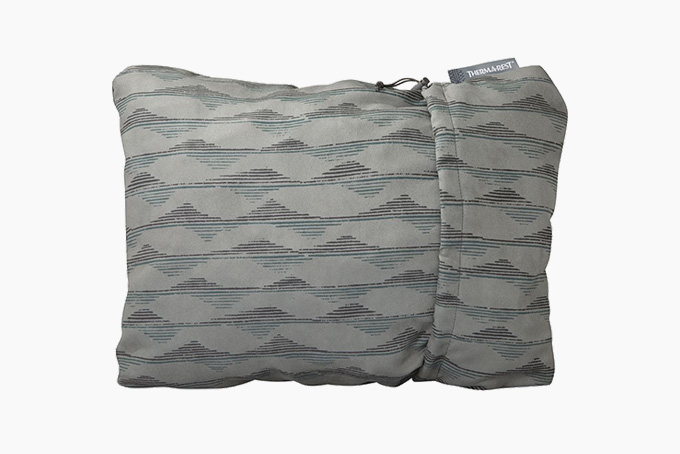 Therm-a-Rest Compressible Pillow
Anytime you're in the market for sleeping pads, camp pillows, or other off-grid bedding peripherals, it's always worth checking out the offerings from Therm-a-Rest, as the company offers quality gear at fair prices, as evidenced by items like its compressible pillow. Backed by a lifetime warranty and produced in half a dozen unique pattern options, this packable pillow features a soft pre-brushed polyester construction that conceals a lightweight urethane foam filling.
Cocoon Sleeping Bag Hood Pillow
Combining the best elements from regular and inflatable camping pillows, the Cocoon Sleeping Bag Hood Pillow utilizes an inflatable air core with a twist-valve that's encompassed by a soft synthetic polyester fill that allows users to adjustable support levels to their liking. Sold with an included stuff-sack this lightweight 3.8oz pillow features a removable, dual-sided washable cover with a hidden zipper that is equipped with a soft microfiber side and a rougher but more rugged micro-ripstop nylon on the opposite side. Shaped to fit inside the hood of a mummy bag, this pillow also boasts a unique baffle design that provides support and cradles its user's head.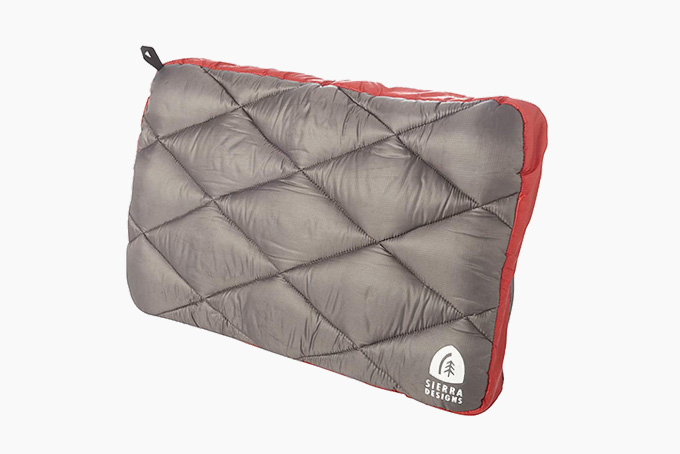 Sierra Designs DriDown Pillow
Sierra Designs makes a wide range of excellent, technically focused insulated outdoor gear, from jackets to camp slippers. And for this item, the company has applied this expertise to an advanced camping pillow design, delivering a lightweight and packable yet immensely comfortable two-in-one pillow with a triple-layer construction comprised of a 20D polyester ripstop exterior, a 20D taffeta liner, and a 2oz fill of 650FP Perfluorinated chemical-free Dridown insulation.
Rumpl Stuffable Pillowcase
This stuffable pillowcase from leading outdoor blanket brand, Rumpl saves on space and weight by using other clothing and soft goods as its cushioning when it comes time to hit the hay. Tipping the scales at just 0.2lbs, this 11" x 16" pillow-case — which breaks down to 4" x 6" when stowed in its included stuff-sack — features a dual-sided configuration with an ultra-soft 100% post-consumer recycled polar fleece on one side and ripstop polyester on the other, though both are treated to a DWR finish for added stain and water-resistance.
Klymit Luxe Pillow
If this item's plush diamond-quilted stitch pattern didn't already give it sway, its "Luxe" monicker should leave little doubt as to the thoroughly luxurious nature of this camp pillow. Outfitted with a machine-washable 40D knit construction nylon-poly blend cover with a 75D polyester lining, this inflatable pillow sports clever a self-centering "X design" to keep your noggin planted in place. Weighing just 6.2oz, this premium pillow is also protected by a lifetime warranty.
Hyperlite Mountain Gear Stuff Sack Pillow
Since its inception, Hyperlite has carved out a unique position for itself in the outdoor gear realm, building its reputation atop a host of insanely rugged yet lightweight hiking backpacks, tents, and other essentials crafted from cutting-edge Dyneema composite fabrics. For the American brand's Stuff Sack Pillow, it's applied its signature Dyneema construction to this style of a camp pillow, shaving off even more weight and making for what's almost certainly the best pillowcase-style camping pillow currently on the market. Made by hand in Maine and available in both small and large sizes, this Dyneema pillow also sports water-resistant #5 YKK zippers and a Polartec 100-weight fleece lining.
NEMO Fillo Elite Pillow
Building on its already impressive Fillo model, NEMO's Fillo Elite Pillow is an award-winning outdoor pillow that's big on comfort and sustainability while weighing in at just 3oz — making it one of, if not the lightest pillow on our list. Protected by NEMO's lifetime warranty, the Fillo Elite features an updated, more ergonomic valve design, an integrated stuff-sack, and a polyester jersey exterior (which is also offered in a solid gray color option in addition to the striped version seen above). Inside, this top-shelf pillow sports 100% post-consumer recycled PrimaLoft insulation and a 3" I-beam baffled air cell.
Exped Mega Pillow
At 6.5oz, Exped's aptly-named Mega Pillow may not be one of the lightest on our list, though it's without a doubt one of the most comfortable — and arguably the most similar to using an at-home pillow. Sold in red or green, the Mega Pillow employs a synthetic polyester tricot fabric exterior and synthetic insulation and features a low-profile "FlatValve" design with a custom-branded Exped valve pull, a trio of eyelets for securing to a sleeping bag, and an included stuff sack. The cover and air-core can also be separated for easy washing.
Big Agnes Q-Core Deluxe Pillow
Designed to seamlessly pair with Colorado company's sleeping bags, Big Agnes' Q-Core Deluxe Pillow is a premium item through and through. Utilizing a special offset I-beam construction to minimize weight without sacrificing comfort or stability, the Q-Core Deluxe is adorned with a tear and puncture-resistant four-way stretch nylon that's been bestowed with an antimicrobial treatment. In addition to boasting aviation-grade TPU lamination and built-in advanced heat reflective technology, this pillow also features a low-profile, single port, two-way valve, and an included stuff sack.
Sea to Summit Aeros Down Pillow
Sea to Summit's existing Aeros model already stood as one of the most popular and sought-after camp pillows, though the Australian outdoor brand has managed to take the product to new heights with a thoroughly plush down fill variant. Built atop a nonslip 20D fabric base, the Aeros Down Pillow has a nylon exterior, an ultralight, high-strength thermoplastic urethane bladder that's filled via a fine-tunable multifunction mini-valve and supplemented with RDS-certified down insulation. This pillow also sports a cushion-top design and a differentially-cut, horizontal baffle setup that hugely mitigates down migration, keeping fill and comfort consistent, even straight out of its included 20D stuff sack.
The Best Camping Blankets
Looking to further supplement and plush up your off-grid sleeping situation? Then be sure to check out our guide to the best camping blankets for more warm yet rugged extra layers to help fight off the cold.