Mar 21, 2022
Category: Gear
For most folks, camping is an opportunity to get away from it all, unwind, unplug, and relax. But just because you're getting away from the trials and tribulations of society, that doesn't mean you have to give up all of your creature comforts. In fact, if your whole point is to get some much-needed rest, there is plenty of modern, high-tech gear that can help make that more manageable.
From tent lighting to simple-to-use camp stoves and everything in-between, we've rounded up a suite of superb gizmos and doohickeys that are built to make your outdoor adventures more successful and enjoyable. For long-form, off-grid overlanders to quick weekend warriors, these are the 20 best camping gadgets you can buy.
LifeStraw Personal Water Filter
Even if you're just going away for a night, you should bring fresh, potable water along with all your gear. But in the case that something drastic happens, it's a superb idea to bring along the LifeStraw. This little gadget has the ability to filter out 99.999% of every contaminant from any water source — and it could mean the difference between a mild misfortune and certain doom.
Soto Pocket Torch
The ability to start and maintain a campfire is an extremely important skill, but it doesn't have to be as hard as rubbing two sticks together, especially if you've got a Soto Pocket Torch handy. This little device is fueled by a simple, disposable lighter, but can extend the life of that lighter by 60% and creates a several-thousand-degree windproof flame in the process. It's not a make-or-break piece of gear, but once you've used one you'll wonder how you went without it.
Sea to Summit Jet Stream Pump Sack
Like the Soto above, Sea to Summit's Jet Stream pump isn't a necessity, but it will make your life easier if you sleep on a blow-up mattress in your tent. That's because this accordion-like device takes the stress off your lungs and speeds up the inflation process to just a couple of minutes. It's also plenty tough for long-term usage and can collapse down for simple storage when not in use.
Black Diamond Spot Headlamp
A flashlight is undoubtedly a handy thing to have at the campsite, but normal ones require the use of one of your hands or, annoyingly, your teeth. Skip all that obnoxiousness by utilizing Black Diamond's Spot headlamp — a flashlight attached to an elastic strap that wraps around your cranium. It's IPX8 water-resistant, has enough power for up to 175 hours of use, and boasts an output of up to 300 lumens — which is plenty for normal campsite usage and even nighttime exploration.
Thermacell Armored Portable Mosquito Repeller
Depending on where your adventures take you, mosquitos can be a huge annoyance and can even pose serious threats to your health and well-being. The good news is, you don't have to slather on the bug repellant so long as you have Thermacell's Armored Portable Mosquito Repeller. This device creates a 15′ barrier that wards off the blood-sucking insects and lasts for an impressive 12 hours at a time. It doesn't smell, it won't leave you sticky, and it can slip into your pocket.
LuminAID PackLite Lantern
A site light is something that's often forgotten, but can make the difference between you fumbling around in the dark and being able to see your campsite even after the sun is down and your campfire is just embers. And the LuminAID PackLite is extra special because, along with an output of soft 300-lumen light, it can also collapse down for easier packing and has a hideaway 4,000mAh battery which you can use to charge your other gear, like your smartphone. It also weighs just 10 ounces, is waterproof and shatterproof, and can recharge with solar power.
Mr. Heater Propane Radiant Heater
Even in a packed tent, things can get pretty cold — especially in the colder months of the year. If you find yourself frequently camping in the fall or even winter, you'll probably want to haul around a heater like the Mr. Heater you see here. Although it's powered by propane, it's safe for indoor usage and produces up to 9,000 BTU heat with a range of 225 feet. It also has an auto-shutoff feature, runs for 3 hours at full power, and is roughly the same size and shape as a small cooler.
Goal Zero Nomad 7 Plus Solar Panel Charger
There aren't any outlets in nature, but there is one massive source of power that sails across the sky from horizon to horizon every day. And the Goal Zero Nomad 7 Plus Solar Panel Charger is one of the best ways to harness that power to juice up all your high-tech camping gear. Of course, if the 7 isn't powerful enough for you, you can upgrade it to make your charging even faster for an added fee. Either way, this USB device will charge your phone when you don't have anywhere else in which to plug it.
Nemo Helio Portable Pressure Shower
A lot of folks find themselves sacrificing hygiene to a degree when camping, but it doesn't have to be that way. You also don't have to try and figure out how to pour water over your head with a bottle — so long as you have Nemo's 11-liter Helio Portable Pressure Shower. This device uses a foot pump in conjunction with a handheld spout to help you get clean out on the trails (or anywhere, really). Better still, it can heat water with sunlight so you can take a hot shower even hours after the sun has gone down.
VSSL First Aid Kit
While not always something you'll end up using, a first aid kit is undoubtedly something you should always bring along on an adventure. And while the VSSL version has everything you need to treat and dress minor wounds (48 pieces in total), it also houses several big bonus items that elevate it above the competition. That includes a 200-lumen four-mode flashlight, a precision compass, and a waterproof and impact-resistant shell in which to store it all.
BioLite CampStove 2
It's possible to cook a stellar meal over a campfire, but you can't really control the heat or the spread of the flame — not to mention the smoke that will inevitably make it into your eyes. You can do away with all of those issues and add in some extra handy features by bringing BioLite's CampStove 2 along with you. This wood-burning device creates a concentrated, smokeless flame and runs on any renewable biomass. It also houses an onboard battery that turns heat from the fire into USB-accessible power, comes with its own USB lamp, and is safer for you and the environment thanks to its standalone, elevated design.
BioLite SolarHome 620 Lighting System
Granted, BioLite's SolarHome 620 is probably better suited to car camping or off-roading in an adventure van, but it can also be used at the campsite to offer up you and all your friends some handy, renewable light. That's because this lighting kit is actually solar-powered, with a control box and three individual lamps. The control box also has its own built-in lamp and an FM radio, as well. Also, if you'd rather play your own tunes, it houses an SD slot to play mp3 files. It even has a motion sensor, if that's of interest to you.
goTenna Mesh System
A lack of satellite, cell, and internet coverage is part of the point of getting off the grid. But it can also be a dangerous drawback — especially in an emergency situation. Whether you want connectivity in case of emergency or you need it to keep yourself in contact with the civilized world after you're back at camp, the goTenna Mesh System has got you covered. These devices grant you access to text and GPS remotely without any towers, can transmit up to 4 miles for 1-to-1 chat, and are compatible with Android and iOS.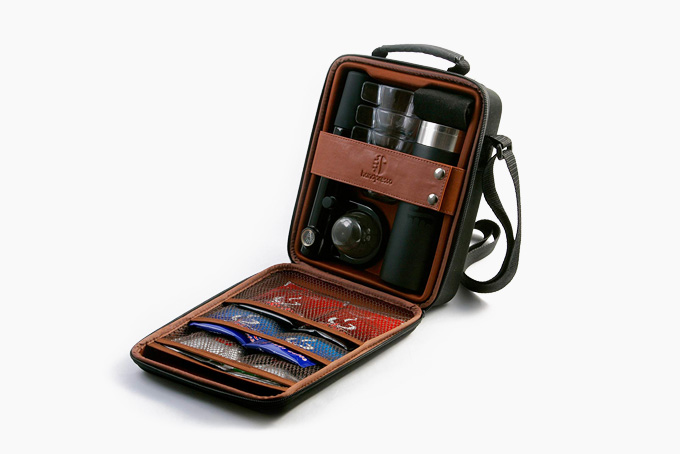 Handpresso Outdoor Espresso Kit
Even when exploring the great outdoors, coffee is a necessity for some. However, most instant coffees are, unfortunately, barely drinkable on the best of days. By contrast, the Handpresso Outdoor Espresso Kit gives you everything you need to make actual espresso out on the trails with little fuss and it doesn't even take up much room. It is pod-based, but that's still an upgrade in our opinion. If you're a caffeine addict and you like to spend time on the trails, don't let this gadget pass you by.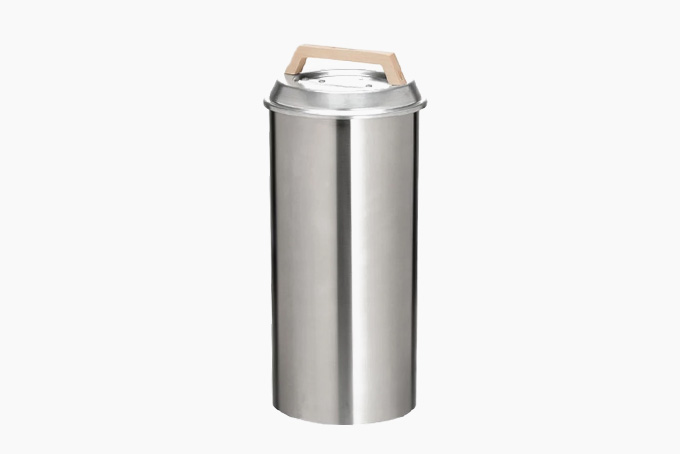 Snow Peak Smokemeister Camp Smoker
Camp cooking is all well and good, but if you really want to step up your culinary game, then the Snow Peak Smokemeister is the way to do just that. This portable device is actually a packable smoker for all your meats — imbuing them with flavors unheard of elsewhere around the campfire. It's also a good deal lighter and more compact than any others on the market. While we wouldn't call this a piece of backpacking equipment, it's perfect for those who have a stationary campsite.
Casio Pro Trek Outdoor Smartwatch
There are a number of survival skills everyone should have for outdoor adventure — like knowing how to read a topographical map. But if you can make your own life easier through technology, why not? That's where the Casio Pro Trek outdoor smartwatch shines. This device features a full-color touchscreen that gives you access to a mess of apps, topo maps (which can be downloaded), GPS navigation, and more. Better still, it can last for up to 25 days straight with GPS functionality and a month in timekeeping mode.
Big Agnes Copper Spur HV UL3 mtnGLO Tent
Strictly speaking, camping tents don't normally fall into the "gadget" category. But this one has a hidden feature that definitely vaults it into the category. That's because it has built-in LED lighting on the inside of the tent. So if you're the type who frequently forgets to bring a lantern, this is the perfect tent for you. It's also roomy, well-ventilated, weatherproof, and durable.
Garmin GPSMAP 66i GPS and Satellite Communicator
There are actually quite a few portable off-grid devices that offer up GPS navigation or communication. But very few, if any offered up both in a compact package. That is until Garmin came out with their GPSMAP 66i device you see here. Preloaded with TOPO maps and featuring the brand's inReach technology, this full-color handheld can help you find your way on any trail and can be used to call for help should you get lost. It also has an IPX7 water-resistance rating, 35 hours on average of battery (but can last for up to 200), and is compatible with both GPS and GLONASS.
Furrion eRove Electric Cooler
Coolers are already what we might call a luxury item. But if you're going to bring one to your campsite, you could just go all-out with the Furrion eRove. This portable cooler — which has its own handle and wheels — has a built-in cooling system that can last for up to seven days straight. On top of that, it also has an onboard USB charger so you can juice up your other gear, a digital display that lets you know the battery life, and enough insulation for ten days of ice retention.
Zero Breeze Air Conditioner
The Zero Breeze is probably the ultimate in non-necessities when it comes to camping equipment. But it's also a godsend on those ultra-hot summer days from which there seems like no relief. That's because this device is a standalone portable personal air conditioner. And it's not just a simple swamp cooler, either — this bad boy has an actual A/C unit built into it that's good for around five hours straight of cooling. And it manages all that while weighing just 12 pounds total.
The 30 Best Camping Essentials
All these gadgets are what one might call "luxury items," but there's a lot of necessary stuff to haul with you if you want to make the most of your trip. Find the 30 best on our list of the best camping gear.
HiConsumption is reader-supported. When you buy through links on our site, we may earn an affiliate commission. Learn more