As we as a society become more and more plugged into technology, we may find it easy to view a trip outdoors as a vacation away from our gadgets as well. However, some of the best technology can be the most important tools for your next excursion. From health monitoring to navigation, there are myriad smart devices that can be a great way to ensure your safety when traversing unfamiliar territory, but they can also be a lot of fun to use as well.
Even the most experienced adventurers can find utility in a GPS hiking watch. Without the need for a cell signal, many of these devices can be used off the grid and in remote areas. Likewise, as you make your way back to town, a global positioning system strapped to your wrist can give you peace of mind if you're the type of person who loses their phone a lot. With all the options out there, both affordable and expensive, it can be overwhelming trying to decide which GPS watch is right for you. That's why we've compiled a guide to showcase the best hiking watches to bring with you on your next wilderness outing.
Fitbit Versa 3
There are a lot of misconceptions as to what a Fitbit can offer. Part Apple Watch, part health monitor, the fitness band eponym has managed to dominate sales for a reason since it launched over a decade ago, even prior to getting acquired by Google. The Versa 3 is its most up-to-date wearable, serving as a built-in GPS device without the need for a phone, allowing you to check your pace with the workout intensity map. You can also monitor your heart around the clock and learn about your own sleep habits. Connect to your Spotify or Pandora accounts to listen to music or podcasts on your hike as well.
Casio G-Shock Carbon Mudmaster GGB100
While most other smartwatches don't function as an actual, well, watch, Casio's G-Shock Carbon Mudmaster does just that. Clandestinely doubling as a GPS tracker, this analog timepiece can also serve as one of the most rugged wearables on the market thanks to the high-rigidity carbon case and metal button pipes that help it achieve 200m of water resistance. On the tech side, the Mudmaster features a compass, altimeter, thermometer, and accelerometer, and you can also pair the watch to the accompanying smartphone app to track your route and check on your altitude.
Suunto Traverse Slate
Suunto is one of the biggest names in the GPS watch industry, and for good reason. Its Traverse line is made for adventurers who want to focus on navigating and trekking places they've never been before. The watch utilizes both GPS and GLONASS positioning for super-accurate navigation and the breadcrumb feature is perfect for trailblazing to ensure that you can venture off the grid worry-free. Aside from the other built-in bugs and whistles for measuring speed, distance, and altitude, the Traverse also pairs with a smartphone app for more in-depth information and discovering new locations.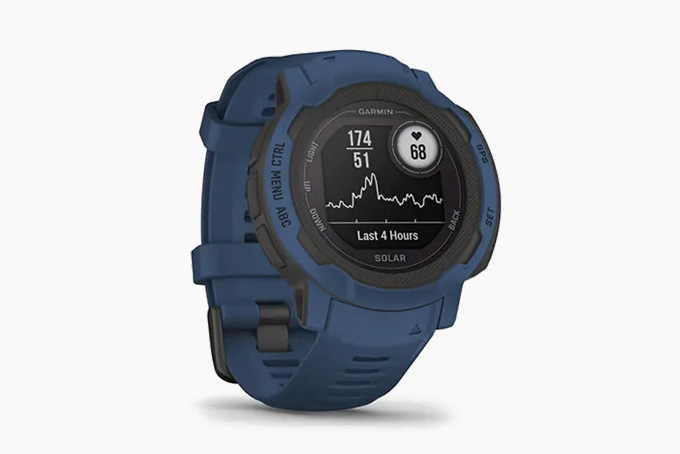 Garmin Instinct 2 Solar
Garmin has become known for its fantastic range of smartwatches, aiding everyone from athletes to the health-conscious to the everyman. Its Instinct 2 Solar is designed for the most enthusiastic outdoor adventurers among us. The solar-powered wearable is built with a fiber-reinforced polymer case and a scratch-resistant Corning Gorilla Glass for ultimate ruggedness so you don't need to worry about protecting one extra thing. Speaking of peace of mind, the incident-detection feature lets you opt to send your location to your contacts in case of an emergency. Aside from the GPS functions, the Instinct is also built with many of Garmin's handy fitness and sports apps as well.
Polar Grit X Pro
With up to 7 days of battery life per charge, Polar's Grit X Pro can be at your side (and on your wrist) even if your portable charger runs out of juice on longer trips or you can't get near a charging station. To take your adventure even farther, the watch taps into GPS, GLONASS, Galileo, and QZSS satellites for ultimate globetrotting. The Grit X Pro also has a breadcrumb feature so you can find your route back. The case itself, sporting a compass around the bezel, is made from military-tested materials so it can withstand extreme heat and cold, as well as water depths of 100m.
Suunto 9 Baro
For those who want all the bells and whistles that an amazing brand like Suunto has to offer, they should opt for the Baro model. While slightly pricier, this wearable is perfect for the more experienced outdoorsman. Equipped with a grade 5 titanium case and bezel and an abrasion-resistant strap, the Baro is super lightweight and extremely durable. Able to monitor your stress and heart rates, the touchscreen smartwatch helps you fuse your health with your hiking for a more effective routine. To help you be prepared for your day's journey, there are also several weather functions such as a barometer and a forecaster.
Coros Vertix 2
Coros is an excellent smartwatch company out of the eastern U.S. and the Vertix 2 is the most up-to-date version of its most rugged option. Adventurers have taken Coros wearables to the ends of the Earth and back, traversing up to the highest peaks in the world. This GPS watch has an easy-to-read 1.4" touchscreen dial with maximum visibility for its data readouts and landscape, topo, and hybrid map options, which are also available offline. Communicating with GPS, GLONASS, Galileo, QZSS, and Beidou satellites and capable of up to 140 hours of use, the Coros has the longest battery life on the market as well.
Apple Watch Series 7 GPS + Cellular
It may seem like the obvious choice, but Apple's latest smartwatch actually makes for a great hiking companion, now with a larger 45mm frame and 50% larger screen size. Housed in a stainless steel case with your choice of strap, the most robust version of the Series 7 watch pairs with your iPhone so you can utilize everything it has to offer, including its navigation apps, fall detection, electrical and optical heart sensors, blood oxygen sensors, and, of course, the actual phone functions. Water-resistant up to 50m, this wearable also powers up via MagSafe for an easier and quicker charge.
Garmin tactix 7
Garmin has slowly made its way to the top of the wearables food chain, but the ultra-tactical tactix 7 is also notable for its practical utility as well. Built with an LED flashlight and night-vision capabilities, this smartwatch utilizes both touchscreen and exterior button functionality. Stealth mode allows the device to stop storing and sharing GPS locations and disables wireless activity. Jumpmaster mode is perfect for skydivers who want some help navigating to an objective point. Other features include hunt tracking, airport locators, weather reports, and a memory-wipe kill switch, along with many of Garmin's famed sports and outdoor apps.
The 15 Best Hiking Boots For Men
As the saying goes, man cannot hike on watches alone (or something like that). To accompany your GPS watch, you'll need a whole wardrobe of hiking apparel, and there's nowhere more essential to start than figuring out what to put on your feet. Find what you need in our guide to the best men's hiking boots.