Despite having been released less than six months ago, Apple's AirTag has quickly become one of the tech giant's most popular accessories. Sold at an accessible price-point, these compact tracking devices lend themselves to an enormous variety of uses and applications, making them incredibly useful and practical no matter your routine or lifestyle. The near-overnight success and continued popularity of Apple's smart trackers have also resulted in a growing number of protective cases and accessories for the coin-sized gadgets, from both Apple and a host of leading third-party brands.
With the number of available AirTag accessories now growing larger and larger with each passing week, now seemed an ideal time to shine a light on this emerging aftermarket sector and delve into our picks for the best Apple AirTag accessories currently on the market. In addition to counting down our picks for the finest offerings in the segment, we'll also be exploring the various types of AirTag accessories that exist, as well as what factors and features to consider when shopping for one.
Traits For Trackers
The Six Most Important Aspects To Consider When Buying AirTag Accessories
While Apple's AirTags are fairly straightforward products, there are a few finer points that you'll want to be privy to before pulling the trigger on your purchase. Below, we'll briefly unpack the half-dozen most crucial areas to think about when buying an AirTag case or accessory.
Materials: Without a shadow of a doubt, the most important factor to consider when buying an AirTag accessory is the materials used to create it. Because the majority of these products are designed to house and fortify the Apple trackers, the type of construction used plays a monumental role in its overall quality and effectiveness. Carbon fiber, aluminum, stainless steel, silicone, polycarbonate, and TPU are all fairly common materials for these items.
Type & Application: AirTag accessories come in several forms, though the main types are loop items, key-chain-style pieces, carabiner or clip-type accessories, and low-profile stick-on cases that can be mounted to a flat surface via an adhesive. There are also card-style items that house an AirTag and neatly stow away inside a wallet, plus there are products that feature supplementary AirTag cases such as the Fantom 7 Wallet.
Versatility: Versatility is another important area to think about, as certain AirTag accessories lend themselves to a wide variety of uses, from daily commuting and traveling to dog-walking and cycling. You'll want to think about the potential ways you plan on utilizing your AirTag, and whether or not an accessory can be used in multiple settings. For example, a loop-style case can be transferred from bag to bag or item to item while a stick-on case can't be removed and reattached (at least not without a new adhesive).
Price: Considering that AirTag products can massively range in price, it's worth paying attention to the MSRP of each accessory as some offer markedly more bang for your buck than others. Higher prices in this space do almost always mean higher-quality products, though there are a few outliers. It's probably also worth noting that — just like with AirTags themselves — AirTag accessories can often be purchased in bundled packs where each included unit is sold at a slight discount.
Style: Most AirTag accessories perform the same basic task of protecting the tracking device, though with that said the forms these products take can hugely vary. As such, one fantastic way to find the accessory that's right for you is to let your aesthetic tastes — at least partially — guide your purchase, though AirTag accessory type and construction should still be the biggest factors to think about.
Manufacturer: Even with photos and a product description, at times it can still be difficult to get a read on the overall craftsmanship or quality of a given Apple AirTag accessory. One fairly surefire way of ensuring you get your hands on a quality product is to buy from a reputable brand with a proven and established reputation and history of producing solid wares. There are a few exceptions from time to time, but nine times out of ten, this rule is worth following.
Native Union Curve Silicone Case
Native Union's Curve Silicone AirTag Case is a simple and affordable — yet still thoroughly effective — loop-style protective shell that can be connected to anything from luggage to keychains. Produced in four color options, the case is crafted from a liquid silicone construction that's highly resistant to scratching and has been imbued with a grooved pattern for added grip.
Type: Loop
Construction: Silicone
Aircovered Magnetic AirTag Case
Unlike most cases that have pivoting or turning closures, Aircovered's AirTag case is comprised of two aluminum discs that are mated via a magnetic coupling, allowing the item to encompass the tracking device. The actual AirTag case has also been mated to a metal carabiner via a small piece of black leather.
Type: Clip
Construction: Aluminum Alloy
UAG Scout Series AirTag Cover
Whether it's Apple Watch bands, iPhone cases, laptop covers, or true wireless earbud protectors, Urban Armor Gear — or "UAG" — makes high-quality protective cases and accessories for modern electronics and devices, and the brand's newly-released Scout Series AirTag case is no exception. Equipped with a carabiner attachment point, the case is made from a lightly textured, antimicrobial silicone that features a matte finish interior allowing it to better grip the circular tracking device.
Type: Keychain / Clip
Construction: Silicone
CYRILL AirTag Case
An upscale-looking AirTag accessory that's offered at an exceedingly reasonable price, CYRILL's AirTag Holder is comprised of an eco-friendly vegan leather case with a snap closure that secures it to a circular metal clip that can act as either a key ring or a carabiner. With its decidedly elegant appearance, this is one AirTag case that you can be proud to display.
Type: Keychain / Clip
Construction: Polyurethane Leather & Metal
Mercedes-Benz AirTag Case
A more subtle and discreet means of hiding an AirTag on your keychain, this item is modeled after vintage automotive key fobs. Made from a soft liquid silicone, the case sports a classic Mercedes-Benz's classic silver circle and three-pointed star logo, though this same offering is also available with a variety of logos from other luxury car brands.
Type: Keychain / Clip
Construction: Silicone
Pelican Protective Sticker Mount
Produced in four different colors, Pelican's Protector Series Mount for the Apple AirTag is a square silicone housing with rounded edges and push bumpers on all four sides. The bottom of this flat case is lined with 3M VHB adhesive, allowing users to easily stick it onto gear, gadgets, or even vehicles.
Type: Stick-On
Construction: Silicone
NIMALIST Carbon Fiber Case
NIMALIST's AirTag Keychain manages to deliver top-notch protection while weighing practically nothing thanks to the use of an eco-friendly solid 3k carbon fiber construction. On top of being resistant to scratching, this exposed weave case is also sweat-proof and washable.
Type: Keychain / Clip
Construction: Aramid Carbon Fiber
Moment Hard Shell Mount
Almost certainly the finest stick-on-style AirTag case currently on the market, Moment's Hard Shell Mount is comprised of an ultra-low profile aramid fiber shell with an interior foam lining that keeps the AirTag in place and mitigates rattling. Sold with an extra adhesive strip for easy swapping, this case can be mounted on flat or slightly curved surfaces, and once it's applied, its adhesive backing creates a watertight seal.
Type: Stick-On
Construction: Carbon Fiber
NOMAD Card For AirTag
NOMAD's Card For AirTag is a credit card-sized case that's designed to easily slip into a wallet so you can keep constant tabs on one of the most important EDC essentials. Built around a rugged polycarbonate frame, this item boasts a soft TPU surface that's been given a thermoformed leather shape. In typical NOMAD fashion, this product is designed to form a unique patina over time with regular use.
Type: Card
Construction: Polycarbonate & TPU
Caseology Vault
A beautifully designed and thoroughly calculated AirTag case, this item from Caseology consists of an oval sandstone textured TPU cover with openings on both sides that make it markedly easier to hear the AirTag when it's set off. Completely watertight, this case also comes with a matching oval-shaped carabiner.
Type: Keychain / Clip
Construction: TPU
Pelican Protector Keychain Case
Using a similar silicone construction with push bumpers as the above item from Pelican, the brand's Protector Clip Ring is an immensely versatile case that comes with an included heavy-duty carabiner. The back of the case is also decorated with Pelican's iconic logo.
Type: Keychain / Clip
Construction: Aluminum & Silicone
Spigen Rugged Armor Case
Just looking at Spigen's aptly-named Rugged Armor case, it's abundantly clear that this thing offers heavy-duty protection for Apple's AirTag. Crafted from an amalgamation of stainless steel and zinc alloy, this product's carabiner features an integrated bottle opener, while the actual AirTag housing is adorned with a decorative carbon fiber inlay.
Type: Keychain / Clip
Construction: Nylon, Zinc Alloy, Stainless Steel, & Carbon Fiber
Popov Leather AirTag Case
Combining old-school aesthetics and craftsmanship with modern technology, Popov Leather's AirTag case is made from genuine full-grain Horween leather and is hand-sewn using ultra-rugged Tiger Thread. Made to develop a patina this item also features a brass spring clip and snap button, and is backed by a lifetime warranty.
Type: Keychain / Clip
Construction: Brass & Horween Leather
Crazy Horse Craft Veg-Tanned Leather AirTag Holder
Another yesteryear-inspired take on an AirTag case, this charming product from Crazy Horse Craft is constructed from vegetable-tanned, Italian-sourced leather and is sold with an Italian leather quality certificate. And, on top of being produced in a myriad of color options, this case can also be customized with bespoke letter embossing.
Type: Loop
Construction: Leather & Wool Felt
bullstrap Bullytag Black Edition
For those that are fond of the all-black look, it's hard to do better than bullstrap's Black Edition Bullytag. Backed by a lifetime warranty, this matte black leather case — which is decorated with bullstrap's logo stamped into the full-grain hide — also comes paired with a matching blacked-out carabiner.
Type: Keychain / Clip
Construction: Leather & Stainless Steel
NOMAD Leather Keychain
Built to last a lifetime, NOMAD's Leather Keychain for the Apple AirTag is made from Horween leather, sports a thermoformed leather shape, and comes paired with a black PVD-coated stainless steel key ring. Sold in black or brown leather, this case will also achieve a one-of-a-kind patina over time.
Type: Keychain
Construction: Horween Leather & Black PVD-Coated Stainless Steel
speck Presidio Carabiner
speck's Presidio AirTag case model boasts an unmistakably modern appearance, with the actual tracking device neatly integrating into a polished carabiner that's made from aerospace-grade 6061 aluminum. The robust aluminum construction also manages to protect the AirTag without interfering with its Ultra Wide Band tracking tech.
Type: Clip
Construction: 6061 Aluminum & Silicone
FollowPaw AirTag Dog Collar
The FollowPaw AirTag Dog Collar is a modern and eco-friendly means of keeping track of your four-legged friends. Crafted from durable yet sustainable cork leather, this collar is secured via a magnetic FIDLOCK V-BUCKLE. Made in Europe, this collar is also offered black or raw cork versions, and is produced in small, medium, large, and extra-large size options.
Type: Dog Collar
Construction: Cork Leather & Aluminum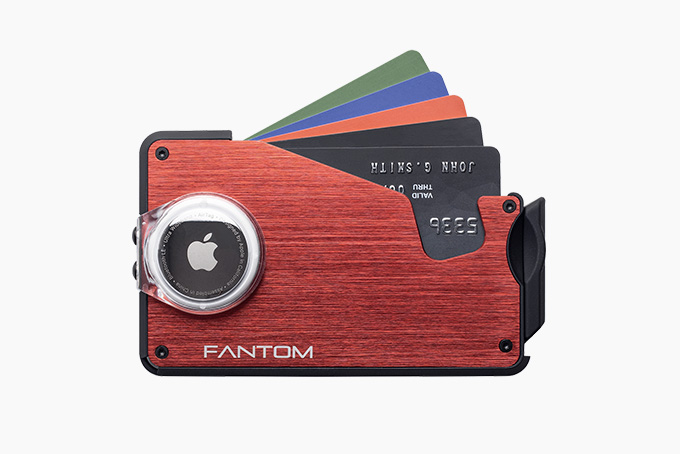 Fantom 7 Wallet W/ AirTag Holder
With their ultra-thin profile, proprietary card-ejecting system, and aluminum, carbon fiber, or titanium construction options, we've been big fans of Fantom's quick-access wallets since the product's debut in 2018. Fast forward to today and we're being given another reason to appreciate Fantom's wallets as the company has now added an optional AirTag holder, allowing you to track the RFID-protected 10-card capacity wallet.
Type: Wallet
Construction: Aluminum, Titanium, or Carbon Fiber
AirTag Hermès Key Ring
Apple produces a line of attractive leather AirTag cases and keychains, though, for more discerning shoppers looking for a more elegant and upscale option, there's the Hermès edition key ring. An official collaboration between Apple and the French luxury goods brand, this case is also manufactured in seven different color options with matching or contrast stitching.
Type: Keychain / Loop
Construction: Leather
The Best Apple Watch Accessories
Want to check out another selection of hand-picked add-ons and cases for one of Apple's most popular products? Then be sure to head over to our guide to the best Apple Watch accessories for more.