Though they've been out for a couple of years now, Apple's AirPods are still at the top of the wireless earbud game. They're handsome, capable, easy to use, and loaded with user-friendly features that range from stellar audio quality to an onboard microphone that's compatible with both Siri and calls, and a good deal more. But they're also far from the only option on the market.
In fact, there are a number of wireless earbuds you can get right now that are suitable alternatives to the AirPods. In fact, some of them have features that blow Apple's out of the water. While the AirPods certainly have a stranglehold in regards to popularity, they're still not for everyone. If you want to stay off the Apple train but you still want a solid pair of true wireless earbuds, you can find the best AirPod alternatives in the following guide.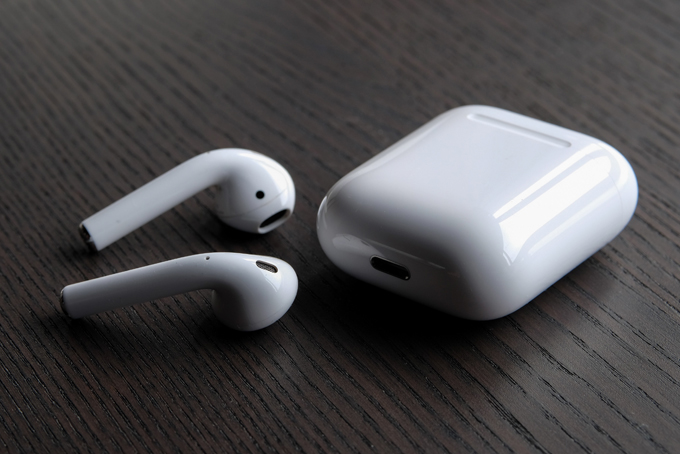 The Competition
What They're Up Against
If you're going to consider an alternative to Apple's industry-leading AirPods, then it's probably a good idea to know exactly what the specs are — that way, you can make an informed decision outside of simple aesthetics. The latest generation of AirPods is a formidable release, but they aren't without their drawbacks. Of course, for a lot of folks, those drawbacks are hardly enough to scare them away from what is, undeniably, the most recognizable and easily-approachable true wireless earbuds available. For good measure, we've outlined some of the most important specs below. That way, you can look at the differences side-by-side.
Playtime: According to Apple, the AirPods hold a charge for five hours of playback, which can be extended by over 19 hours via the included charging case. Of course, even with a fully-charged case, you'll still have to stop listening after five hours to charge them back up again. If you plan to use that battery to chat, a fully-charged case will get you a total of 11 hours of talk time. That means a single charge gets you around 2.5 hours of chat time.
Charge Time: Luckily, the charge time of Apple's AirPods is actually quite quick. According to the brand, you can get three hours of playback with just 15 minutes of charging. Extrapolate that and a full charge takes just 25 minutes. Similarly, a 15-minute charge will get you 2 hours of talk time — rounding out to over 1.5 hours of charge time total for the full 11 hours of talk time.
Water Resistance: Not Applicable. Officially, Apple has made no statement on the waterproofing incorporated into its AirPods. This does not necessarily mean they have no waterproofing built into them, but it is a pretty good indicator that water-resistance was not a considered factor in designing and constructing them. Whatever the case, this is probably the factor to be most critical of, as a baseline price of $159 is a lot to spend on something that might be destroyed by a little splash of water.
Apple AirPods
If you're dead-set on picking up Apple's AirPods, you can find them with your choice of a standard charging case or a wireless charging case for $159 or $199, respectively.
The 8 Best AirPod Alternatives
Now that you're abundantly familiar with what the Apple AirPods have to offer, it's time to take a look at the competition. Like the industry standard, these are all loaded with exceptional features — some even better than what Apple has to offer. Granted, these are not for everyone, but if you're open-minded enough to realize that Apple doesn't hold a monopoly on truly wireless earbuds that are worth your money, you'll likely find something below that suits your needs perfectly.
Anker Soundcore Liberty Air Earbuds
At roughly half the price of Apple's AirPods, Anker's Soundcore Liberty Air wireless earbuds are undoubtedly the best budget proposition on the market. Not only do they come from a reputable tech brand — Anker is well known for their wireless chargers, power banks, cables, etc. — but the tech built into them is very comparable to Apple's offerings. For instance, their graphene drivers offer superior sound, they boast dual microphones with noise-canceling tech for clear calling, and they offer simple and intuitive touch controls for easy operation. If money is your chief concern, you absolutely won't find a better option in this price range.
Playtime (Hours): 5 + 15 With Charge Case
Charge Time: ~45 Minutes
Water Resistance: IPX5
Samsung Galaxy Buds
While they're not quite approaching Apple in the tech race, Samsung is still the Cupertino-based brand's chief competition. And it's easy to see why in the quality and suite of features stuffed into their Galaxy Buds. Boasting built-in sound tech from AKG — a superb sound engineering company that dates back to 1947 — these truly wireless earbuds boast a host of specs that are easily comparable to the AirPods. Their one drawback is that they take almost twice as long to recharge, but they make up for that by offering a water-resistance rating of IPX2. Granted, they're not exactly rainproof, but that's more than Apple can say for their earbuds and it does mean you can workout with them without worry.
Playtime (Hours): 6 + 7 With Charge Case
Charge Time: ~50 Minutes
Water Resistance: IPX2
Jabra Elite Active 65t Earbuds
If you're searching for a pair of wireless earbuds that are built to survive the rigors of an active lifestyle — with the risk of sweat exposure ever-looming — then you're probably going to want to avoid Apple's AirPods altogether and instead pick up a pair of Jabra's Elite Active 65t truly wireless earbuds. Of all the options on our guide, these ones are the most well-equipped to handle exposure to moisture with their IP56 rating. Of course, they're also stellar outside of that — featuring built-in Alexa compatibility, customizable audio equalization, and an included two-year warranty against sweat and dust damage. For the athletic crowd, this is your best bet.
Playtime (Hours): 5 + 10 With Charge Case
Charge Time: ~50 Minutes
Water Resistance: IP56
Bose SoundSport Free Earbuds
While they're not quite as durable in regards to moisture-resistance as the Jabra offering above, Bose's SoundSport Free truly wireless earbuds are no slouch — featuring an IPX4 sweat-resistance rating. Pair that with a trio of interchangeable sport tips to make the fit both comfortable and secure and these are definitely a suitable alternative. They also feature the same battery life as AirPods, have dual integrated microphones for easy calling, offer top-tier audio-video synchronization when paired with an iPhone or iPad, and more. And the cherry on top of the cake is that Bose has incorporated an included earbud tracking system, so you can find them easily if you ever misplace them.
Playtime (Hours): 5 + 10 With Charge Case
Charge Time: 2 Hours
Water Resistance: IPX4
Sony WF-1000X Noise-Cancelling Earbuds
Unfortunately, Sony's WF-1000X wireless earbuds have one pretty major downside in that they only offer up 3 hours of playback per charge. And while that's a big drawback, they also offer something that none of the other options on this list do: noise-canceling technology. That means, with a single touch, you can keep the noise from the world from distracting you from your music or conversation. Luckily, these also have a relatively short charge time of just 36 minutes. While they're not water-resistant at all (and therefore unsuitable for workouts or inclement weather), the benefits are certainly going to be enough for some. It also helps that you can get 75 minutes of playback in just 15 minutes of charge time.
Playtime (Hours): 3 + 6 With Charge Case
Charge Time: ~36 Minutes
Water Resistance: N/A
Master & Dynamic MW07 Wireless Earbuds
While Master & Dynamic's MW07 wireless earbuds have a woefully-short playback time of just 3.5 hours — which is made all the worse by their long charge time of 90 minutes — those drawbacks don't come without benefits on the other side of the spectrum. For instance, these earbuds feature best-in-class Bluetooth 4.2 connectivity, a gorgeous design available in a number of different materials and colors, and top-of-the-line 10mm Beryllium drivers — making them some of the best-sounding earbuds available anywhere. They're also comfortable for extended periods of wear, have an impressive range of 20+ meters (so you can leave your phone in your locker at the gym, for instance), and boast a water-resistance rating of IPX3 (meaning they're fine for workouts and splashes of water).
Playtime (Hours): 3.5 + 10.5 With Charge Case
Charge Time: ~90 Minutes
Water Resistance: IPX3
Sennheiser Momentum Bluetooth Earbuds
As you may know, Sennheiser makes some of the best home audio equipment and headphones available. So it should come as no surprise that, when it came time to create their own truly wireless earbuds, theirs ended up being some of the best out there. This is thanks in part to their excellent built-in drivers, superb Bluetooth technology, and solid IPX4 waterproofing. What's also unique and interesting about them is that they feature "transparent hearing" technology — which means you get the utmost clarity and fidelity out of the sound without sacrificing your ability to hear your surroundings — which is especially useful if you wear them during your daily commute on either a bicycle, the bus, or the subway. They're also beautiful, unobtrusive, and comfortable for extended periods of wear.
Playtime (Hours): 4 + 8 With Charge Case
Charge Time: 1.5 Hours
Water Resistance: IPX4
Bang & Olufsen Beoplay E8 2.0 Earbuds
Bang & Olufsen's Beoplay E8 2.0 wireless earbuds are nearly double the price of the baseline AirPods. But there are some very good reasons for that. For starters, their audio quality and clarity are unmatched. Secondly, they have a host of simple-to-use features accessible via simple touch controls — including the ability to switch tracks, take calls, and activate transparency mode and voice controls. Furthermore, the case comes standard with wireless Qi charging — meaning you don't have to pay an upcharge for it as you do with Apple. If improved sound quality, ease of use, and a wide range of standard smart features don't sound like enough for you, then these are not intended for you. However, if you're an audiophile with exacting standards, go no further.
Playtime (Hours): 4 + 12 With Charge Case
Charge Time: 2.5 Hours
Water Resistance: N/A
Klipsch T5 True Wireless Earbuds
Honorable Mention
Though they were announced a while ago — with a release date sometime during 2019 — Klipsch's T5 True Wireless Earbuds still don't have any official release information. That being said, it's pretty hard to ignore a brand as important in the audio industry as them coming out with their own high-end wireless headphones. While there's little information out there, other than a potential price of around $199 and the clear inclusion of a Zippo-style charge case, we imagine these wireless earbuds will rank amongst the best on the market.
8 Best Apple AirPod Accessories
If this wasn't enough to convince you to ditch Apple in favor of an alternative, then the AirPods will suit you just fine. Of course, you'll probably also want to look into our list of the best AirPod accessories to make your life even easier.