Headphones have come an incredibly long way over the last decade. Advancements in wireless technology, active noise-canceling, and battery life have made these once-elite features markedly more common. The strides made in the overall tone and quality of drivers and other components have also given way to the increasingly crisp, rich, and clear sound being made available at an increasingly accessible price. The combined result is you can now get your hands on an objectively high-quality, feature-heavy pair of headphones without spending over a bill. So, to help guide you on your purchase, we've built out this guide to the best headphones under $100.
Best Headphones Under $100
Best Studio Headphones

AKG K240 MK II

Best Headphones for Music

Audio-Technica ATH-M20xBT

Best Headphones for Calls

JBL Tune 710BT

Best On-Ear Headphones

Sony WH-CH520B

Best Noise Cancelling Headphones

Soundcore by Anker Life Q30

Best Headphones Overall

Sennheiser HD 350BT
What to Expect from Headphones Under $100
A hundred dollars provides an enormous number of worthwhile headphone options, and while there are obviously some models that are out of reach at this price point, you can snag practically any style of headphones for this amount, whether you're looking for an ultra-clear pair of over-ear studio monitors, true wireless set, Bluetooth sports headphones, or a classic wired pair. Many of today's most coveted features, such as the latest Bluetooth connectivity, extended battery life, and app pairing, can all be found for under a single Benjamin. Getting headphones that can do it all in this range (noise cancelling, good sound, long battery) can be a challenge, but there's no shortage of quality picks that can get the job done well. However, don't expect aptX or AAC support, premium materials, or a variety of noise-cancelling modes in this range.
What to look for
Fit: For our guide, we've stuck with over-ear and on-ear headphones – if you're looking for some cheap yet high-quality earbuds, our best earbuds under $100 guide has you covered. Over-ear headphones are the most comfortable for extended wear, and on-ear headphones are usually smaller and built for travel.
Connection: We've included a pair of wired headphones in this guide because they offer better sound quality for a lower price, and some prefer the convenience of not having to worry about a battery. They're also the standard for any serious recording or listening, so keep that in mind when choosing. The rest of our picks are Bluetooth or Bluetooth hybrids that allow you to switch between wired and wireless.
Noise Cancellation: It's not unheard of for headphones under $100 to have noise cancellation, but it may be difficult to find a pair that has both ANC and modern features we expect from premium options. While ANC may be harder to come by in this price range, most models offer passive noise isolation, which can still be helpful.
Battery Life: Headphones in this range regularly meet (and surpass) the ~30-hour standard that more expensive options provide. If you're traveling, a pair with at least 20 hours of battery is best.
Water Resistance: Water resistance is typically more common in earbuds, as they're better designed for working where the feature is needed most, but over-ear/on-ear headphones may come with it as well.
AKG K240 MK II
Pros
Studio sound quality for a reasonable price
Self-adjusting headband
Comfortable for long wearing sessions
Crisp sound
Best Studio Headphones: Despite their incredibly accessible price and the fact that numerous decades have passed since their initial release, AKG's K240 Studio headphones have become something of the gold standard in the recording studio realm. Just like Technics' SL1200 turntable with most professional DJ setups, the K240 studio headphones can be found in most recording studios, as the semi-open-back item delivers remarkably crisp and clear sound, making it perfect for monitoring recording or playback. On top of a sound-isolating ear-cushion design, the K240 MK II's tremendous sound quality is largely owed to its primary components: advanced 30 mm XXL transducers that benefit from patented Varimotion diaphragms. The only real downside to this product is the lack of wireless connectivity, though it more than makes up for it with its sound.
Battery Life: Wired
Noise Cancellation: None
Fit: Over-ear
Connection: Wired
Audio-Technica ATH-M20xBT
Pros
Bluetooth and wired connections
Great sound quality
Low latency mode
Fast-charging capabilties
Cons
Ear pads could be thicker
Best Headphones for Music: Audio-Technica's ATH-M20xBT could be doubled in price and would ultimately still be a pretty great deal. Like the rest of the offerings in the Japanese brand's lineup, the ATH-M20xBT is a thoroughly calculated piece of equipment born out of extensive R&D and acute attention to detail. 40mm drivers and copper-clad aluminum wire voice coils allow for near-audiophile-grade sound, while the outward aesthetic design maintains Audio-Technica's signature look. The ear cups sport a special ergonomic design that contours around the ears to better isolate sound, and are constructed from premium and hardwearing materials that help to ensure serious longevity and years of use. You get 60 hours of battery life on a full charge, 3 hours of juice on a 10-minute charge, and the choice between a Bluetooth or a wired connection.
Battery Life: 60 hours
Noise Cancellation: Passive
Fit: Over-ear
Connection: Bluetooth, wired
JBL Tune 710BT
Pros
Voice controls for calls and music
Portable design
Great bass sound
Long battery life
Best Headphones for Calls: JBL's Tune 710BT offers its users both complete wireless Bluetooth connectivity and JBL's Pure Bass Sound, giving you a reliable and powerful listening experience. There are physical controls on the outside of the head-shells for easy playback or volume control, though integrated microphones also afford the user the ability to perform those tasks in a hands-free capacity as well as take calls or control a smart assistant. The earphones themselves also pivot and fold, allowing the pair to collapse into a travel-friendly form. The Tune 710BT (or 710 Bluetooth) is also available in several other bright colors, as well as black or white. A five-minute charge affords three more hours of music playback, and the battery can last for as long as 50 hours.
Battery Life: 50 hours
Noise Cancellation: Passive
Fit: Over-ear
Connection: Bluetooth, wired
Sony WH-CH520B
Pros
EQ settings though Sony's app
Lightweight design
3-minute charge gets 1.5 hours of play time
Quality sound for the price
Cons
Buttons can be small for those with big hands
Best On-Ear Headphones: Sony's WH-CH520Bs are a modern pair of Bluetooth headphones built for all-day use and seamless calls in a manageable size. With just three minutes of charging, the WH-CH520Bs give you 1.5 hours of extra listening time on top of the original 50 hours, and it comes with buttons to control music and calls without having to get your phone out. Sony's Digital Sound Enhancement Engine provides crisp sound, and you can tweak the EQ settings through Sony's app. These headphones are lightweight with soft ear pads and an adjustable headband, making them a great budget travel option if you can forego noise cancelling. Between the voice controls, app connectivity, and portable design, these are a great pick for just eighty bucks.
Battery Life: 50 hours
Noise Cancellation: None
Fit: On-ear
Connection: Wireless
Soundcore by Anker Life
Pros
Comes with active noise cancellation
Soft and comfortable ear pads
40 hours of battery life with ANC on
App connectivity
Best Noise Cancelling Headphones: Just because you aren't looking to spend an arm and a leg on a set of headphones doesn't mean you can't have a solid true wireless pair, and while there's no shortage of budget-friendly models out there, most fall incredibly short compared to Soundcore by Anker Life. It boasts 40mm drivers, hi-res audio, and batteries that allow for a total of 40 hours of life and can be replenished incredibly fast, with only 5 minutes of charging, yielding more than 4 hours of music playback. Best of all, these alternatives are equipped with active noise-cancelling via Soundcore's hybrid noise-cancelling tech that blocks out background ambient noise like construction, fans, or wind, while still allowing the sound of traffic and other vital sounds to come through.
Battery Life: ~60 hours (~40 with ANC)
Noise Cancellation: ANC
Fit: Over-ear
Connection: Bluetooth, wired
Sennheiser HD 350BT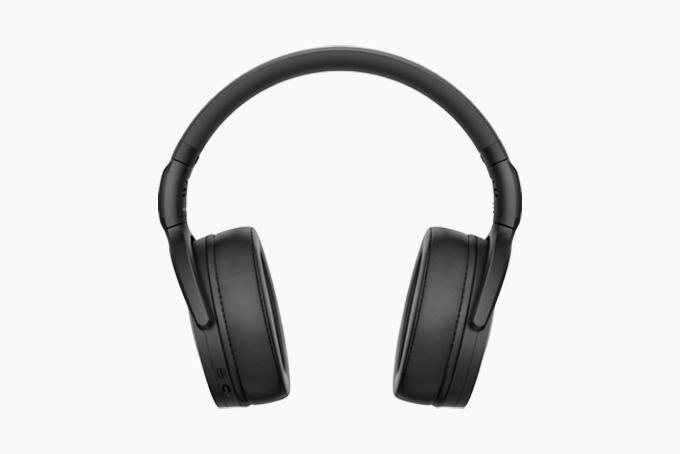 Pros
Touch and voice controls
Durable build
aptX low latency codec support
App connectivity
Best Headphones Overall: No matter what the price point or genre, if you look at any headphones buyer's guides on this website, you'll start noticing a pattern of a few brands that very seldom fail to be represented on these lists, and one of those outfits in undoubtedly Sennheiser. The German brand has existed for more than 70 years and has developed a slew of proprietary equipment in its time. And with these proprietary elements already having appeared on prior elite models, with the R&D money already spent, Sennheiser routinely offers models that repurpose these high-quality proprietary components in more accessibly-priced offerings such as the HD 350BT. Using Bluetooth 5.0, AAC, and aptX tech, the HD 350BT packs a compact and potent Lithium-ion polymer battery that gives users as much as 30 hours of music playback time on a single charge, and offers Siri and Google Assistant connectivity.
Battery Life: 30 hours
Noise Cancellation: Passive
Fit: Over-ear
Connection: Bluetooth
The Best Travel Headphones for Your Next Trip
If you're interested in more high-end picks that are equipped for the plane, our best travel headphones guide covers some great options.