Aug 6, 2019
Category: Gear
The digital world gets more advanced every day, but nothing beats the complexity and beauty of nature. Spending time outdoors is not only therapeutic, but it turns back the clock–allowing you to feel the sense of wonderment you had as a child. However, camping gear can get a bit pricey, especially if you're eyeing quality gear.
While proper camping equipment is worth your hard-earned money, allowing you to unplug your eyes from the world of screens, you don't have to spend a fortune if you look in the right places. There's plenty of outdoor gear out on the market that won't hurt your wallet, but it can be a challenge to sift through the sea of products. To save you time, we've taken it upon ourselves to curate a list of the best affordable pieces of camping gear, talking the task off your plate. The list may not cover everything you need, but it will help you save a good chunk of money. We're confident you'll find a few items that will be essential for your next camping adventure.
Jetboil Jetset Utensil Kit
When you're outdoors, you'll need a set of utensils to enjoy your meals. Jetboil's Jetset Utensil Kit–which includes a spoon, fork, and spatula–is perfect for grubbing around a campfire. And they all feature telescope handles for compact storage, taking up minimal space in your backpack. Each utensil is made from high-temperature nylon for resiliency, allowing you to use the kit for many camping trips. And the utensils can be stowed in the Jetboil cook pot for your convenience.
Soto Pocket Torch
With the Soto Pocket Torch, you won't need to start a fire with a bow drill. This wind-resistant handheld torch pumps up your lighter life by approximately 60%. The fire starter reaches temperatures up to 2,300 degrees Fahrenheit, assuring you can get a campfire started in no time at all. The Soto Pocket Torch fits standard rectangular disposable lighters and provides you with up to 20 minutes of burn time.
Forj Thermoplastic Tape Ribbon
Made from compact resin fiber that has 1,000 pounds of tensile strength, the Forj Thermoplastic Tape Ribbon is ideal for maintenance and repair in the backcountry. It bonds with the strength of steel to fix your everyday gear, tools, and mechanical equipment. You can even use it as a first aid tool for a secure hold. All you have to do is heat up the Thermoplastic Tape Ribbon, shape any way you want and it will adhere to itself and form a strong bond.
Magpul DAKA Pouch
The DAKA pouch is constructed using reinforced polymer fabric with an anti-slip texture for rugged camping adventures. It has welded construction for impermeable seals, a YKK AquaGuard water-repellent zipper, and a 550 paracord with heat shrink tubing for a reliable grip, even when you're wearing gloves. The outdoor pouch also has a paint pen dot matrix debossed into the body so you can mark it and carabiner attachment points to secure it to your hiking backpack.
REI Co-op Flexlite Chair Underquilt
The Flexlite Chair Underquilt has an insulated pad hanging below the chair to warm your behind without the need for a fire. It has a durable, lightweight ripstop nylon shell that dries fast and a quilted construction to keep the polyester fleece insulation distributed evenly for amazing comfort. To help preserve Mother Nature, the Flexlite chair contains materials that meet Bluesign criteria.
Sea to Summit eVent Compression Sack
Winning a Backpacker Editor's Choice Award in 2007, the eVent Compression Sack is a trusty piece of gear that's still essential today. With 70D nylon waterproof fabric and an eVent waterproof, air-permeable base, allowing air to push out, the sack is efficient and durable. It also has a waterproof Hypalon roll-top closure along with a lid and four straps for easy compression. The added field repair buckle with stainless steel pins makes to make it an even more efficient compression pack for your sleeping bag.
Yeti Rambler 12 oz Bottle w/ Hotshot Cap
This lightweight 12oz Yeti water bottle holds the right amount of liquid ignition to spark your day. Gear up for a morning hike or go on a full-out camping trip and this bottle with a hotshot cap will serve you well. The 360°drinking,100% leakproof HotShot cap lets you drink from any side. Built using 18/8 steel, the bottle has double-wall vacuum insulation and is shatter-resistant.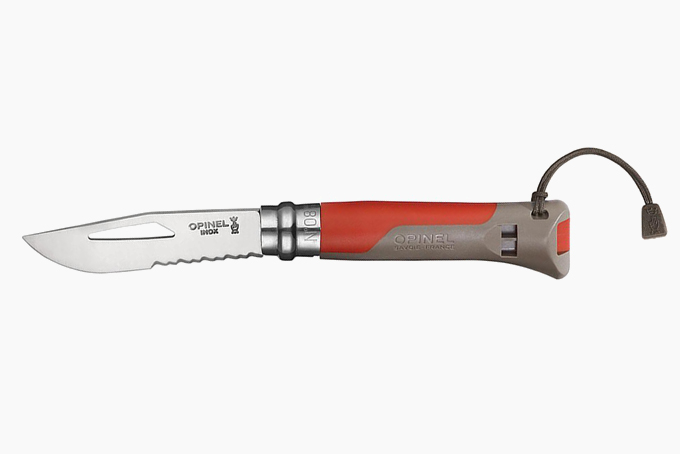 Opinel No. 8 Outdoor Survival Pocket Knife
Opinel has been around for quite a while, and they've perfected the minimalist survival knife. The No. 8 Outdoor Survival Pocket Knife has a 3.35-inch Sandvik 12C27 stainless steel combination blade, fiberglass-reinforced polyamide handle, which is shock-, extreme temperature-, and humidity-resistant, and the company's signature Viroblack safety ring lock. It also comes with an all-weather 110-decibel emergency whistle.
Gerber Tri-Tip Mini Cleaver
Bring this brawny mini cleaver outdoors and take care of all of your scraping and cutting needs. The Gerber pocket cleaver features a 7Cr17MoV blade and machined aluminum scales, ensuring excellent performance every time you use it. The textured aluminum scales provide a reliable grip, so you can wrap your hands around it with confidence. It comes with a multi-mount sheath that can be carried in a tip-down or scout carry position.
PDW Ti-Line 600ML Mini Pot-Mug
This titanium mini pot-mug by Prometheus Design Werx is corrosion-proof with a 600ML volume capacity, which is perfect for soup or cup of coffee to start the day. You can also use it as a solo cook pot. Keeping the wilderness explorer in mind, this mini pot-mug has folding handles for convenient storage. Add it to your camping cook set or keep one in your glove compartment for random trips to the countryside.
Nemo Switchback Ultralight Sleeping Pad
The Switchback sleeping pad uses a closed-cell foam and hexagonal nodes to give you unmatched comfort outdoors. The dual-density Axiotomic foam creates Hypnoelastic zones that conform to your body for efficient support. To keep your body warm, the Switchback sleeping pad has a metaled thermal film layer, in addition to heat-trapping space, for heat throughout a cold night.
The North Face Sprag Shorts
The trail-ready Sprag shorts by the always-reliable brand, The North Face, have a stretch-woven construction for natural mobility and an enhanced range of motion when you're trekking through the wilderness. It has two sturdy hand pockets and two back welt pockets for all your essential EDC gear. The minimalist Sprag shorts come in a variety of colorways and are backed by a lifetime guarantee.
Sawyer Micro Squeeze Filter
Even when you've planned and prepared for a camping trip for weeks, things can still go wrong. Don't find yourself without any freshwater and invest in the Sawyer Micro Squeeze Filter. This easy-to-use portable device filters out pesticides, chemicals, protozoa, bacteria, and micro-plastics in a mere 10 seconds. It also improves the taste and odor of the water for a fresh taste. The Sawyer filter has a replaceable membrane rated up to 1,600 uses for 20 ounces of water output.
Goal Zero Lighthouse 400 Lantern
The Goal Zero Lighthouse 400 Lantern is the company's brightest, and it also can charge your smartphone. It has an adjustable LED light that shines up to 400 lumens, which you can charge up instantly with the built-in hand crank. You can also recharge the internal battery from any USB port or by using the Goal Zero Nomad Solar Panel. It has collapsible legs for easy storage and a built-in handle for hanging or carrying.
Mophie Powerstation XXL
Just because you're outdoors doesn't mean you have to completely cut yourself off from electronics. Occasionally, you need the assistance of GPS equipment and your smartphone for emergencies; and the Mophie Powerstation XXL is the perfect device to juice them up. This 20,000 mAh portable power bank 73 hours of power. It has two USB ports to charge multiple devices simultaneously.
Eagles Nest Outfitters Double Deluxe Hammock
Nothing can be more relaxing than laying on a hammock and stargazing during your camping trip. This heavy-duty hammock with triple-stitched seams is soft, breathable, and fast-drying, making it ideal for camping. The 70D high-tenacity nylon taffeta hammock comes with aluminum wire-gate carabiners and an attached compression sack. Lay back and relax after a long day of hiking in this double deluxe hammock.
Rumpl Sherpa Blanket
Rumpl's known for their top-tier blankets and the water-resistant Sherpa is one of their most comfortable iterations. The Sherpa Blanket is made with quality materials that repel odor, water, and stains. It's also incredibly soft for hibernation in the wild. If you want to feel like you're sleeping in a cloud, the Rumpl Sherpa Blanket will not disappoint.
MSR Whisperlite Stove
Field-proven for over 25 years, MSR makes reliable outdoor gear and their Whisperlite Stove is no exception. The American-made stove has an ergonomic design and a stainless steel and brass construction for long-term use. Cook your tent-side meals using the best-selling liquid-fuel stove ever made.
Keen Oakridge Shoes
These versatile hiking shoes made of leather, mesh, and a moisture-wicking lining are perfect for camping trips. They have stability shanks for 24/7 support, 4mm multi-directional lugs, and Cleansport NXT technology to odor control. Protect your feet on any terrain you traverse with the Keen Oakridge hiking shoes.
Black Diamond Icon Headlamp
Light up the night with Black Diamond's Icon Headlamp and never get left in the dark. It features a QuadPower LED spotlight and one DoublePower white LED that emits up to 500 lumens. The headlamp has Brightness Memory, allowing you to save an illumination setting after turning the device off, and a removable battery pack. There are various lighting modes to choose from, including RGB night vision, dimming, and strobe.
How To Buy A Camping Tent
Now that you've found several essential items to throw in your camping backpack, it's time to focus on one of the most pivotal items for your trip. Check out our guide on how to buy a camping tent, so you can choose one that will help you get a good night's sleep outdoors.
HiConsumption is reader-supported. When you buy through links on our site, we may earn an affiliate commission. Learn more