Experiencing all of the seasonal phases of Mother Nature will give you a complete gallery of her art. And the absolute best way to take in the beauty of Earth's artistic offerings is by camping. It may seem like camping is ideal for warm weather, but that's not the case in the slightest. Heading out into the wild when winter arrives is equally as invigorating and therapeutic as when you do so during spring and summer.
Now that you've got the idea of winter camping in your mind, it's time to execute the plan. One of the most important items on your list is a tent; however, you shouldn't use any old nature dome. There are tents built specifically to survive the harsh winter elements and freezing temperatures. To help you get the ball rolling on an unforgettable cold-weather camping experience, we've gathered the best 4-season tents for winter. We figured that a winter-ready tent isn't enough, so we conjured a list of all-around camping champions, so you can camp all year round. Now that we've narrowed your search down through careful research, all you have to do is take your pick.
A Versatile Shelter
An All-Around Outdoor Champion
Whether you have to survive storms of high-altitude mountaineering or protect yourself during a deep excursion into the backcountry, a 4-season winter tent comes in handy. But what's the difference between a 3-season and a 4-season model? A 4-season portable outdoor headquarters will have better livability, including ventilation to keep freezing air out and internal storage options. An all-year-long tent will also have superior strength and weather-resistance, as it will be built with rugged materials, such as Denier, polyurethane, and silicone. And it has a stronger frame and steep-sided walls to do well in harsh weather. By getting a 4-season tent, you'll have a pop-up hut ready for year-round adventures.
ALPS Mountaineering Tasmanian 4-Season Tent
ALPS Mountaineering's Tasmanian 4-Season Tent boasts 7000 Series aluminum poles with a weatherproof shock cord, so you can withstand Mother Nature's wrath in the wild. It also has factory-sealed fly and floor seams, fully closable vents, a 75D 185T polyester fly with 1500mm coating to resist UV damage, and a 75D 185T poly taffeta floor with 5000mm coating.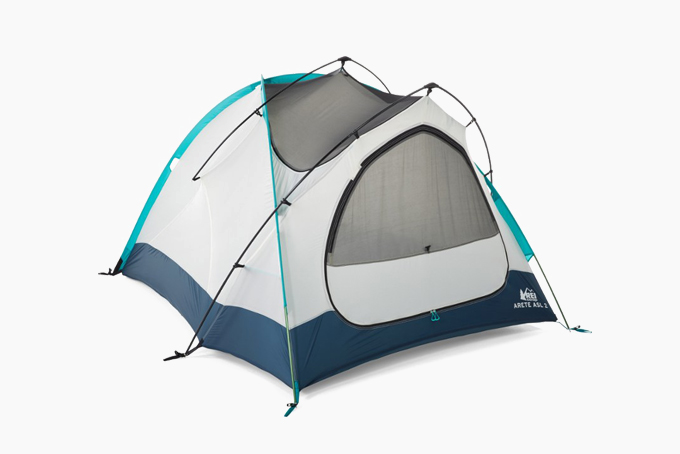 REI Co-op Arete ASL 2 Tent
Whether you're backpacking or camping, REI's Co-op Arete ASL 2 Tent is a sturdy temporary home outdoors. It has a 4-pole design for exceptional structural stability, making it dependable for camping in any weather. For further durability, it features a 30D high-tenacity polyester rainfly that's lightweight and strong, as well as adjustable vents that provide your sleeping space with cross-flow ventilation to release condensation.
Black Diamond HiLight 3P Tent
This portable base camp by Black Diamond is made for long hikes and mountain adventures. It has a flow manifold, allowing for interior heat convection and exterior airflow, drawing stale air and moisture away from the tent. It's made from high-tenacity 30D poly fabric for extra durability that doesn't stretch out when rain comes pouring down. And it has 100% taped seams along with an optional vestibule to store all of your gear.
The North Face Alpine Guide 2 Tent
When you're fending off the elements to complete your long hiking journey, The North Face Alpine Guide 2 Tent allows you to rest easy and refuel your body. The tent's 4-season rating stands up well to winter elements thanks to a PU-coated floor that fights moisture and durable DAC poles to maintain structure and stability. It also has a vestibule that lets you stow away your gear at night for safekeeping.
MSR Advance Pro 2
Created to meet the preferences of professional alpinists, the MSR Advance Pro 2 tent can provide you with shelter in the great outdoors all year long. It has a single-wall design with Easton Syclone Poles that are nearly indestructible as well as reinforced guy-points. Made from advanced composite materials that resist breaking in harsh conditions, this ultralight tent that's easy to set up will be your number one companion in the wilderness.
The North Face Mountain 25
With a polyurethane port window that's cold-crack tested to -60°F successfully, The North Face's Mountain 25 4-season tent for winter will protect you while you get some shut-eye in the beautiful backcountry. It features no-stretch Kevlar guy-lines with glow-in-the-dark zip pulls, a fully taped nylon bucket floor, high-low venting, and dual doors with a front vestibule.
Black Diamond Eldorado
If you want to make the outdoors feel like home, Black Diamond's Eldorado 4-Season tent will provide you with exceptional shelter during your stay in nature. The tent is constructed from waterproof and breathable Todd-Tex fabric and has a single-wall design. For superior strength, it has two poles that crisscross inside the canopy, which eliminates the necessity to thread sleeves.
Big Agnes Battle Mountain 3
Built with bomber basecamp materials, this lightweight mountaineering shelter is perfect for harsh weather or high-alpine conditions. It's made from tenacious ripstop with exceptional tear strength, keeping you well-protected no matter what season you decide to traverse the wild. The golden yellow colorway of the tent was requested by Chhiring Dorje Sherpa, who is a bonafide adventurer that's conquered Mount Everest an incredible 16 times.
Nemo Moki 3P 4-Season Mountaineering Tent
Capable of surviving extreme cold weather, yet versatile enough for warmer camping conditions, Nemo's Moki tent is a true champion of the outdoors. It's made from incredibly strong 40D OSMO waterproof and breathable nylon ripstop and has convertible panels for ventilation during spring and summer. Not to mention, it's backed by Nemo's lifetime warranty, so you know the construction is reliable for the long haul.
Hyperlite Ultamid 4 Ultralight Pyramid Tent
Whether you're going on a backpacking adventure or rounding up the crew for winter camping, Hyperlite's Ultamid 4 Ultralight Pyramid Tent will keep you warm. This 4-Season tent is constructed from Dyneema composite fabrics and is fully seamed, which means it's 100% waterproof. The American-made tent is specially designed to resist deformation and is built with two peak vents for breathability under any condition.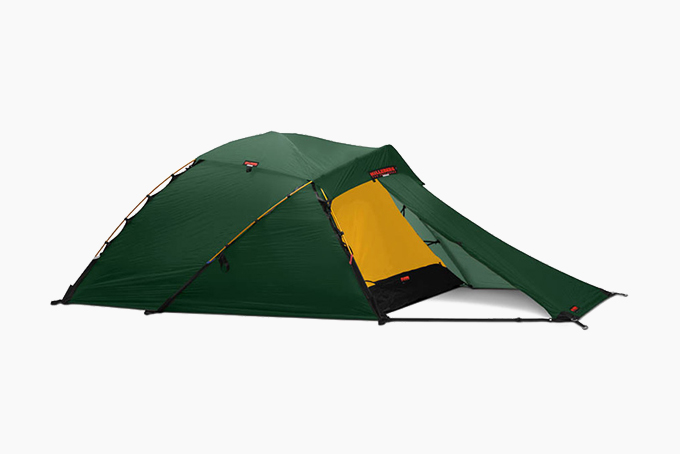 Hilleberg Jannu
Boasting all-season construction, the Hillberg Jannu 4-Season tent is a terrific choice for winter camping thanks to its Kerlon 1200 outer fabric and self-supporting dome design. The super-light tent is robust and has plenty of room for two travelers, including their gear. It's ideal for limited-space camping areas, such as small ledges, and does tremendously well in high winds.
Hilleberg Tarra
This 4-Season tent by Hilleberg is constructed from Kerlon 1800 fabric and has a self-supporting dome design stabilized with sturdy 10 mm poles. There are two entrances, vestibules for your gear, a clip pole system for quick setup, and adjustable fabric panels. And the pole crossing points allow it to withstand loads of snow.
How To Clean A Camping Tent
After you invest in a 4-Season Tent, it would be in your best interest to learn how to take care of it. Take a look at our guide on cleaning camping tents and gain some knowledge on how to extend the life of your outdoor shelter.