Back in 2017, Nike changed the sport of running forever, launching a now-infamous shoe known as the Zoom Vaporfly 4%. With a full-length carbon plate, a groundbreaking new midsole material (ZoomX), and a towering, maximalist stack height, it claimed to offer wearers as much as a 4% improvement in running economy. At the time, it seemed too good to be true — one amongst many gimmicks promised in a Nike press release. Hell, even World Athletics (the international governing body for running) didn't take the Big Swoosh very seriously.
Since then, the Vaporfly 4% and its various derivatives have helped runners set record-setting race times the likes of which the sport has never seen. And it's not limited to any one distance in particular; across the board, we're seeing numbers continue to fall, with everything from the 5k up to the full 26.2 ripe for the picking. As such, plated shoe technology has proven to be quite a divisive topic, with some runners discounting it as mechanical doping, and others heralding it as a necessary industry innovation. Regardless of how your ethics align with using super shoes, there's no denying that they're an expensive investment. With this in mind, we lay it all out for you: what are plated running shoes, and are they worth the money?
So What Are They?
The Skinny
Plated shoes are — as you'd expect — any type of running shoe that incorporates some sort of propulsive plate to assist with stride action. What the plate is made from, how it's shaped, and where it falls in the midsole varies from shoe to shoe. Consequently, plated shoes can differ pretty significantly in their ride quality, with some being softer and barely noticeable, and others being extremely stiff and highly pronounced in their effect. As a general rule, nylon-based plates are better for training, whilst ultra-light carbon plates are ideal for racing.
How Do They Work?
Running Economy
In order to better understand the engineering behind plated running shoes, you should first have a handle on the concept of running economy. Defined as the energy demand for a given velocity of submaximal movement, running economy is, in layman's speak, essentially how efficient you are at converting oxygen into forward motion. Much like V02 max and lactate threshold, then, a higher running economy results in faster paces and longer distances covered with less overall effort. While there are a number of ways you can go about improving your efficiency — like working on your form or building explosiveness — plated running shoes are designed to do so in a way that's consistent, measurable, and, of course, repeatable from one race to another.
On the road, plated running shoes effectively act as a lever, rolling your foot through the gait cycle from leading strike to trailing toe-off. Thus, by stabilizing your big toe joint as you push away from the ground, the plate redirects (what would otherwise be) wasted effort to become backward propulsion. In practice, this means that your legs will fare far better in a race than they would with traditional trainers, as the improved energy return requires much less muscle action on your part. In fact, Nike named its original Vaporfly the 4% for this very reason, claiming the shoe could save runners — on average — about 4% of their energy on any given run. Sure, that might now sound like a lot on paper, but it amounts to minutes at a time during a marathon.
Run Longer You Say?
Endurance
While a pair of plated shoes won't turn you into an ultramarathoner overnight, they can — in theory — help you run a bit farther. Like we've touched on above, a better running economy equates to less wasted energy, which in turn results in reduced fatigue over time. Assuming you're running above race pace (i.e., not using the added giddyup for extra speed), you'll tire much more gradually than you would under normal conditions. Nearing the end of the race or run, you'll be surprised by just how fresh your legs feel.
For this reason, running in plated shoes also helps facilitate your recovery from session to session, whether that's during hard tempo training or after an all-out race effort. Because let's face it. With less muscle contraction comes less lactic acid to metabolize, meaning your legs can quickly recoup rather than accruing painful soreness. It's worth noting, however, that you shouldn't wear your plated shoes for every run. By stabilizing your feet and ankles for peak efficiency, they're actually inhibiting some important muscle development. As we'll get into in the next section, their energy savings do come at a cost.
What About Support?
Stability
Plated shoes aren't (usually) engineered with support in mind, so runners needing some stability should use such kicks with caution. In fact — if anything — options like Nike's Air Zoom Alphafly NEXT% and adidas' Adizero Prime X are notorious for their instability at low speeds. Between the super-soft midsole foam, the massive stack heights, and the narrow outsole profile, they can be a downright nightmare for athletes who overpronate. A set of insoles can help with the problem, but be sure to find a shoe that works for your feet.
With that being said, in certain applications, carbon plates do create some semblance of stability. (After all, that thick slab of cushion would quickly become a squishy mess without any added structure.) The North Face's Flight VECTIV, for instance, makes use of a full-length 3D plate along the rocker to provide multi-directional underfoot support. When combined with a slightly flared forefoot and heel, it keeps your feet firmly planted and rolling over obstacles. If there's one takeaway here, then, it's that stability is as much dependent on shoe geometry as it is on plate profile.
But Do They Make You Faster?
Speed
Yes and no. Plated running shoes don't make you inherently faster, per se, though they do help you yield the most speed from your stride. In reality, it's the midsole material that proves a far bigger factor, as the foam is ultimately what's responsible for the brunt of your energy return. On the one hand, EVA (ethylene-vinyl acetate) formulas allow for a softer and more muted ride. Pebax-based foams, however, tend to be associated with a poppy, almost springy sensation. Naturally, the latter tend to be more responsive, but EVA-based shoes can be plenty bouncy, too.
Equally (if not more) important, however, is your shoe's overall geometry. That is to say — the shape of the midsole. These days, most shoes are made with some kind of curve or rocker in their step, as it's proven to be incredibly efficient at rolling you through your gait cycle. How it falls will vary from manufacturer to manufacturer, as some (like HOKA ONE ONE) go for an early, aggressive rocker, and others (like Saucony) tend to keep it more relaxed. One isn't necessarily better than the other — it's just up to you to find one that works with your stride.
Are They For Everyone?
Form
Given that plated shoes were engineered — primarily — for highly efficient and well-trained pro runners, you're probably wondering whether they'll even 'work' for you. In short: yes. Plates have the potential to help anyone achieve a PB, no matter their age, their gender, or even their pace. Of course, the faster you can run and the better your mechanics, the more pronounced the lever action will be. However, even slower runners can benefit from the added oomph that carbon provides. Plated shoes won't make you elite on their own, but they can certainly help you shave a few seconds off your race pace.
Just one caveat, though: any possible performance gains are entirely dependent on your foot strike. In other words, find a shoe that works for your movement pattern, as some are designed for forefoot runners, others for midfoot runners, and still others for heel-strikers. Attempting to run in a shoe that's not right for how you land will be both ineffective and also potentially injurious. For instance, heel strikers should avoid lacing up Nike's Air Zoom Alphafly NEXT%; the Zoom Air units fall ahead of their gait cycle, and the narrow, tapering foam will prove highly unstable. You're obviously welcome to run in whatever shoe you'd like, just know that you might not be maximizing your PB probability.
The Final Say
Our Verdict
Are plated running shoes worth the money? Yes, very much so. Plated shoes offer a decisive advantage over non-plated shoes, though you can't assume that every model will work for you. Instead, you should try to run in as many models as you can; super shoes are typically a pretty hefty investment, so it's better to find footwear that works with your feet.
The Cream of The Crop
Our Picks
Atreyu The Artist
Though Austin-based Atreyu started out as the dark horse of the running world, the brand has quickly made a name for itself on account of its affordable no-nonsense footwear. Case in point: The Artist, a shoe that's undercut the price of industry's top performers by as much as 300%. Rolling atop a responsive carbon plate and a healthy wedge of supercritical EVA, it's ideal for long training runs and fast races alike.
Saucony Endorphin Speed 2
Saucony's Endorphin Speed is a shoe that needs no introduction, wildly popular amongst runners because of its accommodating nylon plate. Though it's technically positioned as an uptempo trainer in the three-piece Endorphin hierarchy, many find that it works equally well for racing. Between the rockered SPEEDROLL geometry and the plush PWRRUN PB cushioning, it's easily one of the most versatile options on the market.
The North Face Flight Vectiv
While most carbon-plated kicks are designed strictly for on-pavement application, this pick from The North Face proves an exception to the rule. Engineered for fast and responsive running over ultra-long off-road distances, the Flight comes with a cushy Vectiv midsole and some grippy Surface Control traction. On the trails, its carbon plate has the added benefit of reducing ground force impact by 10%.
adidas Adizero Prime X
adidas created this massive slab of a shoe in order to push the boundaries of what stack height can be. As such, the Prime X is actually illegal for international competition, meaning you'll have to save it for long-distance training and informal marathon efforts. Riding on the same LIGHTSTRIKE PRO midsole and carbon fiber ENERGYRODS as the Adios Pro 2, it's a truly boundary-breaking concept with race-proven DNA.
Nike Air Zoom Alphafly NEXT%
The Air Zoom Alphafly NEXT% is Nike's latest and greatest, as it's the shoe that helped Eliud Kipchoge break the two-hour marathon barrier and solidify himself as an all-time running icon. From its AtomKnit upper to its ZoomX cushioning, the Alphafly is engineered for pro-level performance. Admittedly, the Zoom Air pods and stiff carbon plate can take some getting used to, but they're sure to reward you with some PBs once you get your foot strike sorted.
The 20 Best Men's Running Shoes To Buy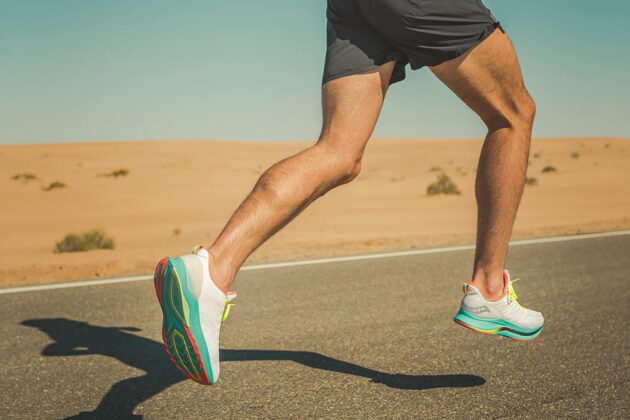 While plated running shoes are an ideal pick for race day, they should be used sparingly in training. As such, be sure to check out our guide to the best men's running shoes to buy, where you'll find a roundup of first-rate footwear that can handle all of your daily workout needs.