With the increased volatility of the global market these days, investors are looking for more innovative ways to diversify their portfolios. Some are investing in gold, others are throwing their money at cryptocurrencies, and an ever-increasing number of people are investing in watches. The popularization of the idea that watches are worthy investments has caused the prices of both vintage watches and hard-to-get modern luxury watches to explode in recent years, and it can be hard to figure out which watches are worth your hard-earned money. That's where this guide comes in, as we're here to show you the best investment watches to buy right now.
Now, we should get one thing out of the way quickly: investing in watches can be a touchy subject in the watch community. Most collectors value watches for their craftsmanship and their history, not as ways to make money. As more and more people flip hard-to-get watches from Rolex and Patek Philippe for profit or buy up previously-affordable vintage watches, prices rise, which makes it harder for collectors who are simply trying to enjoy watches to continue their hobby. Other collectors don't have an issue with watch investing, however, as they are able to both enjoy their watches in the present while also knowing that someday they could potentially cash them in for a big payday. However you feel about the trend, it doesn't hurt to know what the best watches to invest in are.
Know The Risks
Watch Investing Is Hardly A Sure Thing
Investing in watches is not like investing in government bonds. You are not guaranteed a return, regardless of what anyone says. No one knows what the future holds, and while something may have been trending up for years — like, say, steel sports watches from Rolex — that doesn't mean the trend will continue. One major risk is that future generations may place less value on watches, especially as smartwatches become more and more prevalent. We're already seeing this to some degree, with the Apple Watch now outselling the entire Swiss watch industry. So even though luxury watches are booming on the secondhand market right now, the industry is struggling mightily at the retail level. That effect could eventually trickle down, so the lesson here is to never invest money in watches that you can't afford to lose — because that's something that could very well happen.
Buy What You Love
The Only Sure Way To Avoid Disappointment
The best way to avoid the disappointment of losing money on your investment is to only buy watches that you want anyway. That way, you'll be able to look at any money you make from your purchase as a bonus on top of the enjoyment that you already got from owning and wearing a watch that you love. This strategy is unique to watches compared to other types of investing — not many people buy stocks based on how much they like the companies — but watches are also unlike other investments in that they are usable before they mature. So always shop for yourself and what you want first when it comes to watches, even when investing, and then narrow it down to which of your favorite watches seems most likely to offer you a return on your investment.
Omega Speedmaster ref. 311.30.42.30.01.005
In 2020, Omega revamped its flagship Speedmaster Moonwatch Professional, giving it a brand-new movement with the Calibre 3861. The flashy new movement brings the Moonwatch in line with the rest of Omega's lineup with a co-axial escapement, silicon balance spring, and METAS Master Chronometer certification. But some fans think it's a little too high-tech and that it's lost touch with the watch's space-faring past by straying too far from the Moonwatch's original Calibre 321 movement. The previous Speedy — ref. 311.30.42.30.01.005 — that was just discontinued to make way for the new one housed the Calibre 1861 — a direct descendant of the 321. There are already some who are saying that it was the last "true" Moonwatch, and that means prices should continue to climb as the years wear on.
Omega Seamaster 300 ref. 165.024
It wasn't that long ago that Omegas were considered a huge bargain on the vintage marketplace, and in a select few areas, they still are. But as the modern iteration of the brand has gone up-market in recent years, the vintage market has followed, with previously-affordable older Omega models rapidly increasing in value to catch up to their present-day luxury siblings. One model line that has seen significant growth is the Seamaster 300, particularly this reference. Produced in the 1960s, the ref. 165.024 has an aesthetically-pleasing design with its Arabic indices and sword hands — plus the "Big Triangle" on the most desirable examples — as well as historical significance thanks to its commissioned use by the British Royal Navy. These are still relatively affordable, but prices have been climbing fast over the past two years and the ascent doesn't seem likely to slow soon.
Rolex GMT Master II ref. 16710
When Rolex reintroduced the stainless steel Pepsi-bezeled GMT Master II ref. 126710 BLRO in 2018, everyone who owned a vintage Pepsi GMT rejoiced, and everyone who wanted to own one but didn't panicked. That's because Rolex's new release kicked off a Pepsi bezel fever that caused the prices of all older Pepsi-bezeled Rolex references to blow through the roof. While certain Pepsi GMT Master or Master II references could be found for around $7,000 just a few years ago, it's now practically impossible to find one under $10,000, with most references starting around $12,000 (even though the new ones retail for $9,700, they sell secondhand for twice that). The exception is the GMT Master II ref. 16710. Readily available for about two grand less than other Pepsi references, it's only a matter of time before this model — the second generation of the GMT Master II — catches up to the rest of its soda-loving family.
Rolex Submariner ref. 116610LV
Much like Omega's Speedmaster update in 2020, Rolex also updated their own icon in the Submariner. For the first time in its history, the Submariner became a 41mm watch, with all 40mm versions of the world's best-known diver discontinued. Among the casualties was this popular reference, nicknamed "The Hulk." As soon as news of the discontinuation hit, Hulk prices blew up — even though it was replaced by a new 41mm Hulk in Rolex's lineup. The phenomenon is likely the same as what we're seeing from Speedmaster fans, with some considering the discontinuation of the 40mm Sub to be the end of an era. As a result, you can probably expect the value of the Hulk to continue growing — even without making it angry.
Patek Philippe Nautilus ref. 3800
Arguably the hottest watch in the world right now is the Patek Philippe Nautilus ref. 5711. With waiting lists for the watch rumored to be a decade long, Patek did the unthinkable in 2021 and announced that they were discontinuing their most popular model. This caused the already-inflated price of the watch to go even higher, but the ship has sailed on trying to invest in the reference as they're already selling for 3x retail at well over $100,000. So you would be wise to look for alternatives, which is where the ref. 3800 comes in. The mid-sized sequel to the original Nautilus, the 3800 is currently extremely undervalued considering the popularity of the model family. It is by far the most affordable men's Nautilus you can get, and it has plenty of room to grow.
Patek Philippe Aquanaut ref. 5167A
Another 5711 alternative, and one that is likely to offer a quicker return on investment than our previous entry, is this, Patek's other sports watch. The water-friendly Aquanaut isn't quite as popular as the Nautilus, but it still has a similar look and is a very-coveted steel sports watch from Patek. In other words, if you're lucky enough to get one you will probably be able to sell it for more than what you paid for it. As collectors continue to be priced out by Nautilus references, they are likely to turn to the Aquanaut in increasing numbers, which should send demand and prices soaring. As it is, the already-hard-to-get watch sells for double its retail value on the secondhand market, with no indication of falling value anytime soon.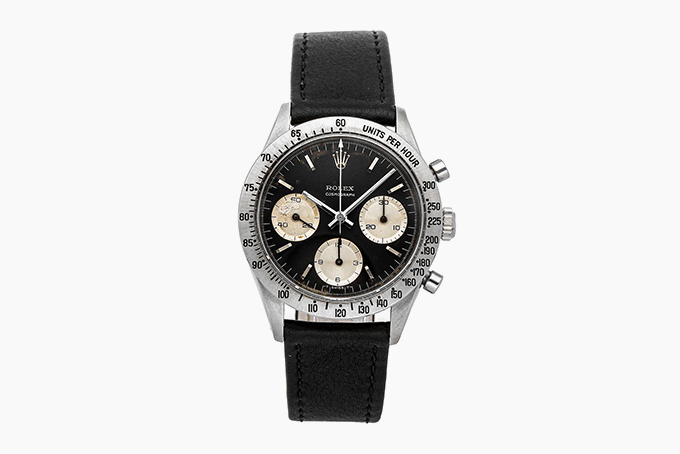 Rolex Daytona ref. 6239
While there are no sure things in terms of watch investing, this is about as close as it gets. Alongside the 5711 Nautilus, the modern Rolex Daytona is probably the hardest non-limited edition watch to buy at retail right now, with years-long waitlists and an ever-growing mystique. The popularity of the modern Daytona combined with recent blockbuster auctions of some personal vintage Daytonas owned by the world's most famous Daytona fan, Paul Newman, have created a perfect storm that has lifted the value of all Daytona references tremendously. But the safest bet remains the original Daytona, ref. 6239. Since it was the first, it's likely always going to be popular, while interest in later references — especially the current version — may not last.
Audemars Piguet Royal Oak ref. 15202ST
Right off the bat, it's worth pointing out that the modern Royal Oak is a very expensive proposition. This reference is by far the most popular of AP's flagship, as it's the most faithful to the model that originated the luxury steel sports watch segment in 1972. Like the Nautilus and the Daytona, these are basically impossible to buy new and are currently trading around 2x retail on the secondhand market. Some may make the argument that the price is currently overinflated, and maybe it is. BUT. If Audemars Piguet pulls a Patek and decides to discontinue the ref. 15202ST, then it's very possible we could see a 5711-type situation where this watch ends up trading for six figures in rapid fashion. Investing in one of these is a gamble, for sure, but we told you that watch investing was risky.
The 24 Best Affordable Alternatives To Iconic Luxury Watches
As you've no doubt noticed, investing in watches requires a significant amount of money to begin with. You may have found that you like the look of some of these luxury watches, but you lack the funds to actually purchase them. In that case, you should have a look at our guide to affordable alternatives to iconic luxury watches. These watches may not make you any money, but they're definitely worthy timepieces to add to your collection.