Buying a car can be a difficult experience. Buying a used car has the potential to be far more jarring, obnoxious, and risky — even from a legitimate dealership. Unfortunately, in the past, it was a necessary evil for anyone who couldn't afford or (for whatever reason) didn't want to purchase a brand-spanking-new vehicle. Thankfully, technology has come a long way and, in many ways, has helped make the used car-buying experience a good deal less tiresome.
Nowadays, not only can you do all of your thorough research online beforehand, but you can actually do everything from browse to finalize your purchase entirely on the web if you want to. Of course, like dealerships, some websites are a good deal better than others when it comes to hunting down and buying a solid used vehicle. That's why we've rounded up the following twelve sites; these are the best places online to buy a used car.
Notes About Buying Used
A Quick Primer
While the last couple of decades have resulted in a lot more oversight, car buying online is still the wild west — especially if you're buying from a private seller through an online marketplace or aggregate site. And while there are a few things you can't do online that you might be able to do in person — e.g. actually getting in the car and going for a test drive — there are still a number of things you can do to make your search more thorough and catch any red flags before you make an investment.
Inspect The Photos: You wouldn't buy a car online sight unseen, right? Of course not. But, as they say: the devil is in the details. Even with limited access to photographs of a particular vehicle, you should be able to give the car a cursory detailed inspection. Look around for cracks in the paint, rust under the hood, any evidence of body or frame damage, etc. You can also (and should) ask for more photos if you don't feel confident in what you see. It's not going to be as effective as an in-person inspection, but it's better than nothing and you might just save yourself some frustration.
Ask For A Complete History: Almost every legitimate dealership should be able to give you some kind of report that details the purchase, maintenance, and accident history of a particular vehicle. And there are external services, like Carfax, that will allow you to look up that same information via a car's VIN. If you're looking to buy online, this is a hugely beneficial metric to keep in mind. More importantly, if a seller refuses to give you this information, you're probably better off searching elsewhere.
Look Up The KBB Value: Kelley Blue Book has been the standard in car valuation for a long time at this point. And it's something you should be looking up any time you're buying a used car. What's especially handy about their system is that, on top of the overall estimated value, the numbers can be influenced by mileage, apparent condition, and even the vehicle's color. This can also give you a bit of bargaining wiggle room, as private sellers and dealerships alike can be persuaded to lower their asking price if it's not in line with KBB's standards.
Search For Comparable Vehicles: Unless you're shopping for a one-of-a-kind car, truck, or SUV, there are probably a number of examples of the vehicle you want up for sale. Don't simply purchase the first one you see — look around a bit. Even if you find one that's within your price range and in acceptable condition, check on a few other sites. You might just confirm that your first find is the one to pursue, but you also might end up getting a better deal elsewhere.
Autolist
Autolist has a couple of really great things going for them in regards to used car-buying. First and foremost, they're not strictly a sales space. Rather, they aggregate vehicles-for-sale from multiple sites, so you can access them all in one place. Secondly, their biggest strength lies not in their desktop site, but rather their extremely easy-to-use mobile app. And since most people are on their phones all the time, that bodes well for those of us looking to buy a gently-used ride. And in a very crowded space, that little bonus has the potential to make all the difference.
Autotrader
Absolutely one of the oldest surviving websites that deals in the selling of used vehicles, Autotrader was founded back in the infancy of the internet, way back in 1997. And in that time they've ascended to offer the largest selection of inventory in regards to both dealerships and private sellers. They didn't get there by accident, either. In fact, on top of a massive inventory, they have one of the most comprehensively useful suites of online research tools, including in-depth buying and selling tips, a remarkably thorough set of search filters, vehicle reports on just about everything sold on their site, and so much more.
Bring A Trailer
There are a lot of car auction organizations out there, but few of them are as buyer- and seller-friendly as Bring A Trailer. Designed to work as a remote standalone auction house, BAT was founded back in 2007 as an online marketplace for vintage vehicles. Their community has since expanded at an exponential rate and now they offer up limited-run auctions on everything from rare parts, to project vehicles, to fully-restored ready-to-drive classics. If you're a seller, listing your vehicle will only cost you $99. If you're a buyer, you have to contend with other interested parties, just like you would at a traditional auction, only you can do it from the comfort of your home.
CarGurus
Founded in 2006, CarGurus is one of the few used car marketplaces that can go toe-to-toe with the likes of Autotrader in regards to their wide range of options and comprehensive suite of search tools. According to the brand, what differentiates them from the competition can be seen in their use of "proprietary technology, search algorithms, and innovative data analytics" — giving them the ability to present the cars, trucks, and SUVs in their sales space without bias, allowing users to judge for themselves. All told, CarGurus takes literally millions of factors into account when estimating the value of their vehicle offerings. And since they operate in the USA, Canada, and several European countries, they're also one of the most internationally-friendly sites.
Carvana
It's likely you've heard of Carvana from television commercials or internet ads, as the brand has been fairly aggressive in their marketing lately. What you might not know, however, is just how special their service is. You see, when you buy a car from Carvana, you don't have to go anywhere to pick it up and drive it home. Rather, they'll lift it onto the back of a delivery truck and drop it off on your doorstep. And that level of convenience gives the brand a big leg-up on the competition. Pair that with their suite of online research tools, dedicated experts to answer any query you might have, and the added novelty of actual, physical car vending machines, and Carvana is a bright light in the used car sales industry.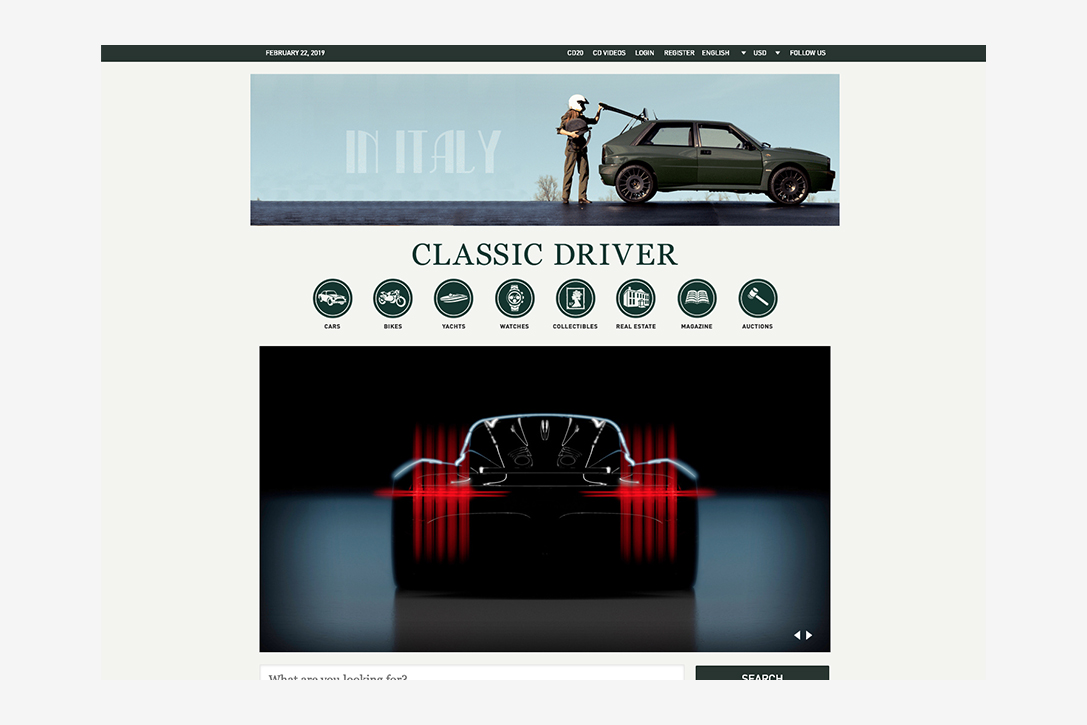 Classic Driver
If you're a fan of vintage automobiles, there's a fairly good chance you're familiar with Classic Driver as an online blog. Of course, giving classic cars some journalistic coverage is hardly all they do. Look under the hood and you might come to realize that Classic Driver actually doubles as a used car sales space, via their online marketplace. Here, you can find iconic vehicles for auction, offerings from dealerships around the world, and even cars and trucks being sold by private sellers. What's especially enticing about Classic Driver's amalgamation of sales is that, because they're known for coverage of rare and iconic automobiles, some exceedingly special offerings can be found on their marketplace.
Craigslist
There is a lot of reason to think that Craigslist is a sketchy place to buy or sell anything, as there are obvious risks to taking the word of strangers at face value. That being said, it's also true that Craigslist is one of the few places you can find things amongst your community without the involvement of larger, money-hungry organizations. And that means it's easier to find a great deal on a vehicle. We wouldn't suggest that any novice try to find and purchase a car through this service. But if you're knowledgable, cautious, and have a seasoned mechanic nearby you trust to have a look at the vehicle you're looking to buy, it's far from the worst possible option. In fact, sometimes the things found on CL are almost too good to be true.
eBay Motors
A good deal more regulated than Craigslist, eBay Motors is no longer the wild west of auction sites — at least when it comes to the risks associated with buying sight-unseen. Now, while their site can feel a bit clunky, they have an impressive roster of offerings that range from daily drivers, to rare classics, to custom projects, to both commercial and recreational vehicles, and even to parts for any given ride. And you no longer have to enter bidding wars for everything available, as eBay now has a "buy it now" options with a no-fuss price — although that option is up to the discretion of the seller. Whatever the case, eBay Motors is a shockingly good place to seek out your next used car purchase.
Hemmings
The number one stop when it comes to vintage used car sales online, Hemmings is legendary in the automotive for its wide-ranging catalog of rare motor vehicles. In fact, if you hope to purchase anything that was built more than a decade ago, this is probably the place you should start looking for it. It's definitely worth noting, however, that — while Hemmings specializes in vintage vehicles — they also offer a full range of modern cars, trucks, and SUVs. With thousands of options dating from the 2010s all the way back to the 1890s (yes, they actually have horseless carriages up for sale), this is the best place to find a vintage ride on the entirety of the internet.
Kelley Blue Book
If Kelley Blue Book sounds familiar to you, it's probably because they set the standard in vehicle valuation across the car industry — especially when it comes to secondhand markets. In fact, if you've bought a car in the last ten years that wasn't direct from a dealership and you didn't wonder about the Kelley Blue Book Value, you're probably brand-new to the car-buying world. As it turns out, however, they also now have their own online sales space where you can get the value of any car being sold at-a-glance. Granted, their first priority still lies with valuation, but their marketplace is surprisingly wide-ranging and comprehensive.
RelayCars
RelayCars is one of the smaller sites on our list, but they also offer up one of the most unique features in all of car-buying. You see, every listing they have is accompanied by a full Virtual Reality experience — which helps overcome the unfortunate fact that, when buying online, you can't exactly get inside the car to check it out. And it's not just getting a look at the vehicles in stereoscopic 3D, as they also offer other downloadable experiences, like their Virtual Test Drive — which allows users to see what it's like to take a spin in the very cars they're considering purchasing. Best of all, the service is free, so there's no premium if you just want to browse.
Vroom
Vroom is not unlike Carvana, in that you can buy a vehicle of your choosing and have it delivered directly to your door. It differs, however, in that the sales space is a good deal more refined, with offerings on the higher end of the spectrum. That's backed up by a small but abundantly dedicated team whose job it is to help alleviate the normal unfortunate bits that come along with buying a vehicle using more traditional methods. Their list of offerings is a lot slimmer, but that should be viewed as a reflection of their elite service rather than a drawback. We should also be clear: they still have over 3,000 vehicles available, which is still a plenty comprehensive catalog of offerings.
15 Best Supercars Under $50,000
Now that you've got the industry's best tools for buying a used car at your disposal, it's time to narrow down your search for a new ride. You might be surprised at what you can drive home if you consider buying one of the world's best supercars under $50,000.