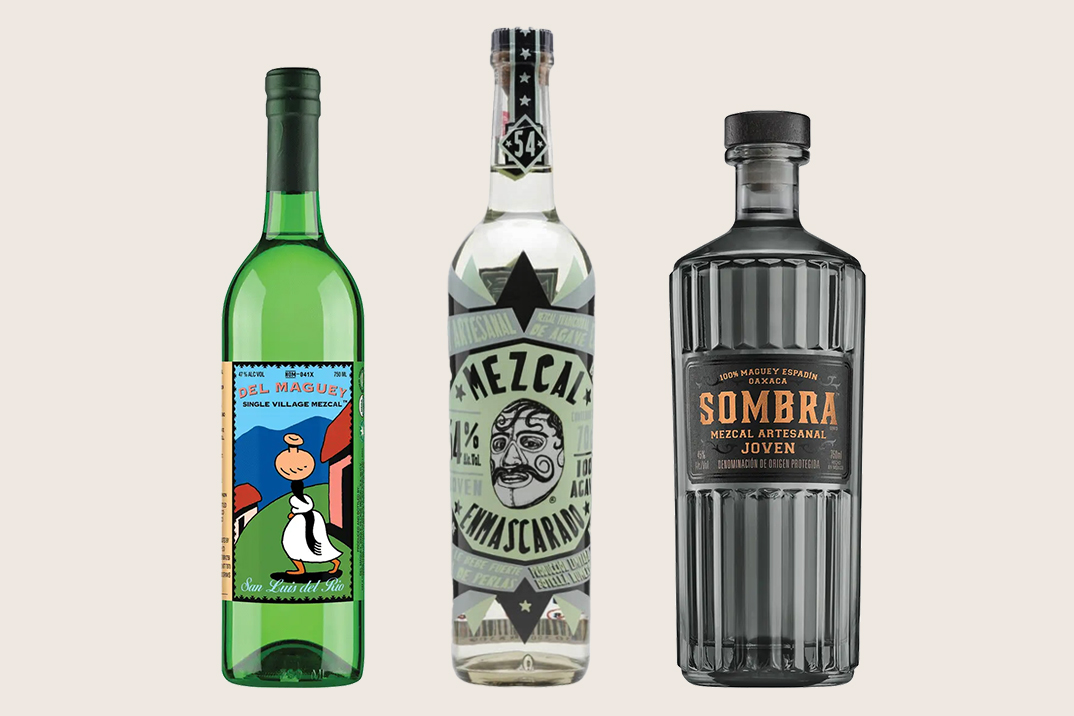 Until about a decade ago, North Americans hadn't been exposed to good mezcal. Prior to then, the spirit had generally been marketed in a low-brow, let's-get-smashed kind of way. In fact, lots of people still believe that mezcal contains or at least has some relationship with mescaline, a hallucinogenic drug, (it doesn't; the almost identical names came from some Spanish confusion over two plants that had similar names in Nahuatl), or that the "good stuff" is the one with the "worm" in it (it's actually a moth larva and a bald-faced marketing ploy). It's not that way in Mexico, where mezcal is held in great regard. In fact, there's an old saying there that roughly translates to "for everything that makes you feel bad, take mezcal; and for everything that makes you feel good, take mezcal." Check out our picks for the best mezcals to drink.
Best Mezcals to Drink
Best Añejo

Ilegal Mezcal Añejo

Best Joven

Bruxo No.1 Joven

Best for Whisky Drinkers

Los Siete Misterios Espadin

Best Overall

Del Maguey San Luis del Rio Mezcal

Best Budget Mezcal

Sombra Joven

Best High-Proof

Enmascarado 54 Joven

Best Top-Shelf Mezcal

Codigo 1530 Ancestral Mezcal
What Is Mezcal and How Is It Made?
Translating to "roasted agave," mezcal, like tequila, is a type of spirit distilled from any variety of agave plant. It's a broader category that tequila fits inside and, thus, tequila is a subset of mezcal.
Why Is Mezcal Smoky?
One of the first things you notice upon switching from tequila to mezcal is the smokier profile of the latter. This is created by fire-roasting the agave hearts — or piñas — in either a stone or brick pit (as opposed to tequila which bakes the piñas in an oven) that has been covered for several days to contain the smoke.
Mezcal Vs. Tequila
Lots of people outside of Mexico confuse tequila and mezcal. So let's get this straight: all tequilas are mezcals, but not all mezcals are tequilas. If it helps, think about tequila as being like bourbon, a spirit that by law must be made in a certain way in a specific place to earn its name. Correspondingly, you can think of mezcal as being like whiskey, a spirit with broader-defined, but generally agreed-upon rules. And just as there are plenty of American whiskeys that aren't bourbons that are superior to many bourbons, several quality mezcals can take on the best the tequila world has to offer.
Like tequila, all mezcal must be from Mexico and be distilled using roasted agave. However, unlike tequila, which must be from the town of Tequila, Jalisco, mezcal can be distilled in one of nine Mexican states (although it mostly comes from Oaxaca. Also, tequila must be made from the Blue Weber variety of agave, while mezcal can be made from one of the 40-something varieties of the plant.
Ilegal Mezcal Añejo
Best Añejo: Marketers often try to sell spirits with an outlaw image. It's not hard to do that with a brand named Ilegal. It earned that name when a guy named John Rexer smuggled several mezcals from Mexico to his bar, Café No Sé, in Guatemala. But the customers wanted one particular bottle over and over again. It was so popular and so good, he started to export it around the world — legally. But that's not why it's at the top of this list. Handmade using traditional methods in very small batches, it is a revelation — especially to those new to mezcal. Its nose is all honey and smoke, enticing and foreshadowing. Because it spends a year in oak barrels, it's salty and subtly sweet like a good piece of bacon, and it's far smoother than you'd expect from any mezcal. But it's far more complex than that with fresh mint, orange peel, and even toffee showing up. And it all finishes with dark chocolate over smoke. My first reaction was just to say wow. This is a surefire way to convince skeptics of the worthiness of mezcal.
Region: Tlacolula, Oaxaca
ABV: 40%
Tasting Notes: Honey, smoke, salt, mint, orange peel, toffee, dark chocolate
Bruxo No.1 Joven
Best Joven: This is a joven (or young) mezcal that is much more complex than its years would make you think. Its nose starts with smoke and then offers more floral tones. On the tongue, it lacks the alcohol burn many associate with mezcals, and instead supplies black pepper, grapefruit, and orange peel over light smoke. And it closes with distinct cinnamon over a light floral background. While many better sipping mezcals take the place of bourbon in liquor cabinets, this young one reminds me more of a Speyside scotch. Drink it as you would scotch for a pleasant change.
Region: San Dionisio Ocotepec, Oaxaca
ABV: 46%
Tasting Notes: Smoke, floral, black pepper, grapefruit, orange peel, cinnamon
Los Siete Misterios Espadin
Best for Whisky Drinkers: This mezcal is also very scotch-like. Open it up, smell the wood smoke and caramel, and you'll probably think it was a scotch. But on the tongue, it behaves differently. Where a fine scotch would have tones of sherry or fruit over its primary smoke and wood or leather, this mezcal instead has more herbal, even floral complement. But it's plenty sweet and smooth, with brown sugar and allspice in the mix, making it surprisingly complex. It finishes quite luxuriously with smoke and baking spices. This is a spirit that gets more likable with repeated sips. Don't make the mistake of using this in a mixed drink. It's best enjoyed on its own.
Region: Santiago Matatlán & San Luis del Rio, Oaxaca
ABV: 44%
Tasting Notes: Sweet, brown sugar, allspice, floral, smoke, baking spice
Del Maguey San Luis del Rio Mezcal
Best Overall: Del Maguey likes to use the adjectival phrase "single-village" to describe its mezcals in much the same way scotch makers bandy about "single-malt." And that's okay with me, because the single village in question — San Luis del Rio in Oaxaca — makes a very fine mezcal. It should be served in a snifter because it's all about that nose. Rich and intense with honey over ground coffee and light smoke, the opening scent signature lets you know this is no ordinary spirit. Creamy to the point of buttery without being oily, the honey flavor continues, but with cinnamon and perhaps a touch of black pepper. And I get cloves over caramel in the finish. Serve this along with after-dinner conversation to surprise and delight your guests.
Region: San Luis del Rio, Oaxaca
ABV: 47%
Tasting Notes: Smoke, honey, ground coffee, creamy, cinnamon, black pepper, cloves, caramel
Sombra Joven
Best Budget Mezcal: Handmade using traditional methods and roasted in the palenque (stone-lined conical pit) over oak and under banana leaves, this mezcal has just two ingredients — organic espadin agave and wild yeast. So if you're going for a pure mezcal experience, this one might be your best bet. The oak smoke comes through boldly in the nose, as do notes of grapefruit and lemon peel. In the mouth, the first tones you'll get will be smoke and salt, but they are soon joined by lemon, white sugar, and a touch of fresh-cut apple. And it finishes strong with a touch of cinnamon and an even fainter dose of mango over smoke. Since it's available at such a decent price, too much of this stuff is ending up mired in cocktails. But resist that urge.
Region: Santiago Matatlán, Oaxaca
ABV: 45%
Tasting Notes: Smoke, salt, lemon, sugar, apple, cinnamon, mango
Enmascarado 54 Joven
Best High-Proof: Rivaling Sombra for tradition bragging rights, Enmascarado points out that the mill that grinds its organic agave is powered by a team of horses. I'm not sure what tradition actually tastes like, but the company's Milagrito del Corazon is an excellent mezcal. I actually prefer the clear Joven (aged seven weeks) to the darker Milagrito del corazon (aged seven months). As you'd expect its nose is plenty smoky with hints of sweet lemon candy. On the tongue, it continues with the smoke, but replaces the sweet lemon with a hint of lime juice. And it finishes with more smoke and a return of lemon, only less sweet. Although it doesn't come cheap, there's something friendly and assessable about this mezcal. Instead of special occasions, it's the kind of sipper that goes perfectly with friends in a casual social atmosphere.
Region: Santiago Matatlán, Oaxaca
ABV: 54%
Tasting Notes: Smoke, lime juice, lemon, sweet
Codigo 1530 Ancestral Mezcal
Best Top-Shelf Mezcal: While most mezcals are much better when sipped neat, you won't want to put this Codigo 1530 Ancestral Mezcal anywhere near an ice cube or cocktail shaker. Mezcal (and tequila) has some of the most stringent rules and standards of the spirits world, but the coveted Ancestral mezcal, which is said to have a more historically-accurate profile, requires even more exhaustive measures to achieve its designation. As such, the delicious result is a product of these laborious methods (which is not always the case with other liquor types). Fermented in leather, Codigo's Ancestral Mezcal features hand-mashed Papalomé agaves and yields a sweet and earthy aroma with notes of honey, tobacco, vanilla, cantaloupe, and hazelnut.
Region: San Juan del Rio, Oaxaca
ABV: 43.1%
Tasting Notes: Honey, tobacco, vanilla, cantaloup, hazelnut
Classic Cocktails Every Man Should Know
Mezcal is great for sipping, but if you have some liquor that's ready to be mixed, check out our guide to the essential cocktails every man should know.