Ask any whiskey drinker for their take on the differences between American bourbon, Irish whiskey, and Scotch, and chances are pretty good that they'll be able to give you at least a baseline explanation. However, what most fail to realize is that the lattermost of these spirits is actually one of the most diverse in execution, with five distinct regions each producing their own unique expressions. Of course, there may be some similarities here and there; however, for the most part, you'll find that Islays are ideal for one type of palate whilst Lowlands are suited for others (with Speysides, Highlands, and Campbelltowns falling somewhere in between). To save you some redundancy, we go into each one — individually — down below.
In any case, don't be intimidated by all of the variety that Scotch has to offer. Sure, it's undoubtedly a more pretentious spirit compared to its stateside counterparts, but that's not to say that it's impossible for a novice to learn. On the contrary, with a bit of practice and some diligent drinking, you too can be well on your way to becoming a certifiable Scotch expert. But rather than setting you loose to fend for yourself at the supermarket, we've put together this comprehensive guide to get you off on the right foot. What follows are what we've found to be some of the best Scotch whiskies you can buy, organized within their respective regions and allocated according to their relative popularity. So, get out your Glencairn and read on to find out.
Peated And Smoke-Forward
Islay
Although Islay is the smallest region in terms of outright size, it's actually one of the most popular compared to any other. This type of Scotch tends to be heavily peated, with lots of emphasis on its distinctive smoky flavor.
Ardbeg 10-Year
No matter if you're a diehard fan of smoky Scotches or you're just looking for a cheaper introduction into Islays, this Ardbeg 10-Year is sure to please. Packed full of peaty flavor, it meets you with notes of light honey, candy, and citrus on the nose, after which it transitions into a palate that starts off sweet and ends slightly bitter. Top it off with a lingering, tropical fruit finish and you've got an expression that's ideal for daily drinking. In fact, this is one Scotch that'll have you reaching for another dram before you know it.
Laphroaig Quarter Cask
While this single malt from Laphroaig may be on the younger side (it's aged for around five years), that's not to say that it's lacking in character. Rather, the time spent in a smaller, quarter-sized cask means that it can mature at a much faster rate without compromising on flavor. Approachable, easy-drinking, and sweet from start to finish, it's an absolute treat to drink even despite the higher ABV. Sure, this isn't one that'll floor you with its peaty impact, though it offers a nice, slow build that makes for a pleasant sip.
Bruichladdich Port Charlotte 10-Year Peated
In addition to being Bruichladdich's flagship Port Charlotte expression, this 10-Year blend also took Double Gold at the 2018 San Francisco Spirits Competition, so, needless to say — it's heaped with peated pedigree. Comprised of 65% first-fill American whiskey casks, 10% second-fill American whiskey casks, and 25% second-fill French wine casks, it's a complex spirit that's loaded with sweet-yet-salty spice. Though experienced Scotch drinkers might be turned off by the bourbon-like flavors, we'd recommend it as an ideal introduction for those who are just getting into the category.
Lagavulin 16-Year
A consistent fan favorite and personally endorsed by Nick Offerman, this 16-Year is one spirit that's pretty much always in high demand. And it's not without good reason; in recent years, it's served as the benchmark Islay from the distillery, combining an intensely smoky nose with a thick, rich mouthfeel to deliver a dram that's highly representative of the region. From the sweet sherry palate to the long, figgy finish, it's bound to impress you with its big character and powerful peat. Trust us when we say that if you can manage to find a bottle, be sure to pick one up.
Caol Ila 12-Year
As the largest producer of Islay Scotch in the world, Caol Ila is a distillery that needs no introduction. In fact, the Diageo-owned outfit's whiskies are so peated and balanced that you'll commonly find them in Johnnie Walker and various other blends. With this 12-Year, you're getting a light, refreshing single malt that's super sweet apart from a hint of characteristic Caol Ila smokiness. Oh, and if you're a fan of toffee and vanilla, this one's for you — despite its potent nose, the gentle palate is sure to please.
Bowmore 18-Year
As the intended replacement for Bowmore's 17-Year, this spirit had some pretty big shoes to fill upon its launch back in 2007. Thankfully, the distillery has managed to deliver, as it's an incredibly complex expression that'll have you going back for sip after sip. Pouring a pale orange in color, it starts off with an introduction of green apple, follows things up with some dark chocolate and honeydew, and rounds out the experience with rich marmalade. A bit fruitier than some other Islays, for sure, but still one that continues to hold its own.
Sweet And Sherried
Speyside
Geographically, Speyside Scotches are technically part of the Highlands; however, because of the sheer concentration in distilleries (roughly 60, give or take), it's considered its own region. With these expressions, you'll find that sherry finishing leads to some super-sweet flavors.
Glen Moray 12-Year
Just because this $40 12-Year is technically Glen Moray's entry-level expression, don't discount it as some subpar spirit. Sweet, balanced, and perfect for sipping, it makes for an ideal initiation into the world of Speyside Scotch. On the nose, you'll find notes of caramel and lemon zest, a combination that gently transitions into honey, whisky spice, and toffee. Finished off with just a hint of malt and wood, we'd challenge you to find anyone who wasn't a convert after just one dram.
Aberlour A'bunadh
This cask strength whisky gets its name from the Scotch Gaelic word for "of the origins," as it was first released in an attempt to replicate Aberlour spirits produced around the 19th century. Bottled in batches rather than age statements, each expression contains a blend of whiskies barreled between five and 25 years. Now on its 68th batch, A'bunadh is a Speyside that's savory-sweet with notes of fruit cake, Christmas pudding, and chocolate raisins. And because of its time spent in Spanish Oloroso butts, it's chock-full of rich sherry flavor.
Glenlivet 18-Year
If you're after a dram that's quintessentially Speyside in character, you can't go wrong with this 18-year from Glenlivet. Winner of two golds at the International Wine & Spirits competition, it pairs first and second-fill casks — both American oak and sherry — to deliver an expression that's exceptionally full and well-balanced. Best enjoyed neat, it's an apricot gold in color with an oaky-rose nose, a sweet citrus taste, and a slightly spicy, raisin-like finish.
Glenfiddich 21-Year
Okay, admittedly, this one can be a bit divisive depending on your particular palate, but if you're looking for a unique, rum-finished single malt, Glenfiddich's 21-Year is totally worth the $200-plus price tag. Finished in Caribbean casks over a series of four months, it's loaded with ginger spice and tropical fruit. Though it's not the booziest expression on the market, it still manages to offer up plenty of complexity, with dark brown sugar, chocolate, and bananas, as well as some lingering notes of marmalade. Oh, and if you have any doubts as to this spirit's critical acclaim, it took gold at both the ISC and the IWSC in 2020.
The Macallan 18-Year Sherry Oak
Arguably the most iconic whisky outfit in all of Scotland, The Macallan has even had its stills printed on the back of the country's banknotes. In the case of this sumptuous 18-Year Sherry Oak single malt, you're getting a clean, uncomplicated expression that makes for a truly competitive option in the premium price segment. Classically mahogany in appearance, it starts off with some sherry and spiced plums before transitioning into salted butter and finishing off with a waft of caramel. If you can manage to stomach the $300 price tag, we have no doubt that you'll be pleased with this as your pour.
Regional And Ranging
Highlands
The Highlands is the largest of all regions in Scotland, meaning it can be tricky to pin down an exact flavor profile. As a general rule, though, this variety of Scotch tends to be spicier overall, with some sweetness from distilleries to the north and more dryness from distilleries to the south.
AnCnoc 12-Year
Though this Highlands spirit is produced by Knockdhu, the distillery actually renamed it to prevent a mixup with the neighboring Knockando. Nevertheless, it offers a gentle entry into the category, eschewing a sherry finish in favor of a more approachable dram. Light, crisp, and refreshing, it's perfect for those who like a bit of citrus in their Scotch. As such, this is one whisky that we'd save for a warm summer afternoon because its medium body and fresh lemon flavor bring out the best of the season. Also, it doesn't matter how you enjoy it; neat, on the rocks, or in a cocktail, it's a real winner.
Oban 14-Year
Over the course of its 200-plus-year history, Oban has been producing some truly amazing whiskies, and this delicious 14-year is certainly no exception. Popular amongst newbies and experienced elitists alike, it comes packaged in a beautiful cream and blue bottle — a nice contrast to the spirit's amber color. On the nose, it has just the slightest hint of smoke, as it's otherwise dominated by sweet toffee and fruity pudding. Through the palate and finish, it's heaped with tropical flavors, warm cinnamon, and sea salt. In other words, it's no wonder that this one is a SIP double gold winner.
Glendronach 15-Year Revival
A top-five pick amongst many authorities in the Scotch whisky space, this 15-Year Revival is the perfect embodiment of the Glendronach experience. Discontinued in 2015 and revived once again following replenished stocks, it's an expression that comes aged in Pedro Ximénez and Oloroso sherry casks. In practice, you'll find it to be one of the best sub-$100 whiskies you can buy, as it's bold-yet-silky and incredibly flavorful because of its complexity. Between the biscotti-like nose and the lingering fiery finish, this is one option that you won't want to miss.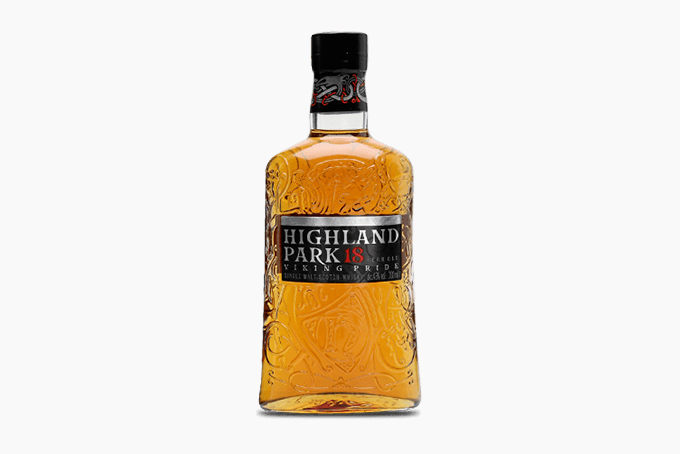 Highland Park 18-Year Viking Pride
Back in 2017, Highland Park revamped its entire core lineup with a series of designs inspired by the wood carvings from Urnes Stave Church. Though the bottles were new, the spirits inside (thankfully) didn't change, as this 18-Year is a complex expression that's both superbly peated and also excellently sherry-aged. It's a thick pour, coating all sides of the glass in amber, and the mouthfeel is expectedly commensurate. That said, in taste, it's surprisingly light and candied, with an almost jam-like flavor that ends just a little bit woody.
Glenmorangie Signet
Signet might not have an age statement, but it's easily amongst the best Glenmorangie expressions around. Blended from a combination of the distillery's oldest and rarest whiskies (some as much as 40 years), it has a distinctive, chocolatey nose and a sweet syrupy orange palate. And here's the thing: because of its time spent in bespoke American virgin oak casks and its no-chill filtration, Signet is a spirit that offers exceptional bourbon undertones, pairing subtle notes of tobacco and leather with a full body and a burning finish.
Diverse And Varied
Campbelltown
The Campbelltown region has had a rough go of things in recent years, with its active distillery count falling from nearly 30 at its peak all the way down to just five. Even more so than Highlands whiskies, these Scotches are incredibly diverse. In fact, you may get smoke and fruity sweetness all from the same operation.
Glen Scotia Victoriana
When you're looking for a Scotch that's simple, straightforward, and highly representative of the Campbelltown style, Victoriana is the spirit for you. After all, age statements aren't everything — especially when a whisky manages to produce a flavor profile that's so rich in presentation. For even despite its higher 51.5% ABV and extra-charred finish, Victoriana is plenty sippable, first meeting you with an oaky nose and then matching that with a soft, sweet palate that goes heavy on the salted caramel. Appreciated by everyone from novices to seasoned experts, it's a truly versatile expression.
Springbank 15-Year
Compared to other distilleries in operation, Springbank is decidedly old-fashioned, with all of its own barley processing performed in-house. When it comes to their 15-Year, this means that you're getting a spirit that's yellow-gold in color, wet and woody in scent, and wonderfully musky in taste. Depending on the particular batch, you may also find hints of citrus and sherry, which add another edge to the spirit altogether. Oh, and if you happen to come across a bottle that's going for under $100, be sure to snatch it up. It's not often that this 15-Year actually goes for its suggested retail.
Despite being the second-largest area in terms of scale, there are fewer than five Lowland distilleries in operation today. With its focus on agriculture, the region's spirits are usually lighter and grassier compared to something like an Islay or a Speyside.
Auchentoshan American Oak
While many Lowland distilleries have been producing whisky exclusively for blends, Auchentoshan has ignited something of a regional revival. This American Oak, expression, for instance, is a traditional, triple-distilled single malt that was aged exclusively in first-fill bourbon casks. As such, it makes for an ideal warm-weather dram, balancing its Scotch smokiness with a bit of light whiskey-like vanilla flavor. Granted, Auchentoshan's 12-year might be rated just a bit higher, but you can't argue with the uniqueness of this spirit — especially given the price point.
Glenkinchie 12-Year
Rounding out our list is the top dog from Glenkinchie: a stellar 12-year that's perfect for those who want a taste of the Lowland. Light, grassy, and aromatic from nose to finish, this is one that offers a welcome contrast to some of the more peated options we've included above. If you've been put off by Scotch in the past, be sure to give this one a try. Between the lemony-oak flavors and the easy-drinking mouthfeel, some even see it as a potential replacement for a glass of white wine.
The Best Blended Scotch Whiskies
Though we've touched on a lot of different spirits with this list, they're far from everything that Scotch has to offer. If you're looking to see how single malts taste in mixes, for instance, be sure to check out our guide to the best blended Scotch whiskies.